Greece is a famous vacation destination with its amazing views, crystal clear waters, delicious cuisine, and UNESCO World Heritage Sites like Acropolis. Planning a trip to the Greek Islands? Here are some of the best villa rentals in Greece perfect for a group trip or family reunion. There are vacation homes, all-inclusive Greek resorts, hotels, apartments, and villas throughout the country so you have plenty of options to choose from!
*Disclosure: This post may contain affiliate links, which means we may receive a commission if you click a link and purchase something that we have recommended. Please check out our disclosure policy for more details. Thank you for your support!
1. Michaela Residence, Santorini
This 5-bedroom villa is perfect for families on a trip to Santorini. It's a classic Greek Villa close to many attractions including Akrotiri, Perivolos beach, and Perissa beach. Michaela Residence also contains many amenities, including a hot tub, flat-screen TV, outdoor lounge, and a pool with spectacular ocean views.
One of the highlights of this villa is its private courtyard overlooking the sea and an infinity pool. There is also a dining area that looks out to the old Castle of Akrotiri. If you want unrivaled sea views, a family-friendly atmosphere, and a spacious area for the whole family, you should add Micheala Residence to your list.
CLICK HERE TO CHECK RATES AT MICHAELA RESIDENCE
2. Villa Antelmi, Santorini
One of the most popular vacation rentals in Greece for families and friends is the Villa Antelmi which has stunning views overlooking the Santorini caldera.
You can enjoy the caldera sunsets while sipping wine on the patio and taking in the sea views from the terrace. There is also a swimming pool, ample outdoor dining space, and the property is walking distance to town and restaurants.
There are four bedrooms (each with its own bath), air conditioning, and amazing sunsets. What more could you want?
CLICK HERE TO CHECK RATES AT VILLA ANTELMI
3. Seashell, Seafront Villa, Crete
If you're seeking elegance, luxury, and a great sea view, we recommend the Seashell Seafront Villa, nestled in the Kokkini Hani Village in Crete. Seashell is one of the best luxury villas you will find on the island.
The property is stylish and boasts spacious rooms, a fully equipped kitchen, and a large outdoor terrace where you can enjoy breathtaking views of the sea. There is also a large patio where you can enjoy dinner with your family members while taking in the beautiful sunsets.
Seashell Seafront Villa is close to many major areas like Thalassa Konako Beach, Vathianos Kampos Beach, and Heraklion International Airport.
CLICK HERE TO CHECK RATES AT SEASHELL SEAFRONT VILLA
4. Nektarios Villa, Crete
Explore one of the biggest islands of Greece while staying at Nektarios Villa overlooking the sea, Maleme village, and beautiful olive groves. There is a large grass garden, swimming pool, and pergola that are made for spending time outdoors.
The villa has 3 bedrooms and 3 bathrooms and sleeps 6. Familes will love the easy access to town which has groceries, restaurants, and of course, the beach.
CLICK HERE TO CHECK THE RATES OF THIS NEKTARIOS VILLA
5. Sani Resort, Halkidiki
The best place you can stay with your family while on a Greece vacation is the Sani Resort at Halkidiki. This resort has five properties set in 1,000 acres of private ecological reserve waiting to be explored.
One of the best things about staying here is being immersed in nature. You will enjoy the pine forests, the wetlands, the coastline, and the sandy beaches, providing an excellent backdrop for your vacation.
There are also outstanding recreational facilities, including the Melissa Kids Clubs, where children can enjoy fun activities and games. You can also tour the bars, boutiques, spas, and enjoy a variety of delicious flavors at the restaurants. If you are with babies, you can get the service of Baby Watch Service, where babysitters look after small children at the beach.
CLICK HERE TO CHECK RATES AT SANI RESORT
6. MarBella Corfu, Corfu
Corfu is a favorite among large groups and families with its sheltered coves, sandy beaches, and olive groves. If you want a hotel with spacious accommodations and luxurious amenities on the island of Corfu, look no further than MarBella Corfu. You will find a splash park overlooking the Ionian Sea, an outdoor play area, a playground, and a games room.
There is also a Kids Club and Teen Club with activities to keep older children busy. These clubs feature water sports, tennis courts, archery, and even a dance academy to keep kids busy while their parents enjoy themselves.
CLICK HERE TO CHECK RATES AT MARBELLA CORFU
7. La Maison Blanche, Mykonos
Enjoy the gorgeous views of the Aegean Sea from this luxury property in Mykonos. One of the best Greek islands is Mykonos, and La Maison Blanche offers unparalleled views of the island.
The property also comes with modern amenities: a bedroom with comfortable beds, a private terrace, and a smart TV in the large living area.
La Maison Blanche has suites and a villa available for rent. They are designed to look like the traditional architecture of ancient Greece and offer breathtaking views of the sea.
The villas and suites are perfect for couples, families, and large groups who want to enjoy the Cyclades islands away from the usual crowds during the high season.
CLICK HERE TO CHECK RATES AT LA MAISON BLANCHE
8. Siora of Paros
If you don't already know, Paros is one of the most popular islands for family holidays. If you decide to come to this island, we recommend you stay at one of the villas offered by Siora of Paros. There are four beautiful villas available for rent and they are close to stunning beaches and gorgeous hillside settings.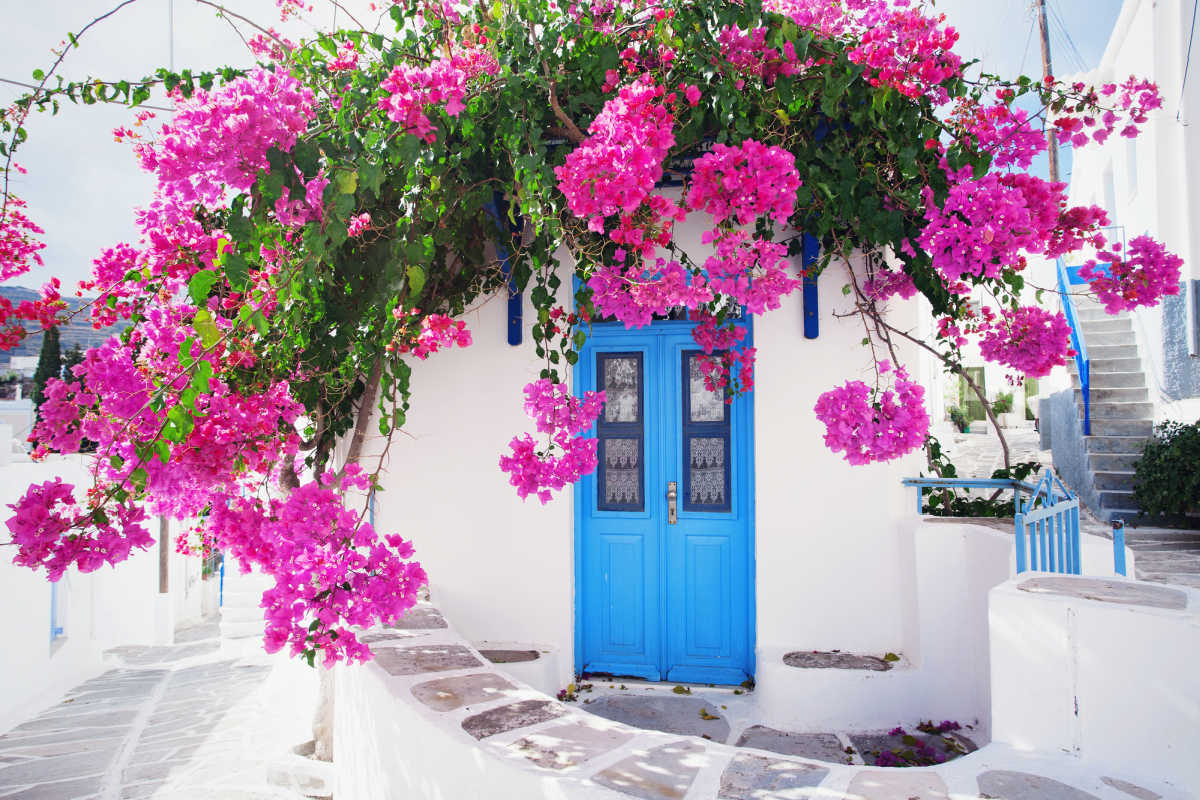 With four different vacation rentals to choose from, we think this is the perfect spot for a group trip to Greece.
Siora offers sea views, chic decor, a large kitchen, an outdoor dining area, and many amenities. One of the best things about this vacation home is that it's just a short walk to restaurants, shops, and the beach.
CLICK HERE TO CHECK RATES AT SIORA OF PAROS
9. Villa Arista, Paros
If you are looking for indulgence during your vacation, this stunning property is a great place to start. It makes the list of the best villa rentals in Greece not only because Villa Arosta has a convenient location, but because it features 11 bedrooms, 11 bathrooms, three full kitchens, a laundry room with a washing machine, and a spacious living room where you can enjoy fabulous sea views.
The outdoor space is just as beautiful as the interior and features a pool, a bar, and a Mediterranean garden. Villa Arista is one of the best villas in the area and a great choice for families who want to explore the island of Paros.
CLICK HERE TO CHECK RATES AT VILLA ARISTA
10. Villa Pari Manda, Naxos
Villa Pari Manda is one of the best Greek luxury villas on the island of Naxos. It is close to the airport, beach, and city center, making it the perfect choice for a Greek vacation with family or friends.
This villa features Cycladic architecture and has a stunning swimming pool, two kitchens, and an outdoor dining area. There are four bedrooms set across three separate levels, allowing plenty of space for everyone to spread out. Breathtaking sea views and stunning gardens make for an idyllic villa stay.
CLICK HERE TO CHECK RATES AT VILLA PARI MANDA
11. Iliada Villas, Naxos
One of the best vacation rentals in Greece for large families is the Iliada Villas on Naxos. A complex of beautiful villas built around an infinity pool, Iliada boasts 11 villas. It is a short walk from Agios Prokopios, one of the best beaches in the area. Agios Prokopios is known for its crystal blue waters, soft powdery sand, and watersports.
This villa also has hot tubs, a swimming pool, a private chef, spa treatments, a sun terrace, and a balcony overlooking the Aegean Sea. You can also arrange a car rental at the villa to explore Naxos on your own.
CLICK HERE TO CHECK RATES AT ILIADA VILLAS
12. Belvedere Medieval Villa, Rhodes
Belvedere Medieval Villa is an attractive holiday home in Rhodes features 2 bedrooms with garden views, a shared lounge, and a terrace. The house is split into two levels with the ground level featuring a fully equipped kitchen with modern appliances and a living room with comfortable sofas.
The first floor has 2 bedrooms that open to patios and there's an outdoor area with a dining table for 6. This villa also offers BBQ equipment and opportunities to enjoy activities like snorkeling, swimming, and cycling.
Belvedere Medieval Villa is located inside the medieval town of Rhodes and it's just a few steps away from ancient monuments, restaurants, bars, and tourist attractions like Grand Master's Palace and Clock Tower.
CLICK HERE TO CHECK RATES AT BELVEDERE MEDIEVAL VILLA
13. Villa Artemis, Rhodes
Villa Artemis is one of the best luxury accommodations in Rhodes. This three-bedroom villa is available for booking all year round and is perfect for relaxation. It is set on a hilltop in Koskinou and boasts an orchard, endless blue of the Aegean sea, and views of the traditional village of Koskinou.
This villa also offers a terrace, a herb garden, an outdoor pool, a lounge area, and free Wifi. Villa Artemis is perfect for beach lovers and is close to many restaurants and shops you might want to explore during your vacation.
CLICK HERE TO CHECK RATES AT VILLA ARTEMIS
14. Alassa Villas, Peloponnese
Allas Villas is a Greek holiday villa complex that is a good choice for families, especially large groups. It can sleep up to 20 people across its four rental units.
The stunning beachfront resort is next to the charming harbor of Agios Dimitrios in the West Mani province. It is a complex made up of 4 individual villas, and each individual villa has 3 bedrooms with ensuite bathrooms. Each one has its own private pool and outdoor living space.
This is a true retreat that includes a sauna and shared gym. They also provide a canoe and paddleboard for those who want to get out on the water.
CLICK HERE TO CHECK THE RATES AT ALASSA VILLAS
15. Villa Thalia, Peloponnese
Villa Thalia might be the most epic villa rental in Greece yet! It sits on a hilltop overlooking the Argosaronikos Gulf, about 2.5 hours from Athens.
The stylish house has 5 bedrooms and 5 bathrooms and sleeps 8. Each room has stunning panoramic views. There's an infinity pool, well-equipped kitchen, and sunsets that will take your breath away. The closest beach is less than a half mile from the property. We promise your group will love this tranquil villa!
CLICK HERE TO CHECK THE RATES AT VILLA THALIA
Whether you are traveling to Santorini, Corfu, or Crete, it's safe to say that you will find many family-friendly holiday homes. These large family vacation rentals in Greece are on this list because they're all great places perfect for families and large groups.