Gorgeous beaches, crystal-clear waters, historical monuments, delicious cuisine, what else could one possibly want from a vacation? Greece has it all, and it's no wonder it is one of the best destinations for groups of friends, honeymooners, and families.
From the ancient temples to the sandy beaches and beautiful islands, the whole family can get their fill of fun from the top attractions in this country. Planning a family vacation? Choose one of these family resorts in Greece for a perfect vacation experience:
*Disclosure: This post may contain affiliate links, which means we may receive a commission if you click a link and purchase something that we have recommended. Please check out our disclosure policy for more details. Thank you for your support!
1. Ikos Dassia Corfu
This 5-star all-inclusive hotel is best for families looking for a luxurious and sophisticated vacation experience. Ikos Dassia Corfu is just 15 minutes away from the historic Corfu town!
This resort features 403 spacious rooms, villas, and suites with beautiful interiors and many additional perks. The accommodations include private gardens and spacious balconies, while some come with individual pools.
Amenities include free bicycle rentals, a tennis court, and supervised childcare. Adults can enjoy the property's late-night shows, on-site restaurants, and bars.
2. Eagles Resort, Halkidiki
One of the things that sets apart Eagles Resort from other luxury family resorts is the endless adventures it offers guests of all ages. There is an Explorers Club for children between the ages of 4 months and 11 years of age with age-appropriate activities. Older children can learn how to sail, kayak, or paddleboard.
Adults can treat themselves to a sandwich at the beach bar, relax in the private pool, or go for a luxury treatment at the spa.
There are six restaurants on property, including four gourmet restaurants and several offer a kids menu. So take your time to explore culinary delights with your family.
You can also go out on a boat, water ski, or wakeboard.
3. Lyttos Beach Hotel, Crete
Crete is one of the largest Greek islands and a perfect place for a family holiday, especially if you stay at Lyttos Beach Hotel.
This resort offers many thrilling opportunities for older children with a water park, thrilling slides, and sports facilities. There are 647 rooms in this hotel with double, quadruple, and family suite options for guests. Rooms come with either sea or garden views and are well-equipped with modern amenities.
The property also has swimming pools, football & basketball courts, two restaurants, and cycling and biking excursions. For tennis fans, you will find 21 courts!
In addition, Lyttos Beach Hotel organizes themed events and movie nights the whole family can enjoy. The resort also features an all-inclusive board basis that offers guests the full luxury treatment, including three meals at the buffet restaurant daily.
4. Princess Andriana Resort & Spa, Rhodes
Princess Andriana Resort & Spa is an ideal choice for groups looking for luxury, fun, and relaxation. Younger kids can get involved in the fun games organized by the resort, while adults can have treatments at the onsite spas.
There are also fun entertainment programs for adults, including live music, discos, and quizzes.
You will find many restaurants serving a variety of food from around the globe, including one that serves hot and spicy BBQ.
Families will have fun on the resort's own private beach and refreshing pools, especially on hot summer days. Did we mention that this resort is just a short walk from the beautiful Kiotari beach and there are plenty of fun things to do in Rhodes with kids?
5. Sani Resort, Halkidiki
One of the best family resorts in Greece sits on the Aegean Sea in Northern Greece. Sani Resort is a beautiful natural paradise with five hotels, including the Sani Club, popular amongst families.
There is also the Sani Asterias Suites which offers family rooms with luxury bathrooms, spacious suites, and large living rooms. There are different types of suites perfect for families depending on your budget.
Sani Resort offers many activities with its endless pools, spas, exquisite bars, and restaurants.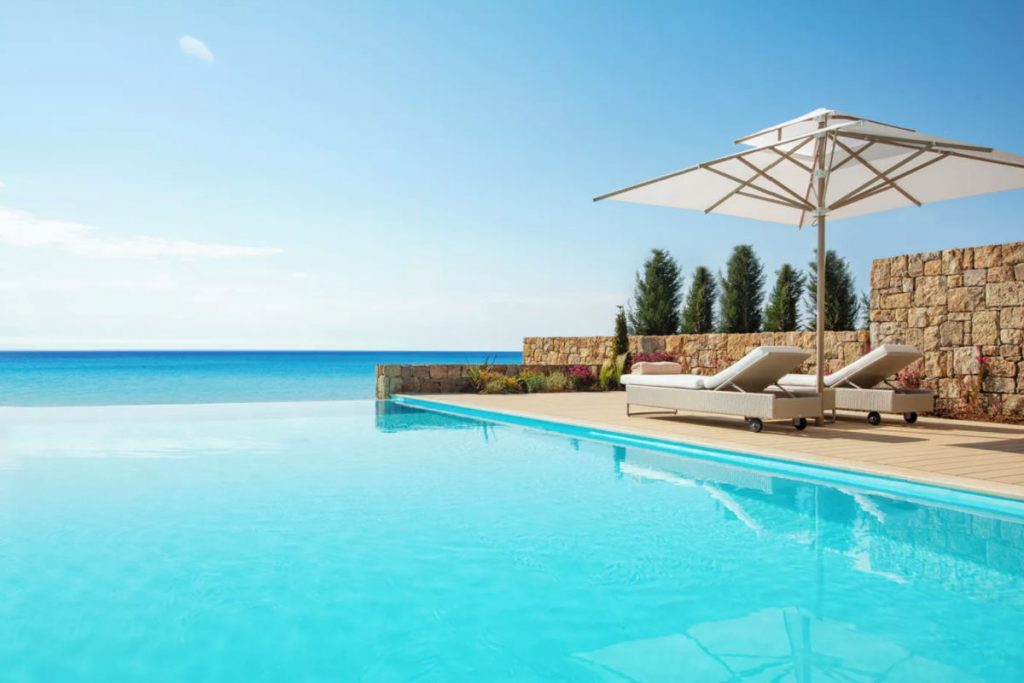 This property also includes Sani Beach, Sani Dunes, and Porto Sani, all within walking distance of each other.
Also, guests here will have access to the soft sandy beaches and the shallow waters. If you have a baby, you will enjoy the Babe Watch Service, where babysitters look after kids on the beach so the parents can get a break.
6. Four Seasons Astir Palace Hotel
Four Seasons Astir Palace Hotel is located on the Athens Riveria and offers guests a beautiful seaside escape.
If you want to explore the monumental Acropolis and the ancient ruins of Athens but escape the crowds at the end of the day, this luxury resort is for you. At just 30 minutes away from the historical sites, it's the best of both worlds.
The property has a private beach, 4 onsite restaurants, a spa, and boat tours. There are 303 rooms available and many of them can accommodate a family of 3 or 4 people.
7. Gennadi Grand Resort, Rhodes
Rhodes is one of the largest Dodecanese islands and Gennadi Grand Resort is one of the most popular family resorts in Greece. The property is located on Gennadi Beach, surrounded by gorgeous gardens and pine forests.
The rooms and suites are quite spacious and some come with private pools, balconies, or terraces. They all have modern amenities for a convenient stay.
You will also find eight restaurants serving all sorts of delicacies, from Greek cuisine to pizzas and burgers.
8. Electra Metropolis Hotel, Athens
This luxury hotel is located in the heart of Athens and is 10 minutes from the Parthenon, one of Greece's most fascinating archaeological sites.
Electra Metropolis Hotel features 216 rooms and a variety of configurations that can sleep a family of 3. There's a seasonal outdoor pool, an indoor pool, and a rooftop garden with a beautiful view of Athens.
The hotel also offers many modern amenities including smart TVs, balconies overlooking the Acropolis, and free Wi-Fi. Parking is available on-site, and there is an airport shuttle service and buffet breakfast available for an additional charge.
You will also find restaurants and cafes in and around the hotel.
9. Acqua Vatos Santorini Hotel, Santorini
Santorini, is without a doubt one of the best Greek islands, with some of the best beaches in the country.
This island sees millions of tourists every year, with plenty of places to eat and hundreds of things to do. The right hotel in Santorini can make a big difference in your family vacation, and that's why the Acqua Vatos Santorini Hotel is a popular choice. Guests will enjoy the family-friendly atmosphere, the luxury treatment, and the spacious rooms designed with kids in mind.
The boutique hotel is right on the beach so you can enjoy the spectacular views of the water, the surrounding cliffs, and the private vineyards. This beach resort is also filled with tavernas, seafront bars, and hip boutiques you can explore during your vacation.
10. Grecotel Olympia Oasis, Peloponnese
Grecotel Olympia Oasis & Aqua Park sits on a beautiful sandy beach and offers a lot of fun family activities. There's a Children's program where small children can play a game of soccer, enjoy the Alice in Wonderland-themed evening party, and jump on the water slides at the water park. Kids will also enjoy the Aqua Tower with 100 water games, the wave slides, and a simulated white water rafting experiences.
In addition, there is a Grecoland Club where kids three years and above can participate in activities such as Greek dancing and beach volleyball. Parents can also enjoy the adventure playground filled with a soccer field, basketball court, archery arena, and a tennis academy.
11. MarBella Corfu Hotel
MarBella Corfu is one of the best family resorts in Greece for those who want to enjoy uninterrupted views of the seas and olive groves in front of their rooms.
The hotel offers fantastic facilities, including beach bars, outdoor pools, and an aqua park with slides to suit all ages.
If you want to spend some time away from the resort, you can take a trip to the surrounding Corfu town and meet the locals. When you return, indulge in a spa treatment at the on-site spa and warm up at the stunning heated pools.
The resort has six onsite restaurants, each serving different cuisines, including native Greek meals and French food. Their resort also runs a kids club for kids between ages four and under. There's also a teens club where teenagers can learn Latin dancing, jazz, tennis, or water sports. This resort is a paradise for multigenerational families!
12. Mykonos Grand Hotel and Resort
Imagine letting you and your family be carried away by the beautiful views, spacious rooms, and incredible outdoor facilities. If that's your thing, Mykonos Grand Hotel and Resort might be the perfect resort.
Here will find excellent facilities like a fitness center, spa, seawater pool, and a tennis court.
13. Valena Mare Suites & Apartments
This resort is a perfect spot to explore one of the most popular islands in Greece, Naxos.
Valena Mare offers villas with fully equipped kitchens, soundproofed family rooms, barbecue facilities, and babysitting services.
The resort is also a few minute's drive to one of the most popular beaches in Naxos, Planka. You can enjoy the sunbeds and the tavernas at the beach before heading to the restaurants and stores in town.
14. Celestial Grand
Another great family-friendly luxury hotel on the island of Santorini is the Celestia Grand Executive Villas.
This resort features six villas with private swimming pools, outdoor jacuzzis, and terraces where you can enjoy beautiful views across the Aegean Sea.
Other amenities in the resort include a hot spring bath, bike rental, and a swimming pool. The resort is close to Fira, and you can arrange excursions around the area.
15. Cretan Malia Park
Located a half hour from Heraklion attractions, Cretan Malia Park is perfect for families with children of all ages.
The property has three pools, a fully-serviced beach, a tennis court, a library, bikes for rent, and a fully-equipped fitness center.
Large families will enjoy the two bedroom, two bathroom family suite that will sleep 5.
There are separate areas for kids to enjoy time away from parents. The Little Explorers Kids Club is for ages 3-10 and The Place is perfect for teens. Little Explorers offers arts and crafts as well as a play area. The Place has hammocks, ping pong, darts, and pool. At night there is an outdoor cinema showing some of the latest films.
This family-friendly hotel in Greece has four restaurants, and the food is delicious at all of them. Our family loved our stay at this resort and can't wait to return.
Wrapping Up: Family-Friendly Resorts in Greece
Searching for family-friendly accommodation can be very challenging. However, we've done the hard work for you! All the hotels and family resorts in Greece on this list will make perfect accommodations for your next vacation. And don't forget to choose a resort close to the destinations you plan to explore with your family.