After years of traveling as a Travelocity ambassador and exploring more than a dozen resorts in Mexico, I know quite a bit about Mexico all-inclusive resorts for large family groups. These properties are some of the best in terms of amenities, food, and activities. If you are planning a multi-generational trip to an all-inclusive resort, this is where you should begin. These are the best Mexico resorts for large families or groups (and we've included our favorite Mexico group tours too)!
*Disclosure: This post may contain affiliate links, which means we may receive a commission if you click a link and purchase something that we have recommended. Please check out our disclosure policy for more details. Thank you for your support!
Where to Stay in Mexico with a Group
Best All-Inclusive Resorts in Cancun
Finest Playa Mujeres
Finest Playa Mujeres is one of the best places for multigenerational vacations in Mexico. Here you will find the perfect balance of family time and alone time.
Each accommodation option is very spacious and family suites can accommodate 5 people. Large families can spend quality time together with swim-up or private pool suites, which are a fantastic idea for those with older children!
This resort has 10 pools and a beach as well as an extensive list of activities. The kids can go paddle boarding while grandparents attend a cooking class and everyone can meet back up for a game of water polo.
Everything is designed with families in mind. Even their spa has kids' treatments so they don't feel left out. The kid's clubs cater to all ages too, though supervision is required for toddlers 0-2 years old.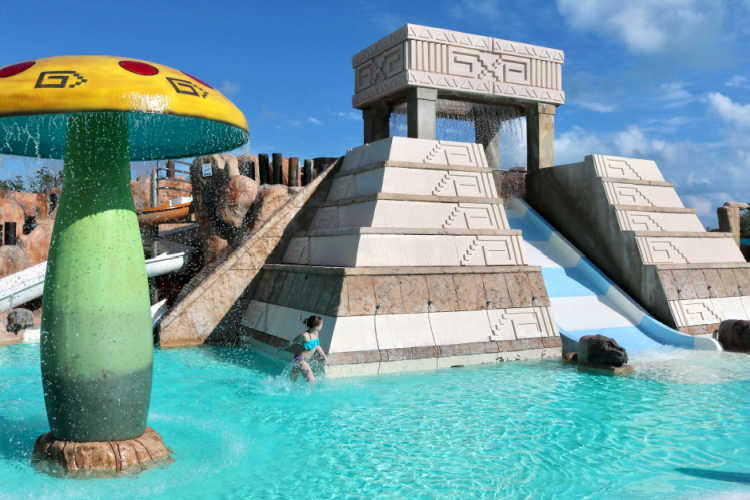 You can enjoy fresh fish, tapas, Asian cuisine, and steak in one of the 12 restaurants, there's even a sweet shop to satisfy your cravings. If you'd like an adult-only breakfast or dinner The Imagine Lounge provides supervised meals for kids!
Grand Fiesta Americana Coral Beach
Located right in the heart of the Cancun tourist zone, Grand Fiesta Americana Coral Beach is an elegant escape from the noise. It's an ideal location for exploring without the rates of tour guides, and the ferry to Isla Mujeres is a five-minute walk away.
You won't need to pay extra for an ocean view, because every room has one. There's room for everyone to stay together too. Suites can accommodate parties of 2 -10, and the 10-person suite even comes with a private pool.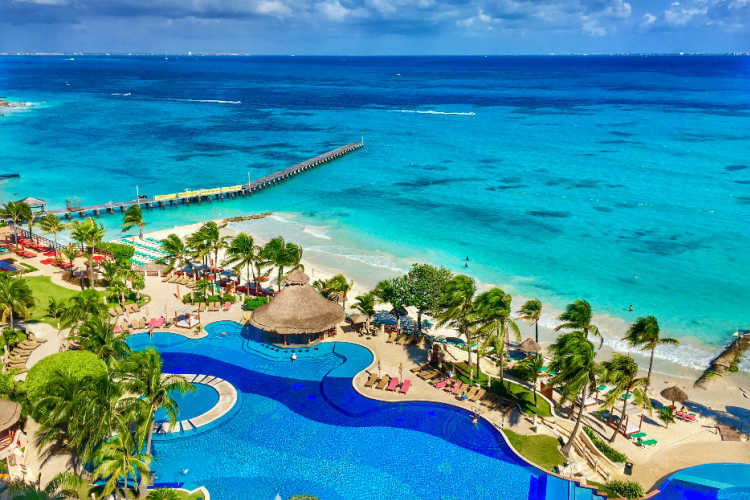 There are five restaurants, many with ocean views, so you can sip your morning coffee with waves crashing in the background. You can try several cuisines and foods but authentic Mexican is where you should start.
There's plenty for everyone to do inside the hotel too. Coral Kidz Club offers activities for children 3-12 with a tech zone, cooking classes, and a Mexico landscape-themed pool. Adults and older kids can explore the ocean with snorkeling and kayaking, or motorized water sports. And if adults want some away time, don't miss the Gem Spa, offering over 40,000 square feet of luxurious relaxation.
Hyatt Ziva Cancun
A must for all family vacations to Mexico is all-inclusive, but Hyatt Ziva takes it one step further. They pride themselves on including premium wines and spirits, room service, and other services you'd expect to pay extra for.
The largest of the rooms accommodate up to five people and there are separate areas for parties traveling without children. If you are traveling with adult kids you may want to consider the adult-only Turquoize rooms which give access to a rooftop pool and butler service.
Of the variety of restaurants to serve three meals a day, you can count on the extensive buffet with crowd-pleasers such as pancakes and waffles, and a kids' area to keep the little ones occupied.
The property is surrounded by water on three sides, so water sports is one of the most popular activities. But what makes it stand out is the kids club and the teen's area. The aptly named Moods club is for teens to hang out, make friends and have fun!
*We also recommend the Hyatt Ziva in Los Cabos for its stunning views, gorgeous landscaping, and amazing Kids Club.
Paradisus Cancun
When it comes to the best places for multigenerational vacations in Mexico, Paradisus Cancun will keep everyone happy. There's a baby club, kids club, teens club, and across the street, there's a 9-hole golf course which is included in their vacation packages.
For that extra special touch, you can upgrade to the family concierge for mini bathrobes, milk and cookie turndown, and other child-friendly services.
Rooms can sleep up to four people, and if they aren't family-friendly enough for you, offers they run on their site include booking up to two children free of charge. Quick note, if you're taking kids, don't book The Reserve package as it's adults only.
There are over 10 restaurants and bars to suit all tastes, Latin, Asian, and French, and the decor for each of the restaurants is stunning. They claim to not know what boredom is! You can try your hand at sushi-making, wine-tasting, or a yoga class. The choice is yours!
*We also recommend Hotel Paradisus Los Cabos for its wonderful staff, beautiful property, and awesome restaurants.
Hotel Xcaret
I can't list the best places for multigenerational vacations in Mexico and not include Hotel Xcaret. If you've heard of the famous Xcaret parks in the Riviera Maya, you won't be surprised that this is an all-fun inclusive resort!
Staying at the hotel gives you access to transport and tickets to all SEVEN parks and several tours. This means there's plenty for the family to do together, and everything is budgeted for in the hotel cost. We highly recommend the Xenotes experience if you have older kids and teens, they will love it!
It's an all-suite hotel, meaning the family can stay together. It's not only the suite, tickets and transport you get when you book. Each stay comes with butler service, and depending on the package, there are spa treatments, pool access, and babysitting services included.
The hotel is also home to 10 restaurants, one of which is run by Michelin Star chef Carlos Gaytán. Eat your way around the world with dishes from Mexico to Asia.
The Grand at Moon Palace
The Grand at Moon Palace perfectly mixes luxury, families, and romance. Creating the perfect place to unwind with the family, and enjoy some alone time too.
The property's game room is unrivaled. There are activities and games for children aged four to 17 years old across two, age-appropriate sections. Bowling makes for a great after-dinner large group activity, or if the adults want to relax with some drinks, the kids can play bumper cars or games in the arcade.
Of course, you don't want them inside all the time, so why not hire some bikes and explore or head to the water park?
Suites accommodate between four to six guests depending on the room type, but all are stunning and luxurious.
The seventeen bars and restaurants are designed to serve everyone's appetites. Options include outdoors by the pool, dressed up and formal, a quick snack while gaming, and even a night club. You are spoiled for choice here.
Rosewood Mayakoba
The suites at Rosewood Mayakoba are the perfect place to base family vacations in Mexico. One look at the Coral three-bedroom villa and you can imagine the memories you will make with kids and grandparents, sitting by the private pool, splashing around, and waving at whoever is watching from the floor-to-ceiling windows of this stunning villa. If you'd rather step straight out onto the beach or a plunge pool, there are suites for that too.
The eight restaurants all have different vibes, from the bright and colorful tiled walls of La Fondita to the alfresco lamp-lit La Ceiba garden, to the luxurious Agave Azul. You're spoiled for choice when it comes to where to eat. Mediterranean, Caribbean, Asian, you name it, even the fussy eaters will find something.
The kids can be immersed in Mexican culture and education, with Spanish lessons, eco-tours with a marine biologist, and themed nights. There's a nanny service for nights when parents, grandparents, aunts and uncles might want a night to themselves.
There's no need to pack diapers and bottles, the hotel can provide those as well as baby monitors, in-room baby proofing and cribs with linen. It's all taken care of at Rosewood Mayakoba.
Our favorite group tours in Cancun
Family Friendly All-Inclusive Resorts in Cabo
Grand Velas Cabo
Imagine after a long day, your family all bundled up on a huge comfy bed, watching whatever film takes your fancy, and then you look up and there's nothing but ocean in front of you.
At Grand Velas Cabo, every suite has an ocean view, so you don't even have to pay extra for this experience! In the family suite, you'll find a mini teepee for play, coloring books, and other child-friendly amenities.
There are plenty of hands-on activities for little ones in the kid's clubs, where they'll make piñatas and kites, and play board games. Older children can enjoy the day/night club with karaoke, a non-alcoholic bar, pool and ping pong.
Adventurous adults can head to Lovers Beach or Lands End in taxi boats or a kayak. Consider taking a sunset cruise of Los Arcos with the entire family, exploring the two towns of San José del Cabo and Cabo San Lucas, or playing golf at one of the local courses.
Grand Velas has eight restaurants to enjoy, seven of which are all-inclusive, so you can try them all. Each has a different cuisine, and an equally dedicated chef who meticulously designs the menu.
*We also recommend Grand Velas in Puerto Vallarta and Grand Velas Rivera Maya.
Our favorite group tours in Los Cabos
Sailing and Snorkeling cruise – head out for a day of sailing and snorkeling!
Off Road ATV Adventures – prepare to get dirty with this off-road adventure.
Camel Safari – take a camel ride along the beach and enjoy a delicious lunch.
Whale watching dinner cruise – head out whale watching and enjoy dinner while the sun sets.
Zipline adventure – try your hand at the best zip line course in Cabo.
Day trip to Todos Santos – head out of town and see what Todos Santos has to offer.
Where to Stay for a Family Reunion in Puerto Vallarta
Garza Blanca Preserve Puerto Vallarta
If your family loves the outdoors and trying new things, this resort and spa will tick all of your boxes. Check out the extensive list of things to do as there is plenty to do in Puerto Vallarta with all ages.
For kids, there are sandcastle competitions, nature photography, and balloon animal making. As a family, you can try hiking tours, go bird watching and plant trees. And adults can experience wine tasting, play water sports, take cooking classes, and more.
The suites at Garza Blanca can accommodate up to eight guests, so large families can stay together. They vary from suite to ultra suite which includes the stunning ocean view penthouse. The suites come with a kitchen and dining room so you can choose a self-catering option and enjoy family dinners, taking turns to cook or cooked by your chef if you're in Oceanview!
When no one feels like cooking, the property has three restaurants: Mexican cuisine, a steakhouse, and a beach/pool grill.
*We would also recommend Garza Blanca Los Cabos for its stunning views and delicious restaurants.
Marriott Puerto Vallarta Resort and Spa
You can never go wrong with the Marriott brand when looking at the best places for large family vacations in Mexico. They want family vacations to be fun and carefree, and here you get that in spades.
Their restaurants focus mainly on seafood, however, there's also Japanese teppanyaki if you fancy tricks with your meal. If you're a football family then you never have to miss a game at the Champions Sports Bar, grab a burger and wings, and watch the game, you may even meet some fellow fans.
The larger rooms can accommodate two adults and two children. They are bright and airy and decorated in the same blue as the ocean you can see from some of the balconies. If you go for a garden view, expect lush green trees and grass, and you may even spot some wildlife!
Unlike some hotels that are surrounded by mangroves, the Marriott is close to several local attractions. There's Galerías Vallarta Mall, Marietas Islands – Wildlife Sanctuary, and Aquaventuras. So if you prefer your own adventures rather than tours, you can explore at your leisure!
Our favorite group tours in Puerto Vallarta
Las Caletas private island – offers snorkeling, paddle boarding, kayaking, kids zone, spa, and more! The perfect day trip from Puerto Vallarta.
Zip line adventure – my kids loved this!
Bean to Bar chocolate workshop – learn about chocolate and make your own!
Las Marietas Eco-Discovery – snorkel, swim, and kayak in this beautiful spot!
Rhythms of the Night show – includes dinner and sunset cruise.
Mexico with family and friends never disappoints! These properties in Mexico are sure to leave everyone with fabulous memories of an awesome family vacation!