It can be challenging to plan a Greece family vacation, but this essential travel guide will help! Greece is one of the best destinations in the world for a multigenerational vacation. The country boasts a large mainland with amazing cities and 227 unique islands. There are thousands of picturesque beaches with crystal clear waters, family-friendly attractions, endless architectural, cultural, and archaeological sites and not to mention unforgettable food!
*Disclosure: This post may contain affiliate links, which means we may receive a commission if you click a link and purchase something that we have recommended. Please check out our disclosure policy for more details. Thank you for your support!
We recently took a Greece family vacation and visited Athens, Crete, Santorini, and Naxos. Planning a trip to Greece can be overwhelming, so it helps to find people who have traveled to Greece before. This Greece travel guide has everything you need to start planning an epic vacation to Greece with grandparents and children!
Where is Greece?
Greece is located in Southeastern Europe, bordered by Albania, Bulgaria, and North Macedonia. The country is part of the Aegean sea and is perfect for a multigenerational family trip.
When is a good time to visit Greece?
You'll find that Greece is a fantastic place to visit year-round, from visiting the local markets at Christmas to relaxing on a picture-perfect beach during the summer.
The best months to plan for a Greece family vacation are June and September when there are fewer visitors, and the Cycladic winds have calmed down. This is the best time for calm seas (perfect for ferry journeys) and the heat is not too intense.
Accommodation is also cheaper than peak season (July and August). If you have to visit Greece during the school holidays, visit during the end of August or after the summer break.
Transportation in Greece
Many visitors to Greece from the United States will fly into Athens International Airport, where you can catch connecting flights to many of the stunning Greek islands. You can view the airports in Greece here.
To reach Athens city center, hop on the metro, which takes around 40 minutes to get to Athens city center. With a large family group in Athens, it may be easier to book a transfer. We recommend Stavros at +30 697 490 6763, he is very reliable and a great communicator. You can also go to his website, Geo Mediterra to reach him. He was our go-to driver several times in Athens.
If you are traveling to one of the islands, we recommend staying near the airport or in Piraeus if you're catching an early morning flight or ferry. Traveling by ferry can make sense for shorter journeys, but if you're heading further afield, consider taking a plane. Be sure to buy your ferry tickets in advance. We recommend using Ferry Hopper as the website is easy to navigate.
To reach the islands by ferry, Athens has three ferry ports. Piraeus is the main port that serves most of the Greek islands. You can also catch the metro to Piraeus port to board a ferry to the Greek islands.
Lavrio Port has limited ferry services to islands near Athens, and Rafina Port has ferry services to the Cyclades islands. To reach the Ionian islands from Athens, you'll need to head to Killini to board a ferry.
What to Know Before You Take a Greece Family Vacation
What language do they speak in Greece?
Most people in Greece speak Greek. The language is tough to learn and divided into five dialects – Attic, Ionic, Aeolic, Arcadocypriot, and Doric.
Most tourists do not speak Greek, and the locals are very accommodating, especially in the more touristy areas. However, it is much appreciated if you learn a few words of Greek and show you're making an effort.
Many road signs, restaurant menus, and attractions have words in Greek and English. If you need a translation, be sure to download the Google Translate app. It can be a lifesaver.
What currency do they use in Greece?
The currency in Greece is the Euro. Take some euros with you to Greece (you can usually order these from your bank in advance) and take out larger sums of money if you're using an ATM.
Credit cards are widely accepted, especially in cities and larger islands, but make sure you carry cash with you.
Many banks will charge a transaction fee for withdrawing a different currency, which can add up on your trip. Cash machines by Piraeus Bank are the most trusted.
Healthcare in Greece
Healthcare in Greece is private, but purchasing a good travel insurance policy will cover you. Make sure you choose your policy carefully as some only cover emergency care, and some policies have exemptions or require an excess payment. Two policies we have used (and recommend) are Allianz and MedJet.
Medical care in Athens is excellent with substantial private hospitals and fantastic service. If you fall ill on one of the smaller islands, you may be transferred by speedboat or ferry to another island or Athens.
Crete also has fantastic medical care but make sure you buy the right insurance policy. Beware of 'tourist hospitals' in the more touristy areas, especially with nightlife, as you may be left with a hefty bill at the end of your visit.
Is Greece safe for a family holiday?
Greece is a safe country, but you still need to be sensible and not do anything you wouldn't do at home. Tourist scams may operate in bigger cities. On the smaller islands, families will feel very comfortable, and we never hesitated to let our older children explore on their own.
What to Pack for a Greece family vacation
Baby Carrier: Although it's wise to bring a stroller, not all islands are stroller friendly, and you'll be grateful to have a baby carrier with you.
Sun shirt: If you have a baby or toddler, a sun shirt is a must-have to protect your little one from the strong UV rays in Greece.
Flipflops
Sunglasses, sunscreen, and a hat
A sarong or long skirt: Perfect for visiting churches, monasteries, and other religious sites.
Packing cubes
Backpack: If you're island hopping, a backpack is good for getting on and off ferries.
Moisturizer and chapstick: Sun and wind will really dry the skin out.
Is Greece accessible?
Some areas in Greece are not wheelchair accessible, and challenging with a stroller. Although Athens has many accessible areas, the pavements have lots of large cracks and many steps. Traditional Cycladic villages often have cobbled winding streets with steps so be mindful if someone in your group has accessibility issues.
Which Part of Greece is Best for Families?
Everyone has a different answer to this question, but it really depends on what you're family is looking for in their vacation. Athens is very busy, but with a lot of history. Mykonos is known for its nightlife. Santorini is the quintessential destination for many tourists, which also means crowds and higher prices. Here are some of the best Greek islands for families.
1. Ios
Ios is located in the Cyclades islands between Naxos and Santorini. The island is a great place for a multigenerational escape and has something for everyone. Kids will love the two amazing beaches.
Myopotos beach is one of the best beaches in Greece with a vast expanse of sand, backed by many restaurants and bars. Yialos Beach is within walking distance from Ios Port. It is a quieter beach with a shallow sea, and there are many places to stay just behind the beach.
Some family members may enjoy a trip to Ios Chora, the island's capital. White Cycladic houses with signature blue roofs wind slowly up towards the top of town, where you'll see amazing views of Sikinos island and Yialos Beach.
There are many shops in Ios Chora too, whether you're looking for a delicious Greek takeaway, a bakery, or a luxury clothing boutique.
2. Crete
Crete is the largest island in Greece and perfect for all the family. The island takes around 3 hours to drive across, through the white mountains, so choose your airport and accommodation wisely.
Chania, Rethymno, and Heraklion are all fantastic bases for exploring the island's beautiful landscapes and historical sites. Chania has excellent accommodations that are walking distance from the port and many shops and restaurants for families.
If your family wants a Greece beach holiday, head to the stunning resorts of Bali, Gouves, Elounda, or Malia.
3. Amorgos
The seaside village of Aegeiali in Amorgos is perfect for a family holiday. Little ones will love the shallow waters and ample food options available. Other family members will enjoy exploring the island.
The bus journey between Aegeiali and Chora is one of the most picturesque in the world. Chora is a charming Cycladic village with stunning views and abundant bougainvillea. Katapola is also well worth a visit. Admire the Cycladic church or try the local seafood.
4. Athens Riviera
If you want a mix of city and beach, opt for a holiday to the Athens Riviera. From here, there's a tram that runs into Athens city center. The best beaches on the Athens Riviera include Edem Beach, Kavouri Beach, and Glyfada Beach. There are plenty of family-friendly hotels in this area.
5. Santorini
Most families will want to stay for at least a couple of days in Santorini as it's one of the most popular islands in Greece. We would recommend looking at vacation rentals as they are much easier to find than hotel rooms for everyone.
Consider staying in Fira or Imerovigli with a family, as Oia has a lot of steps and climbing. Consider renting a car to explore the island and be sure to make time for a sunset boat trip. There are many things in Santorini kids will love and it's definitely a once in a lifetime destination.
WANT FAMILY PHOTOS IN GREECE? WE LOVE FLYTOGRAPHER! CLICK HERE TO BOOK YOUR SESSION!
Recommended Restaurants for a Greece family vacation
In all honesty, you can't go wrong with any of the restaurants in Greece. There's everything from traditional Greek taverns to lively, trendy restaurants. Traditional meals include bread with olive oil, tomato, cucumber, and feta cheese salad, plus dishes like moussaka, pastitsio, and souvlaki. You really can't go wrong with Greek food. A few local restaurants we recommend are:
Giannulis Restaurant, Agios Prokopios, Naxos
Giannulis Restaurant is one of the most popular places to dine in Naxos. The restaurant is always full of families and has traditional Greek music and some of the best food in Greece!
Island Resturaunt, Gouves, Crete
Featuring a children's playroom, exquisite dining, and picture-perfect beach and sea views, the island restaurant is one of the best in Greece for large family groups or a Greece family reunion dinner. 
Choose from an extensive menu and plenty of child-friendly dishes. Some family members may enjoy the other side of the restaurant, where you can buy shisha and sit just above the sea.
Karma Beach Bar, Mylopotos Beach, Ios
Karma beach bar serves up Italian and Greek food in a relaxed setting. The bar is family-run, so there are highchairs and family facilities. Enjoy stunning views of Myoptos beach too.
Lodging options for large families in Greece
Cretan Malia Park, Malia, Crete
Families will love this stunning resort with its swimming pools, beach, restaurants, kids and teen clubs, and spacious family rooms. Our family loved this property and our only regret was that we didn't stay longer.
CLICK HERE TO CHECK RATES AT CRETAN MALIA PARK
Crowne Plaza, Athens City Centre
If you're looking for a slice of luxury in the heart of Athens, the Crowne Plaza is a perfect choice. The 5-star hotel has a stunning pool, luxurious rooms, and a fantastic atmosphere.
Atlantica Porto Bello Beach Resort, Ko
Atlantica Porto Bello Beach is one of the best all-inclusive hotels in Greece. Choose from many restaurants featuring food from around the world or relax on the private beach or around huge pools.
CLICK HERE TO CHECK RATES AT ATLANTICA PORTO BELLO BEACH RESORT
Aqua Bay, Tsilivi, Zakynthos
Aqua Bay features a range of room options around lots of small pools, perfect for all the family. There's also a waterpark with giant slides, a lazy river, and a wave pool. Little ones will love the toddler area!
CLICK HERE TO CHECK RATES AT AQUA BAY
Vacation rentals in Greece
Large groups may feel more comfortable renting a home and there are plenty to choose from throughout Greece. We recommend using VRBO or Plum Guide to find the perfect rental for your Greece family vacation.
Greece Family Vacation Itinerary
A Weekend Break in Greece for Families
Chania: If you have just two days in Greece, a weekend in Crete is a good option. Chania is a stunning city and the perfect place to base yourself to explore the island. We found there were so many things to do in Crete with kids.
Athens: Athens is the perfect destination for a European city break. There are many archeological sights, including the world-famous Acropolis, delicious food, and beautiful beaches on the Athens Riviera.
If you're traveling to Greece from Europe, Athens is the perfect city to visit for the weekend. If you're traveling from outside Europe, why not start your Greek adventure with a few days in Athens?
Mykonos: The island of Mykonos has an airport that serves flights all over Europe. This means you can easily visit Mykonos for the weekend, especially in the high season. The island is small, so you can base yourself where you can.
Accommodation can be costly in Mykonos so search for deals in advance. Staying in Mykonos Town, you'll have the advantage of using public transport to explore the island.
The resort of Elia is also excellent (but expensive). Consider staying in Kavouraki, a large beach with lower prices, crystal clear water, and soft white sand for a family break.
One Week Itinerary of Greece for Families: Athens and the Cyclades
We think this is a pretty perfect Greece family vacation itinerary. If you are looking for other ideas, consider spending 3-5 days in Crete and exploring the island to avoid island hopping.
Day 1: Fly to Athens and Stay the Night
Athens is the most accessible city to fly to from the United States. Many airlines run direct flights. Where you stay should depend on what time you arrive in Athens.
If you have at least half a day to explore, stay in Athens City Center. The best areas are near the Acropolis (near Acropoli metro station), Syntagma Square, Monastiraki, and Plaka. Buying a ticket for the hop-on-hop-off bus will help you explore the city in a day.
Some of the best things to do in Athens include:
Climbing Mount Lycabettus
Visiting the Acropolis and other ancient ruins such as the Ancient Agora and Temple of Hephaestus
Dining in the Plaka Area
Visiting the flea markets in Monastiraki
Going to the beach on the Athens Riviera
If your flight arrives late, make sure you leave time to see Athens on your way home. Stay in the Piraeus Port area, close to the ferry port or Rafina Port if your ferry leaves from there to explore the nearby islands.
Day 2: Travel to Syros
Now it's time to travel to the Northern Cyclades. Ermoupoli, the capital of Syros, is the capital town of the whole Cyclades island group. You'll see fascinating architecture, hidden beaches, great shops, and pretty villages here.
The ferry journey to Syros is 2-4 hours, depending on the ferry company you're traveling with. Ferries from Rafina Port are often quicker and stop at Andros and Tinos on the way. Ferries from Piraeus cross the southern Cyclades first.
Once in Syros, you can stay in a beach resort or base yourself in Syros Town. Vari is a small beach resort mainly discovered by families holidaying from Athens. There is a fantastic family-friendly restaurant (Bolas), two small shops, and sun loungers to hire. There's even a wheelchair ramp into the sea for those with mobility issues.
One of the most luxurious places to stay in Syros is Hotel Ploes. It is a renovated mansion with 8 rooms offering a perfect location right on the water. The hotel provides beach towels so guests can swim in the sea. It is a convenient 5-minute walk to the town center in Ermoupoli making it a great spot for a Greece holiday for families.
Day 3: Syros
Use this day to explore Syros. Why not venture up to the top of town to Ano Mera, a picturesque Cycladic village with delicious tavernas, many cats, and stunning views across Syros island.
There are also many great beaches to choose from on the island. Look into how the wind is blowing because a beach day can be ruined if you choose the wrong side of the island! Most beaches are family-friendly, and many have blue flag status for their cleanliness and facilities.
Day 4: Naxos
Naxos Town, Naxos
Now it's time to travel further south. Ferries from Syros to Naxos have a duration of 1 hour and 45 minutes to 2 hours and 45 minutes. Many stop at the famous island of Mykonos en route. You could also choose Paros or Mykonos instead of Naxos if you desire.
The island of Naxos is one of the best in the Cyclades and perfect for a multigenerational trip. Naxos Town has a rich culture and history, with Cycladic streets going gradually towards Kastro Castle. Head inland, and you'll find the prehistoric Acropolis.
The best beach resort for a multigenerational break is Agios Prokopios. Here, you'll be based on one of the best beaches in Greece with soft white sand and crystal clear warm waters for swimming. There are plenty of amazing rentals house in Naxos too. You can explore the nearby beach resorts of Agia Anna and Plaka and be just 15 minutes by a regular bus service from Naxos Town.
Day 5: Naxos
The sea at Agios Prokopios Beach, Naxos
Use today to get to know Naxos. Opt for a beach day in Agios Prokopios or spend the day exploring Naxos Town.
A day tour around Naxos is highly recommended to visit the picturesque seaside village of Appolonas and see the rolling hills. Some private tours run trips to the small Cyclades, where you can take in the wonders of Koufinisi island.
Some family members may enjoy visiting Naxos Town (the old town area) in the evening, where you can climb to The Temple of Apollo and have spectacular views of the island and sunset. Opt for a cocktail overlooking the harbor or dine out on Greek cuisine.
Day 6: Naxos (Day Trip to Paros)
Spend another day enjoying Agios Prokopios Beach. If you're up for an adventure, why not plan a trip to the next-door island of Paros.
The ferry journey from Naxos Town to Paros is just 30 minutes. You'll find yourself in Parikia, where you can explore the winding Cycladic streets, shop at the many boutiques, and swim on one of many beaches. Head to the bus station for regular bus services all over the island.
The best places to visit are Piso Livadi, where you can watch the world go by and see the beach, Golden Beach, Naoussa and the hillside village of Lefkes.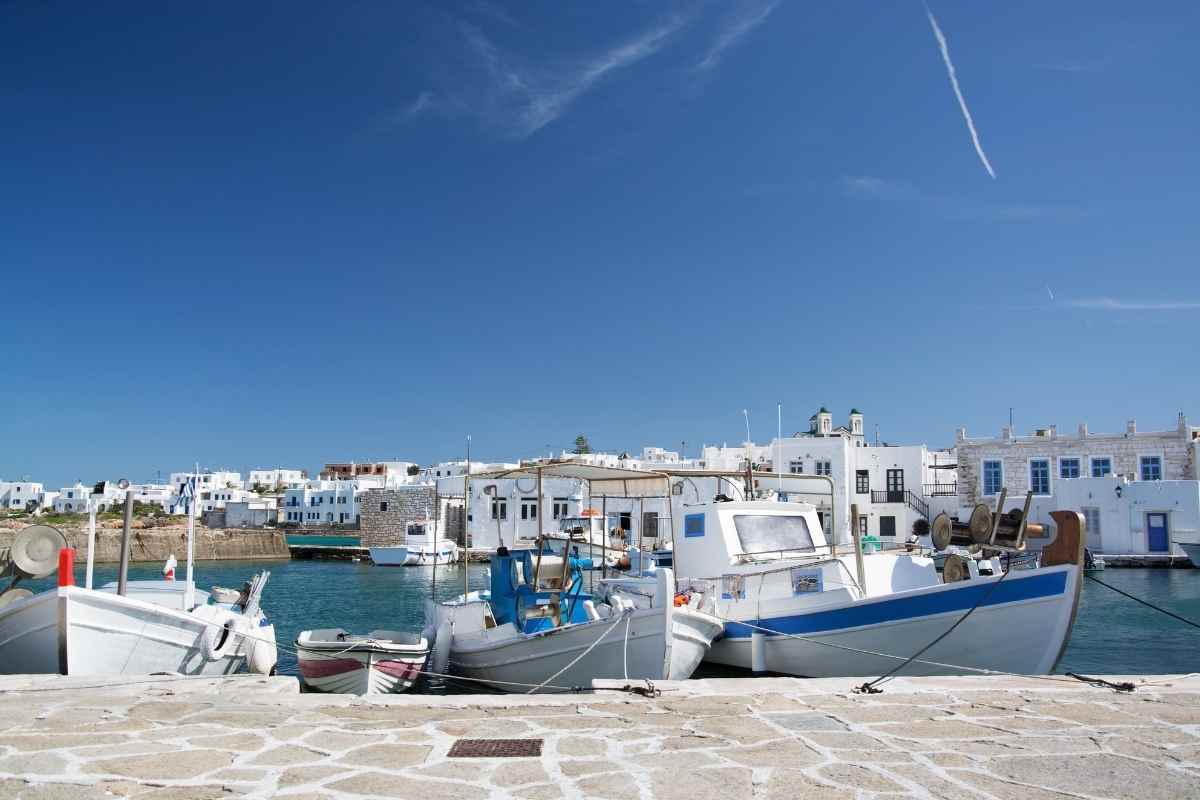 You could also visit Antiparos on the same day. Three ferry services per day run from Parikia to Antiparos and regular services from Pounda port, a short and regular bus ride from Parikia.
*Note: ferry times between Naxos and Paros aren't always the best for day trips (as in, leave at 9:00 am, return at 2:30pm), so consider spending a night on Paros at the minimum.
Day 7: Travel back to Athens
Today, you'll travel to your final destination. Most visitors to Greece will fly back from Athens. You could catch a later ferry, enjoy Naxos for another day, or opt for an early morning ferry to enjoy Athens.
Ferries from Naxos to Athens are 4.5-6 hours. A large family may find it easier to book a cabin where the little ones can roam free.
If you're flying to a European city, you may be able to fly from Mykonos, which is just a 45-minute ferry ride from Naxos. Santorini is also an option if you're traveling to Europe and just 1.5 to 2 hours by ferry. You can also fly from Mykonos and Santorini to Athens. Alternatively, you can fly direct from Naxos to Athens.
Wrapping up your Greece family vacation
However you choose to arrive, we recommend staying the night before your flight somewhere close to the airport. The Sofitel is just across the street from ATH, making for easy access (yes, it's walking distance from the terminal) for families.
Now you've come to the end of your 1-week Greece family vacation. We are sure your family will enjoy these beautiful islands. It's one of the best family trips we've ever had!
Families looking to explore more of Europe don't want to miss the best places in Europe for a multi-gen trip and the best European vacation rentals for families.
About the author: Sylvie is a family travel blogger who tries to explore as much as she can with her daughter. At her site European Cities with Kids, you'll find everything you need to know about going on a European city break with kids, from choosing the perfect destination for you and your family to deciding the best places to stay and planning what to do.