From the inspiring beauty, captivating history, and snow-capped mountains to picturesque villages and turquoise waters, Greece is one of the top vacation destinations. There are many great places in Greece to visit; listing them all would be impossible. In this article, we list some of the best Greek Islands, historical sites, and attractions you can see on your trip.
*Disclosure: This post may contain affiliate links, which means we may receive a commission if you click a link and purchase something that we have recommended. Please check out our disclosure policy for more details. Thank you for your support!
1. Santorini
Santorini is one of the most famous Greek Islands with its panoramic views, white houses, incredible sunsets, gorgeous beaches, fun nightlight, and the ruins of ancient Thira. This Greek island is one of the Cyclades islands nestled in the Aegean sea and one of the most romantic places in the world.
Some things you can do with your family include exploring Oia to see cute white houses and charming churches, taking a cruise around the area, and visiting the black sand beaches. You can also try out the fine restaurants, stroll the charming villages, and swim in the turquoise waters.
2. Meteora
Meteora is a UNESCO World Heritage Site that will leave you and your family in awe. UNESCO gives heritage status for art and nature, and the breathtaking Meteora has received both; that's how gorgeous this place is!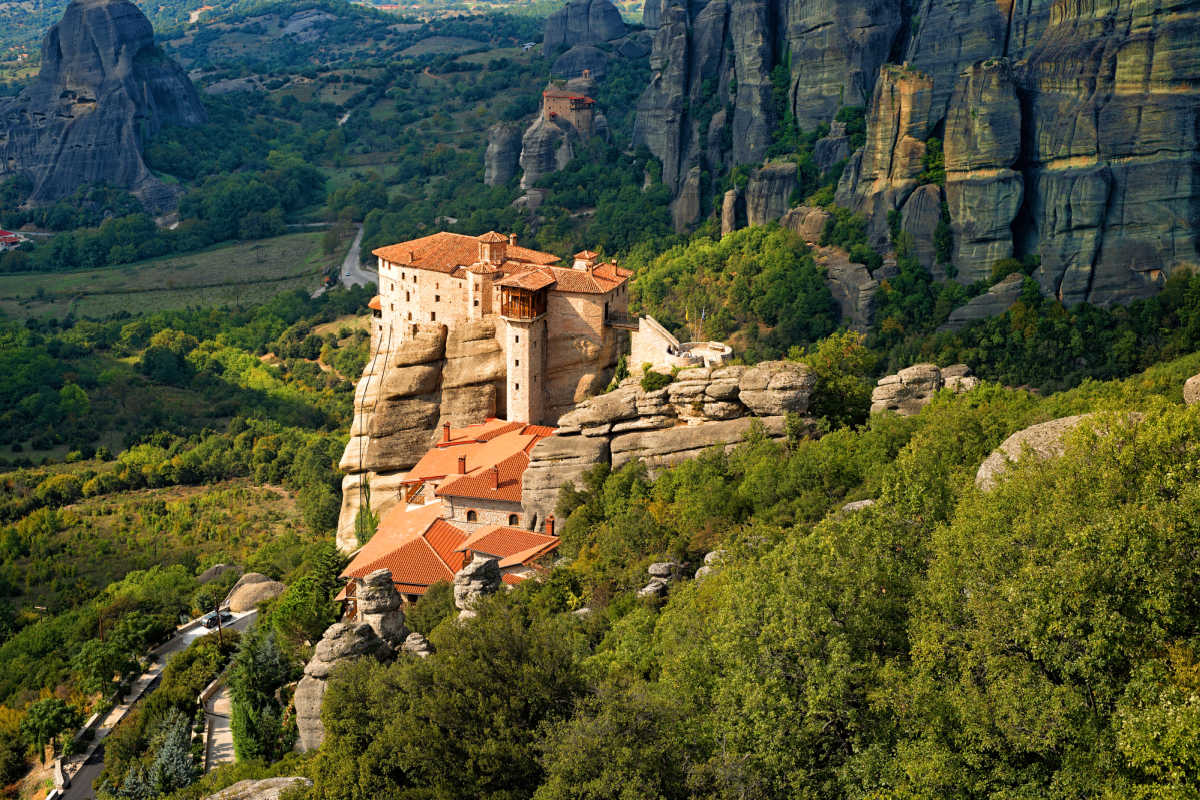 Meteora is a stunning site with 1300 feet high pillars of rocks jutting upwards. On this mountain, you will find 24 monasteries built in the 14th century. The monks used a rope ladder to reach the top of the rock, but since it's turned into an attraction site, the rocks now have steps carved into them. These steps provide easy access for monks, visitors, and locals who want to explore or pray in the six open monasteries.
You shouldn't leave the Meteora without climbing the rock to explore the incredible monasteries, which are important sites to religious pilgrims and locals.
3. Athens
From the Acropolis Museum to the Temple of Zeus and the Parthenon, Athens is the best place to get a glimpse into ancient Greece. Athens is also a relatively cheap city compared to other capitals in Europe and has many beautiful things to see.
This city features many fashionable restaurants, luxury hotels, fun nightlife, and car-free zones perfect for families with kids.
A fun way to enjoy your trip to Athens is by visiting the Acropolis, a beautiful place full of rich history and monuments.
You should also consider taking an Athens food tour to learn more about the country's culinary history while sampling excellent Greek cuisine. Make sure you try out different restaurants and meals when you're in Athens, as it's one of the best places to try Greek food.
4. Corfu
Corfu is one of the most popular of the Ionian islands and an ideal destination for families who enjoy water sports. This green island has 57 white sandy beaches, with the popular being Kavos, Ipsos, and Gouvia. Many of these beaches also offer opportunities for water sports like snorkeling, diving, waterskiing, and parasailing. Lessons are available for adults and older kids new to these water activities.
This island also features cute villages, vineyards, forested areas, sheltered coves, and charming alleyways you can explore on a bike or horseback. If you can travel in the off-season, it's one of the best fall vacation destinations in Europe.
Other places in Corfu to explore with kids are the Corfu Aquarium with countless fish, Corfu Donkey Rescue with donkeys you can take for a walk, and restaurants where you can stop to taste local Greek dishes.
In addition, Corfu has fun water parks: Aqualand Water Park and Hydropolis Water Park, which the whole family can enjoy.
5. Rhodes
Rhodes is one of the most family-friendly islands, featuring beautiful resorts, great beaches, and historical sites to keep you busy.
This holiday island is the largest of Greece's Dodecanese islands and one of the most visited spots in Greece. Rhodes also features a lot of natural beauty, stunning scenery, and interesting history to soak in. You will find a lot of shops, restaurants, ancient ruins, and water parks for young and older children.
A family trip to Rhodes isn't complete without a visit to the Valley of Butterflies, featuring countless species and colors of butterflies. You can also enjoy water sports at the beaches in the area and take the kids to Aqua Park in Faliraki.
6. Thessaloniki
Thessaloniki features many exciting places, including ancient ruins, beautiful museums, unique restaurants, and picturesque sandy beaches. This Northern Greece town is quite fun owing to the nightlight, the universities, and the arts. While you are here, you should tour the galleries and museums, explore the old quarter neighborhood and try out the zaxaroplasteio, a delightful Ottoman sweet. Thessaloniki is also an excellent base for day trips to other parts of Greece.
7. Halkidiki
Halkidiki (the Riviera of the North) is in Northern Greece and a popular destination in the region. This area is blessed with many natural attractions, including the Athos Peninsula, where you will find Mt Athos. This men-only monastery has kept its Byzantine rituals for more than 1000 years.
Halkidiki also features Kassandra, which buzzes with spectacular nightlife, beach bars, and secluded beaches in Summer. You will also find the birthplace of Aristotle in Stagira, natural springs in Aghia Paraskevi, stunning shores of the Sithonia Peninsula, and beautiful mosaic floors in Olynthos. The entire family can also explore the beachfront tavernas, where you can enjoy traditional Greek cuisine.
8. Peloponnese
The Peloponnese is a large peninsula in the South of Greece and features four smaller peninsulas connected to Mainland Greece. This fantastic place is popular among families with younger children owing to its kid-friendly beaches, the Venetian Castles, stunning backdrops, and the remarkable UNESCO World Heritage sites worth exploring.
Hiking, walking, and sailing are some of the most popular outdoor activities enjoyed on this gorgeous island. The Peloponnese also offers agrotourism, bike tours, and exploration excursions for young children. Here they can learn more about the fauna and flora in the area. You can visit the farms, family homesteads, and boutique boltholes. The Peloponnese may not be as popular as other Greek islands but the area has plenty of great highlights and is perfect for families trying to avoid the peak season crowds.
9. Mykonos
Mykonos may be famous for its nightlife, clubs, and parties, but it's also a great island for those seeking a family-friendly atmosphere. This island is a good choice for those seeking spectacular views, serene beaches, delicious food, and unique resorts.
Mykonos is stunning, with plenty of sandy beaches, famous windmills, and whitewashed houses that sit close together to form a maze of beautiful alleyways. While you are here, you and your family can take a day trip to Delos, which is the birthplace of Apollo and Artemis. You can also visit the museums, go on a wine-tasting tour, view the gorgeous sunsets, and walk the pretty alleyways.
10. Acropolis
Acropolis is one of the most famous historical sites in the world. Perched on top of a steep, this archaeological museum dates back to the 4th century and features beautiful temples built by ancient Greeks. Acropolis also features the Parthenon and Temple of Athena Nike, which attract visitors in millions every year. Our top tip while coming here is to prepare for the crowd and bring enough water. You should also visit the rest of Athens, one of the best cities to visit in Greece.
11. Crete
Crete is a great place with so much to offer for children of all ages. Here, you will find sheltered bays and beaches for younger children and sports facilities for older kids. You and the kids can enjoy a boat trip to Balos Beach, explore the ancient ruins of the Minoan Palace in Knossos, and walk the 14km Samaria Gorge. The Samaria Gorge is one of the largest gorges in Europe. It is also home to gorgeous birds, jaw-dropping views, and an array of wildflowers.
Crete also offers a good number of archaeological sites, museums, water parks, theme parks, and hiking gorges that the entire family can explore. You should also know that some of the best beaches in Greece are in Crete so you should visit some while you're here. This is one of our favorite spots for a family reunion in Greece.
12. Mount Olympus National Park
Mount Olympus is one of the most popular attraction spots in Greece. In Greek Mythology, this mountain is considered the home of the 12 gods of ancient Greece. Olympus is a very tall mountain with its highest peak rising by 9,573 feet. This mountain also features spectacular views of flora with over 1700 plant species across the region.
13. Naxos Island
Naxos is easily one of the best family-friendly holiday destinations in Greece. This beautiful island is mainly about the beaches, and they have various options perfect for both older and younger children. Naxos features many picturesque villages you can tour with your family to learn more about the culture, the food, and the ancient Greeks.
Some of the best things you can do here include touring the fishing village, strolling through the quaint villages, and visiting the archaeological sites, including the Jesuit Monastery. This island also has many wine-making factories that draw in visitors from all around the world. Naxos, the largest of the Cycladic islands, is popular for outdoor activities like hiking, horseback riding, kayaking, and surfing.
Greece ticks many boxes as a travel destination for the whole family. Endless sandy beaches. Double Ticks. Water parks. Tick. Stunning villages. Tick. There are also archaeological sites, dazzling nightlife, delicious Greek cuisine, and gorgeous islands to consider. Now that you know the best places in Greece to visit with your family, it's time to start planning your trip!