Greece is a perfect place for a family reunion. All ages will love the colorful villages, family-friendly attractions, delicious food, and endless sandy beaches. If you are planning a trip to Greece for a family reunion, this guide is for you! We cover things you should discuss before the trip and some of our favorite ideas for destinations that would be great for a family reunion.
*Disclosure: This post may contain affiliate links, which means we may receive a commission if you click a link and purchase something that we have recommended. Please check out our disclosure policy for more details. Thank you for your support!
Before You Travel to Greece
Start Planning Early
When planning a family reunion in Greece, there are a few things you'll want to keep in mind. First, make plans months in advance. In addition to starting early, make sure to involve everyone in the plans. Delegate tasks to keep the planning process easy, and look out for promotional offers or family vacation packages.
Research, Research, Research
Make sure you research everything from the best islands to visit, the best places to try Greek food, and family-friendly accommodations. Research is essential when it comes to properly planning your family trip to Greece.
Decide Where To Stay
Your accommodation options will depend on your vacation destination. Greece has a wide variety of hotels, resorts, villas, and rentals that can accommodate your whole family. Inclusive resorts can be an excellent option for a family trip due to their convenience and variety of activities.
Book in Advance
When traveling, a great way to save money is to make your bookings ahead of time. Do not wait until the last minute before you start figuring out the details of your visit, such as accommodation, plane tickets, and places to visit.
Booking in advance is especially important if you're going to more popular islands like Santorini or Mykonos, where accommodation can be scarce during peak seasons.
Get a Travel Insurance
It's crucial for families going on a vacation to Greece, or any international country for that matter, to have a good insurance policy. Travel insurance will give your family peace of mind, and protect you in the event of an unforeseen emergency.
Greece Packing Tips
A major component of every vacation is packing appropriately for your destination. As Greece is usually very hot in summer, packing hats, sunblock, sunscreen, and light clothes would be for the best. It would also help if you also packed a sarong or long skirt for visiting monasteries and other religious sites. 
Bring Currency from Home
As Greece uses the Euro, and card payments aren't always accessible, it would be wise to order currency in advance. Many local banks can assist with this., Establishments like taverns, bars, kiosks, and smaller shops may only accept cash.
You can use your credit card to withdraw from ATMs in most cities and tourist areas, but it's still recommended to carry cash on you. This is especially important if you plan on exploring smaller Greek islands or places off the beaten track, as you may not be able to find ATMs.
Download the Google Translate App
While a fair portion of Greece's population speaks English, it's a good idea to learn some basic phrases like 'hello,' 'where is,' and 'thank you' to keep your trip easy. You should also download the Google Translate App to help you with translation. This comes in handy when exploring small islands where locals might not speak English. 
Make an Itinerary
When making an itinerary to Greece, you need first to decide if you want to island-hop or stay at a specific destination. Your final decision will most likely depend on how long your trip will be, and your budget. Once you figure out the places you want to go, you can figure out ferries or flights that connect the islands to help you make a timetable for your trip.
Best Time to Travel to Greece
As Greece is a Mediterranean country, some of the best times to visit are the shoulder seasons. This will allow you to enjoy the sandy beaches, turquoise waters, and beautiful scenery. That being said, many travelers go to Greece between July and August, which often causes large crowds and long queues at popular destinations. 
If you are planning a family vacation, we recommend you go around April to June, to enjoy the warm weather and spend time at the fantastic sites without dealing with overwhelming crowds. On top of that, accommodations and flights are cheaper during this period.
Where To Go in Greece
The most important thing to consider when planning a family trip is figuring out where to go, and what activities the whole family would enjoy. That can range from amazing beaches to busy cities and historical sites. Greece is a lovely country with activities that anyone could explore. Here are some of the best places to visit:
Athens
The Greek Capital of Athens has numerous opportunities for you and your family members to enjoy yourselves. Athens offers insight into ancient history through awe-inspiring archaeological sites, and beautiful scenery. Furthermore, historical sites such as the Acropolis provide insight into mythology, and history which will surely excite the kids.
We recommend joining a private group tour to discover Athens and its hidden gems. Athens also has historical attractions, easy access to beaches, and delicious food all ages can enjoy.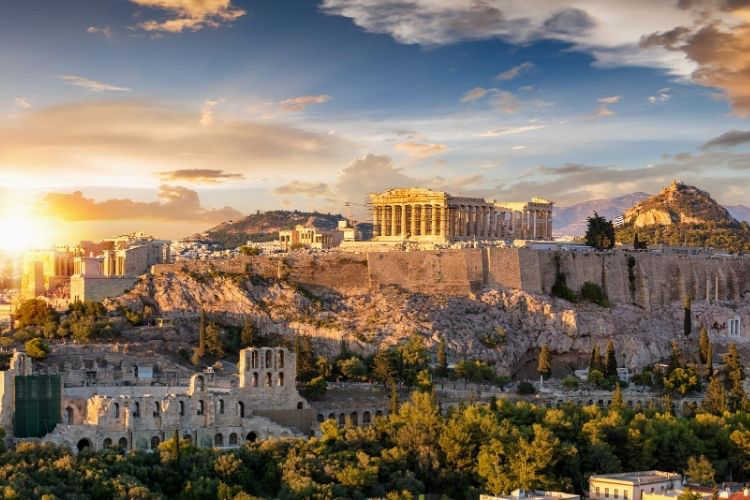 Recommended tours in Athens
Meteora
It is highly likely you have seen a picture of Meteora on social media, with the iconic destination being a UNESCO World Heritage Site. It features spectacular cliff-top monasteries built close to half a millennia ago. You and your family can climb the Meteora to explore the beautiful monasteries where people pray to this day.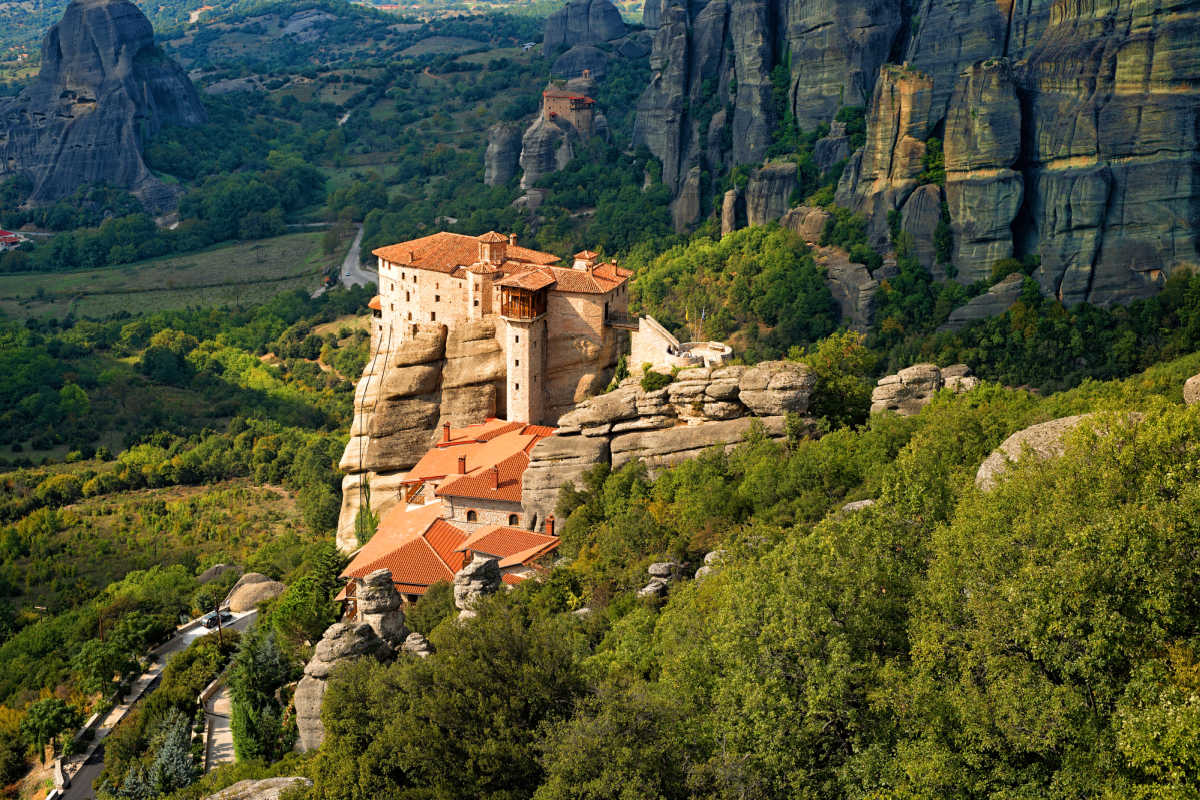 Crete
Crete is the largest Greek island and an excellent destination for families. If you are heading to Crete, be sure to allow plenty of time to explore all the island has to offer.
Some historical sites you can explore include the Minoan Palace of Knossos, the Heraklion Archaeological Museum, and the Cave of Zeus. if your family wants a fun day out we recommend the Acqua Plus Water Park, where you will find 50 water slides and a hydromassage pool for relaxation.
Naxos
Naxos is the largest and greenest of the Cyclades islands, which makes it a great place to bond with family. You can explore the Venetian castle, visit olive groves, and spend time on its amazing beaches. In addition to its beautiful destinations, Naxos is also home to activities like horseback riding, kayaking, surfing, and wine tasting. 
Santorini
Santorini is one of the most famous Greek islands. It's easy to see why, with its iconic whitewashed houses, colorful roofs, and epic sunsets. It serves as the perfect destination for a family adventure. There is a wide array of different activities to enjoy, such as exploring the island by car or boat, visiting Red Beach, and going to Ancient Thira to name a few. 
Rhodes
There are many things to explore in Rhodes, such as the medieval castles, the Palace of the Grand Master of the Knights of Rhodes, the Faliraki Waterpark (which is the largest waterpark in Europe), and the Valley of Butterflies, where thousands of butterflies gather every summer.
Corfu
This Ionian island has many well-known beaches like Prasoudi, Gouvia, and Ipsos. Corfu is perfect for large groups, as you can enjoy outdoor activities like diving, skiing, and snorkeling. Families might enjoy visiting the Corfu Aquarium and Aqualand Water Park as a group. 
Getting To and Around Greece
When traveling to Greece, many visitors from the US often fly into Athens International Airport. Here you can find connecting flights to other major islands. Those traveling from European countries have a high chance of finding direct flights to Greek islands like Santorini, Crete, and Mykonos.
One of the best ways to travel around Greece with family members is by driving. You can bring your car with all the necessary documents or rent a car. If you plan on driving, it's essential to bring your driver's license or get an international driver's license from AAA if you're in the US.
If you don't want to drive, there are other ways to explore the islands and travel between them. We recommend a combination of ferries, buses, and planes if you don't want to drive.
CLICK HERE TO BUY TICKETS FOR THE GREECE FERRIES
Greece Family Holidays Tips
Here are some tips to help you plan and enjoy a great family reunion in Greece:
Go Island Hopping
Perhaps one of the best things to do in Greece is to go island hopping. Why limit yourself to one area when you can visit a multitude of widely varied attractions and activities? Don't limit yourself, as there are many islands to explore.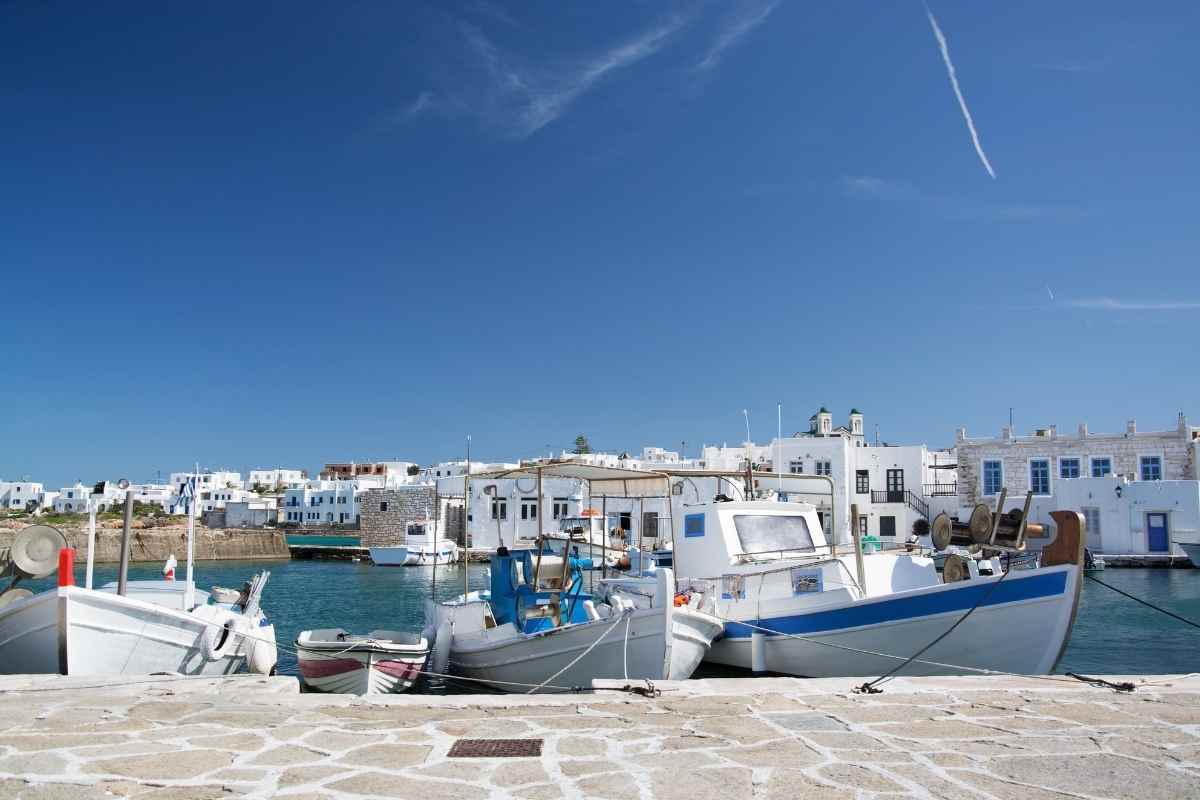 Consider Family-Friendly Tours
A good way to have fun in Greece is by signing up for family-friendly tours to help you navigate the country. You may also want to consider using a travel advisor for your family reunion. They can plan everything including flight arrangements, tours, accommodation, and transportation.
Choose Interactive Activities
Whether you are coming to Greece for a special event or just here to relax, a great way to enjoy quality time together is by planning interactive activities that keep people engaged. This could be going on a food tour, taking a boat trip, trying out a cooking class, or exploring the spectacular archaeological sites.
A family trip to Greece is an opportunity for all ages to have fun, expand their worldview, bond, and take in the rich culture. Whether your family enjoys trying new food, learning about history, exploring mythology, trying water sports, or something else, there's something for you in Greece.