The Caribbean islands are an excellent choice for family vacations as the region enjoys beautiful beaches, delicious food, and endless outdoor adventures. But which island should you choose? This side-by-side comparison will help narrow down the options. These are some of the best Caribbean islands for families.
*Disclosure: This post may contain affiliate links, which means we may receive a commission if you click a link and purchase something that we have recommended. Please check out our disclosure policy for more details. Thank you for your support!
What is the Best Caribbean Island For Family Vacations
It can be difficult to choose the perfect Caribbean island for a family vacation because each one is different from the next. One might offer endless adventure activities while another lends itself to relaxing in the sun or lying on the beach. Here's a quick comparison of some of the best Caribbean islands for families.
The Caribbean offers year-round sunshine with the exception of the rainy season. The rainy season is usually from May to October and the dry season is from November to April. These islands are recommended because they are safe and offer direct and non-stop flight options from the United States.
Let's take a closer look at the islands and the features that make them the perfect fit for a family Caribbean vacation.
1. St Thomas
As an overseas territory of the United States, St Thomas is an excellent choice for a multi-generation vacation in the Caribbean.
One main benefit of traveling to St Thomas is that US citizens don't need passports.
There are also many activities that all ages can enjoy, so whether your family wants to relax on the beach or soak up the local culture, St Thomas has much to offer.
Magens Bay Beach is one of the best beaches on St Thomas. Its calm clear waters make it an excellent spot for swimming and water sports activities.
The beach is part of Magens Bay Park where the island's Discovery Nature Trail is also located. This hiking trail is perfect for adventure seekers and one can see the wildlife and unique native plants of St Thomas.
One of the island's most popular activities for families is Coral World Ocean Park. This attraction has educational tours for individuals of all ages as well as water activities such as kayaking with dolphins.
If you have a family member who loves high-end shopping, St Thomas has a number of luxury brands in its retail footprint. Some of these stores include Gucci, Diamonds International, and Louis Vuitton. Make sure to set aside some time for shopping if your family wants to take home some souvenirs.
St Thomas is an excellent home base for island-hopping. As the center of commercial activities in the Virgin Islands which includes the British Virgin Islands (BVI), there are ferry services available to islands such as Tortola, St Croix, St John, and Water Island. Please note, US citizens require a passport for access to the BVI.
It is less than three hours of flying time from Miami International Airport.to Cyril E King International Airport in St. Thomas, making this an easy Caribbean getaway for families.
2. Grenada
Fondly called the Isle of Spice, Grenada is another exciting option. Grand Anse beach located on the South coast of the island is the most frequented by visitors. There are lifeguards stationed on this beach and the water is calmest near the Catholic church.
There are numerous banks, shopping malls, beach bars, and restaurants in the southern part of the island.
A leisurely stroll in the capital city of St George will make a vacation in Grenada complete.
As a family, you can visit the Grenada National Museum to learn more about the island's history, the House of Chocolate to experience numerous delicacies made with local chocolate, and Fort George.
The latter location Fort George provides a panoramic view of the Carenage and Kirani James Boulevard. It is a perfect spot for some magnificent photos.
The terrain of the city is hilly and therefore it is advisable to wear comfortable and sturdy shoes during your city exploration.
Another relaxing activity to enjoy as a family is an island tour. Grenada is just over a hundred square miles and it is possible to drive around the island in a few hours.
Some historic and amazing places to visit on a drive around the island include Grand Etang Lake, The Caribs Leap, and Annandale Waterfall.
It takes less than four hours of flying time from Miami International Airport to Maurice Bishop International Airport.
3. Barbados
The island of Barbados is one of the most developed in the Southern Caribbean region (and one of the better places to retire in the Caribbean). If your family is looking for an island vacation that offers more specialized amenities and a wider variety of international products and services, Barbados will be an ideal option.
It is flat in topography and hence visitors may find it easier to drive when compared to other regional counterparts.
One of the most popular attractions in Barbados is Harrison Caves which is described by many as a natural wonder. Tours are conducted using an electric tram and there is a bar as well as a gift shop on the premises.
Of course, one cannot visit Barbados without enjoying the lovely white sand beaches on the island.
Brighton Beach and Accra Beach located on the south side are two options that are perfect for young children.
The capital city of Bridgetown and the surrounding Garrison are designated as a UNESCO World Heritage Site.
If you're looking for things to do indoors, the Barbados Museum and History Society is an ideal option for all ages. This museum contains photographs and literature which capture the history and culture of Barbados. Additionally, there is a museum shop on site where souvenirs and locally made items are sold.
One weekly event that should be on your Barbados itinerary is Fish Friday in the community of Oistins. This festival features local dishes made predominantly with fish and it is an excellent opportunity to meet and socialize with locals on the island.
It takes less than four hours of flying time from Miami International Airport to Grantley Adams International Airport.
4. St Lucia
St Lucia has gained prominence as a vacation destination due to the number of international celebrities who wed on the island.
The destination is also known for the elegant twin mountain peaks called the Pitons which were declared a UNESCO World Heritage Site in 2004.
Hiking is only reserved for the Gros Piton which is 2,462 feet. Alternatively, the Petit Piton which is 2,619 feet is rarely climbed.
As a result of the island's volcanic nature, St Lucia has a number of spectacular black sand beaches. Anse De Piton Beach and Anse Chastanet Beach are two magnificent options to explore.
Families who are interested in visiting more than one Caribbean island will love St Lucia as there is an efficient ferry service between Dominica, Martinique, Guadeloupe, and St Lucia.
It takes approximately three and a half hours flying time from Miami International Airport to Hewannora International Airport.
When planning your trip, keep in mind that the international airport in St Lucia is located in Vieux Fort which is the southern end of the island. Many of the major hotels on the island are situated in the north. Therefore, driving for about one hour or more may be required to arrive at the hotel.
5. Bahamas
The Bahamas is a group of approximately 700 islands, cays, and islets covering a landmass of 5,359 square miles.
The islands are loved by tourists for their stunning and unique beaches. Pink Sand Beach on Harbour Island is renowned for its distinctive pink sands and turquoise waters.
One of the most photographed beaches on the island is Pig Beach which is perfect for those who want to experience swimming with pigs.
An activity that the entire family can enjoy is a visit to Aquaventure which is one of the largest waterparks in the Caribbean. This attraction is located at the Atlantis on Paradise Island.
Aquaventure is ideal for all age groups and features waterslides, rapid river rides, and pools that cover 141 acres. There is also a beach located on the premises.
It takes approximately one hour and fifteen minutes from Miami International Airport to the Lynden Pindling International Airport which is the main airport of the territory.
Due to the island's close proximity to the United States, it is possible to travel to the Bahamas from Florida by ferry. The ferry docks in Grand Bahama Island and Bimini. This might be a fun adventure when traveling with extended family.
6. Aruba
Known as "One Happy Island", Aruba is one of the most visited Caribbean islands by tourists.
It is flat and arid in terms of appearance and due to its location, the volume of rainfall received is lower than on other Caribbean islands. Its topography also makes it an easier destination for driving.
Aruba is situated outside the hurricane belt (along with Bonaire and Curaçao), making it an ideal option for a Caribbean family vacation between June and November.
The island is known for its amazing white sand beaches. Eagle Beach in the capital city of Oranjestad, is known for its turquoise waters and silky-smooth white sands.
To see the rugged desert-like terrain of the island, the family will want to head to Arikok National Park. The national park occupies about 20% of the landmass of the island. Individuals can enjoy the local wildlife and flora either via a guided tour or independently.
A direct and non-stop flight takes approximately three hours from Miami International Airport to Queen Beatrix International Airport.
A nice bonus for US citizens is that there are US customs and immigration in Aruba which will help make your return visit to the United States seamless. Please note: the Aruba airport is notorious for long departure lines so we recommend that you give yourself at least 3 to 4 hours to navigate this process.
7. Puerto Rico
Puerto Rico is another one of those islands that doesn't require a passport for US travelers. The island has something for all ages; a historical city center, beautiful beaches, golf courses, and even a rainforest!
One of the best beaches in Puerto Rico for families is Luquillo Beach. It has a mile of soft sand and is close to El Yunque rainforest if you want to book a trip to both in the same day. There are a variety of kiosks serving all types of delicious food, restrooms, and plenty of parking.
Some of the best places to stay in Puerto Rico are resorts around the island. The Caribe Hilton, San Juan Marriott Resort and Stellaris Casino, and El Conquistador Resort are all great choices for family groups.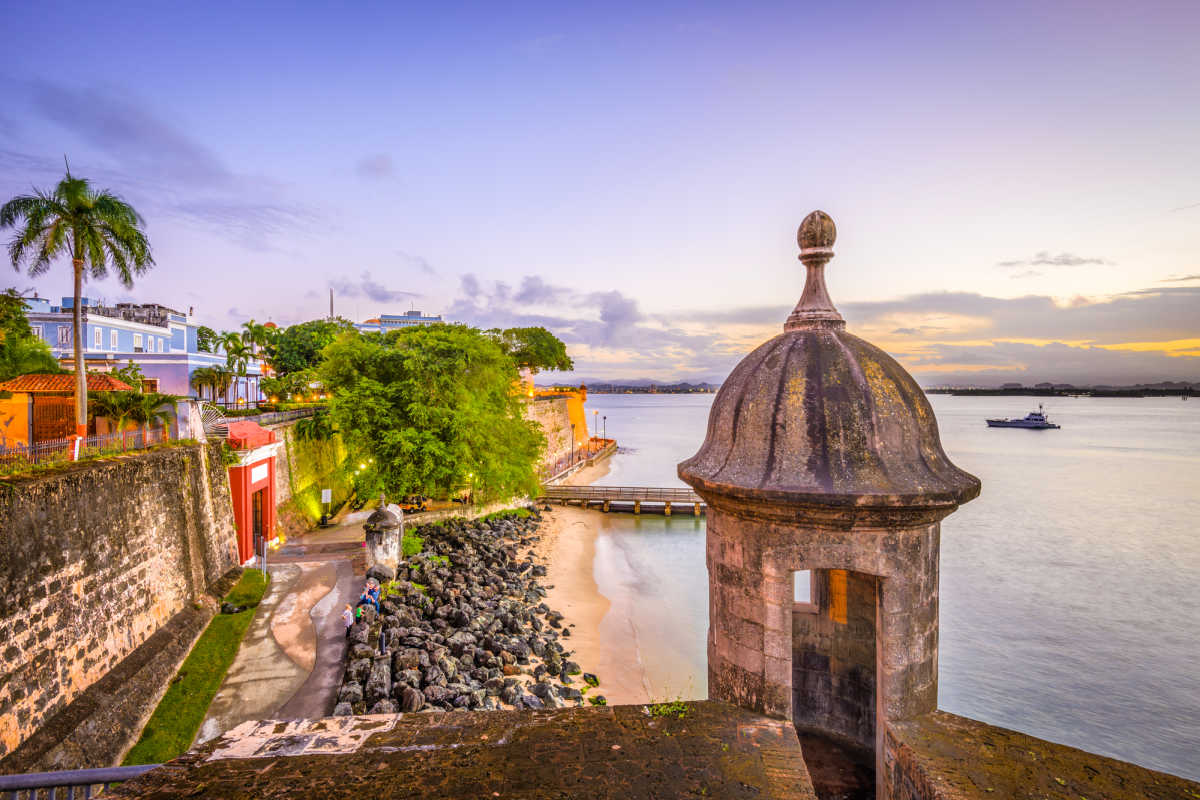 Be sure to spend time exploring Old San Juan and its Spanish forts. There are also some amazing food tours we would recommend for a taste of local flavors.
It takes approximately two and a half hours from Miami International Airport to Luis Munoz Marin International Airport in San Juan.
As a whole, the Caribbean islands are known for warm and friendly people, fabulous beaches, and delicious food. We are sure you will have a memorable time on any one of these islands.
About the author: Rachel Brathwaite writes for Around The Caribbean an online magazine dedicated to sharing information about the Caribbean islands. The content provides helpful and meaningful tips for individuals who want to relocate or travel to the region.