Bonaire is a beautiful island full of dazzling people, natural wonders and amazing excursions for all who visit. Couples. Individuals. Groups. Families. All can find something to love about Bonaire – making it the ultimate multigenerational vacation.
Every year Bonaire wins "best of" scuba diving awards for shore diving. With nearly 80 sites accessible by land, in addition to the ability to jump off right from waterside resorts to scenic house reefs, it's a great place to start.
If the children aren't old enough to scuba, there are babysitters at a variety of resorts – but confirm before you book. Once the children are old enough to scuba, they'll want to return to Bonaire again and again. "Once a visitor, always a friend."
*Disclosure: This post may contain affiliate links, which means we may receive a commission if you click a link and purchase something that we have recommended. Please check out our disclosure policy for more details. Thank you for your support!
Bonaire is one of the safest adventure destinations in the world for families with all ages. People here speak multiple languages, including the native language, Dutch, English and Spanish. U.S. currency is used in Bonaire and they have familiar driving rules. It has all the advantages of a European colony with U.S. touches. Little fuss. Just fun and a gorgeous place to explore for all ages.
Where is Bonaire?
Bonaire is located in Leeward Antilles in the Southern Caribbean about 60 miles off the Northeast coast of Venezuela. It's the "B" in ABC islands, with nearby Aruba and Curacao. It's the "B" in the BES islands, Bonaire, Sint Eustacius and Saba, important to Dutch economy and the reason why they use USD as currency.
Since 1636, the island has been governed by the Netherlands. The island was integrated into the Netherlands in 2010 when the "Netherlands Antilles" were dissolved, making the residents bona fide members of the Netherlands, rather than a colony. Eighty percent of Bonaire's population are Dutch nationals.
The island of Bonaire is about 24 miles long and up to 5 miles wide.
The Bonaire airport, near the largest city on the island, Kralendijk, is Flamingo International Airport (BON), with its famously pink wall and decor. You are literally minutes from town.
What to Know Before Traveling to Bonaire
Get cash (USD) to take with you. While credit cards are accepted at resorts, they are difficult to use in stores or restaurants and most shops in town.
Take a money belt. Bonaire is an incredibly safe place to visit but pickpockets still work the crowds, especially when the cruise ship is in town (almost every day of the week). You'll have no need for money at most of the (all-inclusive) resorts but mind your stash when you're in town.
Bonaire is the perfect place to obtain your PADI certification
Take a refresher course on how to work a stick shift. Like Europe, the Bonaire rental car companies charge significantly more to rent an automatic transmission over a standard transmission.
Plan your adventures – if you dive three times a day (two morning, one afternoon) with your family, what will your "alone" time be – a meal with your spouse, a side trip to Rincon, exploration of the lighthouses (exterior only), and what will you do your last day on the island – understanding that laying out by the pool is completely acceptable.
Challenges with travel to Bonaire
The biggest challenge traveling to Bonaire from the US will be your connecting city. Most flights arrive from either Houston or Atlanta. Many northern US flights won't arrive in time for the Bonaire daily departure in Atlanta, so plan to stay overnight at an airport hotel – the Atlanta Airport Marriott Gateway is easily accessible via tram.
If your connection is less than 12 hours from arrival, the airline will keep your checked baggage.
Bonaire Transportation Options
Moped
Rental Car (if you plan to shore dive, you need a pick-up truck – no wet suits or equipment inside cars or vans. If you plan to go to the Washington State Park, you must have 4WD)
Bicycle
Walking
Boat
Hotel shuttle (many pick up at the airport or go into town once or twice a day)
Bonaire Car Rental
You will want to know that, if you're not staying in one of the all-inclusive resorts, you'll want a rental car. Most of the resorts have arrangements with rental car companies and a deal with them will save you 50% or more of your rental car fee.
If you get a rental car you ABSOLUTELY WITHOUT QUESTION want to buy the tire and windshield rider (about $5/day) for the car. When you read the rental car company's fine print, their "total" package is far from total coverage that you'd expect in the US or Canada or Europe. Your biggest chance of real damage comes from their poorly maintained roads, especially within the National Park.
Weather in Bonaire
Winter months in your hometown are always the best time to visit Bonaire, but their Visitor Center reports the best time is mid-February through May.
Bonaire is close enough to the equator that the temperatures are fairly consistent. The actual fluctuations are reported to be 73F to 84F, with warmer months May to October. There always seems to be a nice breeze, though, thanks to trade winds. It's always been sunny and dry when we travel there and they only average 22 inches in rainfall per year.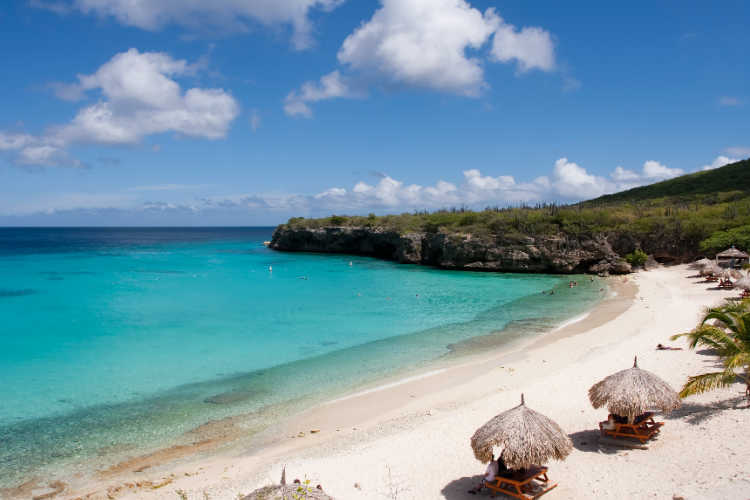 The water temperature average ranges from 79F in February to 84F in October, so most divers and snorkelers feel quite comfortable swimming year-round. Most resorts only stock "shorties," though, so if you want more coverage, bring your wetsuit from home.
Hurricanes are relatively rare compared with the rest of the Caribbean but do land about every ten years.
What to Pack for Bonaire
Light tropical clothes (cotton or linen)
Light raincoat (especially October to January)
Light sweatshirt for evening
Sunscreen
Smile
Your scuba or snorkel gear (if you don't want to rent on the island)
Water shoes or rubber-soled shoes
Underwater camera
Battery chargers (US style outlets available at most resorts without need for adaptor)
Healthcare in Bonaire
The Kralendijk hospital is well equipped to handle dive emergencies and has a recompression chamber.
Non-residents have to pay up front for medical services received and then need to submit any expenses to their own insurance company. The island's hospital is fairly tiny with only 35 beds. Specialists are only on the island occasionally and you cannot count on having one available. Emergencies beyond the scope of the hospital's limited capabilities require flights to Curacao or Aruba.
Medications that you may be familiar with at home may or may not be available even in the hospital. Many US and Canadian ex-pats who live on the island choose to return to the US or Canada for medical care.
Things to do in Bonaire with kids and grandparents
Snorkeling in Bonaire
Bonaire has not only the best shore diving experience in the Caribbean, it's the best snorkeling, too. Van der Valk Plaza Beach Resort offers a class on fish identification, and there's an identification card in the lobby gift shop. Whether you go to become an unknowing expert on tropical fish or to make a game out of how many different fish you can spot or just for the beauty of the experience, you should definitely make time to snorkel on Bonaire.
Land sailing
Just outside Kralendijk on the road to Rincon, you'll spot Bonaire Landsailing Adventures. It's a track with sails racing by and you'll feel like you're in a marina instead of the middle of a desert surrounded by cacti. Welcome to land sailing.
These enterprising people have embraced the adventure of attaching a sail to a surprisingly comfortable three wheeled go cart. Complete with handlebars to steer, you add tension to the rope to speed up, release to slow down. No other brake is needed.
This is an absolute blast and worth the trip out of town. Plan to spend about an hour for the safety briefing and the experience.
Visit Kralendijk
This port town has all the souvenir shops and seaside paths you'd expect. It also has a couple of excellent gelato shops (we like Luciano's, and know that Gio's only accepts cash). It's a great place to walk around, meet the locals, and shop at the pop-up market the artisans put up when the cruise ships are in town.
When the cruise ship leaves, though, it's peaceful and lovely and not so crowded that you can't enjoy the artwork scattered throughout. There's a flamingo feeding her baby, made completely from recycled materials. It's an island that recycles in many ways.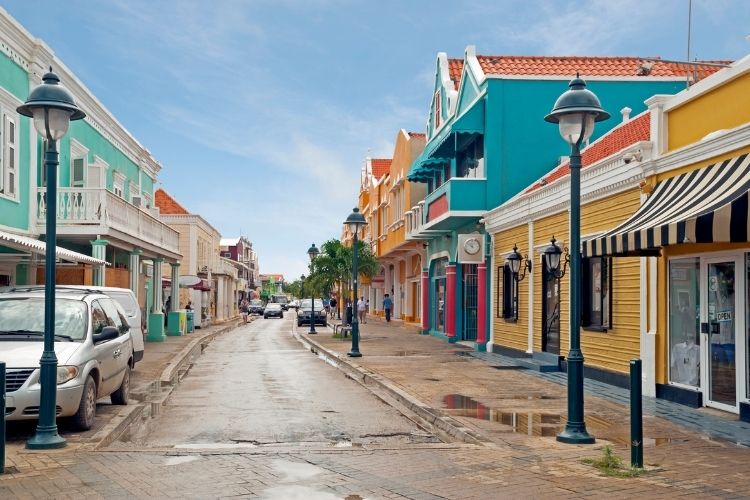 If you're fortunate enough to be in town during Carnaval, there's a week-long celebration with a line up with parades and activities for kids and for adults. At the culmination of the kids' celebration, on Monday, there were fireworks. On Shrove Tuesday, "Mardi Gras," there is an adult parade, similar to the daytime parade on Sunday, but with lights that make everything that much more magical.
Stop by the Tourism Bureau with any travel related questions. They're lovely people who know how to help. There is a two hour self-guided walking tour of Kralendijk monuments. Ask them for more information.
Washington Slagbaai National Park
For a skeleton-jarring, slow-motion roller-coaster experience, take your 4WD vehicle into Washington Slagbaai National Park. They've made it easy for you. Washington National Park's entry pass is the same as your dive pass.
There are two routes, the long route (recommended 4 hours) and the short route (anticipate 2 hours). The first time through, plan on taking the the long route. Locals explain that you'll need to plan to have an entire day there. "It's four hours of driving. You have to add any sightseeing or beach or dive or snorkel time to that."
The roads are all one way, except entrances to view sights and on the "short route" path.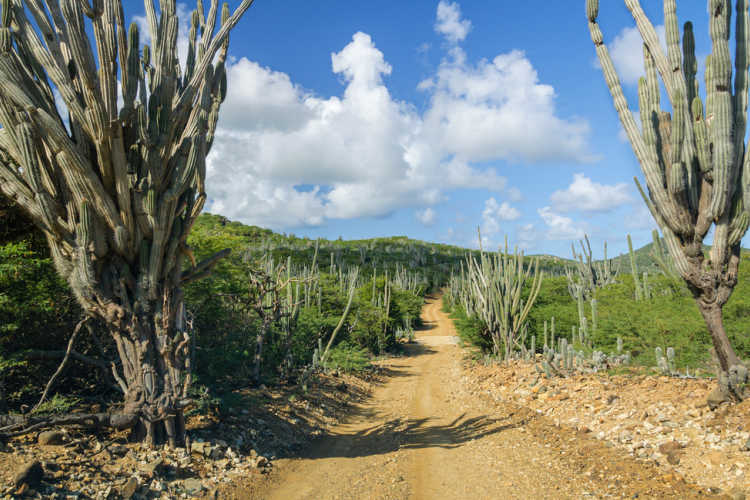 Where to stop in Washington National Park
A white sand beach whose strong waves and winds have formed sand dunes along the coast, it's the chilliest place on the island. The currents are too strong for safe snorkeling or swimming, but it is a great place for sunbathing. This beach is a popular sea turtle nesting ground.
Blow Holes, in nature, also known as marine geysers, form as sea caves grow landwards and upwards into vertical shafts and expose themselves towards the surface. The hydraulic compression of sea water released through a port from the top creates the eruptions. It's especially fun to watch little kids so excited by it, but hold tight. It's windy and slippery. It's best seen when the surf is high.
On the left side of the road, to the west, you can see these "ancient boulders" for miles. Geologists say these enormous boulders have been heaved onto the flats by ancient tsunamis. Measured at 190 feet, the high terrace mostly consists of limestone and fossil remnants. The higher terrace is reportedly over a million years old with the middle terrace estimated at 210,000 years.
This bay, named for the Kokolishi shells that bejewel its sandy beach, is sandwiched between cliffs of fossilized conch shells. Man-made steps lead down to the beach where people frequently take picnic lunches and spend time wading in tide pools with little ones.
STINAPA Seru Bentana Lighthouse
This white, J-shaped lighthouse favored by lighthouse seekers, is the second most likely to be seen functioning lighthouse. Although you cannot enter any of them, the views are spectacular.
This set of ruins is described by STINAPA as "an important historical and geological site. Not only can you find geological evidence of past hurricanes and tsunamis, you may travel through time from the Amerindian camps in AD 800, to shipwrecks discovered since the 15th century, to the use of the area in more recent times. You may also admire the ruins of the 19th century Malmok lighthouse, which was built, but never lit."
In the central section of the northern portion of the park, this is a great spot for birding. As important as fish and coral preservation is for the Marine Park, conservationists have identified more than 350 species of birds on this small island. Since fresh water can be found year-round, you're likely to spot the Tropical Mockingbird, Brown-crested Flycatcher, and Eared Dove among others.
"Feel the sound of nature." Identified as another fresh-water region, most of this area was closed off when we visited. They have a well-marked cactus and tree garden that remains open.
Look inland to see this highest peak on Bonaire. Hikers will enjoy the 784 feet peak of Mount Brandaris. It usually takes about 45 minutes to hike from the wooden gate that signals the trailhead to the peak. Start the hike before noon to ensure you can exit the park before closing time.
Highly recommended by the entrance staff as one of the best snorkel sites in Washington Park, plan to stay an hour or more. You'll frequently see French Angel fish and multiple parrotfish along the reef. There's a small cave to explore at the beach.
Boka Slagbaai and Salina Slagbaai
The Boka, or bay, was one of Bonaire's main ports. Slagbaai is derived from the Dutch for "slaughter bay" referencing the historic use of the port to slaughter and salt goats prior to exporting to Curacao. Those port buildings are now used for restrooms and picnic support areas.
The Salina, or salt pan, has a perfectly positioned bench for flamingo watching.
When you're past Wayaka and on the road to Slagbaai, you'll lose the road under the hood of your car. If you were steering in the right direction before, you'll probably hit road when you pass the top of the hill you're on. We counted seven places around Slagbaai where you can't see the road over the hood of the car and one hairpin turn. Don't let that dissuade you from going, just be prepared.
Continue within the park's documented time recommendations towards the exit. It took us just over an hour to reach the exit from Slagbaai.
Visit the Bonaire Lighthouses
Bonaire is blessed with three romantic and necessary symbols of bygone eras, lighthouses. The historic lighthouses were each repaired or renovated in 2012.
Willemstoren Lighthouse
Bonaire's first lighthouse was built in 1837. Just down the road past the slave huts, it's the easiest lighthouse to reach. It's the one most people visit is at the southern tip of the island on the small "two way" highway that is one paved lane by the time you pass the yellow slave huts. You cannot enter the building.
There are two other light beacons in Kralendijk, one on the western coast you can see as you boat past, and one on Klein Bonaire.
STINAPA's Seru Bentana lighthouse
This lighthouse within the Washington National Park is a challenge to reach because of the roads. The steps are uneven, so mind yourself, but it's worth the effort to reach this white, J shaped lighthouse. The old lamp was donated to Museu Bonaire for their archives.
Spelonk Lighthouse
This third lighthouse is the least likely to be reached on any visit. It's difficult without a local's help to find the dirt path off the road from town. Turn right on the first paved road past the KFC and then go past the castle looking house and make a left on a dirt path wide enough for a car and a half. Expect to miss it the first time.
When you turn around (the road ends about a half mile further down), you'll see the path to the right. Go up the hill and you'll see industrial buildings in the distance. There's a rusty gate open to the right that looks like it's someone's driveway. That's the entrance to the path to the lighthouse.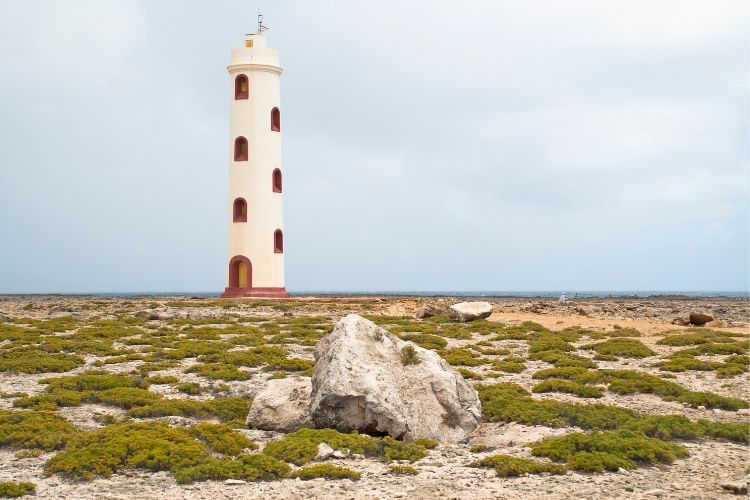 You will need 4WD to reach the lighthouse. The road is not well marked and you will frequently wonder if you're on road at all. Stick towards the coast, but don't get too close to the edge. It's difficult to see the lighthouse until you're within the last mile or so.
When you do spot the lighthouse, and the two-story lighthouse keeper's house, you'll be glad you went. Wind swept and remote, it's derelict and delightful at the same time.
We were completely alone during our time at the lighthouse. It's a reasonable place for a picnic (definitely take plenty of water with you, and food is always a good idea) and great for photographs.
Based on the pools of water present, I think it's safe to assume the waves reach this height, even though it seems high. You can find fossilized starfish amongst the tide pools.
Visit the Bonaire slave huts
A sad part in human history is that one of the imports to Bonaire was slaves. In 1850, according to the sign posted, these huts were used to house slaves and their belongings while they worked in the salt fields. Four Obelisks were built and placed along the shore. Painted red, white, blue and orange (colors of the Dutch Flag), they were used as navigational shore markers for boats coming in to load salt.
The white slave huts are reached first on the road south from Kralendijk. There are 12 yellow slave huts further south along the same road.
Mangrove – kayak and snorkel tour
Take the kayak and snorkel tour amongst the mangroves. For your kayak trip amongst the mangroves, you'll be taken to Lac Bay and enjoy the kite sailors whipping their bodies every way the wind blows and do gravity defying tricks. You'll walk amongst 200-year old piles of Queen Conch shells discarded by the sea.
Load into your kayaks and have your upper body strength ready. Crossing the open water across Lac Bay into the mangroves is not for the feint of heart. It's a strong current and deserves your focus and concentration for as long as your guide tells you is necessary.
After making your way through the mangroves, you'll reach the "champagne glasses". This will be the time to exit the kayaks and snorkel. If you've been accustomed to the good visibility with scuba diving, you may be surprised.
The collections of fish, like trout, are abundant, but bunched together in such a way that their movement has stirred up a lot of the mud from the bottom, making the snorkeling less desirable than what you see along the coastline. Look beyond that to see what this specific area has to show you.
Kite sailing in Lac Bay
One of the most breath-taking experiences above water on the island, the form and shape the kite sailors take astounds us. From gravity-defying maneuvers to simply staying upright in the stiff winds and strong current, they deserve great respect. It's worth taking a drive to see them in action.
Kiteboarding or surfing in Bonaire
Kiteboarding, also known as kite surfing, combines aspects of wakeboarding, snowboarding, windsurfing, surfing, paragliding, skateboarding and sailing into one extreme sport.
Watch the athletes harness wind's power whilst maintaining their feet on a specially made board with foot straps. Air can be harnessed by these kites at a much greater rate than sails, so watch for higher speeds and bigger tricks than the kite sailors can achieve.
Freestyle, you'll see their heel turn jibes and board grabs as they use the control bar to manage air's arbitrary currents into some spectacular moves.
Take the ferry to Klein Bonaire
Klein Bonaire, a small uninhabited islet nestled in the curve of the west side of Bonaire, stretches nearly 6 km². While scuba divers reach Klein Bonaire by boat, it is possible to take a ferry over. You can shore dive from the sites marked by yellow rocks or sit in one of the loungers set out for cruise ship passengers. It is protected within the Marine Park. Please note: It has no sanitation facilities.
Spa Time
After all of the outdoor adventures, adults are sure to be ready for some pampering. The Spa at Captain Don's Habitat offers massages (even ocean side), manicures, pedicures, facials and other treatments.
A great way to end a day of diving is to indulge yourself with a massage while overlooking the ocean and Klein Bonaire at sunset in their outdoor massage cabana in the swimming pool area.
Diving in Bonaire
If you are planning on diving in Bonaire, note you cannot dive within 18 hours of a flight. If you're at a resort, they'll have you take their introductory course (if you arrive Saturday, you'll do it Sunday morning), obtain the appropriate permits to dive or enter Washington Slagbaai National Park, and get you outfitted.
The majority of our dive time was spent at van der Valk Plaza Beach Resort. They send a dive master, regardless of your group's experience level. The Dive Shop is efficiently run with friendly, helpful staff. After a very informative mandatory session, where you'll purchase your National Park tags (take cash) and learn the rules of the two marine parks on the island, you have the opportunity to ask questions about the best dive sites.
Bonaire's National Marine Park currently offers 89 dive sites, most of which are accessible from the shore. Bonaire has become the go-to, best place to shore dive in the world, voted so by scuba divers for more than 25 years in Scuba Diving Magazine's Annual Readers' Choice Awards.
Bonaire restaurants
For divers, you will definitely want to purchase the breakfast option with your hotel stay. It's the best way to guarantee you'll get a very quick bite before you get on your boat for your morning dives.
Our favorite food thus far has been found on the Divi Flamingo Dive Resort's property, at the Chibi Chibi Restaurant at the Divi Flamingo Resort. The variety and quality of items at this restaurant and the attentive service makes us want to return.
Though the Chef at Van der Valk holds a special place in our hearts for the dietary restrictions she was able to accommodate.
The restaurants improve as the number of tourists grow. Many recommend It Rains Fishes and Sebastian's, the Cuba Compagne (salsa dancing every week), Capriccio, and Patagonia (highly recommended steaks).
Rum Runners restaurant at Captain Don's Habitat features international favorites and daily local specials. Their "Pizza Temple" serves authentic Italian thin crust pizza. The Deco Stop Bar is a favorite for guests and locals alike to enjoy Bonaire's world class sunsets along with daily Happy Hours and cocktail specials. They have the requisite burgers and fries but look past that and the pizza to the chef's specialty soups and dishes made with local produce.
Where to stay in Bonaire with family
Van der Valk Plaza Beach Resort
Van der Valk Plaza Beach & Dive Resort Bonaire opened in 1995. It's a favorite among return visitors. One master diver brings his students for their open water training to complete PADI certification.
This tranquil resort, located less than a mile from the Bonaire International Airport, has everything novice and experienced divers require. The temperature ranges from 78 to 82 F with water temperature around 82F.
Upon arrival, get a tour of the property from your golf cart driving porter. He'll point out the row of Vespas ready for rent, the Dive Center, Yoga studio (no gym), the spa, the activity center, the beach and pool, and restaurants.
Divi Flamingo Beach Resort & Casino
Divi Flamingo Beach Resort & Casino, was a prisoner of war camp during World War II, until it was purchased by Divi about 50 years ago." It's hard to believe, looking around, that this could have been filled with POWs.
If you have multiple small families (mom and dad and a couple kids, for example), the Divi has condo like accommodations with kitchen facilities that sleep 4 comfortably.
The resort offers standard rooms, handicapped accessible rooms (Wounded Warriors visit each year), and deluxe RCI reservation run suites with full kitchens. It's a beautiful resort with prime access and an excellent restaurant, spa and even a casino.
Captain Don's Habitat
If you want your entire family to stay in one home, book well in advance to get one of Captain Don's two Ocean Front Villas – total 3 private bedrooms (two upstairs), each with its own bathroom. The covered patio overlooks the ocean with stellar views. We've met people who planned their entire vacation around when this unit was available. The resort also offers suites and bungalows for your Bonaire vacation.
Courtyard Marriott Dive Bonaire
Staying at the Courtyard Marriott Dive Bonaire will make you feel right at home if you're accustomed to Marriotts in the U.S.
The lobby's soothing brown tones could be found anywhere in the world. But the Savannah colored townhome appearing buildings are notable from the airport. Two shades of yellow, two shades of coral with blue and green to break them up.
You'll need a car to stay here. Though there are two shuttle services daily into town or Te Amo Beach and one to the airport.
They offer boat diving and you can purchase unlimited air for your shore dives. Shore diving is the best in the world here.
Hotel activities include a well-equipped fitness center, books, games, and an infinity pool. The pool falls away into the small harbor that leads towards the van der Valk Plaza Beach Resort and into the waters to go scuba.
There's no beach associated with this property, so when they advertise "unlimited shore dives" what they mean is you can take your equipment in a truck to any of the beach access points on the island.
If you like resting in a place that feels just like your hometown's Courtyard, this is the place for you.
Suggested Bonaire itineraries
If you're in Bonaire, with divers, all they will want to do is dive, but there's so much more to do.
Week in Bonaire itinerary with older kids
Saturday – arrive
Sunday through Friday dive, visit National Park, shopping, mangrove snorkeling, lighthouse sightseeing, slave huts
Saturday – depart
Week itinerary in Bonaire with a multigenerational family
Saturday – arrive and relax
Sunday – those who want to dive need to check in for their dive and purchase a pass for diving. The rest of the group can enjoy time at the pool or beach or exploring in town.
Monday – explore Rincon
Tuesday – explore Kralendijk and the donkey sanctuary
Wednesday – Explore Washington National park, take a sunset sail
Thursday – Explore the slave huts and lighthouses
Friday – dive or relax by the pool or beach
Saturday – snorkel in the mangroves, see donkeys and flamingoes, depart
Bonaire is the perfect place to keep multiple generations of an active family entertained and happy. You'll have a grand time. If you're looking for activities to ease your burdens and really enjoy your week, this is the place for you.
About the authors:
Gail Clifford, MD, a physician for more than 25 years has traveled to five continents and all 50 United States. An avid traveler, she happily goes on new adventures, especially on birthdays. When traveling locally, she enjoys digging deeper into history to discover new things about old experiences. Her articles have been published in area, national and international magazines and websites. She is an award-winning photographer and travel writer. Gail divides her time between Ireland and the U.S. You can find her at Able Travel Photo.
Jackie Mullen graduated from The Catholic University of America, where she majored in International Relations. Having grown up all over the United States and abroad, she has cultivated a passion to combat both national and international issues. She is pursuing the Masters of Development Practice at Trinity College Dublin to cultivate the skills and knowledge required to help build infrastructure in developing countries, specifically in Africa, so peace and health programs can be more effective. In her spare time, she enjoys travel and photography.