Lake Tahoe is a crystal clear blue lake nestled in the Sierra Nevada mountains. This lake is so beautiful and full of activities that it draws in millions of visitors a year. There is something to do for everyone here at the largest alpine lake in North America. You can enjoy water sports, learn about the area, and, more importantly, explore the stunning attraction sites. Here are the best 20 attractions for families who want to have a memorable time in Lake Tahoe. 
*Disclosure: This post may contain affiliate links, which means we may receive a commission if you click a link and purchase something that we have recommended. Please check out our disclosure policy for more details. Thank you for your support!
1. Taylor Creek Visitors Center
One of the best places to start your family vacation in Lake Tahoe is the Taylor Creek Visitor Center. Here, you will find maps and information which serve as a perfect introduction to the area. You will also find guided and self-guided interpretive trails you can explore with young children. 
One of the major attractions in Taylor Creek is the aquarium area, where visitors can watch life above and below water through floor-to-ceiling glass windows. Expect to see creatures like colorful fish, raccoons, frogs, bald eagles, trout, butterflies, slugs, and more.
2. Emerald Bay State Park
For stunning views and beautiful beaches, you should add Emerald Bay State Park to your Lake Tahoe itinerary. This park offers fun recreational activities that the whole family can enjoy including boating, swimming, stand-up paddle boarding, and kayaking. You can also build sandcastles with the children, take in the fantastic views along the trails, and hike to Vikingsholm, the one-of-a-kind Scandinavian castle.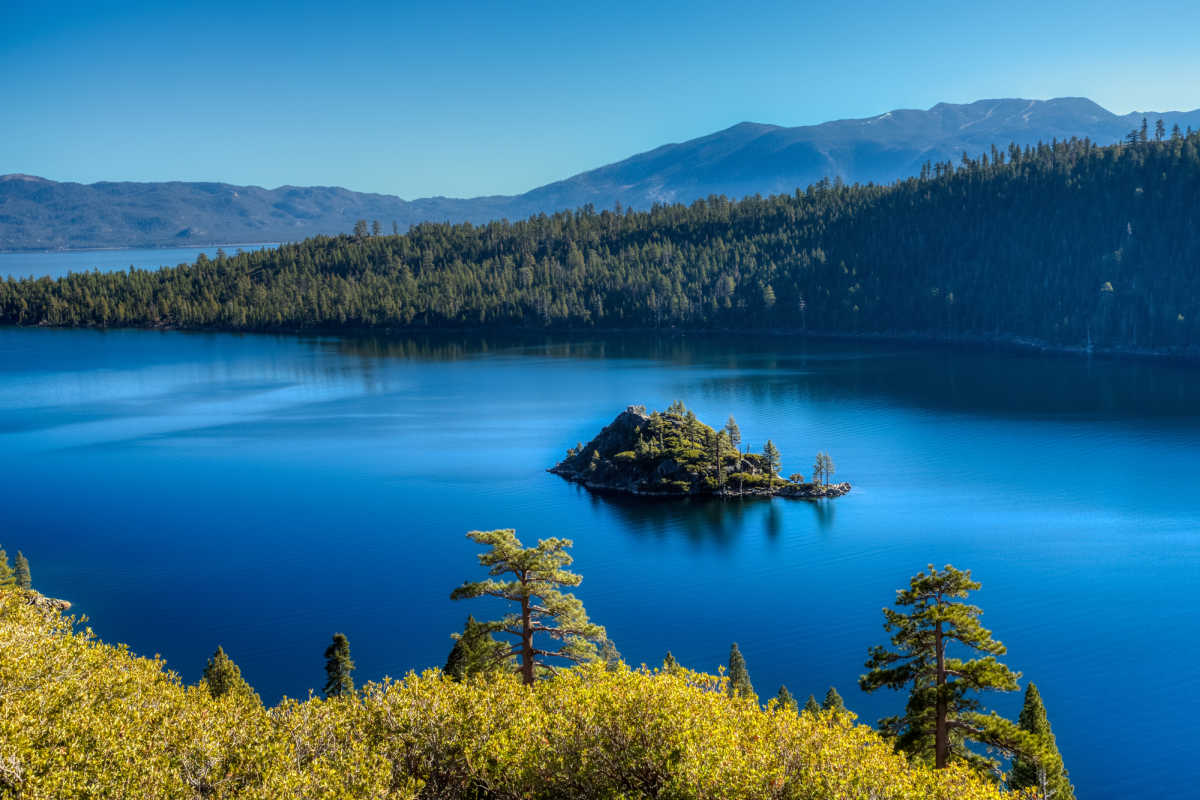 3. Sand Harbor State Recreation Beach
Sand Harbor beach is a beautiful coastline resting on the shores of Lake Tahoe. This beach features crystal clear water that is great for swimming, rocks you can climb, and a landscape with stunning views. You can also enjoy water sports like canoeing, jet skiing, boating, paddleboarding, fishing, and kayaking. 
4. Lake Tahoe Bleu Wave
A perfect way to have an amazing time in Lake Tahoe is by booking a tour with Lake Tahoe Bleu Wave. This tour company offers a 70-foot-long boat to sail visitors around Lake Tahoe and Emerald Bay. One of the top fun outdoor activities here is taking a boat trip around the beautiful waters of South Lake Tahoe. 
The tour boat contains amenities like a full bar, a private lounge, a restroom, a climate-controlled indoor area, and a flybridge. Visitors will also enjoy sunset tours, wine sampling tours, breakfast, lunch, and free transportation from the boat dock to your hotel.
5. Camp Hyatt – North Lake Tahoe
Camp Hyatt Lake Tahoe is a perfect kids' camp for children ages 3-12. Kids will enjoy being introduced to the natural world and partaking in fun activities which often include swimming, hiking, treasure hunts, story tines, and fun games. The daily session is between 9 am to 4 pm, and it's a perfect place to drop off the kids while you go off to explore adult adventures in Lake Tahoe. 
6. Tahoe Treetop Adventure Park
Tahoe Treetop Adventure Park features 97 treetops across ten courses, perfect for high rope courses for the entire family. The park also offers zip lines, suspension bridges, and aerial walkways for all ages. Tahoe Treetop offers varying rope courses and is suitable for kids older than five and their parents. 
7. Heavenly Village
If you are looking for fun activities in Lake Tahoe during colder months, one of the best things you can try out is ice skating. The outdoor rink at Heavenly Village is a perfect place to ice skate, and it offers stunning mountain views.
Asides from the outdoor rink, Heavenly Village offers about 40 shops, restaurants, and entertainment centers you can explore. Have fun at the live music venue, play a round at the mini golf course, see a movie at the cinema, and relax at the spas.
8. Kings Beach State Recreation Area
If you are here in summer, we recommend you come to Kings Beach, where you will find 700 feet of lakeshore and visitors playing around on the shore. Kings Beach is an excellent place to kayak, paddle board, fish, jet ski, and picnic while enjoying the beauty of the lake. The recreation area also has many amenities perfect for the entire family. This includes a playground, picnic areas, rental facilities, and a volleyball court.
9. Truckee River Raft Company
Truckee River Raft Company offers thrilling family-friendly activities, including the opportunity to raft through the raging waters of the Truckee River. The ride takes about 3 hours; you get to enjoy the mountain views and scenic meadows while rafting your way through the Truckee River. This activity is perfect for the whole family, including young kids, thanks to the river's calm waters.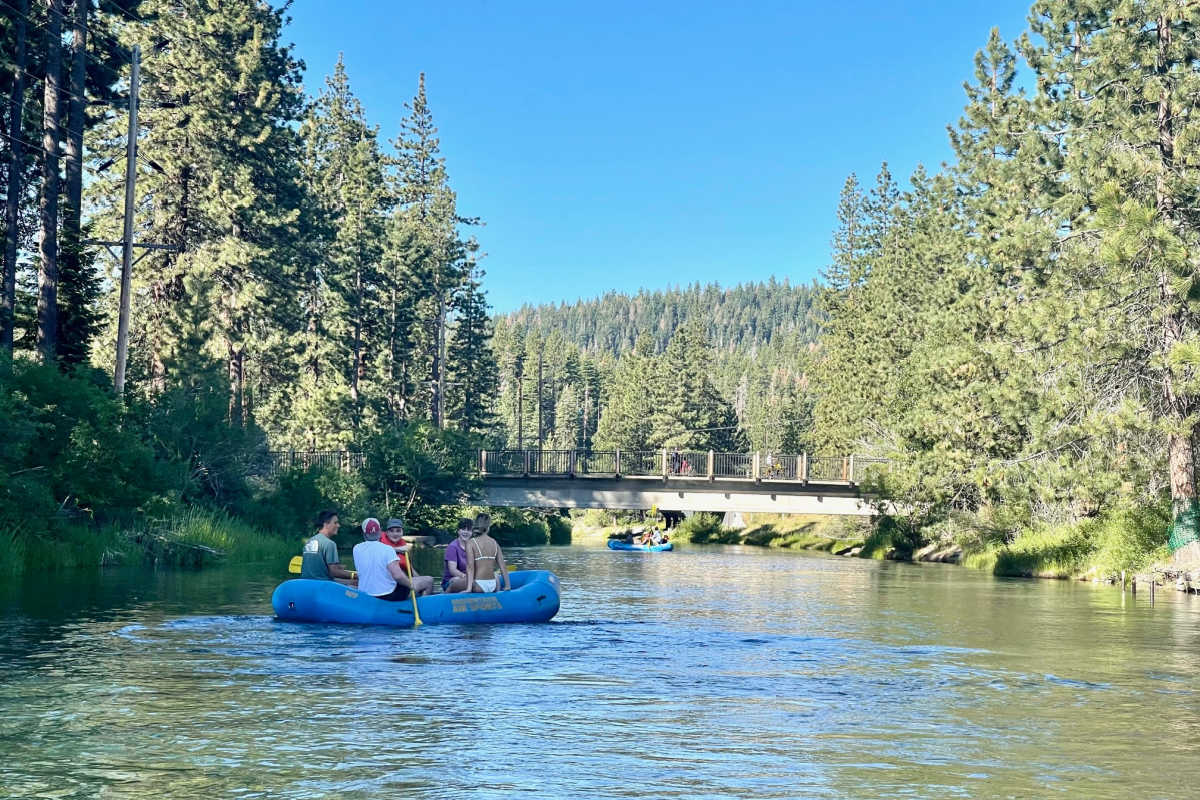 10. Tallac Historic Site
Tallac Historic Site lies around the Northwest of South Lake Tahoe and features 3 mansions built between 1894 and 1930. It is a must-see area for visitors as you get to explore the historic mansions, visit the Tallac Museum and enjoy picnics in the stunning gardens. 
11. Lake Tahoe Sleigh Rides
A great activity during winter months is booking a tour with Borges Sleigh Rides. This carriage ride service offers the unique opportunity to enjoy a horse-drawn sleigh ride through stunning scenery. You will also get the chance to listen to storytelling and take as many pictures as you want. 
12. Tahoe Tot Spot
One of the best things to do with kids in Lake Tahoe is to take them on a playdate in Tot Spot. Tahoe Tot Spot is an indoor play area featuring gymnastics, art classes, music classes, monkey rings, and a mini gym with balls. Also, Tahoe Tot Spot offers Date Night opportunities for parents. Drop the kids off at the PlayRoom while you enjoy some alone time.
13. Vikingsholm
One of the best things you can do while in Lake Tahoe is to visit Vikingsholm castle. This 38-room mansion sits at the edge of Emerald Bay and boasts awe-inspiring Scandinavian architecture. The interior and exterior of the mansion are so stunning, and the surrounding alpine meadows make the castle even more magical.
Vikingsholm is open for visitors throughout the summer months so make sure you take your young children to explore the gorgeous mansion.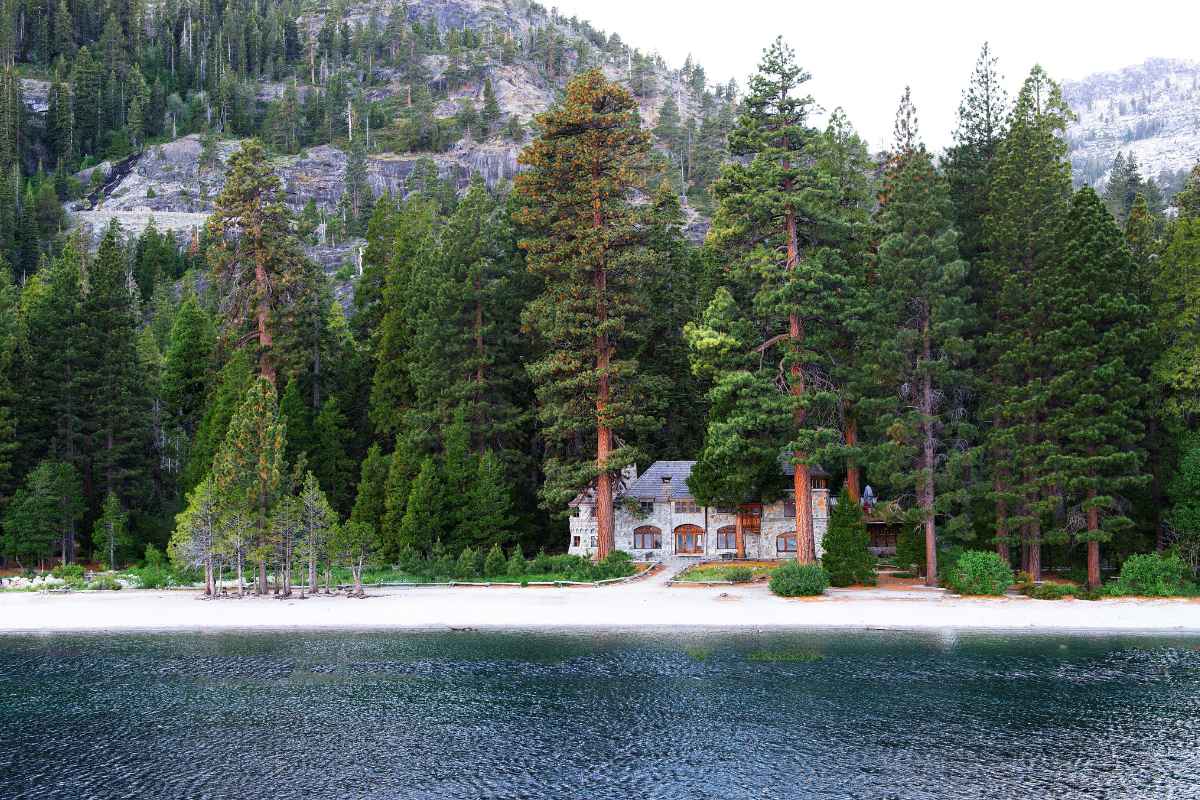 14. Ridge Rider Mountain Coaster
Pump up adrenaline with your kids by exploring the rock formations and gorgeous Tahoe forests on a gravity-powered alpine coaster. The Ridge Rider coaster sleds can fit up to 2 riders, and it's a fun way to experience the lake with your small kids.
15. South Lake Tahoe Ice Arena
This Tahoe's full-size Olympic ice rink offers public ice skating for adults and kids, public/private lessons for people new to ice skating, hockey games, and curling events. The facility has an arcade, snack bar, retail store, and party rooms. If you're into ice skating, you can rent skates and equipment from the arena for you and your kids. Also, you can get bucket assists for children and beginners.
16. Palisades Tahoe High Camp
At Palisades Tahoe, kids can play in the camp's outdoor swimming pool, hot tub, ice rink, roller rink, hiking trails, and ladder toss game area. The camp is for kids of all ages, and they can also visit Palisade Tahoe's Aerial Tram, where they can enjoy a panoramic 10-minute ride above Tram Face. 
17. Kidzone Museum
Kidzone museum is nestled in Truckee, a town between Northstar and Squaw Valley. It is one of the best places for kids to try out new activities like climbing and sliding with other kids. The museum also offers indoor play spaces that encourage building children's developmental skills and an art studio space where kids can create their art.
While here, we recommend you visit the Scientastic lab for their live animals, building materials, kid-friendly microscopes, and hands-on science activities and rooks to create science projects. KidZone also has a BabyZone for kids under 18 months. Your kids will love it!
18. D.L. Bliss State Park
D.L. Bliss State Park has one of the most family-friendly beaches in Lake Tahoe; the lovely views in the azure waters are enough reasons to visit this park. Also, the park is stunning and equipped for families who want to have fun together. You will find camping facilities, a lighthouse, and family-friendly trails.
19. Heavenly Mountain Gondola
There's no better place to enjoy a scenic gondola ride in Lake Tahoe than the Heavenly Gondola. Heavenly Mountain Gondola offers an exhilarating ride over one of the best Lake Tahoe ski resorts. Experience the run of the 2.4-mile journey while savoring the panoramic views of South Lake Tahoe, the Carson Valley, and the Desolation Wilderness. There are also spots where you can take memorable family pictures and shops where you can grab snacks or hot chocolate.
20. Helicopter Rides
There is no better way to enjoy the magical views of the best destinations in Lake Tahoe than through a helicopter ride. Book a helicopter tour with your kid of any age to see some of the best destinations in the Lake Tahoe area, including Emerald Bay, Sand Harbor, Crystal Bay, and more. There are various helicopter tour packages ranging from 10-minute trips to one-hour riders depending on your budget. 
Lake Tahoe is one of the most beautiful places in the world and a perfect place for families to have a great time. This list of attractions and activities is a great starting point for families on an exciting vacation to Lake Tahoe.