Aruba is an island located in the South Caribbean (just 15 miles off the coast of Venezuela) that's a perfect travel destination for families. An Aruba family vacation something for all ages. The island has the perfect climate year round, and due to its southern proximity to the hurricane belt, there is little to no chance of rain or storms. Additionally, Aruba is relatively easy to reach from the United States, as you can arrive in as little as 5 hours or less! Read more to find out why an Aruba family vacation to "One Happy Island" doesn't disappoint.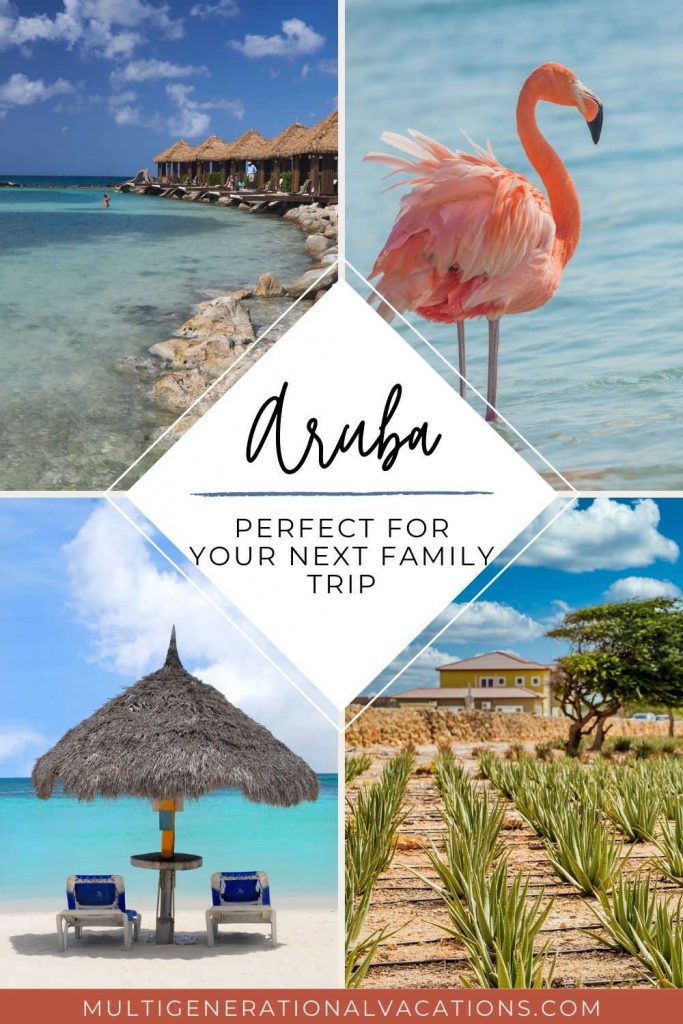 Plan a group trip to Aruba
Aruba is easy for families to navigate, offers endless activities, and delicious food. If you are planning a multigenerational vacation, it offers something for everyone!
*Disclosure: This post may contain affiliate links, which means we may receive a commission if you click a link and purchase something that we have recommended. Please check out our disclosure policy for more details. Thank you for your support!
The Aruba airport
Aruba is easily accessible from multiple countries and US states. The major airport is Reina Beatrix International Airport (airport code: AUA). Most hotels are in close proximity to the airport and can be reached via taxi. Aruba airport transfers can also be arranged in advance through your hotel.
Transportation in Aruba
The Aruba airport is easy to navigate with plenty of taxis and access to public transportation (a great option if you're looking to save money). It is located just outside the main city, Oranjestad. For more information on Aruba's public transportation check Arubus.
If you're interested in exploring the island, consider renting a car for your trip. The Aruba airport has major car rental companies to choose from (i.e.; Alamo, Budget, and Avis etc.). Aruba is very walkable if you prefer to skip a car rental. Just be sure to wear comfortable shoes, drink water, and have adequate protection from the sun.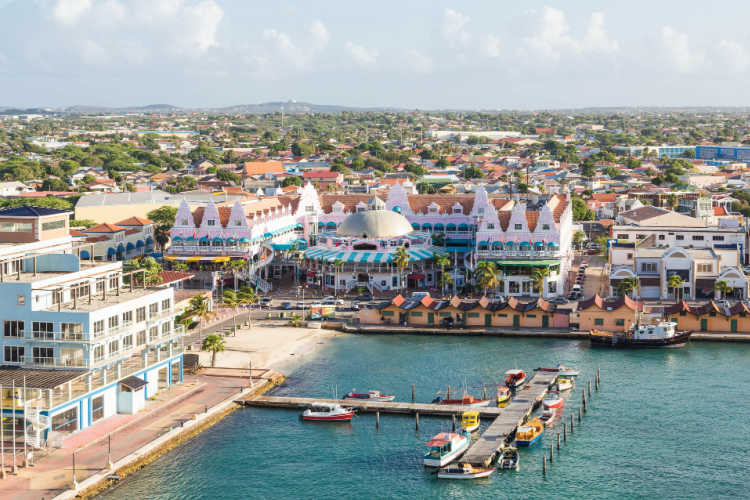 What to know before you visit Aruba
Keep the following information in mind prior to embarking on a trip to Aruba. The primary languages spoken are Dutch, Papiamento, English, and Spanish, however English speakers are common.
Aruban currency is the Florin, however USD is widely accepted everywhere on the island. One Aruban Florin is equal to approximately 0.56 USD. Aruba is very safe but use common sense and be aware of your surroundings wherever you go.
As mentioned earlier, the weather is tropical all year round with little chance of rain. Aruba's terrain is primarily dry flat land, so those with strollers or wheelchairs will find the island easy to navigate.
Healthcare in Aruba
Aruba has amazing medical centers on the island and offers public healthcare to everyone. If you're looking to move to Aruba you can purchase a comprehensive health insurance plan. More information can be found here. You can (and should) purchase travel insurance prior to your trip.
Best time to take an Aruba family trip
Since Aruba is seasonable year round, there really is no bad time to visit. If you're seeking travel during the off season, I'd recommend traveling during the months of April-September as the busiest months are from November-March. The island was very quiet in September.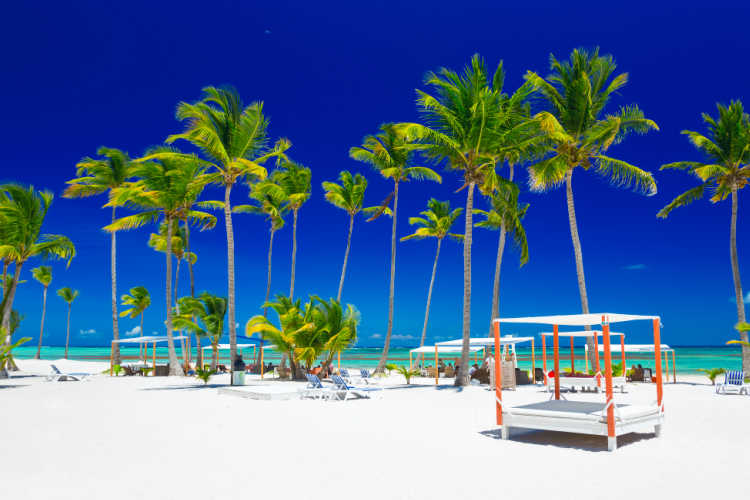 Aruba packing list
Aruba is a hot destination so a few staples you MUST have are: sunglasses, a hat for sun protection, sunscreen, comfortable walking shoes or sandals, a water bottle, and breathable clothing material. Please refer to this Aruba blog post for clothing ideas and additional information.
Best activities for families in Aruba
There are so many things to do in Aruba for all ages and the country is very family friendly. Is there an animal lover in your family? A great activity would be to check out the Half Day Animal Sanctuary Tour. This tour takes you to the Ostrich Farm where you'll have the ability to feed ostriches, the Donkey Sanctuary, and Philips Animal Garden where you can feed all of the animals on the property.
Another fun activity is to take an Aruba Island Tour. This tour takes you all over the island (Aloe Vera Factory, Casibari Rock Formation, Natural Bridge, Alto Vista Chapel, and the California Lighthouse) and you'll even learn how to make your own Aloe Vera lotions and soaps.
Adventure lovers shouldn't miss jet skiing at Eagle Beach, Aruba power snorkeling, wind surfing, or ride the waves as you're pulled on an inflatable tube or banana behind a speed boat. These are some of our favorite Aruba adventure tours.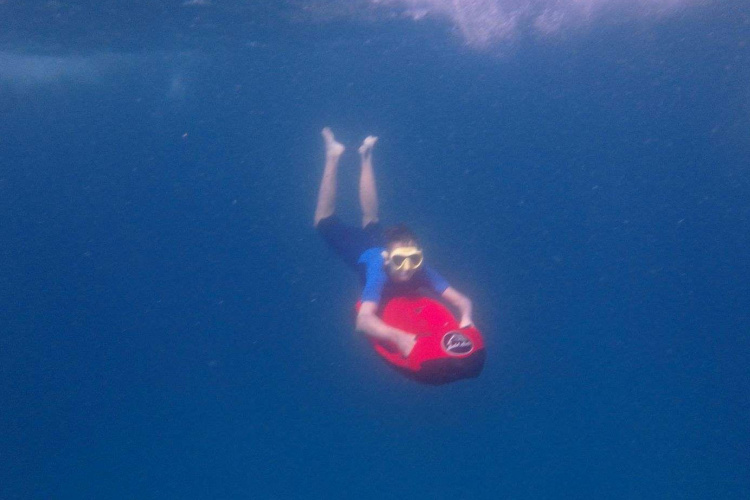 Aruba's weather is breathtaking, so of course Eagle Beach or Baby Beach (a short cab ride is required) is a great family activity where you'll be able to swim, snorkel, have a beverage or simply relax.
You can also attend the Bon Bini Festival which is a great way to get the entire family involved and you'll learn all about Aruba's history with the opportunity to dine on local cuisines.
A bonus activity would be to take a short boat ride to Renaissance Island where you can feed the flamingos. The boat ride can be accessed from Renaissance Aruba Resort and Casino. Keep in mind that due to the hot climates some of these activities may not be suitable for the elderly. There is a lot of walking involved as well.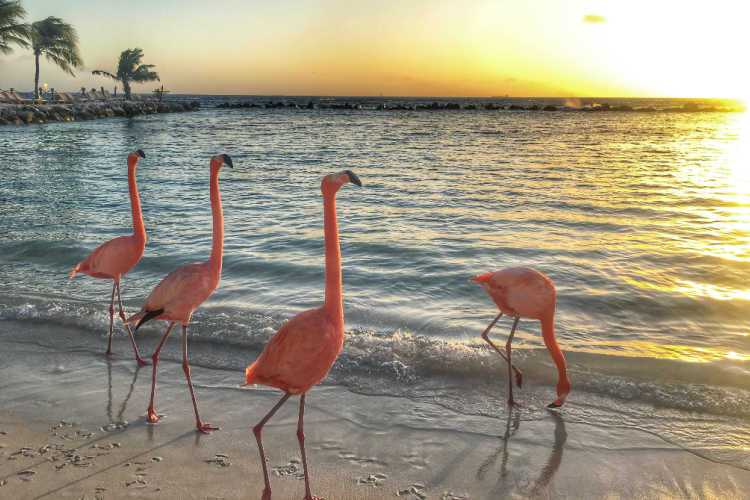 Recommended restaurants in Aruba
The great part about Aruba is the food! It's so delicious and there is something for everyone. Some of the best Aruba restaurants with a view are West Deck Restaurant, Pelican Nest Seafood Grill, and Passions on the Beach. Driftwood and Italy in the World (make reservations) are delicious options for dinner.
For an awesome breakfast head over to The Dutch Pancake House or Diana's Pancake Place.
Lastly grab lunch at Zeerovers or Big Mama's Grill (in San Nicolas at Baby Beach).
Where to stay in Aruba
Aruba lodging options at all price points. Eagle Aruba Resort & Casino is affordable and steps away from the grocery store (if you'd like to purchase your food and save money), Eagle Beach, and public transportation. Other Aruba resorts for families include: Hyatt Regency Aruba Resort Spa and Casino, Holiday Inn Resort Aruba Beach & Casino, and Renaissance Ocean Suites.
The best all inclusive resorts in Aruba for families are: Riu Palace Aruba, Amsterdam Manor Beach Resort, Barceló, and Divi Aruba All-Inclusive Resort.
Families looking for additional space and kitchens, might want to consider an Aruba vacation rental. VRBO has some beautiful properties in Aruba.
Suggested Aruba itinerary
A great itinerary to start your week/weekend would be to have breakfast at the Dutch Pancake House, then take an Aruba Island Tour, finishing with a lovely dinner at West Deck Restaurant to enjoy the beautiful ocean views.
For the next day, have breakfast at your hotel or at The Dutch Pancake House, and attend a Half Day Sanctuary Tour to feed all of the animals, with dinner at Passions on the Beach to catch the sunset.
Aruba is a laid back island so feel free to relax, or engage in activities right at your hotel. If you need more information on what to do during the week, please refer to my Aruba itinerary here.
About the author: Lenore is a travel and lifestyle blogger who shares money saving travel tips, travel itineraries, personal stories, and inspiration on her site: The Nitty Gritty Travel OT