While it may seem like the best travel destinations aren't wheelchair inclusive, that's far from the truth! There are many accessible vacation spots across the country to visit and explore. You shouldn't have to put your travel dreams on hold just because you use a wheelchair or are traveling with someone who uses one. We hope list of destinations will help your group plan their wheelchair accessible vacations.
*Disclosure: This post may contain affiliate links, which means we may receive a commission if you click a link and purchase something that we have recommended. Please check out our disclosure policy for more details. Thank you for your support!
In this post, we'll dive into the best places to visit throughout the United States for travelers with limited mobility. From fun things to do to tips on planning accessible lodging, we'll help you make the most of your trip.
5 Destinations to Consider for Wheelchair Accessible Vacations
1. Seattle, Washington
Seattle ranks as number one on our list of best accessible vacation destinations. This is a city known for having plenty of family-friendly attractions that are wheelchair-accessible, including the Seattle Aquarium, Chihuly Garden, and the Glass Museum. Seattle even has a wheelchair-friendly ferry that can take you to Bainbridge Island.
For travelers with disabilities or walking limitations, Seattle is a great destination to consider.
Things to do in Seattle: Head over to the iconic Space Needle! It features ramps and elevators so travelers of all ages and abilities can experience "The Loupe," a rotating floor-to-ceiling glass level.
2. Las Vegas, Nevada
Even though Las Vegas is known as "Sin City," it's almost a paradise for travelers in wheelchairs. The Las Vegas strip has wide sidewalks that you can access easily without feeling cramped. There are also several amenities in most of the casinos and hotels — including accessible roll-in showers, shower chairs, lowered countertops, and more!
Things to do in Las Vegas: Check out the iconic Bellagio fountain as you make your way down the Las Vegas Strip. You can also check out a show in one of the wheelchair-friendly theaters, like the Blue Man Group or Cirque du Soleil.
3. San Diego, California
Soak up the California sun in SoCal! San Diego is a go-to vacation destination for all kinds of travelers — which is no surprise when you look at the number of things to do in America's "Finest City."
You can enjoy gastronomy and exquisite dining scenes from a variety of different cultures, such as from one of the many Italian restaurants in San Diego's Little Italy.
For coastal sights and sounds, there's also an accessible boardwalk on Ocean Beach — a perfect beach destination for grandparents.
Things to do in San Diego: Of course, you have to check out the San Diego Zoo. It offers more than 3,500 animals and a jaw-dropping 700,000 plant species. They also offer ADA-accessible accommodations like an accessibility map and shuttle service.
4. Chicago, Illinois
If you're interested in having a Midwest vacation, look no further than the Windy City. Known for its beautiful skyline, world-class shopping, and beautiful lake views, Chicago is also a great place to vacation for visitors in a wheelchair.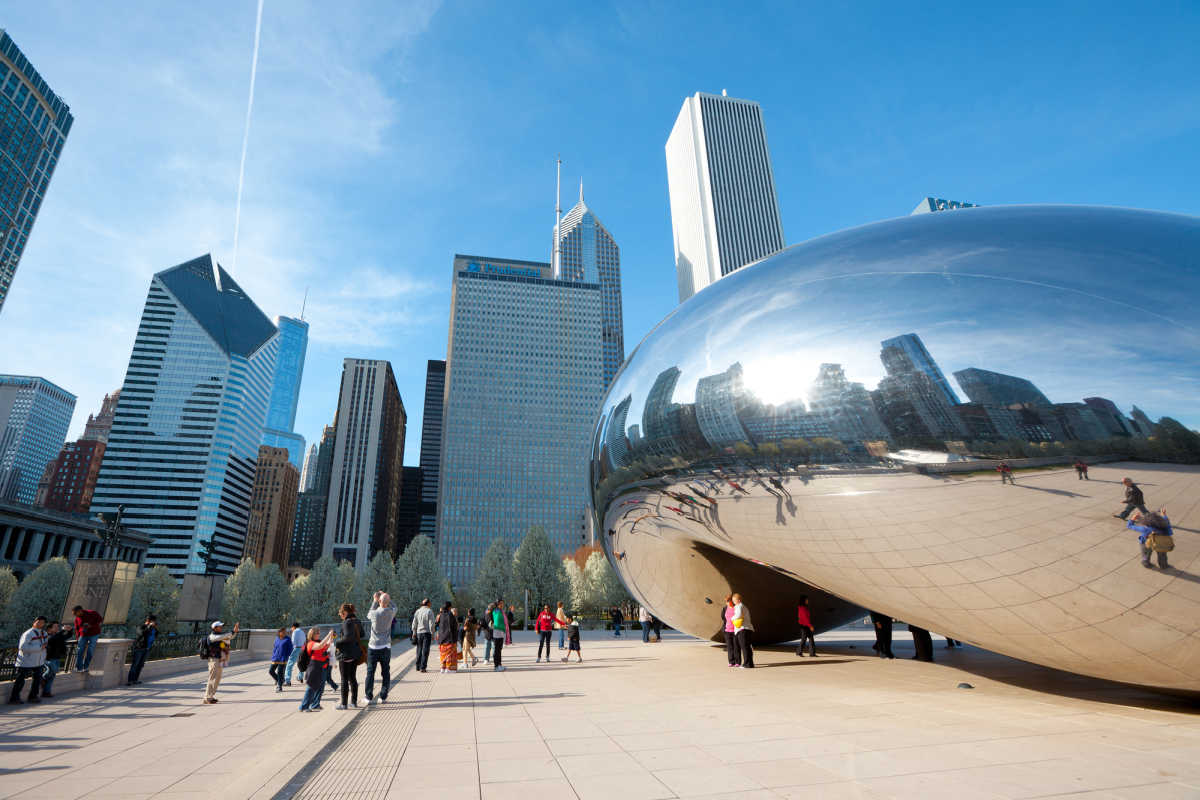 The Miracle Mile has wide sidewalks and accessible store entrances so you can go on a shopping spree. You can also check out the iconic "Bean" at Millennium Park while enjoying the picturesque views on the border of the city.
Things to do in Chicago: Another accessible must-see is The Art Institute of Chicago. Not only do they cater to travelers in wheelchairs, but offer all kinds of programs and services for visitors with disabilities.
5. Oahu, Hawaii
Who says sandy beaches aren't for wheelchairs? Oahu, Hawaii's most visited island, has all-terrain wheelchairs (the kind with oversized rubber tires) available at many of its beaches and parks.
The island also provides wheelchair-accessible van rentals for visitors with disabilities and limited mobility. If warm breezes, sandy beaches, and hula dances sound like a dream come true, add Oahu to your list!
Things to do in Oahu: This island is home to Hawaii's state capital, Honolulu, where you can tour the historic Pearl Harbor Memorial and Hanauma Bay Nature Preserve. You can also enjoy dolphin watching and fine dining on one of Oahu's many sunset cruises.
Things to Consider for Wheelchair Accessible Vacations
Of course, any trip with accessibility in mind requires careful thought and planning ahead. Before packing your bags, here are a few things you should take care of first:
Choosing an ideal location
You may have heard the coined phrase "There are three things that matter in property: location, location, location!" When prioritizing wheelchair accessibility, it's best to find accommodation in a convenient area of town. For example, a hotel or vacation rental that isn't on an incline or too far from restaurants and pharmacies.
Asking about amenities
Next, ensure you book a hotel that has accessible amenities. Research and call a few hotels in the area to see if they have roll-in showers, ground-floor rooms, and spacious entryways and hallways. Also, be sure to ask if their parking lots or garages have ramps and accessible parking spots.
Securing a method of transportation
Lastly, it's also a good idea to check for and reserve accessible transportation options, such as van rentals, ahead of time. Vans and other large rental vehicles are popular options among wedding parties and production crews.
Whether planning a cross-country trip or a quick weekend getaway with friends, there are options for all travelers. Did this list of destinations spark your wanderlust? Consider sharing these ideas with a family member or friend who uses a wheelchair. That way, you can encourage them to join you on your next travel adventure!
About the author: Ashley Cottrell is a freelance writer and content marketer. A travel enthusiast, she loves finding flight deals and discovering the hidden gems of different cities. When she's not writing or jetlagged, you'll find her jogging the beach or nose-deep in a chess match.