Are you undecided between a vacation relaxing at the beach mojito-in-hand or one full of adventures and culture? I have great news for you: You can have it all in one go! Boasting idyllic beaches where you can relax while sampling some of the best mojitos in the world, as well as incredible cities and natural wonders, planning a Puerto Rico group trip is the perfect family vacation.
*Disclosure: This post may contain affiliate links, which means we may receive a commission if you click a link and purchase something that we have recommended. Please check out our disclosure policy for more details. Thank you for your support!
Places in Puerto Rico You've Got to Visit
1. Old San Juan
Old San Juan is the capital city and a great place to begin exploring this gorgeous island. It's great for visiting other locations in the capital with easy access to the rest of the island. This lively coastal destination has everything you imagine a spot in the Caribbean to offer. There are beautiful beaches like Isla Verde and Carolina Beach and delicious seaside restaurants. Plus, a lively nightlife beckons and there's always something fun going on.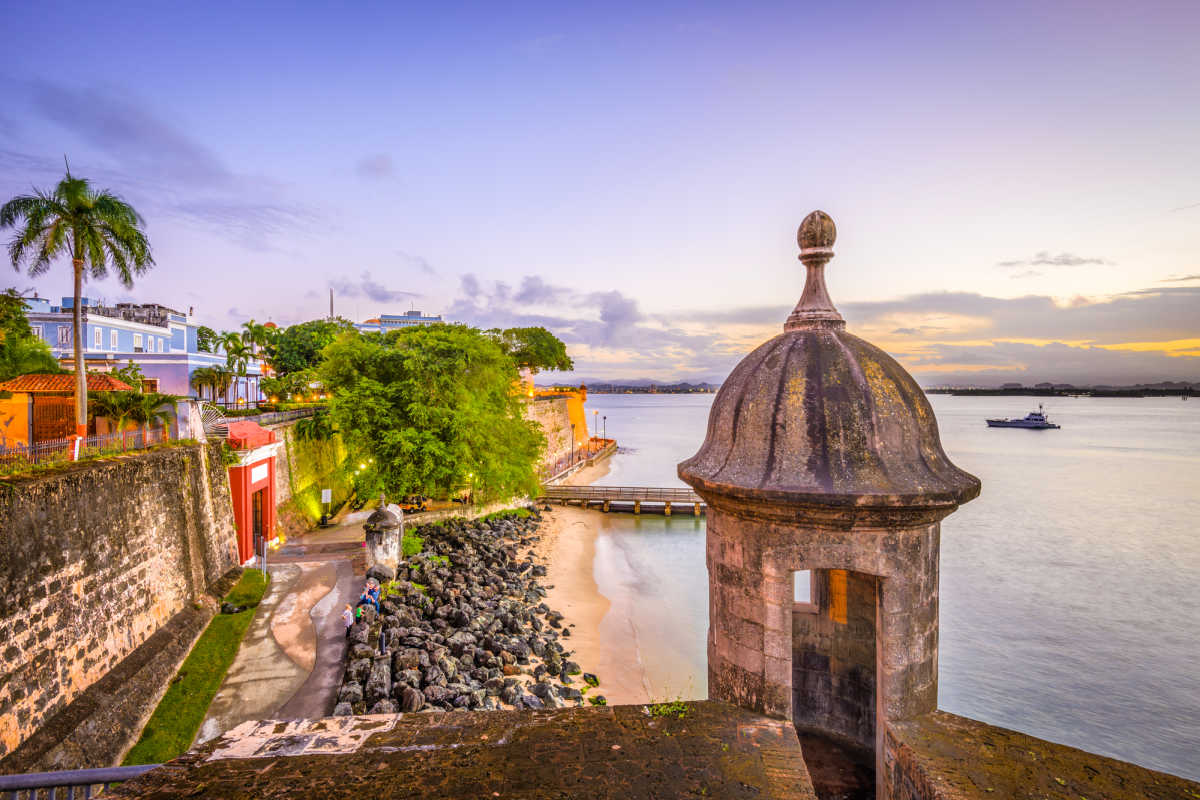 This section of the city harbors a vast array of museums, colonial castles, forts, and cobblestone streets. The majority of the Old Town was built during the colonial days, providing a glimpse into the island's history. Just strolling through the streets is like walking back in time. Castillo San Cristóbal, John Baptist Cathedral (which houses Ponce de Leon's grave), and El Morro Fort are important historical sites in any guided tour of Old San Juan.
2. Vieques Island
For some seriously unique beach adventure, Vieques Island is the place to go. Stunning beaches with warm water, soft white sand, amazing vistas, and the relaxed ambiance of the Caribbean make Vieques a great destination. But you're in for a surprise too, and that's Mosquito Bay and its bioluminescent waters!
Mosquito Bay is actually the brightest bioluminescent bay in the world. You can actually watch this enthralling natural spectacle at night. The best thing about it is that you can see this natural phenomenon from a glass-bottomed kayak or boat! This makes a nighttime tour of Vieques Island a must.
3. El Yunque National Forest
This one is a must for a Puerto Rico group trip! Less than an hour from San Juan, you will find El Yunque Rainforest. It is the only tropical rainforest in the United States. Even though it is relatively small at just 29,000 acres, it's one of the most biologically diverse ones in the entire world, with all types of animal species.
Hiking is the top activity in El Yunque National Forest. There are twenty-four miles of trails available, some even lead to natural pools you can cool off in!
The views throughout the rainforest are spectacular. Plus, you're likely to encounter some of the flora and wildlife that have made El Yunque their home. Be on the lookout for coquí frogs, woodpeckers, and mango trees!
4. Rio Camuy Caves Park
If your group is looking for serious adventures out in nature, you'll fall head over heels in love with Rio Camuy Caves Park. Set in the northwestern region of Puerto Rico, it is home to 10 miles of caverns and 220 caves. All of these feature lush, verdant nature and hiking trails that allow for a deeper exploration of the park.
The limestone caverns and caves belong to a huge network of underground waterways. These were naturally carved out by the Camuy river. Rio Camuy is considered the third-largest underground river in the world. Even though it has not all been explored, there's enough evidence to suggest that the caves were actually explored hundreds of years ago and that there are plenty more to be found.
5. Rincon
Lying on the western coast of Puerto Rico, exactly where the Caribbean and Atlantic oceans meet, Rincon is famous for its laid-back beach town vibe, great surfing, and spotting sea turtles. 
Even if you are not fond of riding the waves, there's plenty more on Rincon's menu of activities. Some activities include scuba diving, horseback riding, biking, paddle boarding, and just plain relaxing and enjoying the beach.
In addition to the beach and water activities, Rincon is home to an emerging art scene. You can spend a full day visiting art galleries, admiring the work of street artists, and enjoying an array of trendy restaurants and bars.
6. Culebra Island
Home to some of the best beaches in the world, Culebra Island is pretty much as close as you can get to heaven here on Earth. This means that if you're planning an Puerto Rico group trip, you don't want to miss it!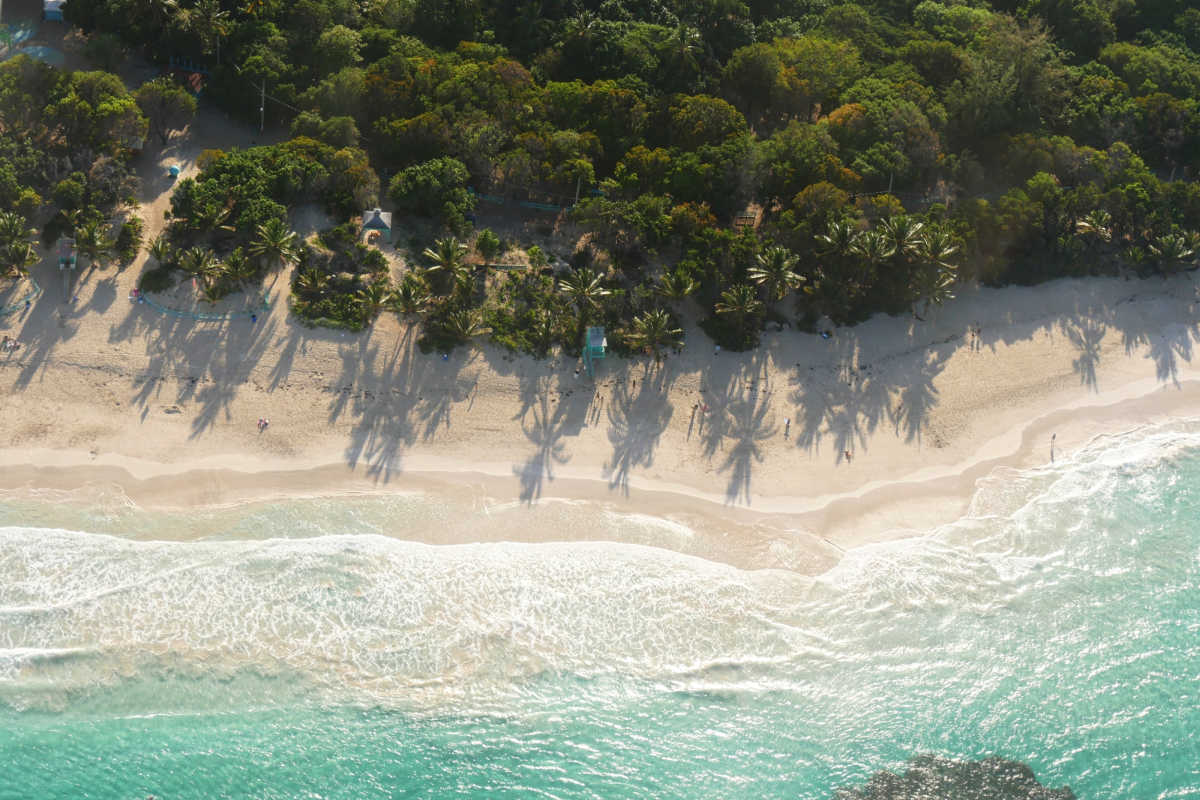 This dreamy tropical island boasts gorgeous white-sand beaches, an incredibly colorful coral reef lying under the waves, and countless natural areas waiting to be explored. Simply put, Culebra Island is a dream come true if you're looking to disconnect from it all. No trip to Puerto Rico is ever really complete without stepping foot on this gem of a destination.
7. Guanica State Forest
Set on the southwestern side of Puerto Rico, Guanica houses the best-preserved dry forest in the entire Caribbean region. Home to over 700 species of plants (some of which are endemic to the forest) and over half of Puerto Rico's birds, Guanica is a paradise for nature lovers keen to explore Puerto Rico beyond its beaches.
The forest also offers a variety of hiking trails for every difficulty level. Some of these you can follow along until you reach secluded beaches like Tamarindo Beach and Ballena Bay. 
8. Arecibo
Located on the northeastern side of Puerto Rico, Arecibo is a city much deserving of a place in your itinerary. Mainly due to its amazing and off-the-beaten-path natural wonders. Think rivers (Rio Tanama and Grande de Arecibo), pristine beaches, cliffs, caves, and even a natural limestone bridge. Everything is set amidst jaw-dropping views of the blue waters of the Atlantic Ocean.
One of the highlights here is Cueva Ventana, or Window Cave. This is especially true if you're into outdoor activities combined with history. Named after the cave's iconic window-like opening, the views it offers are as enchanting as they can get.
You can arrive at The Window by taking one of several hiking trails that lead to it. These are great for exploring the cave's surroundings before going in. Once inside, you'll find ancient petroglyphs, which provide a fascinating glimpse into the life of the Taino people who once inhabited the area!
Cueva del Indio is another option to see more pre-colonial artwork created before the arrival of Columbus way back in 1492. It is located right on the shore of Arecibo.
Other attractions in Arecibo are the lighthouse for panoramic vistas and the Arecibo Observatory, which harbors the biggest single-dish radio telescope in the world.
9. Desecheo National Wildlife Refuge
While actually stepping foot on Desecheo Island is completely off-limits (and actually punishable by law), the fundamental reason to visit this jewel of a place lies underwater.
With an extensive network of ocean caves, a superb coral reef, and unbelievable marine life, Desecheo National Wildlife Refuge is one of the most beautiful places to visit in Puerto Rico. If you're looking for a scuba diving adventure in Puerto Rico, this is where you need to go.
10. Piñones State Forest
Located just east of San Juan, Piñones is an awe-inspiring coastal forest that provides a perfect day spent outdoors. Especially if you're keen to explore a more low-key place in Puerto Rico.
Home to the most extensive mangrove forest, a perfect way to explore Piñones is by taking a short walk. Follow its boardwalk, which will have you walking through the park in search of wildlife sightings (think leatherback turtles, crabs, birds, and more) and among the mangroves, seagrass meadows, salt flats, dunes, and small islets that make up its landscape.
11. Cayey and la Ruta del Lechón
If you're the type of traveler who loves all things food (or you simply want to get a more local feel of the culinary excellence on your Puerto Rico vacation), a visit to Cayey's Guavate and a drive down the Ruta del Lechón are musts during your visit.
Cayey is a cozy mountain town tucked away in a valley inside of the Central Mountain Range. During the weekends, Guavate, a neighborhood of Cayey, becomes a lively street party. Hoards of local and international visitors come to enjoy the main attractions including a happening food scene, live music, and incredible nightlife.
The main reason most people visit Cayey on a Puerto Rico group trip is the La Ruta del Lechón (or the Pork Highway in English). It's a small part of one of the most scenic drives in Puerto Rico. The drive is dotted by over a mile of roadside eateries serving lechón asado. This is a unique Puerto Rican recipe of roasted pork that's considered part of the island's gastronomic heritage. Whether you consider yourself a foodie or not, a visit to Cayey and the alluring Ruta del Lechón is an experience you won't find anywhere else in the world. This incredible mountain destination is a must for your Puerto Rico itinerary.
I hope this curated list of the best places for a Puerto Rico group trip has helped you plan the perfect route. While the Caribbean has many incredible destinations, these places provide a great mix of beach, culture, and outdoorsy experiences for an incredibly well-rounded visit.