A beach vacation with grandparents can be one of the best family getaways. Most beach destinations have something for all ages and activity levels, making them a great option. We asked travel writers to share their favorite beach destinations for families and we love all of their suggestions! Hopefully this will make trip planning a bit easier for you.
*Disclosure: This post may contain affiliate links, which means we may receive a commission if you click a link and purchase something that we have recommended. Please check out our disclosure policy for more details. Thank you for your support!
Where to go on a US beach vacation with grandparents
1. Orange Beach, Alabama
If you're looking for a beach vacation with grandparents that ticks all the boxes, head to Orange Beach, Alabama, and the Gulf Coast.
Orange Beach and Gulf Shores are popular with families because they offer all of the amenities anyone could want. There are restaurants, shopping, outdoor adventures, and of course, the beach!
We recommend a stay at Turquoise Place, a condominium-only complex that has units with 3 to 5 bedrooms. Some condos sleep up to 16 people!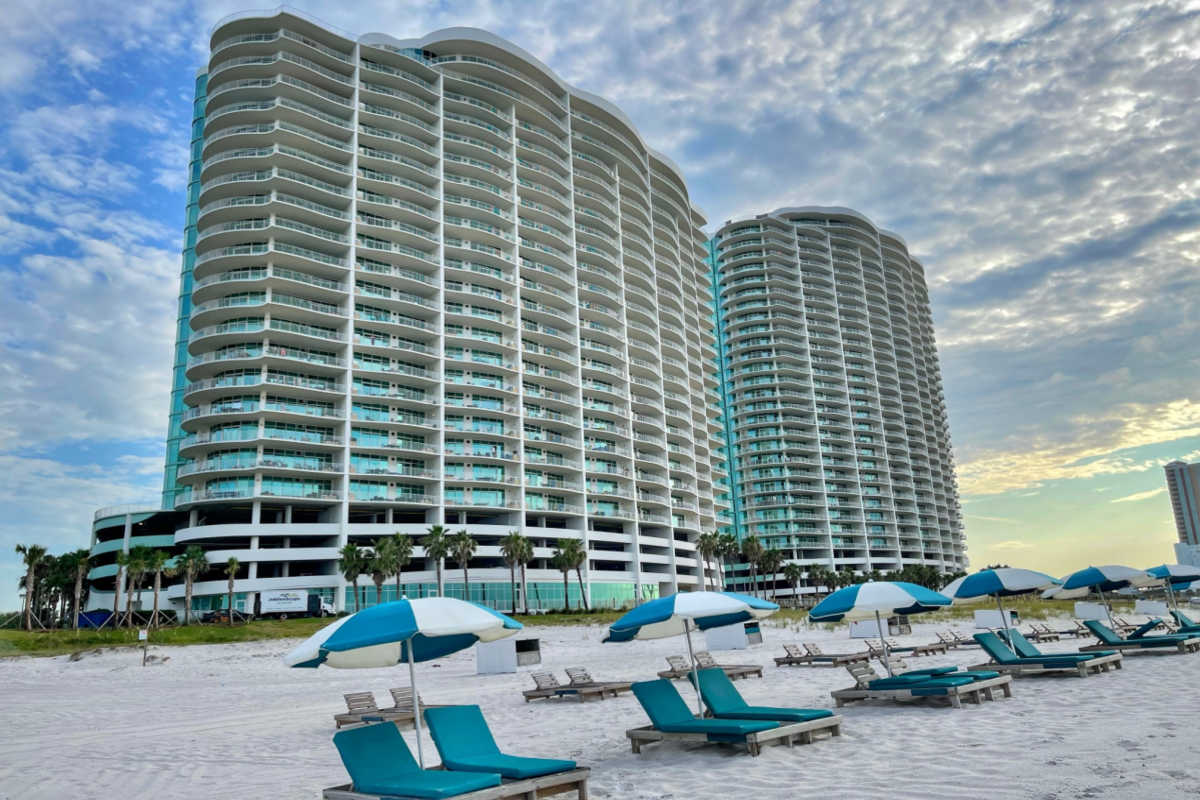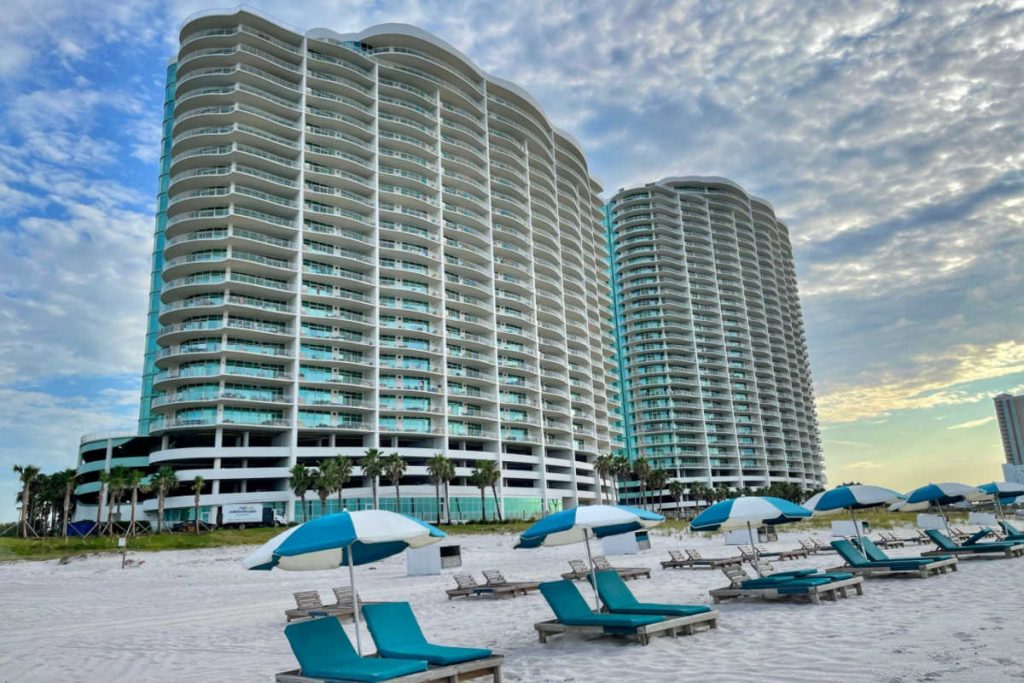 Free breakfast is included and there's a game room, lazy river, playground, and swimming pool. The best part; it's right on the beach!
Families can enjoy relaxing on the soft sugar sand of Orange Beach. Those staying at Turquoise Place have access to beach loungers and umbrellas between the resort and the water. There is a ramp to access the beach, followed by a few steps down to the sand.
If you need to plan any special events while you're in Orange Beach we recommend using The Beach Moms. They can make dinner reservations, order groceries, and more. It definitely takes the stress out of a family vacation.
After a day at the beach families can explore both Gulf Shores and Orange Beach. There are surf shops, hiking trails, mini-golf, and even dolphin cruises. All ages will love Orange Beach, one of our favorite beach vacations in Alabama! Kirsten of Kids Are A Trip
2. Lake Tahoe, California
Lake Tahoe is a magical destination for all ages with outdoor adventures, beautiful scenery, and beaches galore. It is one of the deepest lakes in North America and straddles two states: California and Nevada.
Grandparents can enjoy endless opportunities for hiking, swimming, and learning about local history at places like Vikingsholm, considered Lake Tahoe's castle.
Kids will love rafting on the Truckee River, playing miniature golf, zip-lining at Treetop Adventure Park, and relaxing at the beach. Of course, grandparents are welcome to participate as well.
We recommend finding a vacation rental in Lake Tahoe. Areas to consider are South Lake Tahoe, Incline Village, or KingsBeach. Donner Lake and Truckee are also good options. There are also plenty of opportunities for shopping and eating in these destinations.
There are even wheelchair-accessible beaches and trails in Lake Tahoe, so everyone can join in the fun. Kirsten
Florida beach vacation with grandparents
3. Anna Maria Island, Florida
Anna Maria Island is a favorite destination on the US Gulf Coast. It's known for its incredibly clean and soft sugar sand, world-class sunsets, abundant scrumptious seafood, and impeccable Florida Gulf Coast weather.
With seven miles of beaches, Anna Maria Island has dozens of entry points. Most people simply choose the one closest to where they are staying.
And where to stay is perhaps the best thing about Anna Maria Island. Most Anna Maria Island (aka AMI) properties are vacation rentals which are ideal for families and multi-gen gatherings.
Things to consider when selecting AMI rentals are beach proximity, pool or not, and how many bedrooms. Many visitors with elderly or physically challenged members choose to rent a golf cart for easier transport.
Nearly every AMI beach entrance has at least one handicap parking spot and bench at the top of the beach.
One popular gathering spot for older visitors, with or without their families, is near Beach Bistro. There are several benches and a nightly sunset celebration. Since every beach faces west, any spot provides a perfect view of Anna Maria Island sunsets.
Honestly, AMI beaches are fantastic to visit any time. The sand is pristine, cool to touch (even on 90º days), and full of seashell. The water is warm and calm (waves are smaller on the Florida west side).
Anna Maria Island is much more laid back and family-friendly with better weather than its more famous neighbors. But, shhhh, keep this our secret and not let too many people know. Charles of US Gulf Coast Travel
4. Clearwater Beach, Florida
Florida's Gulf Coast beaches have sugar-white sand and generally calm waters. As such, Clearwater Beach a perfect holiday for all generations.
Clearwater Beach is close to 2 airports, Tampa International (TPA) and Clearwater/St. Pete (PIE). Once you have arrived at Clearwater Beach, a car is not necessary to get around. Most shops and restaurants are within walking distance and there is a public bus that runs up and down the beach. The Jolley Trolley is wheelchair accessible and the open-air bus is fun for kids to ride.
The Sandpearl Resort is perfect beach vacation with grandparents. The hotel has mobility-accessible rooms and common spaces. There are multiple restaurants at the Sandpearl including indoor and outdoor options.
The Sandpearl has a large pool with a pool lift, and beach wheelchairs are available for use as needed. There is also a kid's club and events for families such as movie nights and s'mores by the fire pit.
There are so many fun things to do on Clearwater Beach with kids. Kids of all ages are easy to entertain on a beach filled with water sports, boat rides, a playground, and beautiful calm sea water perfect for swimming. Lanie of Make More Adventures
5. Vero Beach, Florida
One of the best beach vacations with grandparents in the US is Vero Beach. Vero Beach is located on the treasure coast of Florida. It is a great beach near Disney World to check out. In fact, Disney even owns a property right on Vero Beach. It is perfect for families and multigenerational vacations.
Kids will love playing on the beach and swimming in the warm water with their grandparents. Almost all of the resorts in Vero Beach are beachfront properties. This means you can walk from your hotel to the ocean and go back to rest as needed.
One of the most exciting parts of Vero Beach is a sunken ship that you can swim out to and snorkel. If the 300 meters is too far to swim you can also rent kayaks and paddle out to the ship.
Florida's Treasure Coast is full of sunken ships and gold. To this day people still find gold coins that wash up on the beach.
Grab your metal detector and take grandpa for a walk. It is a great way to bond and talk while you search for lost gold!
The beachfront local restaurants are amazing, so be sure to grab a bite to eat at Waldo's or Mulligans.
Vero Beach is a perfect location for families! Lisa of Planning Away
6. St Simons Island, Georgia
One of the best beach vacations for extended families is on St. Simons Island in Georgia. There are several beaches on St. Simons Island, each offering different amenities.
The Coast Guard Station, Public Beach Access #27, locally known as First Street Beach Access, is just off 1st Street. This popular family beach offers extensive parking, showers, public restrooms, picnic facilities, a drop-off area to unload your car, and a wheelchair mat for easier access for those who need assistance. Due to the tides, the wheelchair mat may not always reach packed sand. A beach wheelchair (not available) is recommended.
This beach is adjacent to the pet-friendly East Beach and just south of Gould's Inlet, a great spot for birdwatchers. Because St. Simons Island limits the height of hotels and condominiums, this historic island is less crowded than others on the east coast.
One of the best places to stay on St. Simons Island, especially for extended family is the King and Prince Resort. This is the only oceanfront resort on St. Simons. The King and Prince offers traditional hotel rooms, deluxe condominiums, and even several rental cottages to suit families of any size, as well as onsite dining, tennis, golf, pools, a spa, and more.
For family vacations, reunions, or a romantic getaway, St. Simons Island is a great beach vacation for all ages. Karen of Family Travels on a Budget
Beach vacation with grandparents in Hawaii
7. Kauai, Hawaii
Kauai, Hawaii is a paradise for both young and old. It is truly one of the best places for a beach vacation with grandparents. There are over 28 beaches that stretch across this small island, providing a beach experience for everyone in the family.
Poipu Beach is known for its shallow cove. It is one of the most popular beaches on the southern tip of the island. This is perfect for keeping children safe from the current. Additionally, there is a playground right there on the beach, giving kids a 2-for-1 special.
The blue-hued water creates a relaxing atmosphere for those who love to sit beachside and relax. And it's home to sea life, making it a great spot for snorkeling.
The parking lot is directly adjacent to the beach without any stairs or inclines.
If you prefer not to drive, stay at Koloa Landing Resort. They offer complimentary shuttle service to the beach. Their accommodations are suites with a full kitchen, making the perfect lodging for the best beach vacation to take with grandparents. Marquita of Marquita's Travels
8. Kihei, Maui, Hawaii
Known for its beautiful beaches, incredible climate, and laid-back lifestyle, Kihei is the perfect destination for all ages!
Kihei is a small city located on the southwest side of Maui in Hawaii. It attracts visitors from across the globe looking for a beach getaway.
The area includes many incredible beaches such as Kamaole Beach II with its golden sand, lined with palm trees. The beaches are so picturesque be sure you bring your camera to document the amazing views!
This is a great beach to visit with grandparents as the water is typically very calm. This makes it easy for seniors to get in and out of the water. The water temperature is very pleasant and the walk to the beach is a short 30-40 meters from the road.
While much of Kihei has sidewalks and is accessible for those in a wheelchair, the short track down to the beach is on the sand and isn't easy for those with mobility issues.
While there are lots of options for accommodation in Kihei, Kamaole Sands is a great option if you are looking to visit with extended family. The property has many different-sized units, a pool and bbq area, and is conveniently located across the road from Kamaole Beach. We think it is perfect for the whole family. 
From boat cruises, watching the sunrise from the top of Haleakala, the nearby volcano, lounging at the beach, and poking your head into the local galleries and shops, there are so many things to do in Kihei for the whole family. Luke & Roxanne of Wild About BC
9. Oahu, Hawaii
When grandparents are coming along, the perfect spot for a beach vacation is Oahu, Hawai'i. Waikiki Beach on Oahu is particularly friendly for all ages due to its easy beach access. Various restaurants, shops, and activities are all located along the edge of the sand.
Several Hawaii hotels offer walkways that lead right outside onto the beach. The Aston Waikiki Beach Tower is an excellent choice for accommodations if you would like to book one room for the whole family. They offer two-bedroom suites and are only a couple hundred steps from the beach.
The beach itself has several rental stands offering beach chairs and umbrellas, outrigger canoe rides, surf lessons, snorkeling, and the perfect sunset view. Beachside restaurants are numerous and include Duke's, Orchid's, Beachhouse, and Maui Brewing Company.
Oahu is a very easy island to drive around, allowing you to explore the east shore beaches, botanical gardens with paved walkways, and historical sites like Iolani Palace and Pearl Harbor all on your own time schedule. The Waikiki Trolley also offers transportation up and down the beach. If you're planning a trip to Hawaii, Oahu doesn't disappoint! Sierra of Free to Travel Mama
East Coast Beaches for Families
10. Cape Cod, Massachusetts
Cape Cod is well-known for being a great family vacation destination. There are plenty of things to do on Cape Cod with kids of all ages!
The Cape Cod beaches are extensive and the sunsets are legendary. Cape Cod National Seashore has hundreds of acres of beachfront great for swimming or sunbathing. The Salt Pond Visitor Center is wheelchair accessible as well as Coast Guard and Herring Cove beaches.
Water lovers will love the easy kayaking and stand-up paddle boarding in the area. There are also tour boats that go out to look for whales, dolphins, and seals.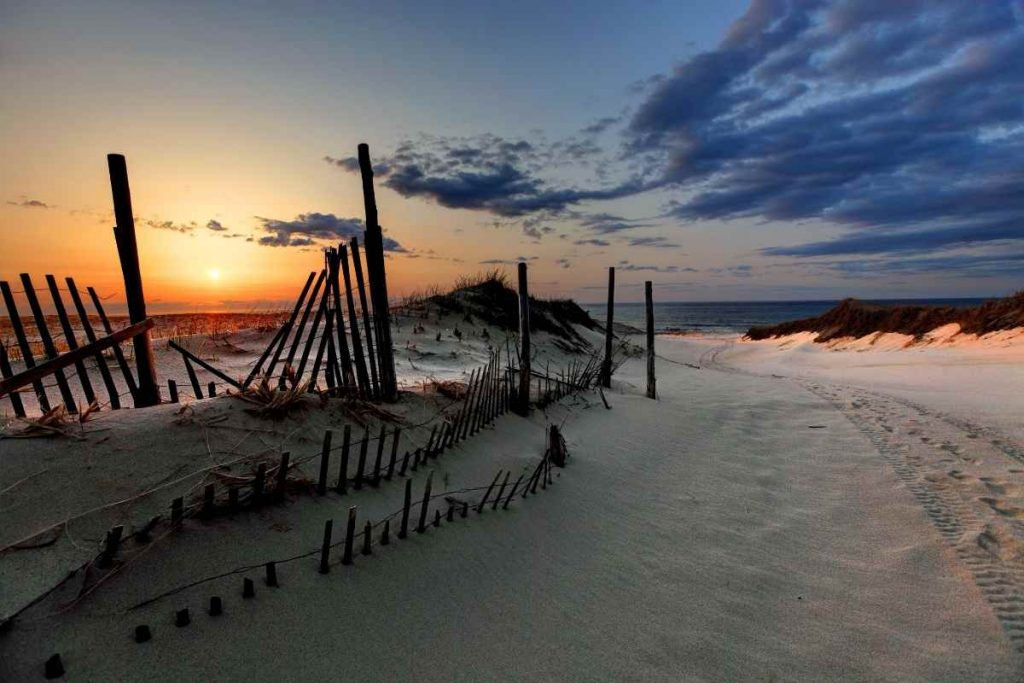 In the summer, whales and dolphins congregate in the warm temperatures of the Stellwagen Marine Reserve off the coast of Cape Cod. Although seals can be found on the beaches of Cape Cod, their main summer residence tends to be Monomoy Island, a nature reserve off the coast.
There are also plenty of places for hiking, cycling and other sports like golf and tennis. Families will love playing a round of mini-golf or gathering around a beach bonfire after a clambake. There are lots of family-friendly restaurants serving general American fare as well.
Cape Cod accommodation suits family groups well because there are many house rentals available. We are fans of the Ocean Edge Resort in Brewster. The Ocean Edge Resort has individual villas that surround a golf course as well as several pools, a private beach, and restaurants. They are perfect for multigenerational vacations because families can rent individual villas close to each other but everyone does not necessarily have to stay in the same villa. Shobha of Marthas Vineyard Tourist
Michigan Beach Vacation with Grandparents
11. Holland, Michigan
Lake Michigan is unsalted and shark-free. Could you ask for two better reasons to jump in? Of all the beaches available along the 1,638 miles of Lake Michigan's shoreline, the one mile of shore on Holland, Michigan's Holland State Park is one of the most beautiful. It is family and traveler-friendly for all ages and abilities!
Holland State Park
At Holland State Park, you and your family can stroll down to the beach or walk out onto the pier for a close-up look at the waves and the water.
Toddlers and school-aged kids can splash in the water and spend hours building sandcastles.
Teens and adults will love the nets on the beach, ready for a solid game of beach volleyball! You'll regularly find people flying kites, throwing frisbees, playing on the swing set and playground equipment (located next to the parking lot), or picnicking.
For your multi-generational family picnic, claim one or two of the many picnic tables or benches located along the channel.
The channel is a perfect place to enjoy the sun, sand, and the view of small and large boats traveling to and from the big lake and Lake Macatawa.
No worries for those who find it difficult to trek through the sand! The City of Holland has placed a boardwalk from the parking lot down to the sand near the water. It's a perfect walkway for walkers, wheelchairs, crutches, and canes.
Or borrow a sand wheelchair from the beach house for a true stroll down the beach. The modern bathhouse has accommodations for everyone. It has complete plumbing, diaper changing areas, large stalls, and cement walkways around the building.
We recommend staying at CityFlatsHotel Holland, right in the center of town. This allows easy access to shopping and restaurants after a day at the beach. Veronica of Veronica June Photography
12. Traverse City, Michigan
Nestled along the Grand Traverse Bay of Lake Michigan, Traverse City is a family-friendly vacation destination in America's Upper Midwest.
With 243 miles of freshwater shoreline, Traverse City offers beachfront lodging, public and private beaches, and endless opportunities for families of all ages to build sandcastles and hunt for Petoskey stones.
Located in the northwestern portion of Michigan's Lower Peninsula, Traverse City is about a four-hour drive from Detroit and 5.5 hours from Chicago.
Getting there, road-trippers can take the scenic, coastal M-22 route, or, for a more direct arrival, fly into the Cherry Capital Airport.
In Traverse City, beachgoers can kayak across calm morning waters or splash in small waves mid-day at several public beaches. East Bay Park is a particularly good choice for multigenerational families due to its shallow-water beach. Plus, it has a playground, picnic facilities, and public restrooms.
However, the best way to experience a beach vacation in Traverse City is to stay at a bayfront hotel or vacation rental. The Delamar Traverse City offers bay views from every room, waterfront dining, indoor and outdoor pools, and a small private beach. Beachfront accommodations, such as the North Shore Inn and the Beach Condominiums, offer rooms with kitchenettes, living space, balconies or patios with beach views, and direct beach access.
Beyond the Beach in Traverse City
Beyond the beaches, shop and dine in downtown Traverse City or in a former asylum, lick a Moomer's Handcrafted Ice Cream cone while waving to the cows, climb coastal sand dunes on an excursion to Sleeping Bear Dunes National Lakeshore, or explore lighthouses, vineyards, and lavender farms on the Old Mission and Leelanau Peninsulas.
After a family vacation to Traverse City, you'll leave with memories and, if you are lucky, a Petoskey stone to cherish for years to come. Erin of The Epicurean Traveler
13. Door County, Wisconsin
One of the best destinations for a family getaway in the Midwest is Door County, Wisconsin. This area is a peninsula with Lake Michigan on one side and Green Bay on the other, offering plenty of opportunities for time on the beach.
There are plenty of vacation rentals in Door County that would be perfect for a multi-generational trip. Consider choosing a centrally based location like Fish Creek or Baileys Harbor. These both allow for easy access to shopping and restaurants, outdoor adventures, and beaches.
This area is rich in tradition, so be sure not to miss one of the famous fish boils. Everyone will love to gather around and watch the large cauldron filled with whitefish, onions, and potatoes while the locals talk about their Scandinavian past. It's a fun activity for all ages.
Door County offers some of the coolest summer activities around from cherry picking to wine tasting and even a drive-in movie theater.
There are endless things to do in Door County whether you're traveling with toddlers or teens. We are sure you'll fall in love with this Midwestern gem and your first trip certainly won't be the last. Kirsten
Beach Vacation with Grandparents in Oregon
14. The Oregon Coast
The Oregon Coast, in the western United States, is a wonderful place to visit with loved ones of any age, thanks to its spectacular landscapes, charming coastal towns, and laid-back vibes. There are so many things to do in Oregon, we are sure you'll find something for all ages.
If your grandparents need mobility assistance, the Cannon Beach Chamber of Commerce rents out beach wheelchairs to ensure all can enjoy the area's natural beauty.
The coastline here is incredibly dramatic, with rugged cliff sides and towering sea stacks, and it's perfect for everything from scenic drives to hikes and exploring historic lighthouses.
Cannon Beach, with the 235-foot Haystack Rock, is one of the most famous and stunning beaches along the Oregon Coast. One of the best things to do in Cannon Beach is to explore the colorful tide pools around Haystack Rock or simply watch the sun sink behind the famous sea stack from its shores.
Alternatively, for a lower-impact activity, consider taking a scenic drive down the coast. There are plenty of lookouts with spectacular views of the Pacific Ocean, views of historic lighthouses, like Yaquina Head, and a number of adorable towns, like Florence or Newport, with antique shops, ice cream parlors, and mom-and-pop restaurants, just waiting to be explored.
If you're looking for a home base during your exploration of the coast, Pacific City is fairly centrally located and offers a variety of awesome lodging, like the Headlands Coastal Lodge and Spa.
If your family members need an opportunity to recharge, this hotel offers oceanfront balconies and fun perks, like complimentary locally-made snacks and wines. Jessica of Uprooted Traveler
Europe Beach Vacation with Grandparents
15. Elafonisi Beach, Crete
Crete is famous for its amazing beaches, and Elafonisi is not only one of the most famous ones, but it's family-friendly, too. You can reach it on a paved road, and it takes about a 1.5-hour drive from Chania. There's a huge dirt parking lot where you can likely find a free spot.
Whether the beach is close or far from the parking depends on where exactly you manage to find a parking spot, and which area of the beach you visit.
Both the beach and the parking area are enormous. It is flat, but most of the walk is in the sand, and there's no accessible beach mat leading to the water.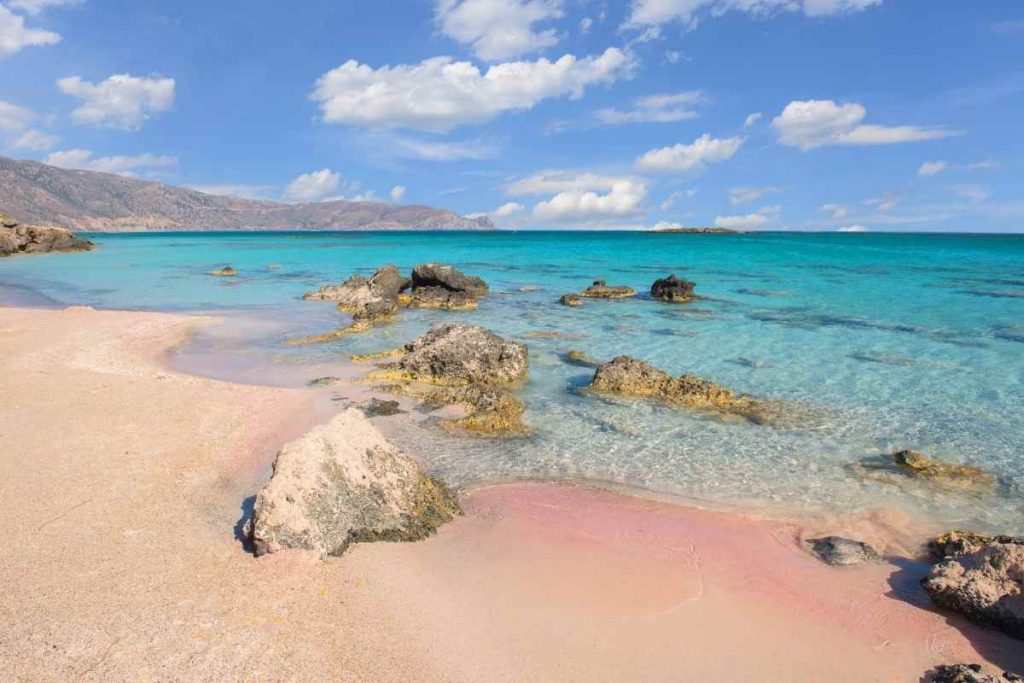 Elafonisi Beach has three large sandy bays, each offering something different. The two main bays are separated by a sand spit, and one of them is a very shallow lagoon. This area is a perfect water playground for small kids, while the other gradually gets deep enough for swimming.
The third bay is a wild beach area that's actually located on the opposing small island. You can access it on foot at low tide, and it's the least protected and most romantic, suitable for walks, swimming, or snorkeling.
Elafonisi has all the facilities you need. There are deck chairs and umbrellas for rent, a beach bar, and a toilet.
If you'd like to stay right by the beach, accommodation options are somewhat limited. Elafonisi Resort offers several rooms, some with a sea view, or you can look for places to stay in Chania. Bea of Our Wanders
16. Rab Island, Croatia
Probably one of the most amazing beaches for a beach vacation with grandparents is definitely Paradise Beach on Rab Island in Croatia. This wonderful dream bay is one of the absolutely most popular swimming places on the island and is a true jewel in Croatia.
The easiest way to reach the island is by ferry from the island of Krk or from the mainland from Stinica to Misnjak. The journey continues by car or taxi to the village of Lopar, where Paradise Beach is located.
On a vacation at Paradise Beach, your grandparents will enjoy a fine sandy beach, which slopes very shallowly into the sea, and where they can wade hundreds of meters out through the water.
This is perfect for older people and non-swimmers, but also families with small children appreciate this protected bay.
In the summer, this long bay is very busy, but in the low season, i.e. from spring to June and in the fall from September onwards, you can expect a magnificent, quiet atmosphere. At this time, you can enjoy the unique ambiance in absolute peace.
If you are looking for the perfect accommodation for your whole family, San Marino Camping Resort by Valamar is the place to be, with an awesome beach location. Recommended by Places of Juma
17. Cyprus
One of the best beach destinations to visit in Europe with grandparents is Cyprus for its crystal clear water and scenic views. Paphos Airport is only a short drive from many beautiful beaches, so if grandparents don't like a long journey, the city of Paphos is a great choice.
All of the beaches in Paphos are easily accessible. Hotels near the coast sinclude Annabelle, Almyra Hotel, and Alexander The Great Beach Hotel.
Along with the resorts, there is a paved coastal boardwalk that offers amazing views and it is suitable for wheelchairs.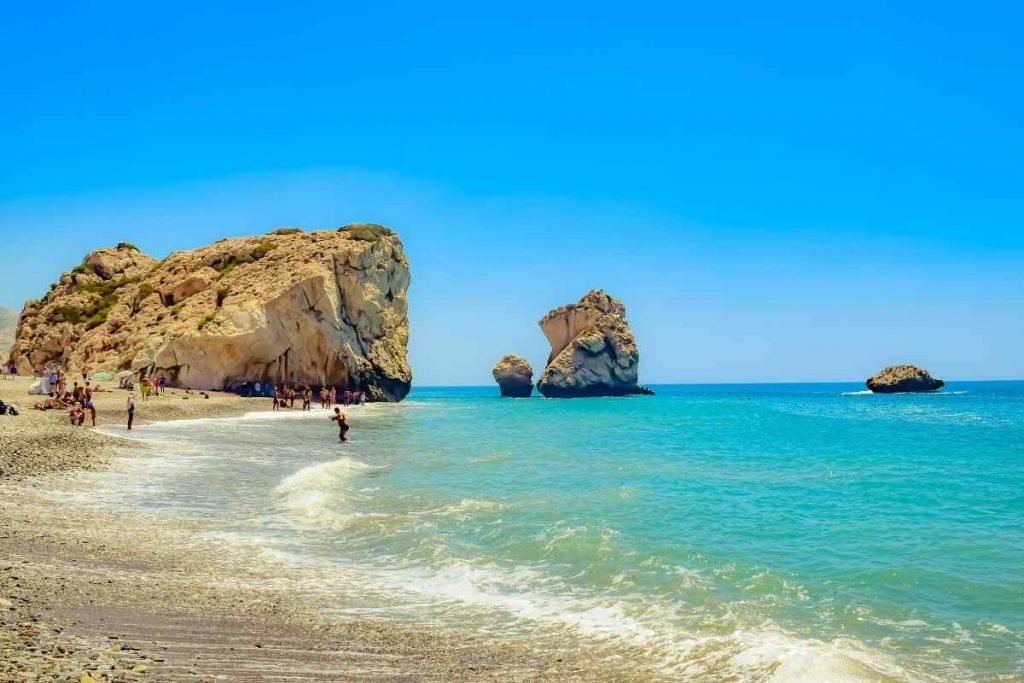 From relaxing at SODAP Beach to exploring historic monuments in Paphos, the choices of things to do in Cyprus are endless. Grandparents will love the archeological sites that the city has in abundance.
Whether they are going to explore Paphos Castle or admire the views at one of the beaches, Cyprus is a perfect destination to visit with grandparents. Paulina from Ukeveryday
18. Forte dei Marmi, Italy
Forte dei Marmi is a luxury beach town that offers something for all ages. It's the perfect spot for a comfortable, safe, and entertaining beach holiday for grandparents and grandchildren.
Forte dei Marmi is in Versilia, on the Tuscan coast. You can reach it in about 1.5 hours by car from Florence.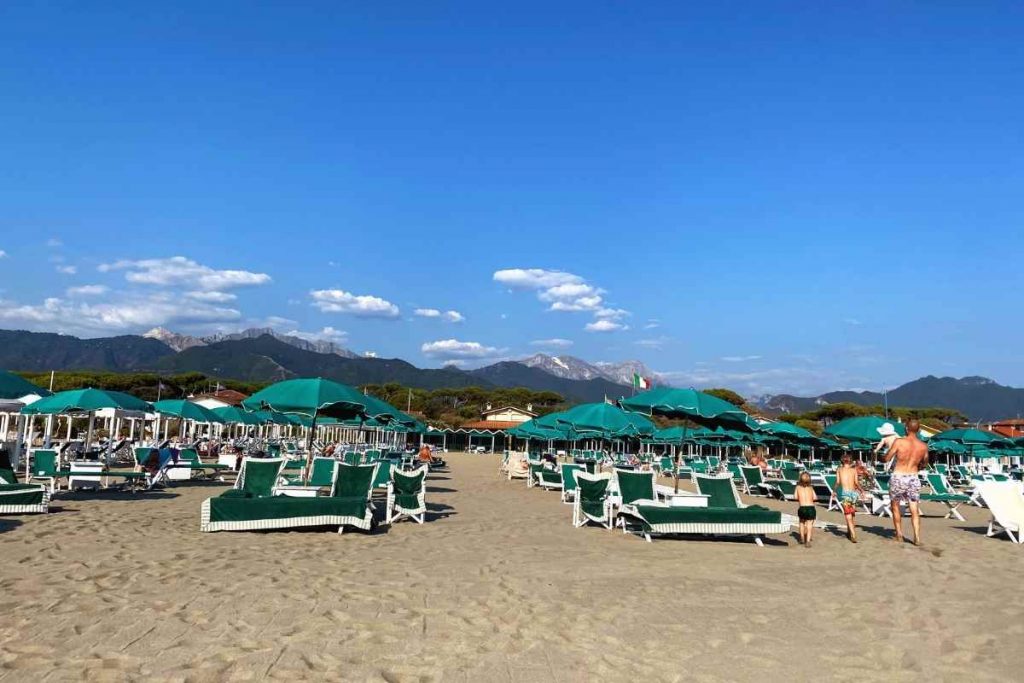 The chic coastal town offers something for everyone:
· Wide, clean, sandy beaches with calm waters
· Well-equipped beach clubs with beach umbrellas, beach chairs, changing cabins, showers, restaurants, bars, children's play areas, swimming pools, and more
· Michelin-star restaurants (five)
· A spacious children's playground and a children's area with games and rides
· Large piazzas and some pedestrian-only streets
· A famous weekly outdoor market
· Boutique and designer shopping
· Road cycling community and excellent cycling paths
Unlike many destinations in Italy, Forte dei Marmi can be visited fairly easily with a wheelchair or walker:
· Wide sidewalks and paths parallel to the beach
· Beach wheelchair access from some bagni (beach clubs)
· The ability to 'be at the beach' without being in the sand (sit at a beachside restaurant or pool)
A family beach vacation in Forte dei Marmi will create bei ricordi (beautiful memories) for everyone in your group! Candice of Mom in Italy
19. Spiaggia Fegina, Monterosso al Mare, Italy
While the majority of Italy's beaches are rocky, Spiaggia Fegina is the largest – and only true – sand beach in the Cinque Terre.
This gorgeous, wheelchair-accessible beach is a must on any Cinque Terre itinerary. Spiaggia Fegina is perfect for all members of the family, including seniors and those with limited mobility.
In addition, its soft white sand makes it a safe and comfortable beach option for babies and young children who may wish to crawl around.
Located in the region's northernmost village of Monterosso al Mare, Spiaggia Fegina also offers easy access to a number of restaurants that line the shore, as well as additional eateries within the old town.
Reaching this beautiful Italian beach is quite straightforward. All you have to do is hop aboard the train connecting the five Cinque Terre villages.
Once you arrive in Monterosso al Mare, you'll find Spiaggia Fegina just in front of the train station. In regards to accommodations, La Villa Degli Argentieri is a lovely beachside hotel option. Ideal for extended family groups, this property is located just a one-minute walk from Spiaggia Fegina. Elena of The Carry-On Chronicles
20. Algarve, Portugal
The Algarve region in southern Portugal is a great place for a beach vacation with grandparents. There are many amazing blue-flag beaches in the Algarve that are suitable for swimming and tanning.
The charming town of Lagos is one of the best places in the region to come for a family holiday. The town has many beautiful sandy beaches surrounded by limestone cliffs that offer protection from wind.
Porto de Mos Beach on the west side of the town is one of the best beaches in Lagos for tanning, swimming, and surfing. Grandparents can relax on beach chairs with a cold drink supervising children splashing in the shallow waters. While they mind the kids, parents can enjoy surfing or SUPing nearby. Motorized boats and jet skis are not allowed to get close to the beach.
During the summer months, the beach has lifeguards on duty, beach chairs and umbrellas to rent, a couple of restaurants, public toilets, a shaded picnic area, and a big parking lot. It's wheelchair and stroller accessible.
There are family hotels and apartments to rent close by. Apartments at Belmar Spa and Beach Resort are a perfect place to stay on a family holiday.
It's easy to get to Porto de Mos Beach from the Old Town by using public buses. Alya of The Algarve Family
21. Scopello, Sicily
The Mediterranean island of Sicily is known to have some of the best beaches in all of Europe. Beach season starts as early as May and extends well into October, making Sicily a much-beloved spot for sun chasers of all ages.
Many of the beaches however are slightly harder to reach, requiring a sort of clambering over rocks.

One of the best places to stay in Sicily during the summer is Scopello. The little sleepy town comes alive during the summer months with restaurants, bars, and of course a gelateria (ice cream shop).
A 5-minute drive from Scopello will bring you the Tonnara of Scopello. Depending on your mobility, you can choose to park on the road and take a scenic 10-minute walk down to the beach or opt to drive down with the car.
Pay for a sun chair, roll out your towel and enjoy the beautiful sandy beach. No need to climb over rocks!
In terms of hotels, you can either opt to stay in Scopello or book a room in Tonnara itself and wake up by the sea.

Scopello is very popular among locals, so if you wish to experience this beautiful beach it is best to book your accommodations months in advance.
Once you arrive, it will soon become clear why this place is so popular! Caro of Veggie Wayfarer
22. Mallorca, Spain
Mallorca is a wonderful island with many extraordinary beaches. The island offers something for everyone, and it is a favorite destination for elderly people who love its laid-back atmosphere, delicious Mallorcan food, and wonderful beaches.
For travelers who like to base themselves in the capital of the Balearic Islands, Palma de Mallorca, the beach is a short stroll away from the Cathedral. The beach in Palma is narrow but sandy, has plenty of tapas restaurants along it, and offers beautiful views over the skyline of the city.
Another great beach suitable for every member of the family is Cala Mondrago, in the National Park of the same name. There are a few parking places in Cala Mondrago, which make it easy to access even by grandparents with walking difficulties.
The beach has step-free access and the most beautiful, golden, sand. During the peak season, the beach has lifeguards. There are a couple of restaurants near the beach as well, where you can go for lunch and have some time away from the sun.
Being in a bay, the sea at Cala Mondrago is calm, making it great for children who like to play in the water. The nearby town of Portopetro has many hotels for every budget, many of which offer apartments big enough for the entire family. Joanna of The World in My Pocket
Mexico Beach Vacation with Grandparents
23. Cozumel
Cozumel is an island off the coast of Playa del Carmen and has some of the best beaches in Riviera Maya. There are a lot of things to do on this small island!
Playa San Francisco in particular is an excellent choice for families visiting with both small children and grandparents.
This beach is home to Playa Mia Beach Club. This all-inclusive beachfront water park has a splash pad for little kids, great swimming on the beach for older kids, and plenty of shaded sun chairs for parents and grandparents.
There are also other restaurants near the beach club and there's even a chocolate museum across the parking lot from the beach club! Families can do multiple activities together without even getting back in the car.
If anyone in the family group uses a wheelchair, they don't need to be left out of the beach fun at Playa Mia! It has several wheelchair ramps at the main facilities, special lockers in the restrooms, and even special beach wheelchairs for sandy areas.
The hotel Maia Suites Cozumel is located just a short drive from Playa Mia. Brodi of Our Offbeat Life
24. El Cuyo, Yucatan
El Cuyo, Yucatan is a stunning beachtown in the northeastern part of Yucatan. While most tourists in this part of Mexico flock to better-known coastal destinations like Tulum, Cancun, Playa Del Carmen, and Holbox, El Cuyo awaits those seeking to escape the crowds.
You could think of El Cuyo as what Tulum was like 15-20 years ago before word got out. The area boasts little more than a stunning white sand beach that extends as far as the eye can see, and borders crystal-clear cerulean waters.
Since few international tourists know about El Cuyo, you will often find that you have much of the beach entirely to yourself. This is a great place to go for some much-needed R&R.
Many of the beachfront hotels have on-site spas and rooftop day-to-night cafe bars where you can watch a majestic sunset.
The town is surrounded by mangroves. Take a boat ride through the mangroves for the chance to see rare, regional birds, bright pink flamingos in their natural habitat, and even crocodiles! Tours are affordable and are a great educational experience for children.
El Cuyo's beach offers calm waters, perfect for swimming and safe for the whole family. As you venture eastwards past the port, the wind on the far end of the beach offers the perfect conditions for kitesurfing and surfing.
Older children (10+), teens, and adults alike can enjoy surfing or a kitesurfing lesson here. Private and group lessons are available. You are in very good hands with some of the best kite surfers in Mexico. Melissa of Mexico Travel Secrets
Where to take a Caribbean beach vacation with grandparents
25. Punta Cana, Dominican Republic
Punta Cana in the Dominican Republic is a great destination for a beach vacation with grandparents. Not only is it just a short 3-4-hour flight from many major US east coast cities, but also the beaches are world-class and offer perfect conditions for children, adults and grandparents.
However, beaches in Punta Cana are not created equally. Some of the best stretches are Cabeza de Toro, Cap Cana, and the southeastern part of Bavaro Beach.
All those beaches feature a particularly shallow ocean which is perfectly suitable for small children, adults and even grandparents if they want to enter the water.
An external company rents beach wheelchairs and floating beach chairs in case they are necessary.
Punta Cana is also famous for its all-inclusive resorts, which cater to many different ages. Some of the best family all-inclusive resorts on the beaches mentioned above are Hyatt Ziva Cap Cana and Serenade Punta Cana.
Last but not least, there are also amazing family excursions in Punta Cana. The best activities for a beach vacation with grandparents in Punta Cana are a family snorkeling tour, a trip to Los Haitises National Park, and a cultural tour through the countryside. Chris from Punta Cana Travel Blog
Australia Beach Vacation with Grandparents
26. Avoca Beach, Central Coast, NSW
Avoca Beach is one of the best spots to while away your summer days with the family. The entire beach is pram/wheelchair accessible, with a ramp right next to the surf club to get you down on the sand and ready for adventure.
At one end, you will find the rock pool which is just perfect for little toes to splash about in, sheltered from the harsh waves of the sea. Adventurous kids will also love climbing the nearby rocks and exploring the area.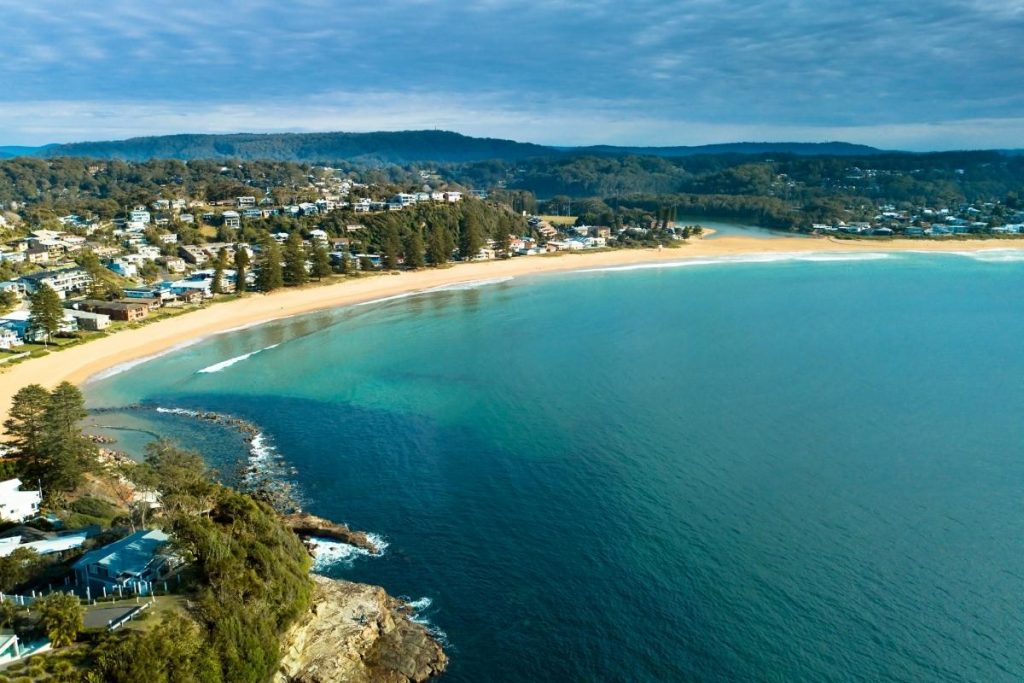 In the middle of the beach, you will find the flags – the safest spot to swim. There are a couple of stairs to get down here, but you can access it from either end of the beach where there are ramps.
Down the other end, you will find the lagoon, which is a highlight of the beach. During summer, you can rent out a paddle boat or kayak and head off exploring, or simply settle back and watch the kids run in and out of the calmer waters having a blast.
If you're looking for accommodation, head to stayz.com.au (the Australia equivalent of VRBO), where will find plenty of properties for short-term leases that suit families of all sizes. Felicity of DIY Party Central
27. St Kilda Beach, Victoria, Australia
One of Melbourne's most popular beaches, St Kilda is a great spot for a day out with the family.
The white sand beach of Port Phillip Bay with shallow swimming conditions is perfect for family members of all ages with all swimming abilities.
The beach stretches for almost two kilometers and is perfect for swimming, sunbathing, and even a spot of fishing if that is what you enjoy.
The foreshore trail is a walking bike path that runs parallel to the water and is popular with families who love bike riding. You will find plenty of people walking, running, and cycling all throughout the day.
Other Places to Explore in St Kilda
There are kiosks and cafes along the way where you can grab a coffee, fruit juice, and even chocolate milk for the kids, so there is something for everyone.
The popular Sunday market is held on the footpath overlooking the beach selling arts, crafts, food, and souvenirs.
The biggest multi-generational attraction at St Kilda is the iconic Luna Park. This old-world amusement park has been open since 1913 and has the world's oldest continually running wooden rollercoaster.
Generations of visitors to St Kilda have visited Luna Park and enjoyed rides such as the heritage-listed carousel, the ghost train, and newer rides such as the pirate ship.
For something completely unforgettable, there is a colony of fairy penguins that live at the end of the St Kilda pier. This is a unique Melbourne attraction to see so close to the centre of Melbourne.
A great way to take a break from all the fun at St Kilda beach is to grab a cake and drink on the nearby Acland Street, which is one of the most famous streets in Melbourne.
Overall St Kilda beach is a great place for kids, parents and grandparents to enjoy the great outdoors in Melbourne Australia.
St Kilda is easily accessible from the Melbourne CBD in around 10 minutes or you can easily stay in a family room at the Cosmopolitan Hotel. Bec from Explore Victoria
28. Sunshine Coast, Australia
Eight years ago, we sold our home and shipped our belongings across the world to set up a new life in Australia. It has been really difficult living so far away from our parents but when they come out to visit, they love going on beach vacations with us and their three grandkids!

What makes a great multigenerational holiday? For us, it's all about having access to the beach and a swimming pool along with some fun family attractions that we can all enjoy. The Sunshine Coast offers all of this and it's just an hour's drive from Brisbane where we live (there is an airport there for easy access if you're traveling from further afield too).

The Sunshine Coast has the most amazing surf beaches like Moffat Beach and Kings Beach but there are also calm areas like Currimundi and Golden Beach which are much more relaxed and perfect for grandparents wanting to potter about collecting shells and checking out rockpools with their grandkids. These are great locations for some gentle paddleboarding or kayaking which the kids love.
The Sunshine Coast is also the place to find some incredible family attractions like Australia Zoo, SEALIFE Sunshine Coast and the Ginger Factory which are very accessible for all ages and abilities.
Eating out is great on the Sunshine Coast – there are plenty of surf clubs serving hearty meals that suit all tastes, and the main towns offer a wide range of eating options from takeaways and coffee shops to fine dining.
At the end of the day, your resort pool is a great place to unwind. The grandparents love taking a night swim with the grandkids making some amazing memories.

The Sunshine Coast is a great holiday destination for all ages. Karen of Smart Steps to Australia
29. Broome, Western Australia
The small coastal town of Broome is one of the best family-friendly vacations in Western Australia. This remote town, located in the northwest Kimberley region, is a popular spot during the Australian winter thanks to the warm and sunny days Broome is best known for.
One of the best beaches in Broome is Cable Beach. This long sandy stretch of beach has clear blue water perfect for swimming and is close to a range of cafes and restaurants.
Umbrella and sun loungers are available to hire directly on the beach, as are stand-up paddle boards for the more adventurous ones in the family.
As the water's edge is located quite far from the beach entrance, a moderate level of mobility is required unless you have a beach wheelchair.
After a morning spent relaxing on the beach or swimming in the calm ocean, take the family to one of the nearby cafes for lunch, such as Zanders Cafe or the Sunset Bar & Grill. As the sun begins to set, Cable Beach becomes one of the best spots to watch the sun sink below the Indian Ocean.
A unique attraction that takes place on Cable Beach is the iconic camel rides along the sand. Take a ride during the day, or book onto one of the popular sunset camel rides.
Consider staying at the nearby Cable Beach Resort which offers Bungalows that sleep between 5 – 8 people. Tess of Tessomewhere
New Zealand vacation with grandparents
30. Kapiti Coast
For a fabulous New Zealand vacation with grandparents head to The Kapiti Coast. Located near Wellington, the coast runs from Paekakariki in the south to Otaki Beach in the north with around 40km of beaches in between. The Kapiti Coast is accessible by train from Wellington City, on the Kapiti Line, or by car. The two most easily accessible beaches are Waikanae Beach and Paraparaumu Beach.
There are plenty of things to do on the Kapiti Coast, including swimming, boat trips to Kapiti Island, golf course, fruit picking, and beer gardens. The range of activities in this area makes the Kapiti Cost a great destination for all ages.
There are plenty of family-friendly beachfront cafes and activities ranging from the adventurous to the relaxing. The Kapiti Coast is a very popular holiday destination for Wellingtonians, many of home have holiday homes in this area.
For accommodation, Raumati Sands Resort is a great upmarket option with full hotel facilities that cater to all ages. For a more budget-friendly option, El Rancho Holiday Park in Waikanae Beach has campsites and motel rooms. Kate from Where in Wellington
Bali vacation with grandparents
31. Bali
Bali is an ideal location for a beach vacation with grandparents. The weather is warm, the people are friendly and there are many accommodation options to suit families of all sizes.
When deciding which area of Bali to stay in, we recommend Sanur for multigenerational holidays. Sanur has a calm beach, so it's safe for everyone to get into the water. It also has an 8km beach pathway that is perfect for either taking a walk or a bike ride along.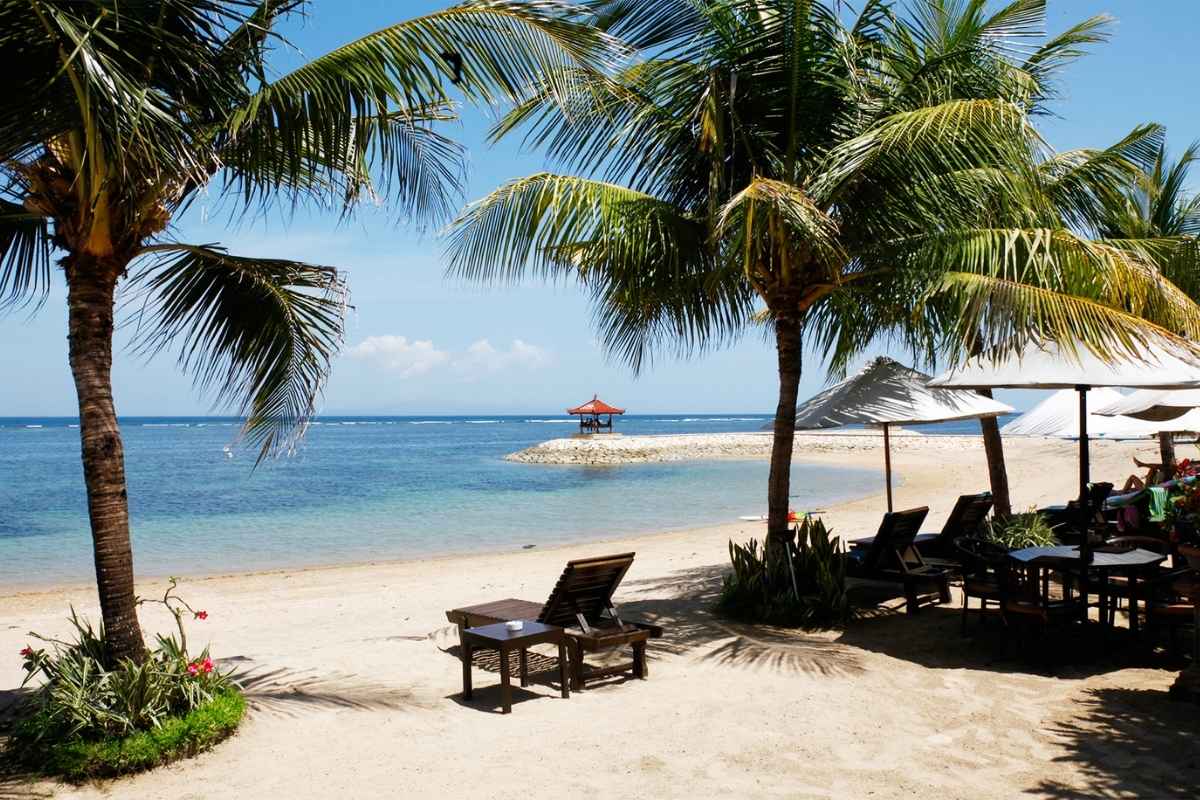 Bali also offers lots of family-friendly activities so that both grandparents and the children can experience and enjoy the culture and fun activities together.
There are many private drivers with large vehicles that you can hire by the day or half-day also, this makes getting everyone around the Island super easy too!
Bali makes for a fun, easy (and often inexpensive) holiday destination when traveling with extended family. It's the perfect place to make some family, and vacation memories together. Karlie Cummins from Bali Buddies
Malaysia beach vacation with grandparents
32. Langkawi, Malaysia
Langkawi is in the Andaman Sea, some 30km off the mainland coast of northwestern Malaysia, and is easily reached by a short flight from Kuala Lumpur or a ferry from Thailand. Pulau Langkawi is about 52km long and 18km wide and once you get there you will never want to leave, it is a wonderful paradise.
The Cenang beach is one of the most popular tourist destinations on Langkawi Island. It's a beautiful white sand beach that stretches for nearly 2 km. This is where you will find many of the tourists who visit Langkawi.
Many of the best hotels in Cenang Beach have access straight to the sand and swimming pools overlooking the beach. This makes it one of the best places for a beach vacation with grandparents.
Pantai Cenang is a great place to swim, sunbathe, and enjoy the sunset. With its calm waves, easy access to restaurants and a large stretch of sand family members of all ages visiting Langkawi will find this an easy beach to enjoy. There are also plenty of water sports activities available, including jet-skiing, parasailing, and banana boat rides.
If you are looking for something to do on a kid-free night or with the family, a cruise around the islands is great fun for all ages. Many tour companies offer a dinner and sunset cruise which also takes in the sites of the smaller islands. You can take in the sites while lazing on the deck or being towed behind the boat in a net, which is great fun for kids who love the water.
Other Things to do in Langkawi
The night market is another popular attraction in Langkawi and really gives you a wonderful taste of local foods. It's open every evening from 7 pm until midnight. There is a wide variety of food stalls, souvenir shops, and entertainment options.
Adding to the fun of the Langkawi night market the location changes every night and you can discover other areas of the island as you chase some of the most amazing food around.
Just a tip though if you are visiting the Langkawi night market with kids there are extremely limited places to sit while you eat so some families with younger kids will find this very difficult.
When you have had enough of the beach you can head over to the Langkawi cable car. This amazing cable car will take you to Langkawi Sky bridge and here you will be amazed at the views over Langkawi Island.
On a clear day, you can see for miles across the beautifully crisp, blue water. Before you ride the cable car you will also walk through the Oriental Village which has numerous sections like Jurassic World and a 3d art museum. Mark from Wyld Family Travel
Dubai beach vacation with grandparents
33. Dubai, UAE
The city of Dubai in the small Middle Eastern country of the United Arab Emirates may not be the first place that springs to mind for a beach vacation with grandparents, but it holds a treasure trove of opportunities for the multigenerational family looking for something that they can all enjoy.
The city hugs the shores of the Persian Gulf and offers miles of beautiful sandy beachfront. This is stunning with a modern backdrop of skyscrapers and a fascinating trading past to explore.
DXB has been crowned the world's biggest international passenger airport for several years running, making it the perfect spot for overseas families to connect in one place.
What you'll find incredible about staying in Dubai is the huge range of family beach resorts on offer. Many have added extras such as lazy rivers, splash pads, slides, and water sports (even camel rides!) so you'd honestly never need to leave your hotel if it's just a relaxing beach holiday you're after.
On the other hand, if you've got a more active family, you won't be left disappointed either. Enjoy a day at one of the world's largest water parks, Aquaventure at Atlantis the Palm. Scale the world's tallest tower, the Burj Khalifa, or head out on a desert safari to learn more about the country's Bedouin past and take on desert sports such as fat biking, and dune buggies, and sandboarding – all with pick up services from your hotel.
Where to Stay in Dubai with Grandparents
We recommend for a complete family beach vacation experience in Dubai you stay around the area known as JBR (Jumeirah Beach Residences) and the Dubai Marina.
Here, it's easy to get family-sized, multi-bedroom holiday apartments and everything you need is only a stone's through away from popular areas The Walk and The Beach – think waterfront dining and entertainment.
You're also on the doorstep of Bluewaters island (home to the giant new Ain Dubai observation wheel – now the largest in the world) and the Dubai tram, Metro and water bus services are all close to hand for further exploration of the city.
Do carefully plan when you'll make your trip to Dubai though, northern hemisphere summers can be extreme in the desert. Your ideal time to visit Dubai is from late October through April, making it the ideal family beach getaway for winter. Keri from Family Travel in the Middle East
Morocco beach vacation with grandparents
34. Essaouira, Morocco
Perched on Morocco's Atlantic coast, just a three hour drive west of Marrakech, Essaouira is a great destination for a multigenerational beach holiday.
There are so many things to do in Essaouira to keep everyone entertained. Active family members will want to try surfing or kitesurfing (strong Atlantic winds create the perfect conditions), or perhaps quad biking, camel riding, or horse riding along the beach.
Those family members seeking a more sedate experience will enjoy slow wanderings around the UNESCO World Heritage Medina, stopping for mint tea at one of the many cafes, then buying fish directly from the fisherman at the port to have cooked at a nearby open restaurant. There are also a handful of spas offering a traditional hammam experience.
Being a compact town, Essaouira is easy for getting around on foot. But for those less mobile, Essaouira is very wheelchair and pushchair friendly.
The 2km long promenade along the beach is beautifully even for those on wheels, perfect for a sunset stroll. But if you don't want to walk, jump in one of the petits taxis, which will take you anywhere around town for a flat fee of 7DH (about 55p).
As for accommodation, we recommend a vacation rental in the heart of the Medina. This will not only provide you with a more authentic experience with everything on your doorstep, but you will be able to find a place big enough for the extended family to live comfortably under one roof. Jenny of Explore Essaouira
Canada beach vacation with grandparents
35. Toronto, Ontario
For local residents, the Toronto Islands are a favorite summer attraction. They are a collection of several small islands that are home to beautiful ponds, forests, boardwalks, and sandy beaches.
To get here, you can take a short ferry ride from downtown Toronto. The ride itself is wheelchair accessible. It is quite lovely as you'll be treated to impressive skyline views across the lake.
There are 4 beaches on the Toronto Islands. Centre Island Beach is the most popular. Here you will find golden sand giving way to the gentle waves of Lake Ontario. This beach definitely has the prettiest scenery out of all the beaches on the island. It even has a large breakwater that runs its entire length offshore to ensure that there's no surf!
Just west of here is Gibraltar Point Beach, a much quieter spot with a nice forest setting and gorgeous lake views.
If you continue farther east along the shoreline, you'll reach Hanlan's Point Beach. Facing southwest, it's the best beach for sunset watching.
Finally, Ward's Island Beach is situated on the east end of the islands. The sand isn't as nice as the other three beaches but it's pretty wide and there are lots of scenic walking paths nearby. Most of them are paved and relatively flat, perfect for even young children and the elders.
The Toronto Islands are also a great winter destination. They are transformed into a winter wonderland with their frozen lagoons, ice formations, beautiful skyline views (especially at sunset), and way fewer crowds. John from Your Destination is Everywhere
Hopefully you've found quite a few ideas for your next beach vacation with grandparents. These destinations offer everything you need to plan the perfect trip for all ages.