When you are planning a big family trip to Europe, there are many factors to consider. In addition to finding family-friendly destinations, it's important to research transportation, accommodation, and activity options as well. We asked fellow travelers to share their favorite destinations for multigen family vacations around the world and in the US. This article covers the best vacation ideas in Europe for a large family trip. Enjoy!
*Disclosure: This post may contain affiliate links, which means we may receive a commission if you click a link and purchase something that we have recommended. Please check out our disclosure policy for more details. Thank you for your support!
Best Destinations for a Large Family Vacation in Europe
Austria Family Vacations
Vienna, Austria
Vienna, Austria, recognized as one of the safest cities in Europe, offers multigenerational family travelers diverse and accessible experiences. The city has a rich culture and heritage. It was home to Beethoven, Mozart, Schubert, and Strauss and has over 50 theaters and opera houses. Numerous venues offer performances designed for children and teens.
There are plenty of opportunities to enjoy the outdoors in the greenest city in the world. There is an abundance of green spaces, favorable air quality, and access to public transportation. Stroll the leafy Ring Boulevard (Ringstrasse), relax in the city's abundant parks, and explore world-class attractions like Schönbrunn Palace Gardens and Schönbrunn Zoo. Learn more about these recommended activities and other exciting things to do in Vienna in this post.
Viennese coffee houses located throughout the city are excellent places to take a break and refuel. Handmade Imperial Torte and other sweet treats like Apfelstrudel (an apple-filled pastry) along with renowned Viennese Coffee will keep you fueled up while exploring the pedestrian-friendly city.
Live like Royalty while you are in Vienna and stay at the Hotel Imperial, originally built from 1863 to 1865 as the private palace of Prince Philipp of Wuerttemberg. Families will appreciate the spacious suites and children's amenities. Nancy of Luxe Travel Family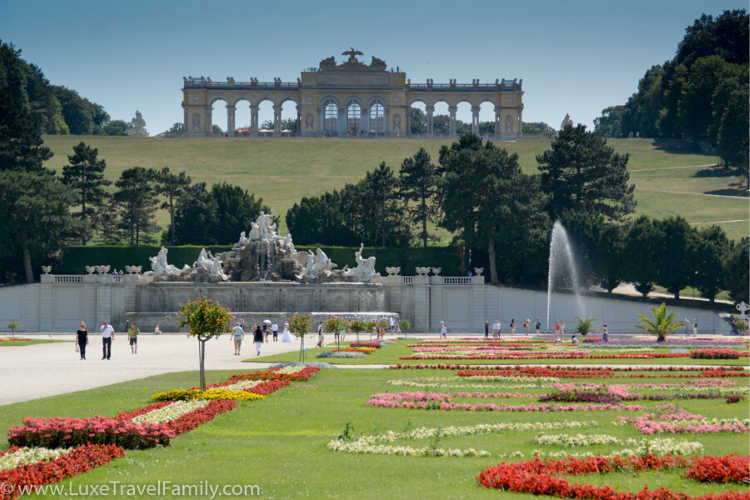 Where to Go in Belgium with Family
Dinant, Belgium
The Wallonia region of Belgium is an untapped, lesser-known gem. Dinant, on the outskirts of Namur, is one of my favorite places. There is something for everyone and it is perfect for all age groups.
One of the best ways to experience Dinant is by taking a cruise on River Meuse. With the magnificent view of the imposing Dinant Citadel, the unique Notre Dame Cathedral in front of it, and a bridge with installations of 12 colorful saxophones, it is a sight to see! While cruising is a relaxed option, especially if family members are elderly or disabled, another fun idea would be kayaking or self-driven electric boats.
The Domaine des Grottes de Han on the outskirts of Dinant has several things to do including a huge wildlife park, a prehistoric museum, and more. Don't miss the canopy walk, a ropes course with a variety of bridges connected to the trees! My favorite thing is the magical video inside the cave – to witness a magical laser show, 110m beneath the ground, projected on million-year-old stalactites & stalagmites – this will delight people of all age groups. My Travelogue by Bhushavali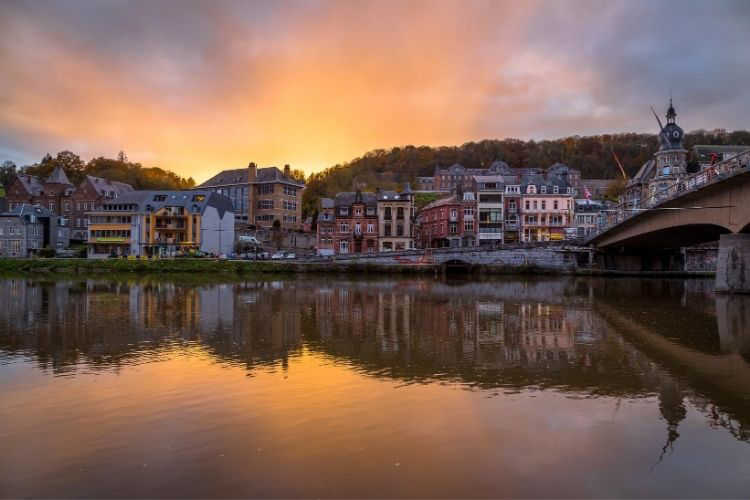 Denmark Vacation with Extended Family
Copenhagen, Denmark
Copenhagen offers the perfect European holiday for extended family trips. Families will love the variety of attractions, relaxed atmosphere, and reliable transportation throughout the city.
Children and teens will love Tivoli Gardens, the second-oldest amusement park in the world. The National Museum has an awesome children's museum with opportunities for dress-up and child's play. Adults will enjoy strolling through town and exploring historical sights like Rosenborg Castle, Amalienborg Palace, and the Round Tower. Everyone can enjoy a canal cruise that travels past the Little Mermaid statue and ends at Nyhavn, the famous waterfront district of Copenhagen.
Copenhagen with kids can be expensive, so invest in a Copenhagen Card for all travelers as this offers admission to over 80 attractions and free transportation. Two children under the age of 10 are free with each adult card purchase.
Consider booking a vacation rental on or near Strøget, the pedestrian-friendly walking street. Families can spend time exploring the shops, eating in the restaurants, or grabbing a quick bite from the local vendor carts (think hot dogs and waffles). Kirsten of Kids Are A Trip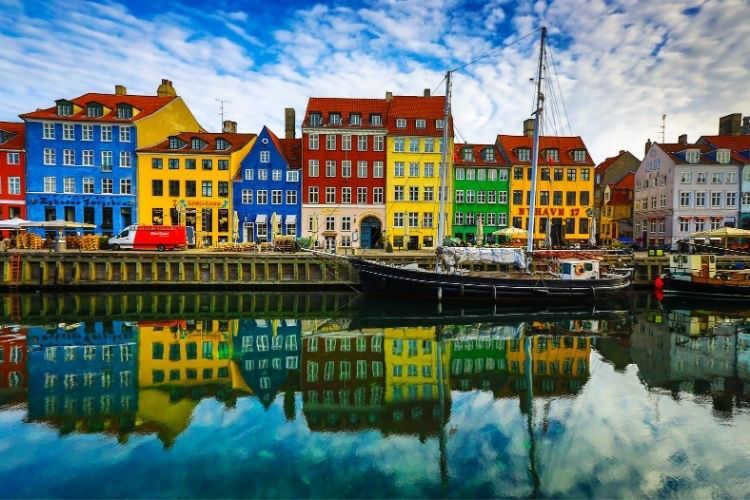 Multigenerational Family Vacation to England
England has some amazing options when it comes to family-friendly destinations and accommodations. In addition to the following cities, we would also recommend The Cotswolds, Cornwall, and Windsor, where you can stay in one of the best themed hotel rooms for families in the UK. The country has everything from castle stays to theme park hotels. If your group is looking for an easy destination that works for all ages, there are some great family holiday destinations in the UK.
Dorset, England
Dorset in southwest England is a lovely destination for a multi-generational family trip in the UK. The county of Dorset is located 2.5 hours from London and is well connected by public transport and road networks.
Dorset offers a wide variety of attractions for families. There are miles of wonderful coastline including the famous Jurassic Coast, an area rich in fossils and ancient history. Both children and adults will find this place fascinating.
Popular seaside towns in Dorset include Bournemouth in the east of the county with its large sweep of sand. Lyme Regis is also worth a visit with its appealing waterfront promenade. The county town of Dorset is Dorchester, known as the heart of Hardy Country, home of famous author Thomas Hardy.
There are some incredibly picturesque towns and villages in Dorset including Sherbourne with its honey-coloured stone buildings and historic abbey. Corfe Castle, a National Trust-run property, is also a popular day out with children relishing the arrival by steam train.
Families will enjoy staying at Rudge Farm close to the Dorset coast: this affordable collection of farm cottages is ideal for families who want to be together but also need a bit of space. Annabel of Smudged Postcard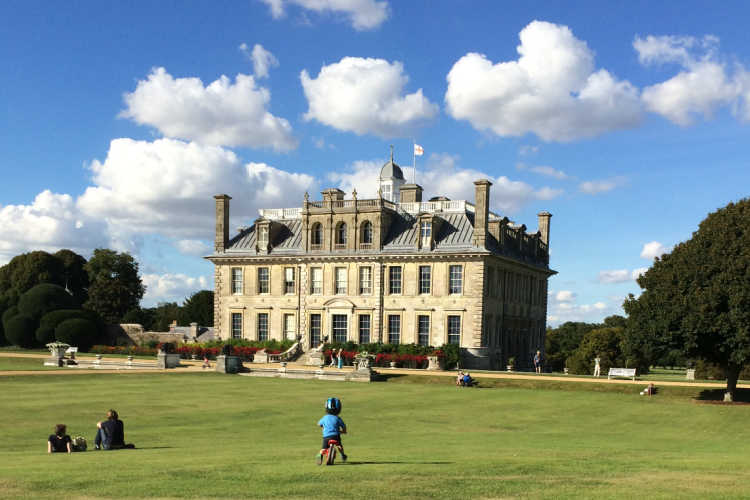 London, England
London is definitely one of the best cities for a multigenerational family trip. The UK's capital has it all with more than enough to keep even the busiest of families occupied. From world-famous museums and beautiful parks to fantastic food markets, award-winning theatre, fantastic shopping, and more, London has something to offer all ages. Plus, its excellent public transport system – and reliable black taxi service – make it an easy city to navigate.
One of the best ways to get your bearings is on a hop-on-hop-off tour of the city center. These double-decker buses are an easy way to see the main sights including the Tower of London, the Houses of Parliament, and Buckingham Palace. Don't miss a trip on the London Eye for a bird's eye view of the city. For a more wallet-friendly city panorama, head to the Sky Garden or one of these London restaurants with a view. This is one of the many free things to do in London, just make sure you book in advance.
If you have time on your London trip, make sure to venture out of the city center. A boat ride along the river to Greenwich to explore the Cutty Sark is a lovely day out. Or, take a day trip to Hampton Court Palace, once the favorite palace of King Henry VIII. Don't miss Kew Gardens, one of London's most beautiful spots, or Richmond Park, home to more deer than people. Katja of Globetotting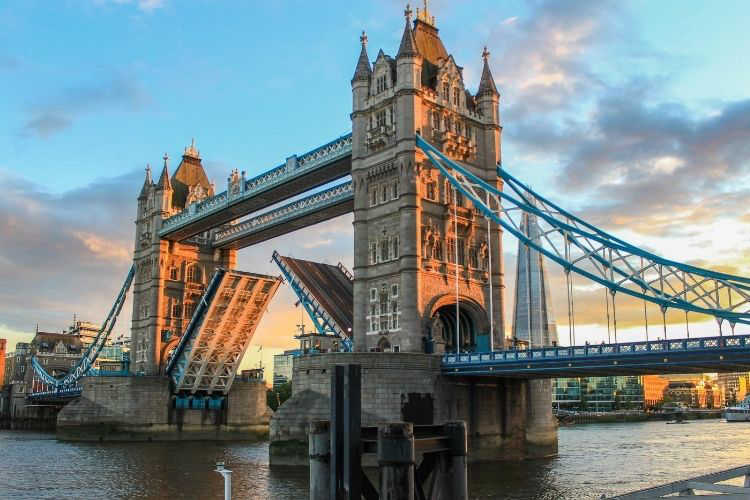 Yorkshire, England
Yorkshire is a perfect destination to visit on a multigenerational trip as there are sights and activities to suit all ages and interests. It is best to explore the area by car and is a five-hour drive from London or just two hours by train from London to York where you can pick up a hire car from York rail station.
Families can hike the rolling landscapes of the Yorkshire Dales or visit one of the area's scenic waterfalls such as Aysgarth Falls. Tour a local brewery or vineyard or allow the kids to get lost at The Forbidden Corner, a 4-acre park packed with follies and secret passageways. Explore an ancient castle in Skipton or the monastic ruins at Fountain's Abbey.
A trip to the city of York with kids could include a tour of York Chocolate Story or the Jorvik Viking Centre, with York Minster or York's historic Mansion House for the adults. And every member of a family will love a trip to the accessible, sandy beaches at Whitby, Filey, or Scarborough on the dramatic North Yorkshire coastline. Sinead of Best in York Guide
Travel with Grandparents to France
The Alsace Region in France
The Alsace region of France is known for its fairy tale-style villages, amazing wines, open spaces, Christmas markets, and cuisine that would make the top of any foodie list. This makes it the perfect place for a multigenerational trip. You could even rent a motorhome in France and slow travel through the region.
You can easily get to the larger more well-known towns like Strasbourg and Colmar to see what the Alsace is about. Be sure to spend a day or two exploring the two cities. Not only is there a lot to do with kids, but there's also a lot to do in Strasbourg with teens. We recommend renting bikes to explore the city or heading out on a Segway tour if everyone is up for it.
Towns like Ribeauville, Eguisheim, Kayserburg, and Neuf Brisach are surrounded by vines, free-flowing rivers, old walls, or open spaces. The food is not a mass-produced, 'made for tourists' menu, it is good old home-style cooking that makes you want more. Many places will have a play area for the kids and they are more than welcome to play in the vines if you are eating outside in the warm Alsatian sun.
In towns like these, you can see where the ideas that inspired tales like Beauty and the Beast came from. They are everywhere and they are beautiful.
There are so many things to do in the Alsace. For younger kids there is the gingerbread museum, for the history buffs there is the Struthof concentration camp, for hikers there are the Vosges mountains, for wine lovers there is a stop every few hundred meters that is destined to impress, for castle chasers there are ruins or fully furnished, glorious residences and all of them will leave you in awe.
It does not matter what your family loves the Alsace has it all. Bec of Wyld Family Travel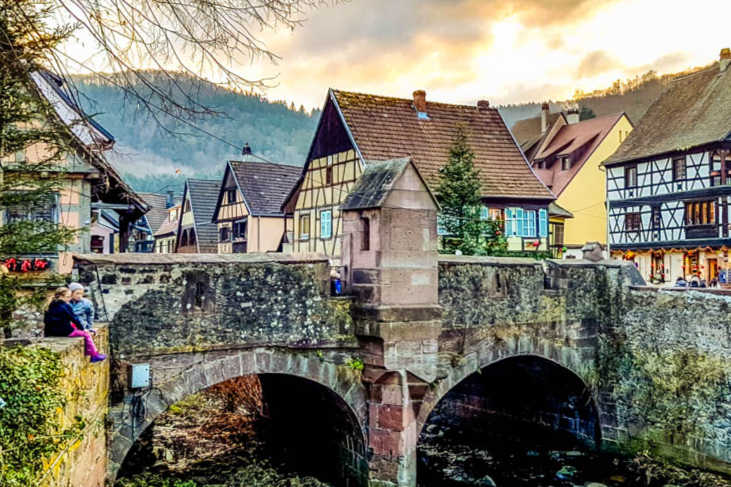 Paris, France
A sprinkling of Disney magic for the kids, mounds of high-end museums for the grandparents, and a slew of fantastic restaurants for the parents? It can only be the French capital, Paris, the perfect destination for a multigenerational family trip.
While it might not be the first city that comes to mind when thinking of bringing so many generations together, Paris is great for all ages. So many of the main attractions – the Louvre, Eiffel Tower, Champs Elysees or Pont Neuf – can be visited just by walking short distances, or hopping onto the metro if the distances don't suit the older ones in the group.
Need some culture on your Paris itinerary? Museum-lovers will delight with so many to choose from: Musee D'Orsay, the Rodin Museum, Musee de l'Orangerie, and an endless list of others to explore. For the kids, there is of course Disneyland Paris, with two parks, 7 hotels, and even a golf course (for the big kids of course!).
Tired of wandering? Paris of course has some of the world's finest cuisine – the older generations can munch on macarons or bite into flaky croissants while the younger ones enjoy their signature Parisian crepe, served from stalls across the city. Lee from The Travel Scribes
Here are some ideas for family-friendly accommodations in Paris!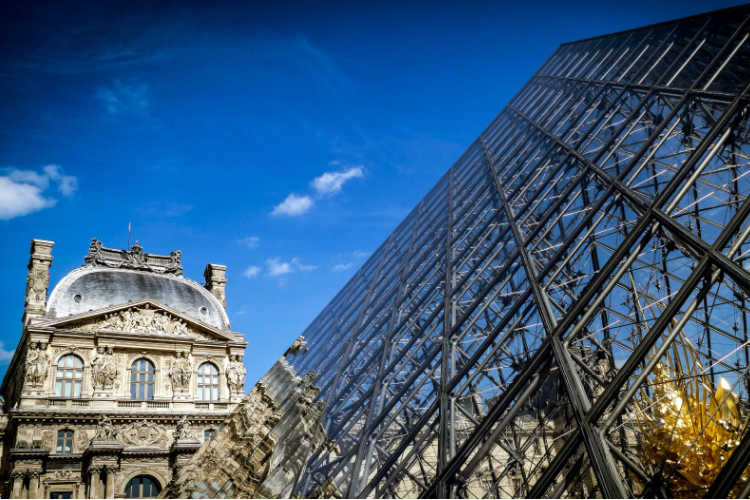 Family Friendly Holidays in Germany
Freiburg, Germany
After spending a full year living and working in Freiburg in Germany, I'm here to tell you why it is a great destination for a multigenerational family trip. There are so many amazing things to do in Freiburg and I would like to share with you the best of them.
Freiburg is home to an old city center with beautiful colorful buildings and a Gothic cathedral at its center. The bustling markets that fill its center on weekdays are perfect for all ages. From the wine and good food available to the toy markets for the kids. Once you've had your fill of the city center, head to the Mundenhof animal park. Open all year round, it's a great attraction for all ages.
Afterward, I recommend a trip up Schauinsland Mountain. There is a cable car that will take you right to the top where you can take an easy stroll. In winter, there is a sledding park available for kids and adults alike. There is also a beautiful tea room with stunning views for the older generation to enjoy while the children are playing in the snow.
Freiburg is easily reached from the Basel-Mulhouse-Freiburg Airport, less than an hour's drive away. In Freiburg itself, I recommend the Green City Hotel Vauban for your accommodation. Hannah of Hannah's Happy Adventures
Traveling with Grandparents in Greece
Athens, Greece
The Greek capital of Athens makes a perfect European getaway for the entire family. There are sites that every traveler absolutely must see while in Athens – for instance, the ancient Acropolis, the narrow streets of old Plaka, and the sun-bleached ruins of the Ancient Agora. However, Athens is so much more than just popular tourist attractions.
Most people think of Athens as a chaotic, bustling city, but the reality is that stunning beaches and a beautiful coastline can be reached from the city center in less than 30 minutes. The Athenian Riviera is made up of the coastal areas of Glyfada, Voula, and Vouliagmeni. The beaches here are clean and well-maintained. They offer sun beds and equipment rentals, offering fun for all the family.
If you're traveling with kids and want to make sure you have all the amenities, consider Edem Beach close to Athens' Palaio Faliro district. If it's seclusion and deserted coves you're after, head to KAPE beach.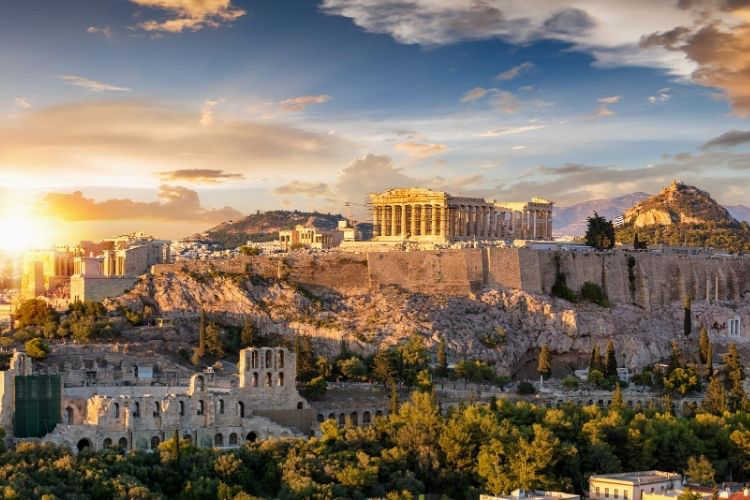 Keep your little ones entertained during your Athens travel itinerary by taking them to see an open-air movie during the summer months, or ice skating on an outdoor rink by the Parthenon in the winter. Kids will also love the Athens Pinball Museum – an interactive museum near the Acropolis Museum where children can "play" with all of the exhibits – there are hundreds of weird and wonderful pinball machines from around the world here!
Adults will love the Athens nightlife scene. Gazi and Psiri are the city's wildest nightlife districts, while upscale Kolonaki is filled with chic cocktail bars. If you want to experience something truly Greek, head to a bouzouki bar – a live music hall where people sing and dance on tables as traditional Greek songs are played. Melissa of High Heels and a Backpack
Multigenerational Family Holidays in Ireland
A multigenerational family trip to Ireland is a dream for many, especially if your family has Irish roots. Those wanting to explore their family's genealogy should start in Dublin at the Epic Irish Museum. Here visitors can learn about the Irish immigrant experience and the legacy of the Irish around the globe.
If you know your family's roots, I would suggest heading to that county and basing your group in an Ireland vacation rental. However, if you do not know or if you are interested in exploring Ireland, we suggest spending one to two weeks in Ireland exploring by car. This allows everyone to see the best of the island, including the Cliffs of Moher, the Dingle Peninsula, and the Ring of Kerry.
Road tripping is great since it will allow you to spend time together, enjoy unexpected adventures along the way, and see the best of Ireland's scenic drives like the Wild Atlantic Way. History Fan Girl
Italy with kids and grandparents
Rome, Italy
The eternal city of Rome has all of the elements necessary for an epic and memorable multigenerational travel adventure. From delicious food offerings to historical ruins and fascinating tales from its glorious history, Rome offers something for every member of the family.
There are a myriad of activities for families to enjoy in Rome. Some of the top highlights include must-see sites like the Colosseum, Imperial Forum, Vatican Museums, and the Pantheon.
Guided tours of these sites may be of interest if kids are old enough to follow along. If not, purchase a Roma Pass Card which grants preferred entry to many of these attractions, as well as free Metro transportation.
Inspired by tales of gladiators? Sign up the kids for Rome Gladiator School. For those more interested in the culinary arts, savor a taste of Roman life on a food tour in the Testaccio neighborhood. Or learn how to make pizza or homemade pasta at a cooking class in trendy Trastevere.
Escape from Rome's bustle with a day trip to Ostia Antica, Rome's ancient port city (via a train from Pyramide station). As well-preserved as Pompeii, this sprawling historical site allows everyone to enjoy a journey back in time while viewing ancient bakeries, temples, gymnasiums, and even a latrine. Note: If you would rather see the real thing, you can easily do a day tour to Pompeii.
Rome is accessible by flights from North America and easy rail service from major centers in Europe. Do not visit in August when most of Italy is on holiday. Shops and restaurants are closed at this time, and the temperature is hot and humid. Claudia from The Travelling Mom
Large Family Trips to Malta
Malta
Malta, a small island in the Mediterranean Sea, proves to be an enchanting destination for a multigenerational holiday. This island's calm demeanor invites everyone to slow down and enjoy life on this vacation island. Malta is not big, but there are plenty of attractions in case you don't want a simple beach holiday.
Take a stroll to appreciate the architecture of Valletta (the capital city) or some historic villages such as Mdina or Rabat. Simply wandering the streets is one of the most pleasant activities for everyone.
Little ones will certainly have fun taking a boat ride to Gozo or the Comino islands, which will surely be on the list of places to visit. Alternatively, you can treat the family to one of the many boat tours along the coast. These allow views of the magnificent crystal clear water, as well as the splendid Maltese coastline, with its ports, fortifications, secluded beaches, and caves.
Last, but not least, the Popeye Village offers a fun way to spend the day on the original set of the musical of the same name. The area offers water games, a cinema, and various shows. There's truly something for all ages.
Stay nearby at the Radisson Golden Sands to enjoy the best beach on the island! A Princess Travelling with Twins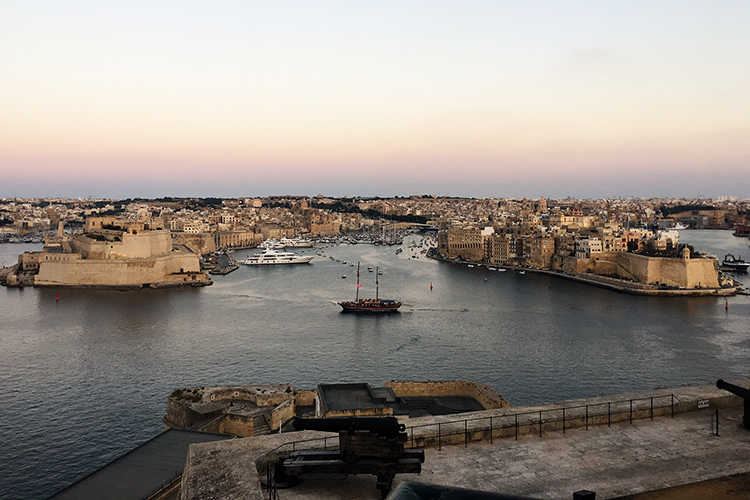 Trips to Poland with grandparents
Zakopane, Poland
We have taken two multi-generational trips to Europe and by far our favorite destination to spend with extended family is Zakopane, Poland.
Zakopane is a resort town located at the base of the Tatra Mountains, in Southern Poland. You can easily reach it by bus from Krakow. While it is beautiful to visit any time of year, it is especially magical in winter. The traditional wooden chalets topped with snow will make you feel like you've stepped into a storybook.
There are many activities families can enjoy together, depending on the season. In winter, ski and snowboarding lessons are a fun way to enjoy time as a family. Or try tobogganing instead.
Taking the funicular up Mount Gubałówka in the centre of town is a must and taking the cable car up Kasprowy Wierch, for incredible views of the southern Alps.
A visit to Aqua Park Zakopane is also loads of fun, with hot thermal pools that offer mountain views for older family members. And swimming pools with slides or shallow wading pools for the kids.
We recommend hiring a private home in Zakopane for your extended family to all stay together. There are many available in Zakopane and it gives you an authentic accommodation experience. Holly from Four Around The World
Family Trip in Portugal
The Algarve, Portugal
For the past three years my parents rented an apartment in the Algarve for a month in December or January to enjoy the winter sun. The first year they invited us to join them for a week or so and a tradition was born. Daddy has to work, so for our little boy and me, it's our yearly mother and son trip.
You can often find great airfare deals to Faro Airport, which is the main gateway to the Algarve. The southern part of Portugal is a great spot this time of year, quiet but with good weather.
So far we've been to Olhao, Vila Real de Santo Antonio, and Lagos. Each town in this region has its own charm. We loved taking the ferry to the barrier islands Isla da Culatra and Isla da Armona when we stayed in Olhao. In Vila Real, we enjoyed walks in the Reserva Natural do Sapal with its salt pans and riding our rental bikes to the beach.
The definite highlights of our stay in Lagos were the boat trip to Ponta da Piedade and the Centro Ciência Viva de Lagos. There are plenty of things to do in The Algarve and you and your family won't be bored! Lisa from FlipFlopGlobetrotters
And don't miss these tips for traveling to Portugal!
Sardinia Holidays with Family
Cagliari, the capital of Sardinia, is a great destination for multigenerational family trips. Easily reached by plane from Italy and from a variety of European destinations via low-cost flights, this is the kind of place that travelers of all ages will end up falling in love with, as there is a lot to offer.
Families traveling with children and teenagers will certainly enjoy the incredible mix of cultural activities and easy access to nature. Among the best things to do in Cagliari is a walk around the historic quarter of Castello. This is where you will find the Archeology Museum, where the famous Giants of Mont'E Prama – one of the most incredible archeological discoveries of the 1970s – are kept.
Not far from it, you will love climbing San Pancrazio Tower, a watchtower that marks the highest spot in town and from where you will enjoy marvelous views. Continuing on, make sure to get to the beautiful Cathedral, then roam the narrow alleys till you get to Via Santa Croce for a breathtaking view over the rooftops of Stampace, another historical quarter in town. Those views are even best at sunset!
For a quick and easy nature escape, a few minutes drive from the city center you will be able to access Poetto Beach – one of the best urban beaches in the world, where kids can play in the sand, swim in the shallow, clear waters. It is a perfect place for a sunset run or bike ride. From Poetto Beach you can access Molentargius Nature Park, an excellent place for birdwatching: Cagliari is one of a handful of places in the Mediterranean basin where pink flamingoes nest.
Finally, should you feel the urge to stretch your legs, head to Calamosca beach, on the other side of Sella del Diavolo promontory. That's where a trail to hike up to the top of Sella del Diavolo starts. It's an easy-to-follow trail that in less than 30 minutes will take you to a viewpoint overlooking the gulf, Poetto Beach, and Molentargius Nature Reserve.
Cagliari is a great destination year-round, but for a more encompassing experience make sure to come in May, when hiking is at its best and you will be able to enjoy the beaches too.
The best place to stay in Cagliari is Villa Fanny hotel, close to the historical center of town. For a lower budget option, there are plenty of good airbnbs and holiday rentals. Claudia of Strictly Sardinia
Multigenerational Family Travel in Spain
Nerja, Spain
If you are looking for fun destinations for a multigenerational family trip, I recommend considering Nerja in Southern Spain. The town has plenty of activities for all ages as well as
amazing food, great beaches, and warm temperatures year-round.
There are plenty of things to do in Nerja, that appeal to different ages and types of travelers. If you are traveling with toddlers, spend some time at the beach. If your kids are a little older, take them to one of the water parks nearby, Aquatropic Water Park or Aquavelis Water Park.
Attractions that will appeal to older generations are the Nerja city center and its laid-back vibe. Indeed, Nerja is a very quiet city. If you are in need of the hustle & bustle of a Spanish town, you can still visit Malaga on a day trip, it's only 30 min away!
The main highlight of Nerja can be visited with the entire family: the Caves of Nerja. At 158 meters above sea level, the Cuevas de Nerja are a stunning piece of natural art that will spark the imagination. Visit Southern Spain
Sevilla, Spain
The cosmopolitan city of Seville is a wonderful destination for a multi-generational family holiday as it really does offer something for everyone. Whether you opt for a city break or combine your trip to Seville with a beach break on the coast, the whole family is sure to have a vacation to remember.
Located in southern Spain, Seville can easily be reached by air from around Europe and beyond and is also easily accessible by train from other Spanish cities such as Madrid and Barcelona.
The city is home to not one, not two, but three UNESCO World Heritage Sites (the Alcázar, the Seville Cathedral, and the General Archive of the Indies) which are sure to intrigue all different family members. The Royal Alcazar and the Seville Cathedral are both breathtakingly beautiful (so will make perfect Insta backdrops for the kids) and there are plenty of museums to keep the older generation interested. Seville is also home to a large aquarium, the House Of Science museum, and the Isla Magica amusement park which are sure to entertain younger children.
As there is so much variety in Seville, families can easily split up to enjoy separate activities and then come back together for a tasty tapas dinner or an evening watching a flamenco performance together.
While many of the sites around Seville can be explored on foot (and the distances between them aren't too long) there is also a fully-adapted metro network that allows family members with more limited mobility to get around with ease. Another idea when traveling with grandparents is to consider a Spain itinerary by train.
I recommend staying at the Hotel Fernando III in Old Town Seville as it offers decent-sized rooms, a child-friendly buffet breakfast, a swimming pool, and facilities for disabled guests if required. Chrysoula of Travel Passionate
Sweden Vacation with family
Stockholm, Sweden
Pack up your crew and head to one of northern Europe's cosmopolitan Scandinavian capitals, Stockholm, Sweden. The city welcomes families with its fairy-tale charm, chic modern style, gourmet restaurants, family-friendly museums, and amusement parks.
Located between Lake Malaren and the majestic Baltic Sea, Stockholm's archipelago of islands is breathtaking. Highlights include wandering the Old Town, touring the Royal Palace and City Hall (home to the Nobel Prize ceremony), museum-hopping (our favorite – the Vasa Museum, home of the salvaged 17th-century warship), and sailing around the islands.
Tips: Cobblestones in Stockholm may present mobility issues, so families may need to use public transport or taxis to get around town. And while New Nordic Cuisine can be intimidating, it is delicious!
The Hilton Slussen Stockholm's waterfront views and convenient location make it the perfect base. Stockholm is easy to access from other European cities and definitely deserves a few days on any Scandinavian itinerary. Lisa of Hilton Suggests
Where to Visit in Switzerland
Lucerne, Switzerland
The attractive medieval city of Lucerne in central Switzerland is an ideal destination for a multi-generational family trip as it offers plenty of things for all ages.
Chapel Bridge, the city's covered wooden bridge, will delight all ages while the adult members of the family will appreciate the beauty of the Jesuit Church's interior, the cobbled streets of the Old Town, and the Dying Lion monument.
Kids won't want to miss the Swiss Transport Museum, where numerous interactive displays allow children to climb aboard trains, planes, and automobiles and learn about the history of transport at the same time. The Museum also appeals to adults and is home to an IMAX theatre and the Swiss Chocolate Adventure.
Not to be missed is a cruise on Lake Lucerne on either a vintage paddle steamer or one of the modern cruise boats. It's the perfect way to relax after a busy day sightseeing in Lucerne.
Thanks to its central location in Switzerland, Lucerne can be easily reached by both car and train from all over Switzerland. It is just one hour by train from both Zurich and Bern.
There are a number of HITrental apartments in Lucerne that are perfect for families as they offer separate bedrooms and kitchen facilities. Carolyn of Holidays to Switzerland