If you are ready to plan a family reunion, why not head to Europe? Each country offers something for all ages and families will love experiencing new cultures, foods, and history. If you are looking for a place to stay, consider renting a house where everyone can be under the same roof. These are some of our favorite vacation rentals in Europe for extended family trips.
*Disclosure: This post may contain affiliate links, which means we may receive a commission if you click a link and purchase something that we have recommended. Please check out our disclosure policy for more details. Thank you for your support!
Large holiday homes in Europe for family vacations
Stunning farmhouse in Cotswolds, United Kingdom
If you're looking for the perfect home away from home in the English countryside, this property has something for all ages.
This is a beautiful Cotswold farmhouse is located on an estate just outside Winchcombe. Almsbury has three floors of living space, a large dining room, children's playroom, and six bedrooms. Outside, guests have access to a large garden, as well as a raised decking area with outdoor dining furniture, perfect for summer evenings.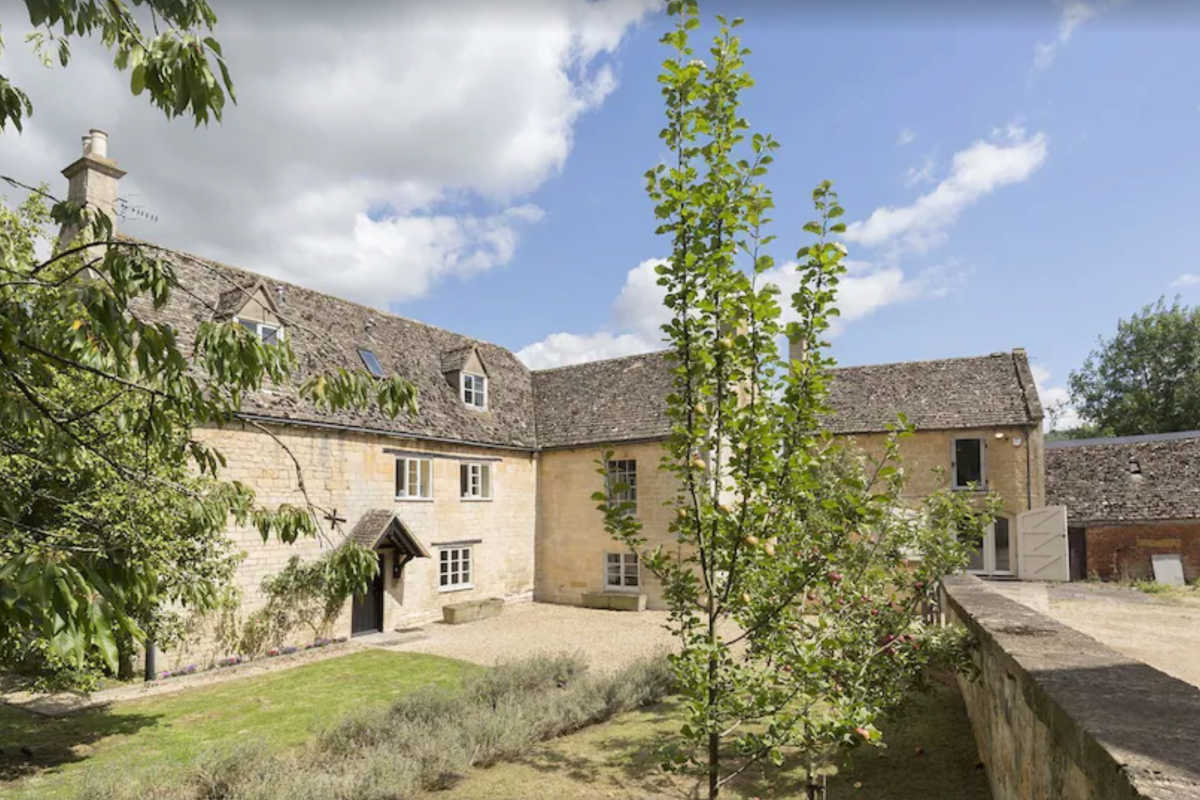 The house has unique period features, hidden staircases, and even surprise rooms. Winchcombe is 6 miles northeast of Cheltenham.Rating: 4.6/5
CLICK HERE TO BOOK THIS STUNNING COTSWOLDS FARMHOUSE
Villa with breathtaking views in Tuscany, Italy
This property is the definition of Tuscan Charm. Villa Il Casolare is a stunning 18th-century property with a private pool and breathtaking views in the hills of Chianti. With five bedrooms and six baths, this home can sleep 12 comfortably.
This villa consists of a main house, an attached house, and a private swimming pool surrounded by cypress trees, fruit trees, olives, and vines. The veranda in front of the house leads to a barn with a spacious living room with a fireplace and a fully equipped gym, and families will love the outdoor dining space. Rating: 5/5
There are so many magical towns to visit in Tuscany, we're sure you will love having your home base here.
CLICK HERE TO BOOK VILLA IL CASOLARE
Secluded luxury vacation rental in Dingle, Ireland
Cited as "the most beautiful place on Earth" by National Geographic, Dingle, Ireland is a great location for your multigenerational family trip. And since Ireland is the perfect destination for heritage tourism, it might be just the spot for learning about your family history.
This wonderfully spacious, beautifully furnished, luxury 6-bedroom house in Dingle is surrounded by breathtaking scenery which includes Dingle Bay, the ocean, and mountains. The home offers a large garden and the perfect deck for enjoying your morning coffee or afternoon tea. There's a secluded beach where kids can build sandcastles all day long. It's a dream beach house for large groups and has the perfect location for exploring Dingle town and the surrounding area. Rating: 4.9/5
CLICK HERE TO BOOK THIS BEACH HOME IN DINGLE
Riverside beauty near Marbella, Spain
This Andalucian gem will have everyone wanting to book an extra week! Villa Paraiso is a large beautifully situated riverside property with a heated pool, generously sized patio, and easy access to the coast and beaches.
This villa is located near Benahavís, an upscale mountain community known for its golf, amazing restaurants, and proximity to Marbella and Puerto Banus. Families can enjoy the river's freshwater swimming hole or spend time at the village park with a children's play area close to the villa. It's only a 10-minute walk into the village center, where there are shops, tapas bars & restaurants.
There are six bedrooms and three bathrooms, and this property will sleep up to 12 people comfortably. Rating: 4.9/5
CLICK HERE TO BOOK VILLA PARAISO
Live like the rich and famous in Lake Como, Italy
Villa La Ruga is a lakefront property situated in Argegno, just 20 minutes from Como. The property offers stunning lakefront views everywhere you look. Guests will find that the private garden offers the perfect place for relaxing in the sun, and everyone can enjoy a game of bocce on the grounds. The boathouse offers direct access to the lake and private use of a boat is available.
The Villa can accommodate up to 8 people with 5 bedrooms and 3.5 baths. A personal chef, private boat, and tourist guide are available for an extra charge.
What are you waiting for? This Lake Como property will have everyone feeling like they just walked onto the set of a movie. This place doesn't disappoint! Rating: 5/5
CLICK HERE TO BOOK VILLA LA RUGA
Bring the family to this amazing villa in Rogoznica, Croatia
It's tough to find a vacation rental in Croatia that isn't beautiful, doesn't come with a pool, and doesn't have amazing views. Villa Tihana has all of these and beach access, making it a perfect European vacation rental for families.
Be the first on the private beach in the morning, or stay in your private pool, the choice is yours. This detached house sleeps 8 and is 10 yards from the water. The owner has made a two-person kayak and paddleboard available for guests.
There are 4 bedrooms, 4 bathrooms, an outdoor covered dining area, and stunning views. The property's outdoor spaces are perfect for families. Sleeps 8. Rating: 5/5
CLICK HERE TO BOOK VILLA TIHANA
Spend quality family time at this spectacular property in Naxos, Greece
This spacious Cycladic villa has amazing panoramic views over Mikri Vigla and the surrounding Cycladic islands. The Naxos villa offers an enormous living/dining/kitchen area with large terraces at the front and rear. There are comfortable sleeping arrangements for 14 people with 6 large bedrooms and 5 bathrooms in separate units. A beautiful swimming pool (with a child safety fence), a relaxing pergola area, and gardens surround the property.
This area of Naxos is known for its spectacular sandy beaches and crystal clear waters. It's one of the best natural coastlines in the Mediterranean. Views of the beach stretch as far as the eye can see in either direction, along the southwest coast of Naxos Island.
It is a 10-minute walk to one of Greece's best beaches with sun beds, umbrellas available to rent, and a great restaurant. Located near the beach there are further restaurants, cafes, and grocery stores.
Mikri Vigla/Parthena Beach has some of the best kitesurfing and windsurfing in Europe. There are three surf schools on the beach with gear to rent. A car is recommended, however, there is a bus service to Naxos town. Families will want to return to this villa time and time again! Rating: 5/5
CLICK HERE TO BOOK THIS VILLA IN NAXOS
Stylish chalet in Switzerland
Chalet Sonnailles is located in one of the most beautiful parts of the Swiss Alps, at the eastern end of the world-famous Les 4 Vallées. This is one of the largest and most spectacular ski and hiking areas in Europe. In winter the property is ski in ski out, straight on to Les Masses (30) piste. Guests will love the panoramic mountain and valley views from almost all rooms and bedrooms.
The property includes a steam room, sauna, jacuzzi, and washer/dryer. It is within walking distance of local hikes, and nearby towns and restaurants.
The property has 4 bedrooms and 4 baths and can sleep up to 8 people. Rating: 4.9/5
CLICK HERE TO BOOK CHALET SONNAILLES
Elegant golf resort villa in Algarve, Portugal
Villa Vista Esplêndida will entertain all ages with its spacious living area, elegant decor, swimming pool, and stunning views of the surrounding area and Atlantic Ocean. It is located in a prime position on the award-winning Parque da Floresta Golf & Leisure Resort. The property has access to the golf course, clubhouse, restaurants, a shop, outdoor swimming pools, gymnasium, and spa. There's also a 24 hour reception available.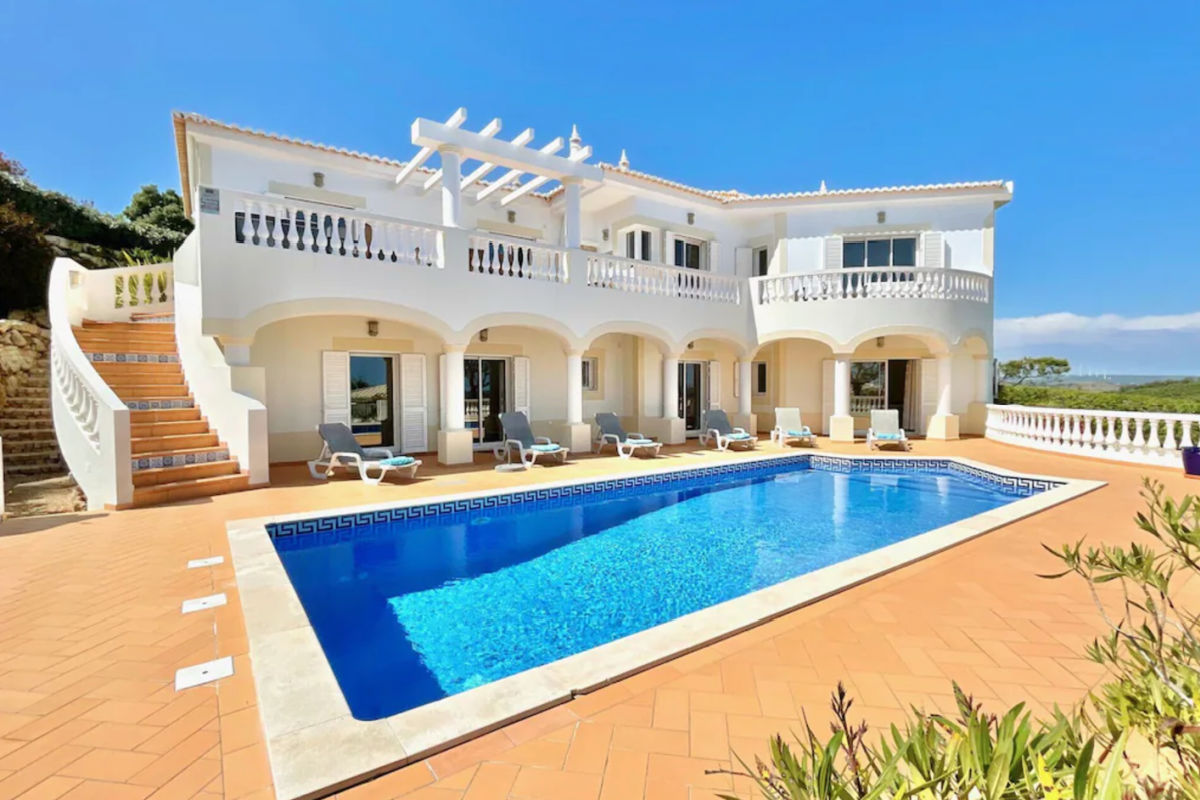 The home has four bedrooms and 5 bathrooms and will comfortably sleep 8 people. There is a private and beautifully landscaped garden that offers sun or shade all day long. Families will enjoy the swimming pool and jacuzzi, extended terraces, and BBQ. There's an abundance of sub tropical trees and shrubs, including pomegranate, banana and palm trees as well as indigenous Portuguese lemon, almond and olive trees.
The nearest beach is 2-3 minutes away in the quaint fishing village of Salema. There is an abundance of excellent local restaurants within easy driving distance. Rating: 5/5
CLICK HERE TO BOOK VILLA VISTA ESPENDIDA
Luxurious manor house in Dordogne, France
Bardouly was built during the reign of Henry IV and is situated above the Dropt river in France. This Perigordian Manor House maintains its original features including a paneled dining room that was installed by the same artisan who completed the state rooms at Versailles. The house is brimming with antiques but maintains the atmosphere of a comfortable family home. Enjoy absolute privacy in this meticulously maintained property.
The estate includes a heated swimming pool and hard surface tennis court. Table tennis and foosball are provided and there are immaculate lawns for croquet and badminton. There are seven bedrooms and 11 bathrooms, and the property can sleep up to 14. Activities such as cycling, horseback riding, canoeing, fishing, golf, and wine tasting are all in the immediate vicinity. Rating: 5/5
Looking for more vacation rentals in Europe that are perfect for your next family reunion? Check out these top European destinations for multigenerational trips or best places to travel in Europe with kids, where you are sure to find inspiration!