If you are planning a trip with grandparents, it can be difficult to find a vacation destination that works for all ages. Living in the United States, we are fortunate there are endless opportunities for traveling with grandparents around the country. This list covers some of the best multigenerational vacation ideas in the US, and we will constantly update as we discover the best places for multigen travel. Here are some of our current favorites to help you find the right multigen destination for your next family trip. And be sure to read multigenerational holidays around the world for more ideas.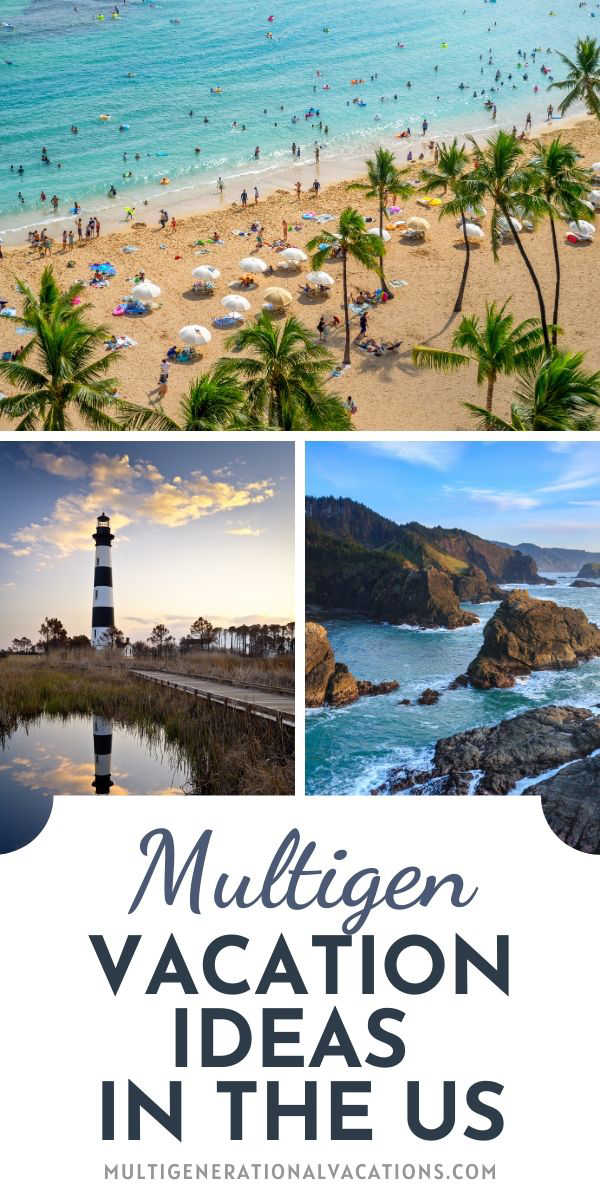 *Disclosure: This post may contain affiliate links, which means we may receive a commission if you click a link and purchase something that we have recommended. Please check out our disclosure policy for more details. Thank you for your support!
Best Multigenerational Family Vacation Ideas in the US
East Coast Multigenerational Vacation Spots
Wolfeboro, New Hampshire
America's first summer resort town is popular with New Englanders and those who grew up driving to New Hampshire every year to cool off from the East Coast sun and humidity that washes over anywhere south of New York.
Lobster, whoopie pies, hand-packed ice cream and burgers on the grill are the cuisine of summer up here, along with local produce from the farm. (Here are some of the best restaurants in Wolfeboro). There are a few museums, mini golf and lots of shops, but the lake is where most of the fun happens.
Generations of families pile into family vacation rentals around Lake Winnipesaukee and the surrounding lakes and ponds near Wolfeboro. Water skiing, wake boarding, canoeing, SUPing and kayaking are the main activities you will see people taking part in.
Just sitting on the dock, enjoying the summer sun or going for a lazy swim are also all part of a day at the lake. Best of all, when you are on lake time, happy hour starts around noon… any day of the week. Keryn of Walking on Travels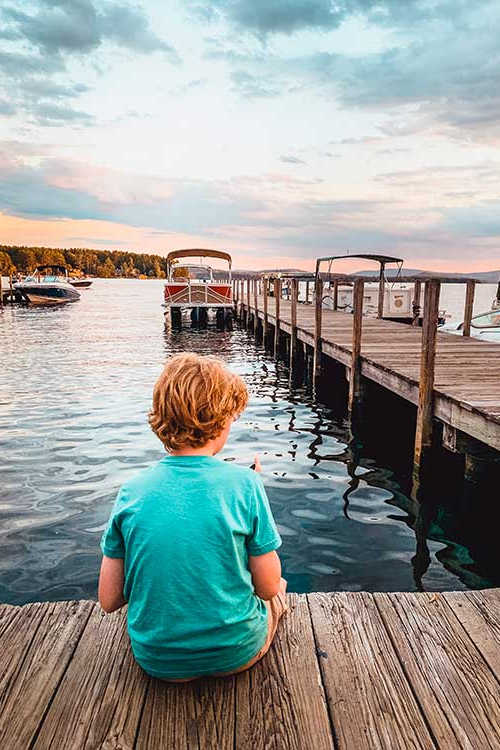 Martha's Vineyard, Massachusetts
Martha's Vineyard is a popular multi-generational vacation spot. While there are some hotels, many families chose to rent homes for their Martha's Vineyard summer vacation. There are plenty of large vacation rentals in Martha's Vineyard, so why not plan an extended family vacation? Martha's Vineyard offers plenty of restaurants so you don't need to cook even if you are staying in a rental home.
There are plenty of things to do for the whole family with activities suited to different ages and interests. As an extended family group, you might enjoy spending time at the beach, going on a bicycle ride, playing tennis or kayaking in the ponds. Golf fans will appreciate that there are several golf courses which are open to the public. You can also go rent a boat and go sailing and/or fishing.
In the summer, there are plenty of organized events suitable for either the whole family or individuals. For example, the Edgartown Fire Department pancake breakfast is not only fun for the children but also great for adults. The six towns on Martha's Vineyard organize individual events such as the Band Concert and Fireworks in Oak Bluffs or the Chilmark Road Race for runners. Organizations also set up festivals like the Martha's Vineyard Film Festival and the Martha's Vineyard Book Festival, both of which have international guests coming to promote their work. Shobha of Martha's Vineyard Tourist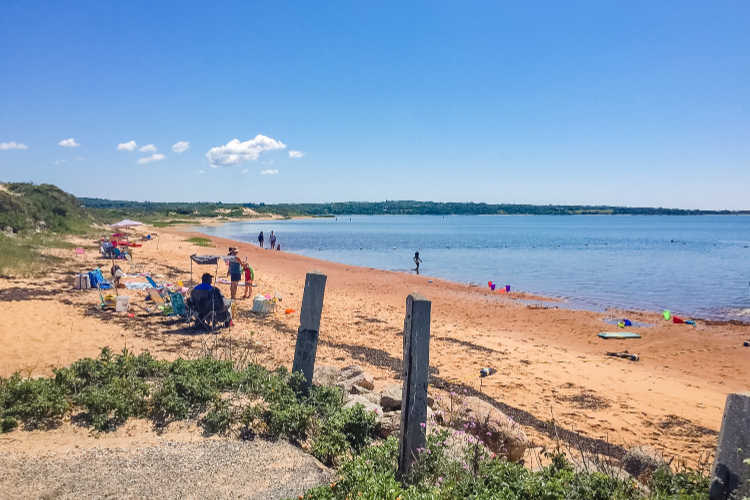 Cooperstown, New York
Cooperstown is a popular summer destination for a vacation with grandparents. During the summer, youth baseball teams from around the country descend on the area to play week long tournaments. The town can feel crowded at times, but if you find a vacation rental in Cooperstown, you can have the beauty of this area all to yourself.
Cooperstown's most popular attraction is the National Baseball Hall of Fame, which can be enjoyed by all ages. Another fun place to explore is the Farmers' Museum, a living history museum that shows life on a 19th century farm. Both adults and kids love it. Fly Creek Cider Mill and Orchard offers outdoor space for kids to explore and food sampling galore. It's a great stop any time of day.
Those looking to find outdoor adventure in Cooperstown should head to Otsego Lake where you can swim, paddle board, kayak, or even rent a boat. There are several state parks to explore, but Glimmerglass State Park offers a stroll through the woods and views of the lake.
When it's time to eat, head to Main Street, lined with restaurants on both sides. Some favorite places include the Doubleday Cafe and Stagecoach Coffee, good for a treat any time of day. For lunch with a view, head to The Otesaga Resort and its Hawkeye Bar & Grill. The food is delicious and the views are stunning. When kids finish eating they can play games on the lawn or walk with a grown up along the lake. Kirsten of Kids Are A Trip
Outer Banks, North Carolina
The Outer Banks of North Carolina are one of those beach destinations perfect for multigenerational family vacations. Babies and toddlers love hanging out in the shade and splashing in the ocean or pool. Bigger kids can try kite flying or learn how to hang glide in Kitty Hawk, while there is no end to the golfing for parents and grandparents.
Plan on finding a rental home in the Outer Banks if you have a large group. Homes come in a variety of sizes, many with elevators), fitting anywhere from two to 25 people in each. Make sure you grab your beach house early though. The Outer Banks, especially up in the towns of Duck and Corolla are very popular. The same families book the same house every year.
We prefer heading farther south towards Nags Head, where the pace is slow, days are spent on the uncrowded beaches and nights of stargazing, hanging in the hot tub or biking to the local ice cream shop are all that is on the agenda. Keryn of Walking on Travels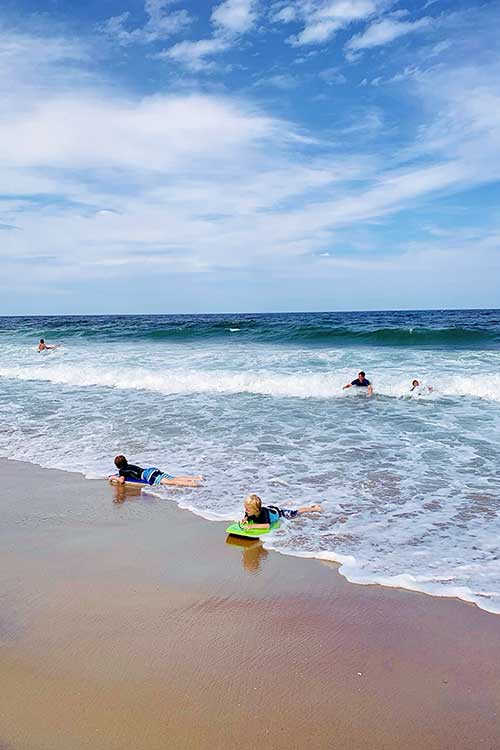 Adventures on the Gorge, West Virginia
Adventures on the Gorge (AOTG) in Southern West Virginia was created when multiple whitewater rafting outfitters merged together to form an adventure resort with overnight accommodations, restaurants and a variety of activities for the whole family.
River rafting is still king, however, with options like rafts and duckies (inflatable kayaks) for kids as young as six and some truly thrilling whitewater, including Class V rapids on the New and Gauley Rivers, for the thrill seekers in the group.
With two zip line courses, a six-level ropes course and guided rock climbing as well as the nearby BridgeWalk, the resort offers as varied a lineup of aerial adventures as you'll find anywhere. More relaxing activities include an elegant swimming pool, playground and quiet sitting spots overlooking the New River Gorge.
The resort offers a range of freestanding and multi-unit cabin accommodations, all with private entrances. Many feature two, three and four bedrooms, fully equipped kitchens, private decks with hot tubs, outdoor fire rings and living areas for guests to spread out.
Guests can also choose from two restaurants, two lounges, a coffee shop and retail operations.
Midwest Multigenerational Vacation Ideas
Door County, Wisconsin
Door County, Wisconsin is perfect for a large family vacation any time of year, but summer and fall is when the area truly shines. Families should choose a home base in one of the charming towns along the peninsula, where they can spend their days exploring local orchards, hiking, eating, and shopping.
Those looking for places to stay in Door County, should stay mid-peninsula, in either Fish Creek, or Baileys Harbor. Both have access to state parks, water activities, and restaurants.
Younger children will enjoy playing on the beaches, while older children will enjoy zip lining in Baileys Harbor or kayaking in the bay. Everyone can enjoy Skyway Drive-In Theater, picking fruit at Lautenbach's Orchards, or Pirate's Cove Adventure Golf.
If families don't want to cook, consider grabbing a meal at Al Johnson's Swedish Restaurant, where goats eat grass on the roof while guests enjoy the food below. Don't miss a local fish boil, where you learn about the Scandinavian tradition of eating whitefish boiled in a large pot with potatoes and onions. Afterwards, head to the restaurant for a delicious whitefish meal. Some favorite spots for this are Rowleys Bay Restaurant and White Gull Inn.
Whether you are visiting Door County with teens, or with toddlers, rest assured everyone will never want to leave. Kirsten of Kids Are A Trip
Traverse City, Michigan
Those looking for a vacation with the grandparents with everything from sand dunes to golf to wine tasting, should head for Traverse City, Michigan. Located in Northern Michigan, the town is only a small part of the many activities available to families.
One of the not-to-miss spots in this area is Sleeping Bear Dunes, with its massive sand dunes and views of Lake Michigan. Those with mobility issues can still access the area from Grand Haven Beach and there are even track chairs that allow visitors to explore some of the trails.
Another fun thing to do with kids in Traverse City, is explore the local lighthouses. Older family members will enjoy learning about the area's nautical history, while children can climb the lighthouses or play on the local beach. Grand Traverse and Mission Point lighthouses are both good for families.
There are plenty of rental homes in the Traverse City area, but we love Crystal Mountain Resort, about 20 miles away. Families can choose anything from villas to cottages for accommodation or stay in the hotel. Everyone can enjoy the property's golf, water park, alpine slide, and laser tag. There are restaurants on site, but if you want to explore the local area, there are good choices in downtown Frankfort.
There's something to be said about summer in Michigan, and everyone who experiences the magic will want to return time and time again. Kirsten of Kids Are A Trip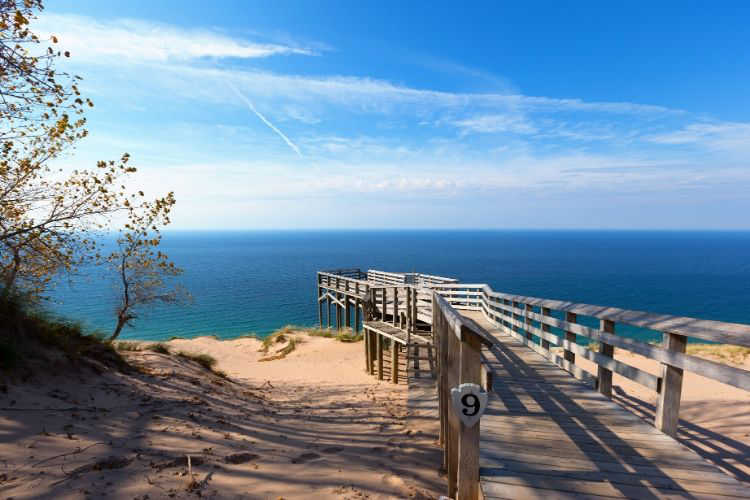 Chicago, Illinois
Chicago is the perfect city for a multigenerational family vacation. Located on the shores of Lake Michigan, the city not only provides a stunning setting, but it also provides access to some of the world's best museums and restaurants.
Families can enjoy spending time together on the beautiful lakefront. Michigan Avenue, also known as the Magnificent Mile, is one of the most famous shopping districts in the world. With hundreds of stores, cafes, restaurants and other gems hidden between the shops, there is something for everyone in the family.
Further along Michigan Avenue, don't miss Millennium Park and the renowned "Bean" sculpture, as well as Maggie Daley Park for the kids. These are adjacent to the Art Institute of Chicago, so if some adults want to head to the museum, while others stay behind in the park, it's the perfect place to do this.
For families who enjoy spending time indoors, the Field Museum and the Museum of Science and Industry are fantastic indoor museums for the whole family. There are many hands on exhibits at the Museum of Science and Industry, allowing for an interactive visit for all ages. The Field Museum's history and artifacts provide ample opportunities for history lessons for younger generations. Small children will enjoy the Crown Family PlayLab with dress up and dinosaur digs.
No Chicago bucket list would be complete without visiting the Willis Tower, formerly known as the Sears Tower. With an extending glass deck from the 103rd floor, the tower platform is an adrenaline rush for any family member.
Finally, a visit to one of Chicago's famed pizza restaurants is the perfect way to enjoy a bite of one of Chicago's most popular foods. Everyone is a pizza lover! Diana from Travels in Poland
Don't miss this post on where to stay in Chicago with kids!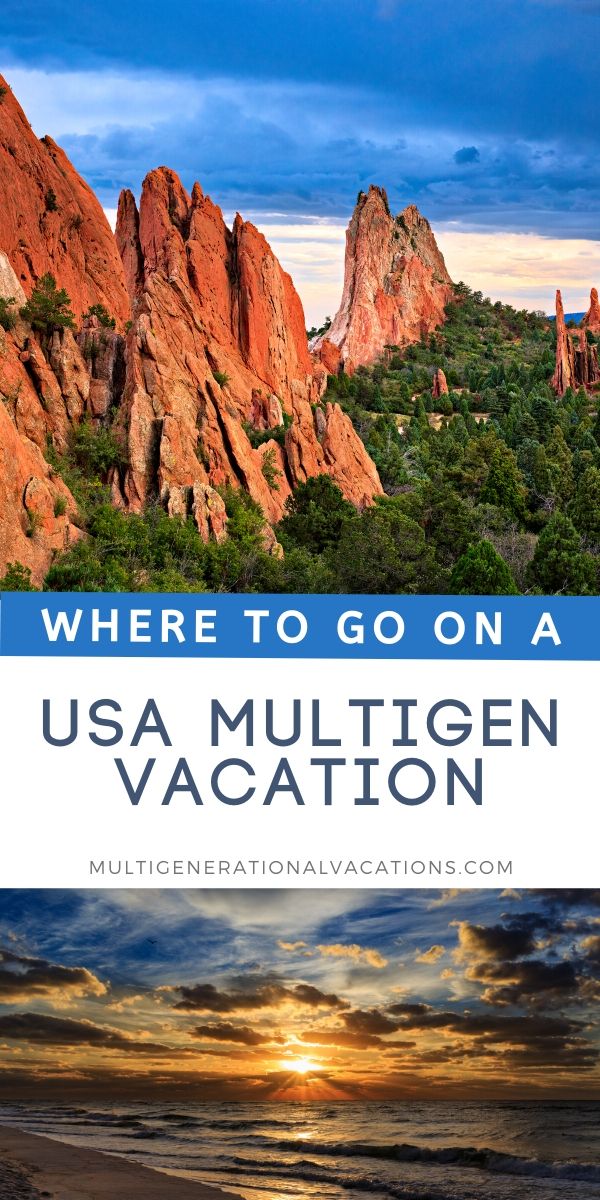 Southern US Multigenerational Vacation Destinations
Alabama Gulf Coast
My favorite destination for multigenerational travel is Alabama's gulf coast. Alabama's white sand beaches provide space for families to spread out while the gentle surf is great for playing in the waves. Gulf Shores beaches now offer wheelchair accessibility, so the whole family can enjoy the beach together.
There's so much to do at Alabama's beaches that families can spend some days together and others exploring individual interests. Adventure seekers will enjoy kayaking and boating, bike riding and day hiking. Anglers can take a fishing charter or fish from the Gulf State Park Fishing Pier. Take the kids to the Alabama Gulf Coast Zoo, nearby OWA amusement park, or to play putt putt.
Foodies and picky eaters will find satisfying bites wherever they go. The best restaurants in Gulf Shores and Orange Beach for multigenerational dining are Ruby Slipper for breakfast and lunch, Lulu's in Gulf Shores, especially for those with food allergies, and Tacky Jack's for a fun atmosphere.
When deciding where to stay, Alabama's beaches have lots to offer. For space, consider renting a beach house in Gulf Shores. Nearby, Orange Beach offers luxury condos with pools, lazy rivers, tennis, playgrounds and direct beach access. Or, consider a hotel with adjoining rooms for a balance of togetherness and space. The Perdido Beach Resort is great for that because it also offers lots of space to come together, great restaurants and an attentive staff. Karen of Family Travels on a Budget
Best Places for Multigenerational Family Vacations Western US
Phoenix, Arizona
What's not to love about a destination that averages 299 days of sunshine a year? This multi-gen family trip to Phoenix will appeal to all ages with opportunities for tennis and golf, hiking, relaxation, and fun!
Start the trip off right by finding a resort that works for everyone. We like the amenities and water parks of Hyatt Gainey Ranch, Westin Kierland, and Sheraton Grand at Wild Horse Pass. You can't go wrong with any of these choices.
During the day, spend some time at the Phoenix Zoo and nearby Desert Botanical Garden or head to the Arizona Science Center for some hands-on fun. Grandparents can join in the fun, or relax at the hotel's pool or spa.
Head to Scottsdale for delicious dining options including Hop Doddy, Brat Haus, or Oregano's. Afterwards, be sure to grab dessert at Sugar Bowl, an old school ice cream parlor from the 1950s.
The Greater Phoenix area encompasses major cities like Tempe, Scottsdale, and Mesa, with a handful of smaller cities too. This means there are endless opportunities for fun in the Valley of the Sun!
Colorado Springs, Colorado
If you are looking for things to do in Colorado, might we suggest starting in Colorado Springs? When our multigenerational family discusses potential road trip destinations, Colorado Springs always tops the list. It's just 90 minutes from Denver, offers that getaway-feeling without the long drive or flight. Our last visit included me, my daughter-in-law and four grandkids (ages 1 to 15), so we had quite the diverse age group – and all agreed that Colorado Springs offers so many things to do for all ages and abilities.
Each time we visit, we always include an early morning beat-the-heat visit to the Cheyenne Mountain Zoo, the highest altitude zoo in the U.S., and our first stop is to feed the giraffes.
Another early morning adventure (to avoid traffic) should include riding to the top of Pikes Peak. Although a bit windy and chilly any time of the year, the view from the summit is worth the trek – and the teen grandkids took to Instagram to share their experience.
On the way back down Pikes Peak Highway, stop at The North Pole, Home of Santa's Workshop. This Christmas-themed amusement park is year-round entertainment with 25 rides and attractions for all ages, but there aren't as many options for toddlers.
The new-to-us attraction that the teen grandkids loved was the Cave of the Winds Mountain Park, especially riding the Terror Dactyl. Only for the thrill seekers, this ride sits on the edge of a 200-foot cliff in Williams Canyon, and launches the riders over 150 feet into the canyon at nearly 100 miles per hour.
When traveling with the littles (and grandparents), be sure to plan for nap time. This allows the older grandkids an opportunity to splash in the hotel pool. Budget-friendly Hotel Eleganté Conference & Event Center offers adjoining rooms, always a must for our multigen family, especially when combined with on-site restaurants and hotel bar. The grandkids' favorite the Sweet Tooth, serving up scoops of Colorado City creamery ice cream. Diana Rowe of TravelingInHeels.com
Broken Bow, Oklahoma
For those living in the middle of the country, Broken Bow is the perfect place for a family reunion. Located three hours from Dallas, Oklahoma City, and Little Rock, this destination offers small town charm with a ton of activities.
Kids and adults alike will enjoy hiking in Beavers Bend State Park, or boating on Broken Bow Lake. There's also zip lining, miniature golf, and even a petting zoo. Check out our favorite things to do in Broken Bow OK with kids!
Families will find there are plenty of cabins to rent here as the area has undergone a major growth in the last couple of years. There's everything from charming and cozy to awesome, massive cabins for large groups in Broken Bow.
Cody, Wyoming
Northwestern Wyoming is rugged, breathtakingly beautiful and, even now, relatively undeveloped. It has mountains, rivers, quirky rock formations and spectacular wildlife. It was just the kind of place Buffalo Bill Cody wanted to settle in the mid-1890s.
The area is renowned for its plentiful wildlife, and large variety of outdoor activities. Families will love fishing, horseback riding, mountain biking, rock and ice climbing, river float trips and kayaking.
Cody Yellowstone has established a permanent place as a Western vacation destination with year-round recreational offerings.
Countless adults of today remember visiting Cody on the classic East-to-West road trip that millions of families enjoyed. Those memories are a driving force behind countless multigenerational family vacations. Generations return and revisit familiar attractions like: Cody Nite Rodeo, Buffalo Bill Dam Visitor Center, Old Trail Town, Pahaska Tepee, the Irma Hotel and the Buffalo Bill Center of the West. Other popular attractions include Heart Mountain WW II Interpretive Center, Dan Miller's Cowboy Music Revue and the Cody Trolley Tour.
Where to Stay: Buffalo Bill Village has three choices, including the Holiday Inn, Comfort Inn and cute cabins. Or head to the western edge of town to The Cody.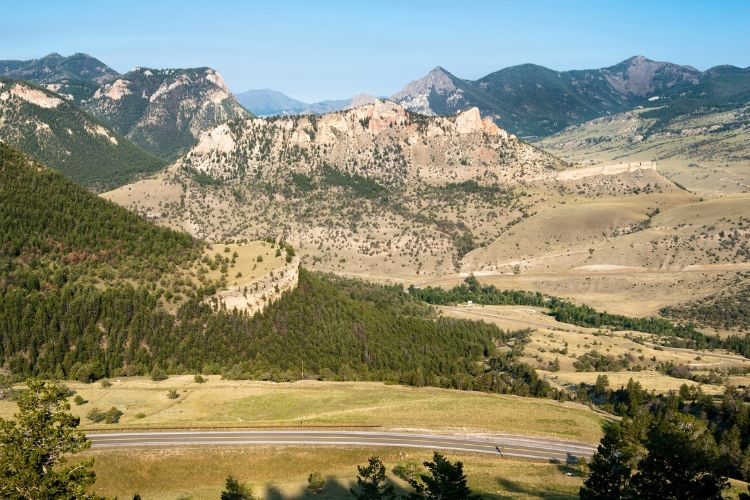 Seaside, Oregon
Seaside is one of the northernmost beach cities in Oregon and a great place to stay for a multigenerational family vacation along the Oregon Coast. From Seaside you can easily reach the popular coastal city of Cannon Beach, where you'll find the iconic Haystack Rock. However, Seaside is much more affordable than Cannon Beach, which is particularly nice for those needing extra rooms for grandparents.
While gorgeous scenery and top tourist attractions abound within an easy drive from Seaside, families may find they just want to stay in Seaside, which has something for every age group.
Street and sand performers delight kids and adults alike, and the long paved promenade makes it easy for walks by the water without having to traverse the sand, which is good for those who feel unsteady on beaches.
From the main beach entrance (where you'll find a statue of Lewis and Clark) a short walk into the downtown area will take you to restaurants and ice cream parlors. After dinner, get some s'mores ingredients and walk back to the beach where it's permitted to build a bonfire right on the sand. Gina of Evergreen & Salt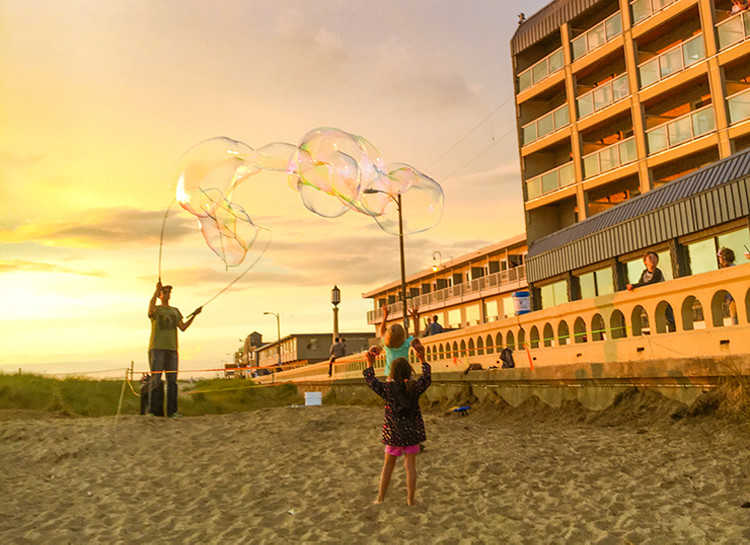 Santa Cruz, California
Santa Cruz is a small beach town located on the central California coast, less than an hour and a half south of San Francisco. The town makes for the perfect day trip from San Francisco, but has plenty to explore for those looking to stay longer.
Families who want to relax can spend an entire day at one of the many beaches. Those looking for some excitements should visit the Santa Cruz Beach Boardwalk for a classic, all-American day. During summer, parents and grandparents can enjoy one of the beach concerts, while kids can play in the arcade, or ride the roller coasters.
Everyone will enjoy a leisurely stroll down Westcliff Drive, with plenty of benches for resting along the way. Surfing is the sport of choice for locals, and you'll find the Surfing Museum and plenty of surfers riding the waves – all in view along Westcliff.
The Dream Inn is the only hotel in town with direct beach access, and staying here puts you in walking distance of the Boardwalk.
The crowds in Santa Cruz hit their peak in summer, but thin out between September-May. And please don't forget to dress in layers! A perfect sunny day often turns into a chilly night here. Ale of Sea Salt & Fog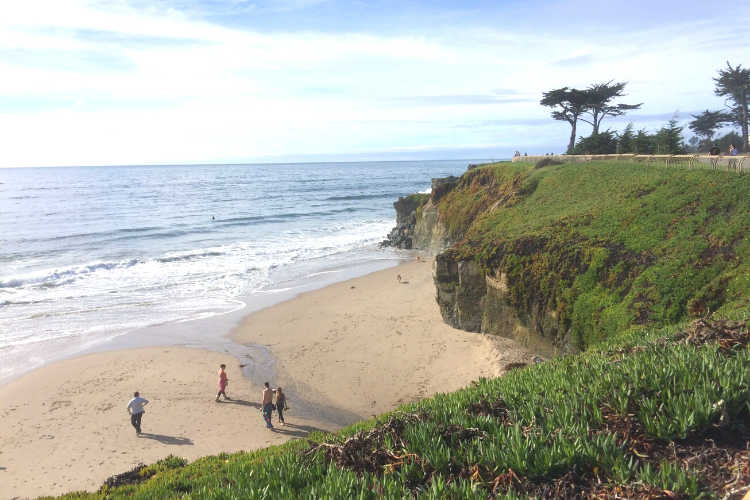 Waikiki, Hawaii
Out of all the places for a multi-generational trip to Hawaii, it doesn't get much better than Waikiki, just 20 minutes from Honolulu Airport. Waikiki is known for having amazing restaurants and a range of shopping from high-end stores to local boutiques.
The whole area is stroller-friendly and easy to get around on foot. And if you don't want to rent a car, the Waikiki Trolley can take families anywhere from Diamond Head to Hanauma Bay to the Ala Moana Shopping Center. Most Oahu tour companies also provide free shuttles from Waikiki, so your family can get out and explore the island.
Waikiki is also home to several Hawaiian luaus and dinner shows. And there are several beachfront restaurants that offer incredible tropical cocktail and live Hawaiian music each night.
There are tons of things to do in Waikiki with kids of all ages, including surf lessons, snorkeling, free hula shows, and exploring the Waikiki Aquarium. Plus, the beach is perfect for beginner swimmers or for sitting back and people watching.
While there are many Waikiki resorts, one of the best places to stay in Waikiki is the Hilton Waikoloa Village. Not only do they have more than 20 restaurants, cafes, and bars, but they have a private saltwater lagoon that is a huge hit with families. Marcie Cheung from Hawaii Travel with Kids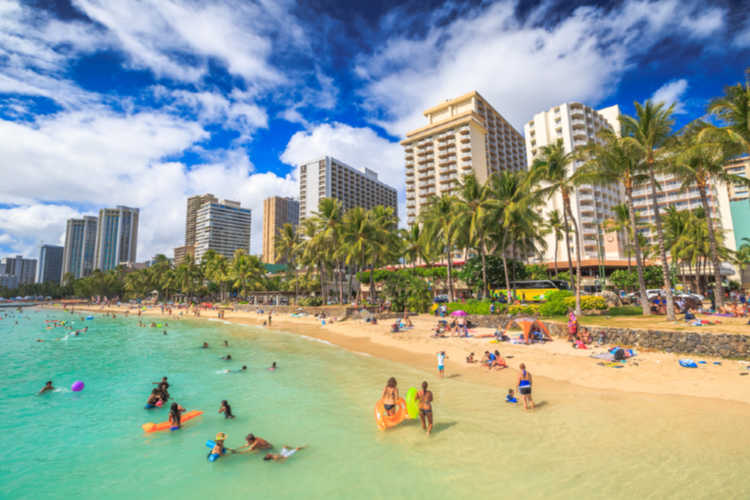 Yellowstone National Park
Located in Wyoming, Yellowstone National Park is a wonderful destination for a large, multigenerational family vacation. The park is full of activities and landscapes that are sure to please every age group.
The park is home to many thermal features, such as geysers and hot springs. However, there are also many other things to do in Yellowstone. We loved watching for wildlife in Lamar Valley, hiking to the viewpoint near the Grand Prismatic, and driving through Golden Gate Canyon. The great thing about Yellowstone is that you can still see so much, even if you can't (or don't want to) hike.
One of the most famous features is Old Faithful Geyser and the surrounding area. Make sure to check with the Visitor's Center for the most current eruption predictions when you visit. While you are there, take the time to visit the stunning Old Faithful Inn.
While a stay at any of the park lodges would be incredible, one of the most common lodging options is camping. For a centrally located campground, Canyon Campground is one of the best options.
Everywhere we turned, Yellowstone was full of incredible views, landscapes, and thermal features that kept our entire family entertained. Tiffany of The Stoke Fam