When families are considering a vacation rental for a family reunion, there are several things to consider. It isn't easy finding somewhere that meets everyone's needs, but several vacation rental sites offer a huge range of places to stay. This means families are likely to find somewhere that ticks all the boxes. With that being said, how do you choose the right vacation rental for your trip, from the thousands of listings? Here are tips for choosing the right vacation rental for a multi-gen vacation.
How to find the perfect vacation rental for a vacation with extended family
*Disclosure: This post may contain affiliate links, which means we may receive a commission if you click a link and purchase something that we have recommended. Please check out our disclosure policy for more details. Thank you for your support!
1. Search for a place that fits everyone in your party comfortably
When you're on vacation you don't want to be worried about lack of space. This doesn't just mean people having their own rooms, it means having space to spread out, eat dinner, and play games, inside and out. Planning a multi-generational trip has so many layers, but first and foremost, finding the right place to stay.
Depending on your group size, you'll want suitable communal space, such as a large kitchen and lounge. There's nothing worse than not having enough room at the dinner table, or enough space to play games together.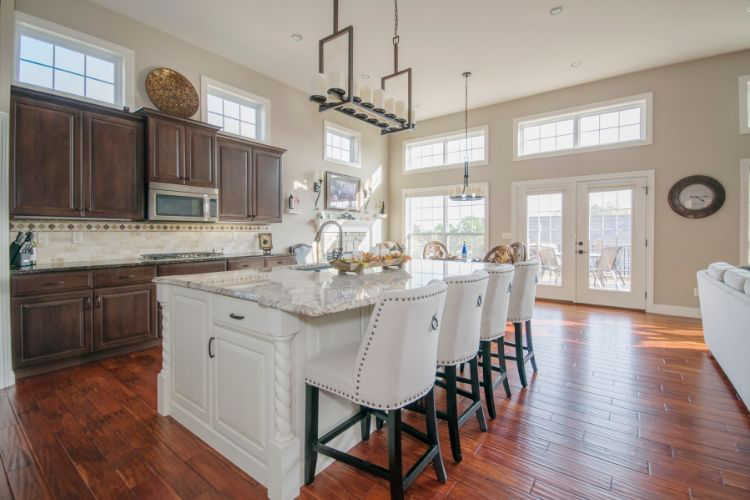 Another thing to consider is storage space. Make sure rooms have ample closets or wardrobes. No one wants to jump over suitcases or fall on toys trying to get to their rooms or the bathroom.
And speaking of bathrooms, make sure there's enough for everyone. One per family group if possible. Can you imagine the chaos it would create if everyone had to wait to use the bathroom?
Using the filters on the website, you can select how many beds, bedrooms, and bathrooms you'd like the property to have. Other must-have vacation rental amenities might include a kitchen, wi-fi, washer/dryer, and air conditioning. You can also specify filters for accessibility (limited stairs, wide hallways, etc.) and you can specify the property type, so selecting a townhouse rather than a cottage, means you will likely see large family accommodation options.
2. Check the ratings (we like to keep it at 4.8 and above)
Depending on the search engine, it may not be possible to see the guest ratings in order. However, it is easy to see the rating for each property and the number of reviews. This is a great way to narrow down the places you are considering, as the statistics are there at a glance.
We recommend using an average rating of 4.8 as a guide when looking at vacation rentals for a multi-gen trip. The ratings are on a scale of 1 to 5, left by former guests.
Guests rate the overall experience, cleanliness, listing accuracy, value for money, communication from the host, the check-in process, location and amenities. If guests have provided a good rating, it means this group accommodation and host will provide you with a pleasant stay.
3. Look for Superhosts or Premier Hosts
Airbnb Superhosts are hosts who have at least a 4.8 rating, with over 10 stays within a year (or over 300 nights over 3 stays). They also have a <1% cancellation rate and they respond to 90% of messages within 24 hours. This ensures that you not only get a great property, but your host and the hospitality you receive will be fantastic too.
Those looking for unique vacation rentals should consider Airbnb Plus. These outstanding accommodations are selected based on quality and design. They could be at the foot of a mountain, on the shore of a lake, or in the middle of a city. They are inspected in-person by Airbnb to ensure the quality is second to none.
Another bonus of picking an Airbnb Plus property is the added service you receive from Airbnb themselves. Their Airbnb Plus customer support team work with you and the host to ensure your stay is unforgettable.
VRBO offers a similar service with their Premier Hosts. Premier Hosts consistently provide great experiences for their guests. When you see Premier Host on a property, you can feel more confident about the property description, photos, and amenities.
4. Read the vacation rental reviews
Ratings are great for when you are searching for potential properties. But when one catches your eye, head straight to the reviews to find out more. Reviews aren't just great for finding out more about the experience of staying at the property. They usually reveal little pieces of information that may not feature in the listing.
You can find out things like helpful advice the host gave the guest or advice the former guest would like to give you. You can also find out the specifics of any shortfalls the property or service may have. Sometimes it includes the distance to local towns or convenience to attractions. A map search can provide you with the same information.
5. Location
Another important factor to take into consideration when booking vacations for a large family group, is the location of the property. When searching for properties, it is possible to narrow down the country, town, city or a specific area on their map. If you know exactly where you want to stay, you can narrow it down a neighborhood.
When looking at a property on the site, the map features public transport stations as well as location. This is a great feature if you don't plan on driving, and you want great transportation options.
6. Amenities and facilities
When it comes to amenities and facilities, make sure to check the options listed in the filters. Next, put a wishlist together so you can easily find the best property for a large group.
The list of filters on most vacation rental sites are fairly extensive and incredibly important. If you need parking, AC, a fireplace or a pool, select these filters. If you have small children, you'll need to remember things like diapers, toys and wipes. These take up more space!
Use the filter function to select things like a high chair, an iron or a washing machine. All of these things will help you pack less, and make your trip more comfortable. You can even narrow your search down to places that have a fireplace, a hot tub and gym!
7. Accessibility
Filters are segmented into entering the property, getting around it, bedrooms, bathrooms, common areas, and parking. If you have specific requirements, you can make sure the property caters for you. There are several types of filters you can use, so you don't have to route through the listings.
Vacation rental options for large families
If you are unable to find a property that works on Airbnb, consider searching their competitors. Our favorites include: VRBO and Plum Guide. Here's the difference between them:
Airbnb vs VRBO – Airbnb allows visitors to rent rooms within homes/condos, VRBO only allows for rentals of the house/villa, etc. Airbnb also allows the ability to book Airbnb experiences on their site (tours with locals). VRBO does not. Airbnb charges a 5 to 15 percent service fee on the reservation subtotal, VRBO fees are usually between 6 and 12 percent. CLICK HERE TO FIND YOUR VRBO PROPERTY! Or check out our favorite

vacation rentals for large families in the US

.
Airbnb vs Booking – Booking.com offers a large variety of properties including hotels. Obviously, Airbnb does not. Staying at Airbnb properties carry a certain amount of risk (cleanliness, location, etc.), and Booking.com properties may not be centrally located. Do your due diligence on Booking.com. The nice thing is that many properties on Booking don't charge a fee until your stay. CLICK HERE TO SEARCH ON BOOKING.COM!