Costa Rica is the perfect destination for families with a wide range of ages. There are several reasons to consider planning a multi-gen trip to Costa Rica. First, it is an international destination that is relatively easy to access from the United States. But perhaps even more importantly, Costa Rica has something for everyone. From beautiful beaches and rain forests to animal adventures, hot springs, and zip-lining there's something for everyone in this country known for its Pura Vida. Check out this Costa Rica multigenerational vacation guide to help plan your trip.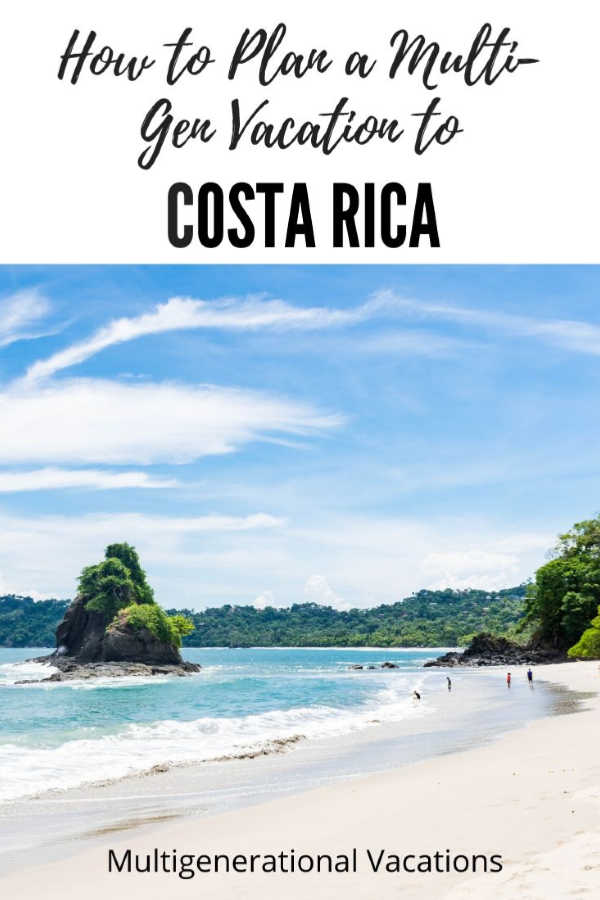 *Disclosure: This post may contain affiliate links, which means we may receive a commission if you click a link and purchase something that we have recommended. Please check out our disclosure policy for more details. Thank you for your support!
Why Costa Rica for a multigenerational family vacation?
If you can, visit Costa Rica for more than a week to experience both rain forests and beaches. Book a villa in the rain forest and a condo on the beach so everyone can stay together and share a living space. Take advantage of the many fun tours to see sloths, hanging bridges, waterfalls, chocolate making and more. But also spend time relaxing at the beach and playing in the pool.
Where is Costa Rica?
Central America is fairly easy to reach from the U.S. Depending upon your specific destination within Costa Rica you will fly either into Liberia or San Jose. You may be able to book a flight flying into one of these airports and out of the other.
Liberia (LIR) is closest to the Guanacaste area and beautiful white sand beaches that line the Pacific coast. San Jose (SJC) is closest to Manual Antonio and the less developed beaches on the Caribbean side of the country. Arenal Volcano and La Fortuna lie between these two international airports.
What to know before you travel to Costa Rica
Costa Rican currency is Colones. US dollars are widely accepted, as are major credit cards. Make sure that your bank or credit cards know that you will be out of the country. Colones are available at the airport or from the ATM at any bank in Costa Rica. Credit cards are accepted at most establishments. Have Colones on hand for tipping and for dining at sodas (local restaurants), or other small businesses that don't accept credit cards or US dollars.
Is it safe to go to Costa Rica?
There is petty crime in Costa Rica, as many other places in the world. There's no reason to bring flashy jewelry, leave it at home. If your hotel has a safe, use it. Just be cautious and aware.
Transportation in Costa Rica
Driving in Costa Rica can be scary. Many roads don't have shoulders or street lights and bridges are one lane. Street signs are few and far between. Depending on your Costa Rica itinerary you may want to arrange for a private driver. Your hotel can help with this, or you may be able to find recommendations in trusted Facebook groups or blog posts. 
Our family chose to drive and it worked out for us. We rented a van through Adobe that fit us all. And, we splurged on the WiFi so that we could connect to both Google Maps and Waze for navigation. Between both of these we were always able to find our way, even when directions conflicted.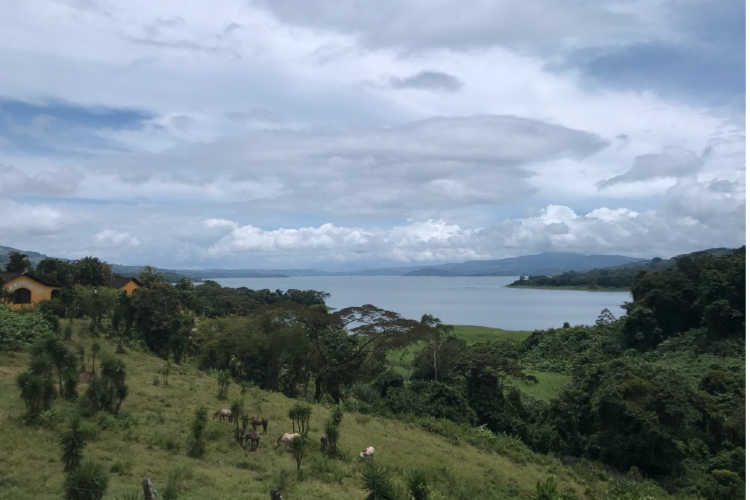 Costa Rica challenges and concerns
Families with young children might not enjoy a Costa Rica vacation. While it is easier to travel to Costa Rica from the US than to Europe, it is still a full day of travel. Nap times could be limiting for tours and activities. To maximize the experience, children should be past the age of taking naps. Other than that, the country is very child friendly and there are plenty of things to do in Costa Rica with kids.
Healthcare in Costa Rica
Costa Rica has excellent healthcare for travelers. Costs for treatment and medication are quite low compared to the United States and Europe. There are government run health care programs and private care as well. Should you find yourself in need of assistance, rest assured you should be able to find quality care.
When is the best time to visit Costa Rica?
May to November is known as rainy season in Costa Rica. However, it rains almost all the time in the Arenal Volcano area. January to April in Arenal is less rainy than the rest of the year. We went in early August and saw only a couple of days of rain, and the rest was sunshine.
Avoid major holidays as both the beaches and popular tourist areas are very crowded and prices increase dramatically.
The best time to visit may depend on your budget and specific Costa Rican destination. You will find a direct correlation between the weather in Costa Rica and tourist prices.
What to pack for Costa Rica
You will need to pack for all kinds of weather regardless of time of year. You will want summer clothes for the beach. Raincoats, quick dry clothing and hiking boots for the rain forest. Bring flashlights for walks on the beach at night, and possible power outages. Sunscreen and bug repellent are also important. Print this Costa Rica packing list to help plan your trip!
Things to do in Costa Rica with kids
Sloth Tour: When in the Arenal Volcano area be sure to take a sloth tour. You will not be able to spot sloths on your own, but an experienced guide may find sloths you'd never spot even just a few feet from your hotel.
Palo Verde Boat Tour: When in the Guanacaste region this is an excellent place to view wildlife. An hour or two from the beach towns in Guanacaste, Palo Verde National Park boasts a variety of wildlife, all viewable from a boat on the river with an experienced guide. See colorful birds, White-Faced Capuchin Monkeys, crocodiles and more.
BOOK YOUR PALO VERDE BOAT TOUR HERE!
Go white water rafting: If you are traveling with older kids or teens and adventurous adults, consider taking a white water rafting tour. Many places offer tours, we loved our trip down the Sarapiqui River that included lunch.
BOOK YOUR WHITE WATER RAFTING ADVENTURE HERE
Arenal Hanging Bridges: Discover Costa Rican raccoons, butterflies, frogs, bats, snakes and more. This is a pretty good hike, so could be a bit much for smaller children. There is a short cut so you don't have to go the whole way. However, you miss the waterfall if you cut out early. On a good day there may be a clear view of the Arenal Volcano from here.
CLICK HERE TO BOOK YOUR ARENAL HANGING BRIDGES TOUR
Don Olivio Chocolate tour: Your guide, Minor, greets your family with bananas right off the banana tree in his yard. Fresh Star Fruit, Pineapple and finally chocolate and coffee follows all directly from the most amazing ecosystem. To call this a chocolate tour is an understatement.
CLICK HERE TO BOOK YOUR COSTA RICA CHOCOLATE TOUR!
Take a Sunset Cruise: I was hesitant whether a sunset catamaran cruise would be appropriate for kids. But it was perhaps our son's favorite experience. Book one out of Playa Flamingo in the Guanacaste region that includes snorkeling and other water sports.
CLICK HERE TO BOOK YOUR PLAYA FLAMINGO CRUISE!
Have a zip lining adventure: This was one of the most memorable parts of our Costa Rica vacation. We soared through and over the tree tops on a circuit of zip lines. Highly recommended for all ages (young ones can ride tandem).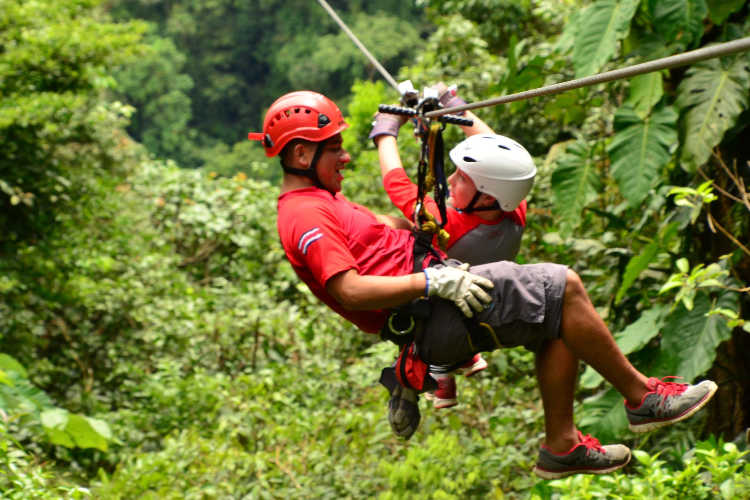 BOOK YOUR COSTA RICA ZIP LINE TOUR HERE!
Where and what to eat in Costa Rica
There are so many different part of the country, it can be hard to find a restaurant that works for everyone's needs. Here are some of our choices and their locations within Costa Rica.
Costa Rica Sailing Center: The location on the beaching Playa Potrero is ideal. Food is very good. There are plenty of activities. And, ambiance is unbeatable. We would have eaten here every night in Playa Potrero had we not felt the need to explore and experience as much as possible.
Que Rico Restaurant: At Arenal Volcano Inn, this restaurant boasts amazing barbecue chicken and pizzas. The birds in the yard out front are also a fun diversion for kids.
Coco Loco: This open air beach restaurant in Playa Flamingo was the first we found to serve coconut water straight out of the coconut. The food was great, and views even better.
Sodas: Check out a soda whenever you can. It is the best way to experience authentic Tico cuisine. Sodas are open air restaurants serving a limited traditional menu.
Traditional Costa Rican food includes rice, beans, plantains, chicken, pork, fresh fruits and vegetables. It is very easy to find meals for all ages.
Where to Stay in Costa Rica with a large group
Part of our motivation for a multi-gen vacation is for the grandkids and grandparents to get to spend some quality time together. So, it is important to us to all be able to stay together in a villa or condo.
If your Costa Rica itinerary includes any of the beach towns in the Guanacaste region, we recommend using Krain Property Management. They are the largest real estate and property management company in the area. The is exactly how we located our condo on the beach in Playa Potrero, just steps from the waves.
LOOKING FOR MULTI-GEN VACATION RENTALS IN COSTA RICA? CLICK HERE!
In the Arenal area, many of the hotel properties will also have villas on site that can house a large family. We stayed at a villa at the Arenal Volcano Inn. It was basic but exactly what we wanted. It had a small kitchen, a living area and a washer and dryer. We visited this popular tourist area during Thanksgiving which is the high season. So, much was already booked up.
Where to stay in Costa Rica with family
What Can Families do in Costa Rica?
Costa Rica itinerary ideas
A family vacation to Costa Rica should be a minimum of a week long, preferably 10 days. Traveling via roads in Costa Rica can take a long time, so it is best to visit a couple of different destinations within the country.
Costa Rica Itinerary 1: Arenal Volcano and Guanacaste Beaches
Fly into Liberia. Head to Arenal Volcano for 4-5 days. While here take a sloth tour, explore the Arenal hanging bridges, soak in the hot springs, go zip lining and take a chocolate tour. Head back to the Pacific coast to one of the spectacular beach towns in the Guanacaste region on the Nicoya Peninsula (Playa Samara, Playa Cangrejal, and Nosara are good choices) for another 4-5 days. Enjoy some time on the beach, take in sunsets and relax. Palo Verde National Forest is great day trip to see wildlife. And, a sunset cruise is a fun way to enjoy the water and snorkel.
Costa Rica Itinerary 2: Manuel Antonio to Arenal Volcano
Arrive at the San Jose airport. Head to Manual Antonio for 4-5 days. While here go river rafting, zip lining, sea kayaking or take a jungle night walk tour. Head to Arenal Volcano/ La Fortuna for 4-5 days. See above for things to do in Arenal or La Fortuna. If you can make time, also visit Monteverde cloud forest. Here you will want to hike the cloud forest, go zip lining and enjoy birdwatching.
Consider a Costa Rica group tour if you want someone else to plan the trip
We have used two different tour companies in Costa Rica, Adventures by Disney and Il Viaggio Costa Rica Travel. Both provided two amazing itineraries, arranged transportation and lodging, and gave opportunities to interact with locals. If you are traveling with someone with limited mobility, a group tour might be a great option as they often offer a variety of activities everyone can enjoy.