St Kitts and Nevis are the perfect destination for a multigenerational vacation. There are plenty of things to do on St Kitts and Nevis including visiting historical sites, learning about the sugar trade, relaxing on one of the many family friendly beaches, and spotting the wild monkeys. There are also plenty of accommodation options between the two islands and there is something for everyone.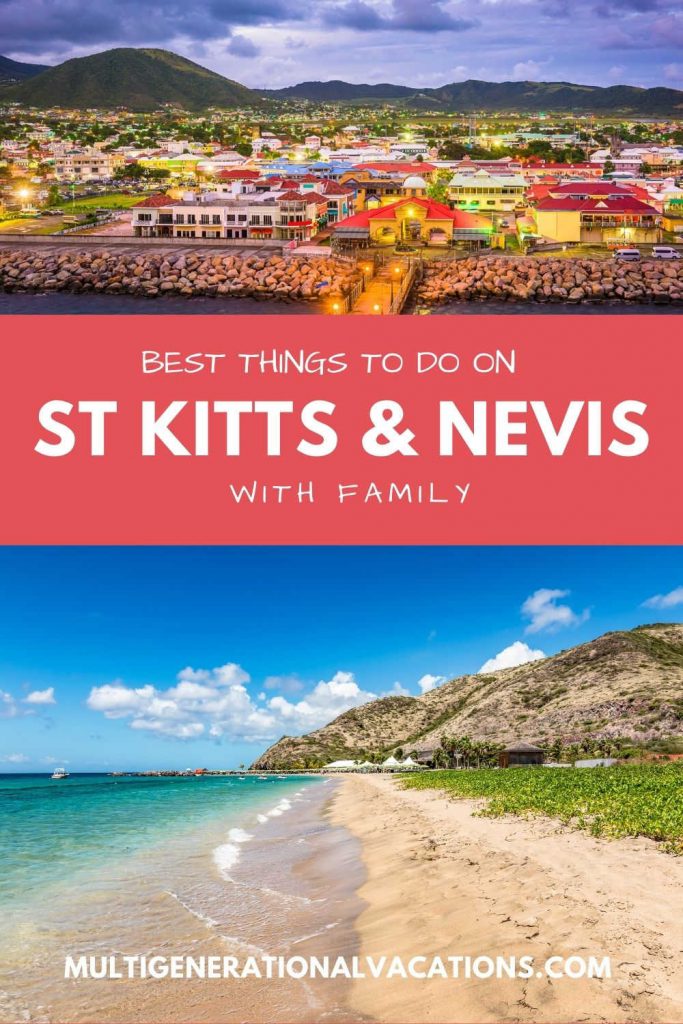 *Disclosure: This post may contain affiliate links, which means we may receive a commission if you click a link and purchase something that we have recommended. Please check out our disclosure policy for more details. Thank you for your support!
Where is St Kitts and Nevis?
St Kitts and Nevis are a twin island nation found in the Leeward islands in the Caribbean West Indies. The main airport is the Robert Bradshaw International Airport (SKB) located just outside of Basseterre on St Kitts. The airport is very small with only one terminal and easy to navigate. Due to the tiny size of the islands, nowhere is particularly far away and it only takes around an hour to drive all the way around St Kitts, and even less time to drive around Nevis.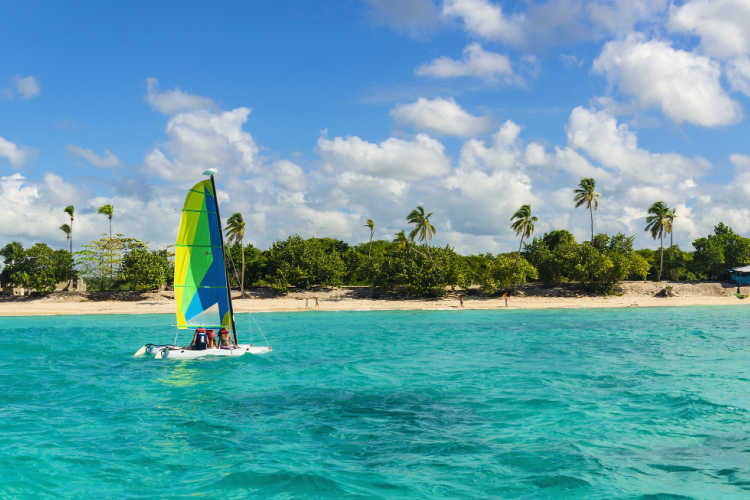 Most of the hotel accommodation is located in Frigate Bay on St Kitts. This area has a high number of expats and it is where you can find a lot of restaurants and bars. Frigate Bay is just 10 minutes drive from the airport and taxis are abundant at the airport without booking in advance.
If you are planning to stay on Nevis this requires a 30 minute drive down the south east peninsula to catch a water taxi over the Narrows to Nevis. Water taxis run frequently but if you are arriving early in the morning or late at night it is better to book in advance.
When is the best time to visit St Kitts and Nevis?
The hurricane season runs from June to November with the peak time for possible hurricanes being August and September. The cheapest time to visit is June/July as the hotels tend to lower their prices at this time of year. Hurricane season comes with strong winds and heavy rain so if you are looking to make full use of the outdoor activities, then December to April is the driest season. December is also when the annual Carnival in St Kitts takes place, and the capital city Basseterre turns into a hub of colour, excitement, and activity for the festive season.
Transportation options
Getting around St Kitts and Nevis is relatively easy and there are numerous rental car companies if you want to drive and fully explore the islands. Driving in St Kitts and Nevis is on the left-hand side of the road, but most rental vehicles are automatic transmission. You will also be required to purchase a temporary driver license if you want to drive a rental car. This can be done at the rental agency or at the traffic department in Basseterre.
If you don't want to drive yourself, you can get public buses or 'H' buses from Basseterre that go to all the towns on the main part of the island. The H buses don't go as far down as Frigate Bay though so you would need to get a taxi into Basseterre to catch them. Taxis are plentiful and somewhat reliable; however, they are all privately owned so you may have to wait a while if the driver is busy.
How to get from St Kitts to Nevis
Travel between St Kitts and Nevis is fairly straight forward too with the fastest option being the water taxi mentioned earlier. There is also a public passenger ferry that leaves from Basseterre to Charlestown or a car ferry that leaves from Majors Bay on the south east peninsula.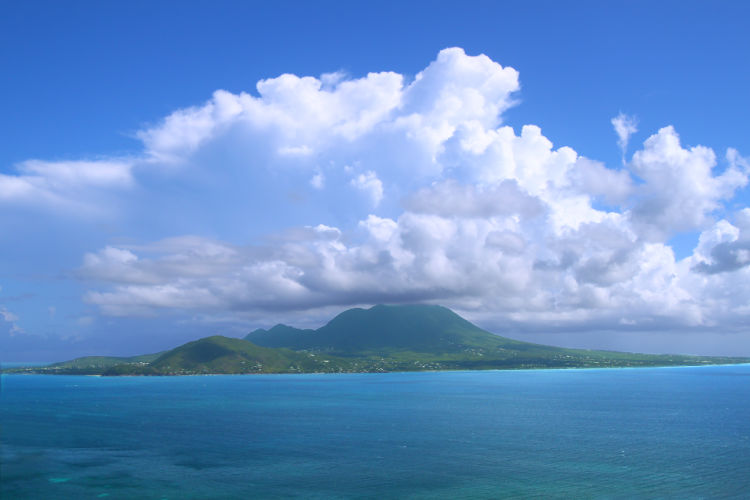 St Kitts and Nevis currency and language
English is the official language of St Kitts and Nevis but sometimes the locals have a strong dialect which sounds like another language. If you are having trouble understanding, ask them to speak slower, they usually find it funny.
The local currency is the Eastern Caribbean Dollar (EC or XCD) but US dollars are widely accepted, and credit cards can be used in most businesses. If you choose to pay in US dollars change will always be given in EC.
Healthcare in St Kitts and Nevis
The healthcare system is quite basic but there are hospitals on both St Kitts and Nevis for emergencies. It is strongly recommended to travel with insurance as anything serious may require a medical evacuation to the US.
The hospitals will provide basic care which is free of charge but if an overnight stay is required then you will need to pay for treatment. There are a couple of private medical centers on the islands with international doctors which will treat minor injuries and ailments. You can get an appointment there within a few hours.
What to pack for St Kitts and Nevis
Being a Caribbean island, swimwear, sunglasses, and sunscreen is essential! Also, if you enjoy snorkeling, there are many wonderful places to snorkel on St Kitts for all abilities. Snorkeling equipment for rent is limited so bring your own mask and fins. For active families there are plenty of hiking opportunities, so pack some sturdy boots.
Most travelers to St Kitts wear shorts and t-shirts and enjoy the tropical climate. During the winter months there is a strong breeze from the Atlantic Ocean so a light jacket may be needed in the evenings. It does also rain on St Kitts and Nevis, but the showers usually don't last long enough to need a raincoat.
Specific Challenges for travel in St Kitts and Nevis
Both islands are volcanic with a central mountain therefore they can be quite hilly in places. Access to the beaches is generally good and wheelchair users shouldn't have a problem in the Frigate Bay area. Getting around in Basseterre may be tricky for elderly visitors as the pavement can be quite steep with large drainage gutters.
Disabled visitors may also find the travel between the two islands challenging as getting on and off the water taxi can be difficult especially when seas are rough.
Family friendly activities in St Kitts and Nevis
Brimstone Hill Fortress National Park is always worth a visit. It is situated high up on a hillside, but vehicles can drive right into the fortress. The main citadel has a steep ramp that may be difficult for elderly visitors and the cobblestones may not be suitable for strollers.
The St Kitts annual carnival in December is a great activity for families, with celebrations and parades for all ages to watch or take part in and create amazing memories.
On both St Kitts and Nevis, it is highly recommended to get a private island tour. These can be in an open-air bus or an enclosed bus and are one of the best ways to see the islands. Your private tour guide will take you to all the main sites and tell you fun facts and history as you drive.
The St Kitts Scenic Railway is another great way to see the island. Sit in the open top carriages for great views and learn the history of the sugar trade and how the railways came to be.
On Nevis the botanical gardens are great for all ages. The on-site Thai restaurant is a perfect meal when everyone's worked up an appetite. It is easy to spend a whole afternoon wandering the expansive gardens and exploring the pergolas and water features after a lovely lunch.
Best restaurants in St Kitts and Nevis for families
Reggae Beach Bar on Cockleshell Beach is another non-formal dining option for families. There are tables right on the beach and the restaurant has a children's menu. Reggae also has beach chairs, so it is a great place to spend the day.
Shipwreck Beach Bar on South Friars Beach is a great place for families. The menu has lots of options including a special children's menu and it is right on the beach with plenty of beach loungers and umbrellas making it great for a whole day at the beach.
Spice Mill Restaurant on the southeast peninsula is a more formal dining experience for families. The menu is extensive, and they are happy to do smaller portions for smaller appetites. They are open at lunchtime and in the evening.
Serendipity in Basseterre is only open in the evening during the week but they are happy to cater for children and do smaller portions for smaller appetites. They also have set menus which are good value for money.
St Kitts and Nevis Hotels for Families
Marriott Hotel in Frigate Bay
The Marriott Hotel in Frigate Bay is the ideal place for families with plenty of restaurant options and multiple swimming pools. It is also directly on the beach so you could easily spend the entire vacation at the hotel.
CLICK HERE TO BOOK THE MARRIOTT IN FRIGATE BAY
Park Hyatt Resort Christophe Harbour
The Park Hyatt Resort is another family friendly hotel that is located on the south east peninsula. The Park Hyatt has a dedicated children's club and play area along with several swimming pools to enjoy. It is also directly on the beach and has a private pier for water taxis to Nevis.
CLICK HERE TO BOOK PARK HYATT ST KITTS CHRISTOPHE HARBOUR
The Hermitage, Nevis
The Hermitage, Nevis is a great option for a family friendly boutique hotel on Nevis. Hermitage Plantation Inn has a swimming pool for guests to use and a television room for children. There is also a library for guests and some children's toys for communal use. The children of the owners can be seen playing around the grounds. 
CLICK HERE TO BOOK THE HERMITAGE IN NEVIS
One week itinerary for St Kitts and Nevis
We would suggest a minimum stay of a week on St Kitt and Nevis with 5 nights on St Kitts and 2 nights on Nevis.
Day 1. Arrive in St Kitts, explore the hotel and wander Frigate Bay area. 
Day 2. Take the historic sugar train tour in the morning and visit one of the beautiful beaches in the afternoon. 
Day 3. Take an island tour and visit the historic Brimstone Hill Fortress National Park which we would allow at least 3-4 hours to visit. 
Day 4. Visit Shipwreck Beach Bar and spend the day enjoying the beach and do some snorkeling. 
Day 5. Visit the Caribelle Batik at Romney Manor in the morning. In the afternoon take the water taxi over to Nevis.
Day 6. On Nevis visit the hot springs in the morning when it's not too hot. Take an island tour and get dropped off at Pinneys Beach in the afternoon.
Day 7. Visit the botanical gardens and for lunch enjoy the Thai restaurant overlooking the grounds. In the afternoon take the water taxi back to St Kitts.
Looking for other Caribbean islands for a family reunion? Check out Bonaire with family and planning a trip to Aruba.
About the authors: Steph and Lewis are the bloggers behind Book It Let's Go! They are an expat couple originally from the UK currently residing in St Kitts. In 2019 they packed up their old lives and their 2 cats to leave the cold and wet behind in exchange for beaches and palm trees. They have made the leap to move abroad and have no plans to return anytime soon. While they are based in the Caribbean they are enjoying island hopping while planning their next big adventure.