Cuba is the biggest island in the Caribbean. It is famous for its almost eternal summer weather, but also its people: joyful, innovative and helpful. Cuba is a country of colors, music, cigars, coffee and rum, and where the Spanish colonial architecture mixes with modern. The result is a unique and unforgettable nation. This guide from Cuba Casa will help you plan the perfect Cuba family vacation for all ages.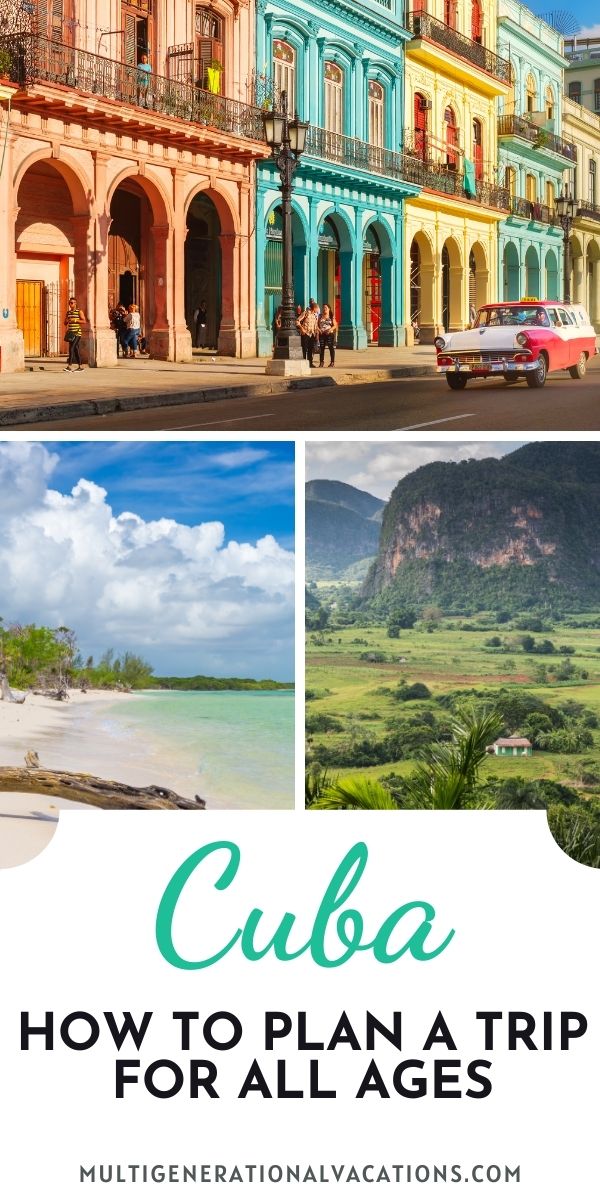 *Disclosure: This post may contain affiliate links, which means we may receive a commission if you click a link and purchase something that we have recommended. Please check out our disclosure policy for more details. Thank you for your support!
Planning a Cuba Family Vacation for All Ages
Cuba is a destination that would satisfy all tastes: children or adults, young or elderly, women or men… Family groups mixing the generations will all have fun, no matter how big the group. Natural parks, beautiful beaches, almost virgin 'cayos' (keys), and fortresses are some of the best attractions you will find if you visit the island.
But there can also be not such wonderful and idyllic things, considering that Cuba is an underdeveloped country. In this guide, you will find what you need to know to plan an unforgettable multigenerational family trip to Cuba.
Where is Cuba
The Republic of Cuba is one of the islands located in the Caribbean. It is very close to Florida, in the USA, but also to Mexico. To the south, the nearest islands are the Cayman Islands, Jamaica, and Haiti. Cuba is surrounded by more than 4000 keys, islets and islands, which are some of the best attractions you will find.
How to travel to Cuba
For travelers from the United States
Travel to Cuba from or through the US is restricted to certain individuals and is carefully regulated by the US Department of the Treasury. Travel for tourist activities is strictly prohibited. For those who wish to travel to the island, the reason for the trip must be adapted to one of the categories included in the general license or must request a specific license. But Americans can visit Cuba.
Travel to Cuba by air
The main access to the island is by air, through commercial flights and charters. There are international airports throughout the whole country and some of the main keys as well. But the most important is the International Airport José Martí (HAV), in Havana. Cuba is directly connected to more than 55 countries (most tourists arrive from the USA, Mexico, Canada, Spain, Great Britain, Germany and Italy) through around 60 airlines.
Note: When you arrive in Cuba, you can find a taxi service at the airport, both government-run and private. This last option is as reliable as the first one. If you choose the private taxi service, you will be contributing to the personal economy of the Cuban people.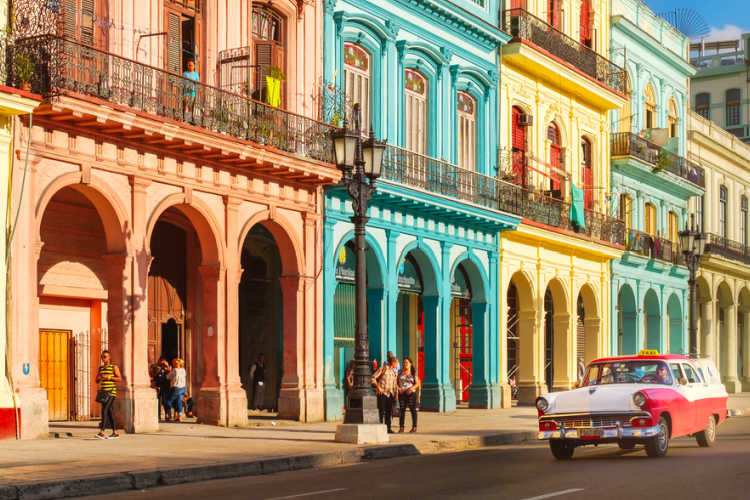 In general, this is the arrival point on the island for most tourists. From here visitors head out to explore other areas. Being an island, Cuba can also be accessed by sea. There are marinas or ports in almost every province. For the arrival of cruise ships, there are terminals in Havana, Cienfuegos, and Santiago de Cuba.
What you need to know before traveling to Cuba
Cuba is an underdeveloped country, with a non-capitalist economic and social system.
The Cuban Peso (CUP) has been, since January 1st 2021, the only official currency. Tourists might be asked to pay for some services and products with a freely convertible currency (MLC for its acronym in Spanish). This will be either USD, Euro or Sterling Pound.
Note: By paying with USD, Euros or Sterling Pounds, you are contributing to the economic wellbeing of private business owners. This helps to improve the quality of the service they offer. Many of the products they need for work are only available in a few shops that operate with these freely convertible currencies.
The official language in Cuba is Spanish, but you might find people who speak English and will be glad to help you. In the tourism and hospitality sector speaking English is mandatory.
It is also important to know that Internet services in Cuba are not cheap at all. You can access internet (mostly in main cities, not in the countryside), but you will have to pay a considerable sum. In hotels, wi-fi is included in the price of the room.
Be prepared because you won't find everyday conveniences. But don't worry. This only means that you need to bring with those things that guarantee the whole family a more comfortable trip.
Note: Baby seats for cars are not used in Cuba, nor are high chairs in restaurants or cribs in accommodation, only in the private version of these businesses.
To get your family Cuban Tourist Card (visa) you can do it through EasyTouristCard.com or some airlines offer the service. Be sure to take care of this before traveling to Cuba.
Must pack items for a multigenerational family trip to Cuba
There are some things that are very difficult to find in Cuba, so it is advisable to pack these items:
Medications such as decongestants, motrin or acetaminophen, cough drops, anti-diarrhea medication, antibiotics, and allergy medications. If you travel with someone who needs an inhaler or epi-pen, be sure to bring those as well.
Repellent against mosquitoes and other insects. They are very common in Cuba and although they do not always cause diseases, their bites will cause itching.
Sunscreen, hats, and sunglasses. The higher the protection factor, the better.
Note: If you want to make a difference, you can include in your luggage clothes, school supplies, sweets or toys that the family members can use during the trip and leave behind, mainly for children in Cuba. Cubans will really appreciate this gesture.
Healthcare in Cuba
Healthcare is free for Cuban citizens and there are no private hospitals or clinics (at least not approved by the government). This is a source of pride for Cubans, as well as the high level of training of the medical staff.
If any family member gets ill during your holidays in Cuba, you can be sure they will receive the best possible medical attention. You will need to have travel insurance, or you will have to pay for the service out of pocket.
In Cuba there are international clinics and pharmacies in every province.
When is the best time to visit Cuba
As we Cubans always say, Cuba is eternal summer. It is common to celebrate New Year's Eve on the island wearing light clothing. Wet and dry seasons are more defined, as well as hurricane season.
So, considering the weather, the best time to visit Cuba matches its peak tourist season, between December and April. During these months the temperature drops to 19-21°C / 66-69°F, humidity is low and rain is rare. It is possible for the temperature to drop to 10°C/50°F on some days, while on others the high may reach up to 34°C/93°F.
Note: In the case of clothing, most of it should be light, including sandals and caps or hats. It is also advisable to include a piece with long sleeves. During hot weather, especially on the beach, it can serve as protection against the sun. In winter, although temperatures do not usually drop below 59 degrees F (and even that is rare) during the day, at night it could be colder.
Hurricanes are very common in Cuba. The season runs from June to November. Therefore the months between December and April are the best time to visit Cuba. From May to September it is too hot and humid, so the heat can be unbearable, especially if you are traveling with kids.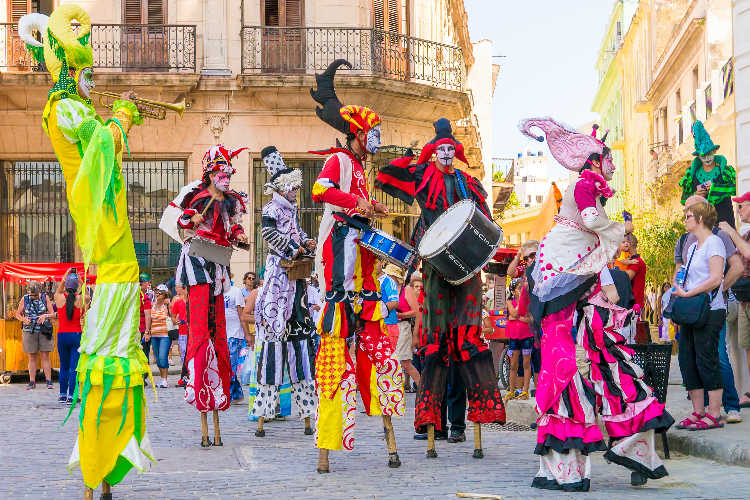 December to April offers more pleasant temperatures and less rain or risk of hurricanes, making it the ideal time for a multigenerational family trip to Cuba.
Another thing to take into account when deciding the best time to visit Cuba is the calendar of events. The cultural life of the island is so rich and varied that there are events that you cannot miss if you want to have a unique experience on a multigenerational family trip in this beautiful country.
Best things to do on a large family Cuba vacation
To enjoy your family holidays in Cuba, you must visit the best-known destinations on the island, which include nature, history, beaches, and more. There is something everywhere for all ages. We recommend visiting Havana, Viñales, Varadero, and Trinidad.
Things to do in Havana
What to do in Old Havana
Havana is a destination every tourist should visit. It is the capital of Cuba and as such, it offers endless attractive places for large groups of family travelers. It is also an excellent starting point for visiting other destinations in Cuba.
The historic center of the city and its fortifications, declared a World Heritage Site by UNESCO, offers visitors a group of squares, castles, museums, and convents of great historical, architectural, and cultural interest.
On Obispo Street, the main artery of Old Havana, you will find cafes, shops, and stores that sell everything from toys to musical instruments. At the end of the street you will find the Plaza de Armas, the Castillo de la Real Fuerza, as well as the Museum of Natural Sciences.
In this area is the Plaza de la Catedral and the Maestranza park is nearby, with inflatable castles and other fairground attractions, in front of the Malecón.
Walking to the other end of the bay, you will come to the Plaza del Convento de San Francisco de Asís, also known as the Plaza de las Palomas, due to the large number of pigeons that gather there, which you can feed and take photographs with.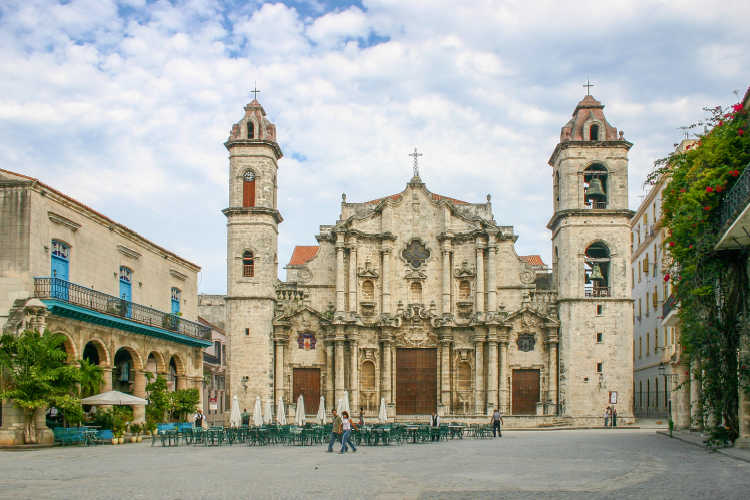 Don't miss the Old Square, the oldest of the four, with many interesting places. The Dark Camera and the Planetarium are two places to visit. In the first one, you can see, from a totally closed chamber at the top of the building, what is happening below, in the surrounding streets, through a system of mirrors.
The Planetarium covers several floors and has an interactive area and an astronomical observatory. You can also admire a reconstruction of the solar system with planets to scale and their movements.
Visit the fortifications
To finish exploring this area you can cross the bay and visit the fortifications on the other side: the Castillo de los Tres Reyes del Morro (El Morro) and its lighthouse and the San Carlos de la Cabaña Fortress. In this last one, if you visit it in the late evening, you can enjoy the spectacular ceremony of the 9 o'clock cannon shot, very popular among locals and tourists.
In the Morro-Cabañas complex the family can eat in local restaurants; run, walk or just sit and enjoy the many open spaces; tour the museums, buy souvenirs or take great photos with the sea or the city as backgrounds.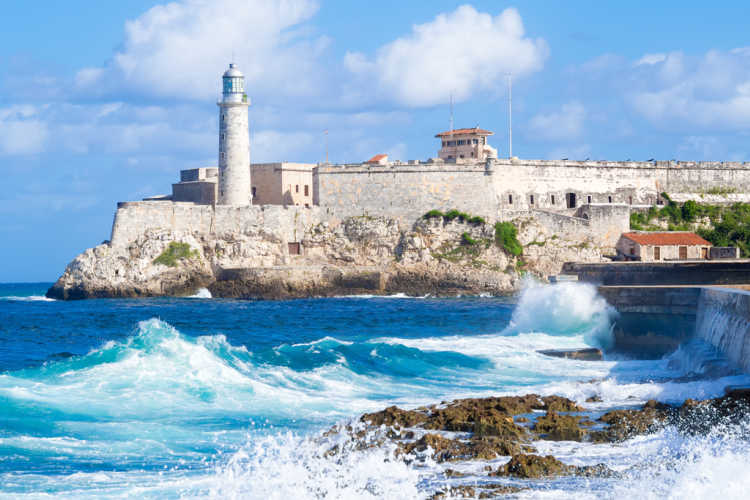 Make time for the parks
Another park in Havana where children can run freely and enjoy the outdoors, playgrounds and even go horseback riding, boating or take a mini-train ride is Lenin Park, about 30 minutes from downtown.
Nearby is also the Botanical Garden of Cuba, which offers tours of the various areas and collections, including plants that are native to Cuba. There is an Eco-Restaurant located in the beautiful setting of the Japanese Garden.
It is also possible to zipline in the National Botanical Garden, with multiple ziplines and a 15-meter high suspension bridge.
Visit the Aquarium
In the National Aquarium of Cuba, the whole family will enjoy the show with the sea lions and dolphins, and a chance to be photographed with them after the show.
Beaches in Havana
As for beaches, the best in Havana are to the east of the city. Some of them are Mégano, Santa María, Marazul, Boca Ciega and Guanabo. To get there, you can use the tourist buses that leave from Central Park. With the hop on-hop off system, between 9:00 am and 6:00 pm, you can enjoy your day at the beach with your family.
Things to do in Viñales
Viñales valley is located in Pinar del Río, the westernmost province of Cuba. Declared a National Park and World Heritage Site, in the category of Natural Landscape, it is one of the main nature destinations in the country.
This is an ideal destination for hiking, cycling and enjoying natural sites. Among its main tourist attractions are the Cueva del Indio, where you can also tour an underground river by boat. The Mogotes, hills typical of the island, not very high and with a rather rounded shape are worth exploring as well.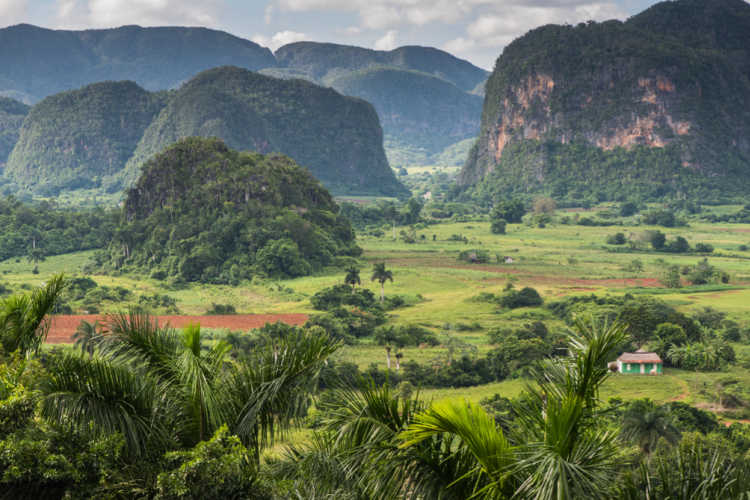 Visit the Mural of Prehistory, a mural painted on a vertical rock wall, open to the sky, measuring 120 meters high and 160 wide. There's also the Botanical Garden, which offers visitors a guided tour, with detailed explanations by experts, of the specimens found in the garden.
Likewise, everyone who visits Viñales cannot miss one of the farms in the area and its plantations of both tobacco and coffee. According to experts, this is where the best tobacco on the island is grown.
Things to do in Varadero
Varadero is the main sun and beach destination in Cuba, thanks to its fine sand and calm transparent waters. However, it offers many other options for the family..
Snorkeling is very popular here and there are several places little ones can snorkel. Everyone will be amazed at the beauty of the marine life of the reefs that surround these shores.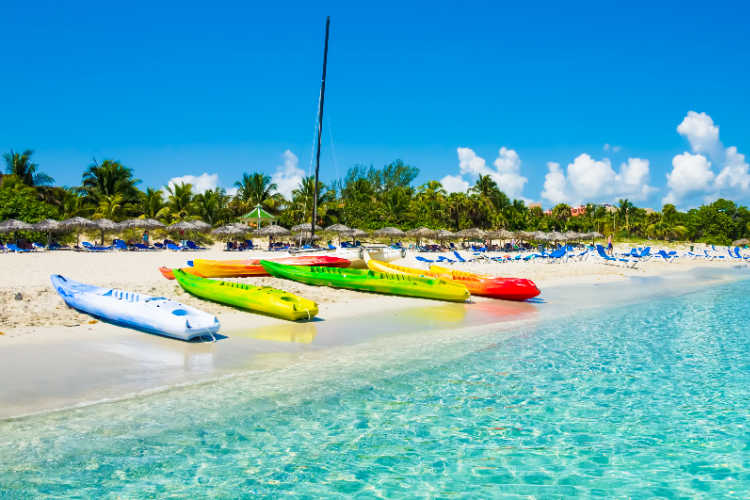 At the Varadero Dolphinarium, families can swim with dolphins. Afterwards, visit Parque Josone which includes a swimming pool, an amusement park, a boat ride, as well as a number of food outlets.
Various tours can be arranged to natural places of interest, such as the Bellamar Caves and the Saturn Cave, where you can also swim.
Things to do in Trinidad Cuba
Trinidad, also known as the Museum-City, has beaches, hiking, and waterfalls, as well as historical sites. In the center of the town, the cobblestone streets, the various museums and the large houses with their immense and cool interior courtyards, are some of the main attractions. At the local craft fair you can find souvenirs to give to friends and family.
Beaches in Trinidad
In Trinidad, the best-known beach is Playa Ancón, recognized as one of the best beaches in Cuba, with crystal clear water, fine sand, and warm water. It's perfect for a family day at the beach.
Valle de los Ingenios
Another place to visit in Trinidad is the Valle de los Ingenios (The Mills Valley), which is located halfway between the historic center of the city and Ancón beach. Here the family can visit
The House of Red Ceramics and see the process of making molasses.
Mirador del Valle, where you can enjoy the natural beauty of the San Luis Valley.
Ruins of the old Manaca Izaga sugar mill, with its original kettles and bells. The Manaca Tower is the main attraction of the place.
The Hacienda Guáimaro has archaeological relics and a chapel with the original bible written in Latin, covered in gold threads and plated in emeralds. The walls of the house are covered with wall paintings from floor to ceiling.
It is also possible to travel through the Valle de los Ingenios in one of the 100 steam trains that remain in Cuba, traveling the route from the sugar cane to the mill. This is the perfect place to canopy or zip-line for those looking for adventure.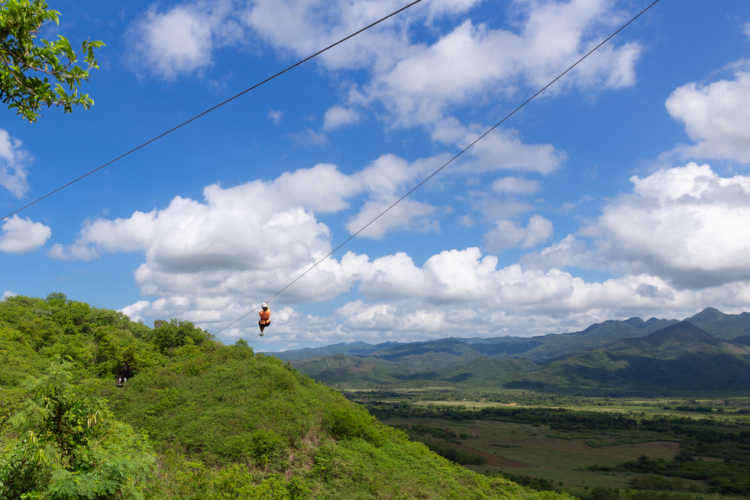 Topes de Collantes
Eight hundred meters above sea level is a true paradise in Trinidad: the Topes de Collantes Protected Natural Landscape. With a microclimate due to its high mountains, it also has dense and varied vegetation, similar to that of tropical forests. Among its flora, you can see everything from tree ferns and wild orchids to coniferous forests.
All this can be seen on walks through the many parks in this place. Among them is the El Cubano Natural Park, where one of the first sugar mills built in Trinidad is located: El Ingenito. By visiting it you can get an idea of ​​what life was like for slaves here.
The Salto de Javira, in this same Natural Park, is another of the places where you can go hiking and birdwatching, or bathe in the refreshing waters of a natural pool.
The Caburní Natural Park is located in the heart of Topes de Collantes and its main attraction is the Caburní waterfall. And although the access only involves a short trek, some slopes are quite steep, so it might not be convenient to go with small children or elderly grandparents.
On the way to the Vegas Grandes Trail, you can visit a coffee plantation, the home of peasants in the area and, at the same time, listen to and photograph the native birds of Cuba. The trail ends with a beautiful view of waterfalls and fresh waters where you can swim. There is also a small cave, protected by the falling waters, like a curtain.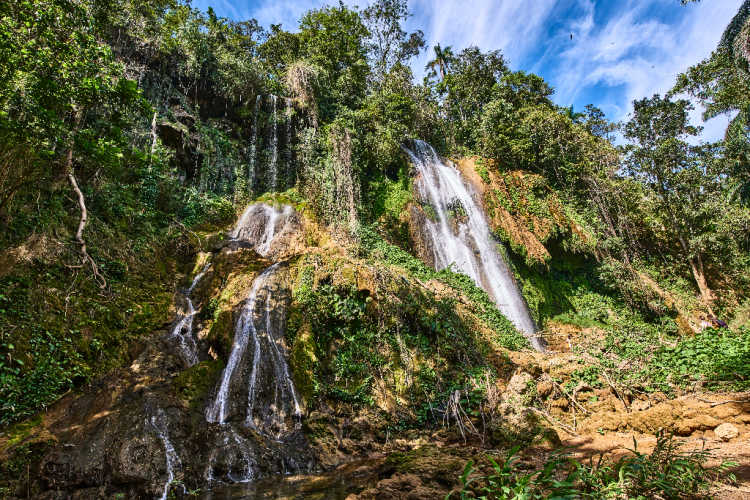 At several places in the Great Natural Park, you can find restaurants and cafeterias, as well as craftsmen, who sell crafts made with natural resources such as ferns and quartz (a type of stone that is abundant in the area and said to have healing qualities).
On one of the access roads to Topes de Collantes it is possible to stop at the viewpoint, from where you can see the Ancón peninsula and its beaches, as well as the surrounding mountains.
Visiting the Cuba keys
Visiting Cuba is always a unique experience, but you can't miss staying in a key for at least 2 or 3 days. This is something the whole family will love. Some of the keys of Cuba are included in the lists of best beaches in the Caribbean and the world. The beauty of their beaches distinguishes them from other places on the island, making them one of the places not to miss if you are visiting Cuba with kids.
Keys such as Cayo Largo del Sur, Cayo Coco, Cayo Guillermo and the Cayos Santa María, Las Brujas and Ensenachos, offer beautiful landscapes and abundant flora and fauna. This includes starfish, multi-colored fish, corals, turtles, iguanas, pelicans and flamingos, and many other species.
Activities such as hiking, snorkeling, diving, yachting and fishing are very popular in the Cuban keys. There are no private houses to rent in the keys of Cuba, only hotel properties. At the resorts families can enjoy swimming pools, amusement parks, gyms and tennis courts, and more.
If spending time near the water is important for your family, don't miss the best beaches of Cuba.
Where to stay with a family in Cuba
Deciding where to stay in Cuba is not a difficult issue. Many of the large internationally recognized hotel chains can be found on the island, such as Sol Meliá, Iberostar, Gran Caribe and even Kempinski. There you can enjoy with your family a luxury or standard stay, with all the facilities that they offer.
Some of the best hotels in Cuba are Meliá Cohiba and Meliá Tryp Habana Libre in Havana, Paradisus Varadero and Internacional Varadero in this destination and Melía Cayo Guillermo and Melía Cayo Coco, in both keys.
But for a really unforgettable experience in Cuba you and your family have to stay in a casa particular. This is essentially a private family establishment that provides paid lodging, like a bed-and-breakfast. Casas are generally much cheaper than hotels, while also offering much better service and a much more authentic cultural experience.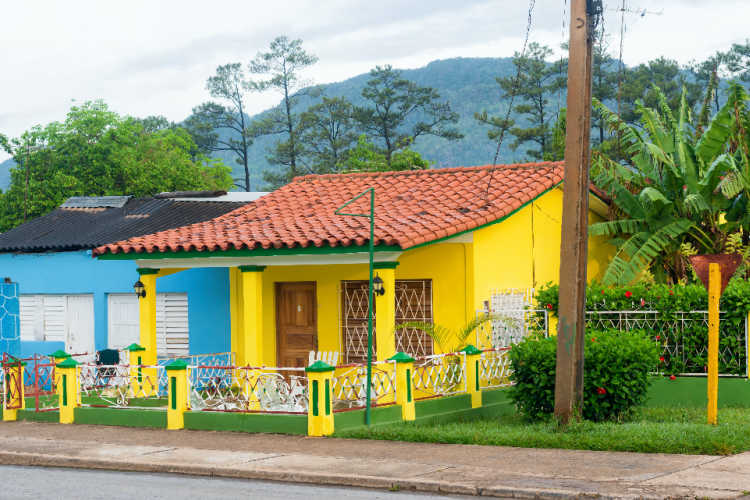 If you stay in a casa particular in Cuba, owners will help you to organize excursions and transportation. They will give you advice or will just tell you about island life. Your family will receive a very warm welcome.
All in all, casas particulares in Cuba are definitely the best type of accommodation for you to stay in as they are friendly, more authentic, better quality and cheaper!
If you're interested in visiting Cuba, CubaCasa team in Havana can help you find and book your family accommodation in various locations.
Where to eat in Cuba
The Creole Cuban food is not heavy or excessively spicy, so we suggest the whole family taste it (white rice and black beans, roasted pork, yuca con mojo and tomato and lettuce salad). This is possible in almost every "paladar" (typic restaurant in Cuba) in the countryside. But another popular meal in Cuba is lobster, shrimp, and fish.
In Havana, the family will find a larger variety of meals, because there are more specialty restaurants. For international cuisine, including vegetarian and vegan food, we recommend eating at 'Tablazo'. Outdoor dining is also available.
At Los Nardos, opposite the Capitol, the dishes are abundantly served and the food is delicious and very cheap.
Among the best restaurants in Varadero are the Bistro Bar Atlantida, La Gruta, Varadero 60 and the Waco's Club. All of them are recognized for their delightful atmosphere, excellent service and delicious cuisine.
Note: If you stay in a casa particular, having breakfast there can be a great choice. They are always abundant and varied, including fruits, Cuban coffee, fruit juice, toast and eggs.
Transportation in Cuba
Cuba has an elongated and narrow shape, more than 3000 km (1800 miles) long, that's why land transportation (the type most used by locals and visitors) is such an important issue. To go from one point to another the most common way is by car or bus. Traveling by train in Cuba is not recommended because there are frequent delays and other inconveniences. Flights can be very expensive.
So… how to get around Cuba?
Car rentals
This is a good option, both within or between destinations. There are many agencies through which you can rent a car in Cuba, even online. The best-known are Transtur, RentACar, Havanautos, Rex and CubaCar.
You will find available cars for large groups, including luxurious ones with a chauffeur, although during the peak season it can be a little bit difficult to access the service. It is advisable to reserve well in advance.
Note: Roads and streets in Cuba are not always in perfect condition, and the same happens with streets, so you will have to be a very good and careful driver. Traffic signs are international and we drive on the right. To rent a car you need a valid driver's license and passport.
Cars can be picked up at airports or hotels in the cities or beach resorts. Returning it at the same point is not mandatory. Clients can choose a place and the car rental specialist will take the car back from them just minutes before they leave the country.
Institutional transportation
The main transport agencies for tourism in Cuba are TaxisCuba and Viazul.
TaxisCuba offers taxi services, between and within a destination, including for large groups. Among the best options you can enjoy with the family are the CocoTaxis (motorcycle tricycles, with three seats for use in town) and Classic Cars (vehicles from the 1940s and 1950s; antique cars that make Cuba the largest-living automobile museum in the world).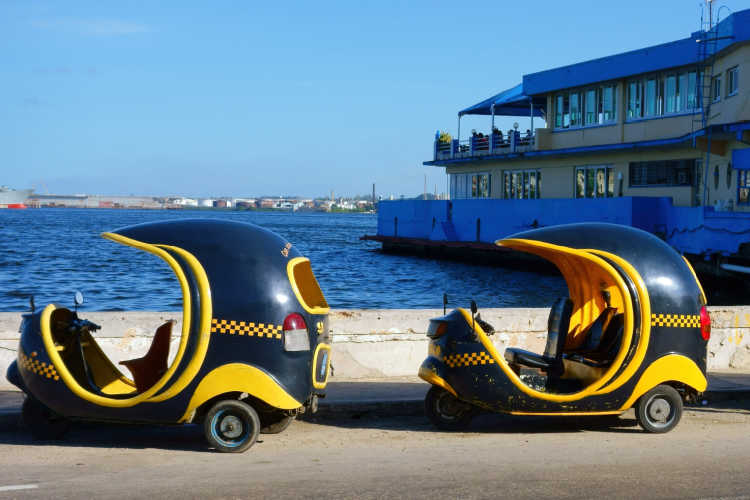 You can book on-site, through the contact phone numbers.
As for Viazul, this is the main bus transportation provider for tourists in Cuba. You can make bookings online or on-site, visit their offices at your destination.
Private transportation providers
For those who want to know the real Cuba, there is no better way than using the collective taxis for transportation between destinations. They offer a door to door taxi service throughout the island, are very economic and comfortable, and have options for large groups.
Within the destination, you can also use taxi services with private providers, which you can find on the streets or by asking any Cuban business owner, in your lodging or a restaurant.
To arrange collective taxi transfers in Cuba you can contact the CubaCasa team in Havana.
Cuba is a beautiful and safe destination to be visited with the family. It will be an experience that everyone will remember for the rest of their lives.
About the author: Mayté Solano is a Cuban psychologist who adores languages. That is why she learned English, French and a little bit of German. After 15 years in HR, she moved to the hospitality and leisure sector in 2016, mostly as a customer service representative. Now she is General Manager in Cuba for CubaCasa LTD and writes about the island for the website blog and the social media. -"Helping foreign tourists to learn about Cuba and meeting the best and most beautiful of it, is what I always dreamed".
If you are looking for other Caribbean destinations, don't miss our guides for planning an Aruba vacation and St Kitts and Nevis with family.