From its stunningly beautiful coastline and charming medieval villages to its delicious food and sweet wine, a Portugal family vacation is worth the effort. While Portugal is an underrated European country with a population of just 10 million, it has a ton to offer tourists.
And when you meet the Portuguese people, you'll quickly realize why it is an amazing place to visit for a family holiday. Portuguese people are some of the most welcoming people in the world. They'll make you feel at home, even if you don't speak a word of Portuguese.
You won't be disappointed if you're thinking of traveling to Portugal with your family. There is a good deal of outdoor activities and attractions to keep everyone happy. Here are some essentials you must know about Portugal before you go.
*Disclosure: This post may contain affiliate links, which means we may receive a commission if you click a link and purchase something that we have recommended. Please check out our disclosure policy for more details. Thank you for your support!
Where is Portugal?
Portugal is a small but mighty country. Located on the southwest coast of Europe, it is bordered by Spain to the east and the Atlantic Ocean to the west. Lisbon, the capital city, is located where the Tagus River meets the ocean and is home to about a third of Portugal's population. The rest of the country is divided into 18 districts, each with its own unique culture and history.
Portugal has a long and complicated history, reflected in its architecture, food, and wine. The country has been invaded and ruled by everyone from the Romans to the Moors to the Spanish. As a result, Portugal is a melting pot of cultures. You'll see this diversity all around, from the stunningly intricate tile work to the delicious seafood dishes.
Portugal is also well-known for its beautiful coastline. The country has more than 1115 miles of coastline, which means there's a beach to suit everyone's taste. Whether you're looking for a private spot to relax or bustling sandy beaches with plenty of nightlife, Portugal is a perfect choice for a family holiday.
What is the best way to travel to Portugal?
Getting to Portugal is easy, whether you're traveling from Europe or elsewhere. If you're flying from the US, there are direct flights to Lisbon from several major cities, including New York, Miami, and Boston (only a 6.5-hour flight). We have flown TAP Airlines direct from New York to Porto, and have taken other major carriers directly into Lisbon.
The Humberto Delgado Airport (LIS), commonly known as the Lisbon Portela Airport, is located about six miles from the city center. It is one of the most active airports in Portugal and serves both domestic and international flights.
If you're traveling from other places in Europe, you can take the high-speed train, which connects Lisbon to several major European cities, including Paris, Madrid, and Barcelona. The train ride is about three hours from Lisbon to Porto, the second-largest city in Portugal.
Once in Lisbon, you can easily get around the historic city by metro, public transport, rental car, tuk-tuk, or taxi.
If you're planning to explore beyond Lisbon, renting a car is highly recommended. Portugal has an excellent network of highways and roads, so driving is a breeze.
When is the best time to visit Portugal for families?
Portugal is a great year-round destination, but the best time to visit depends on what you're looking for. If you want to enjoy mild weather with little to no crowd, spring (March to May) or fall (September to November) are the best times to go. However, if you're looking for the best deals, winter (December to February) is a great time to travel.
If you're visiting to participate in the biggest festival of the year, you'll want to be in Portugal for Carnaval. This festive event takes place in February or March and is celebrated throughout the country. During Carnaval, you'll see people dressed in costumes, dancing in the streets, and enjoying traditional Portuguese food. No matter when you decide to visit Portugal, you're sure to have a memorable trip.
What is the currency in Portugal?
Portugal uses the Euro as its currency. Currently, one Euro is about equal to one US dollar. You can get Euros from your bank before you leave or from an ATM when you arrive in Portugal.
Most businesses, including hotels and restaurants, accept credit cards, so you don't need to carry a lot of cash. Just be sure to have some Euros on hand for incidentals, like buying souvenirs or taking a taxi.
What language do they speak in Portugal?
Portuguese is the official language of Portugal. It's a Romance language, which means it's derived from Latin. As a result, it's very similar to Spanish and Italian. If you know any of those languages, you'll probably be able to pick up some Portuguese phrases.
That said, there are some differences between Portuguese and other Romance languages. For one thing, Portuguese uses a lot of nasal sounds. It can make it difficult for English speakers to understand. But don't worry, the Portuguese are very patient and will be happy to help you. When in a bind, use Spanish or Italian, as most Portuguese can understand one or both languages.
Is Portugal accessible?
Unfortunately, there are many parts of Portugal that are not wheelchair accessible and places that can be challenging with a stroller. Although Lisbon has many accessible areas, there are cobblestones and steep hills everywhere. Portuguese towns and villages often have cobblestone streets so be mindful if someone in your group has accessibility issues.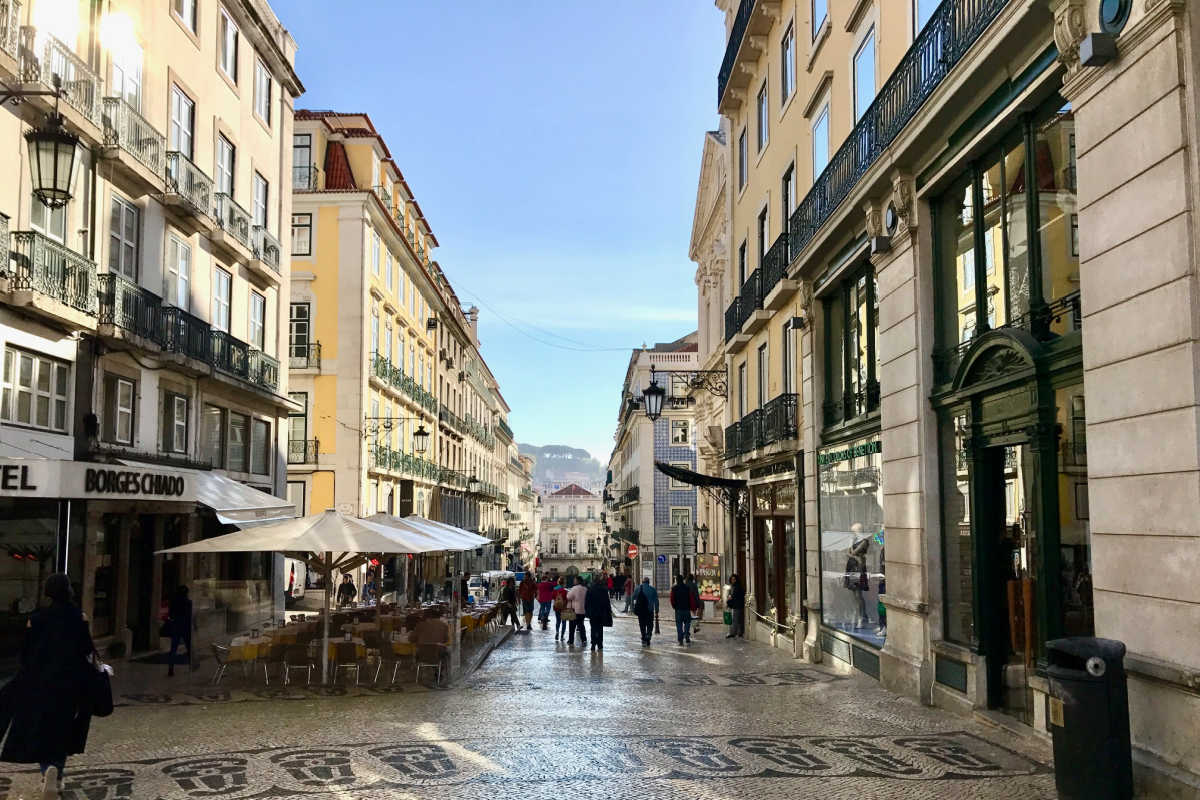 Portugal hotels for families
Who you are traveling with has a significant impact on where you'll stay in Portugal. If you're traveling with younger children, you may consider the best family hotels with a pool and other amenities for younger kids. If you're traveling with older children like teens or adults, you may want to look for a hotel in the heart of the action. Lisbon and Porto are two great cities to consider for your accommodation.
Here are a few of our favorite picks for accommodations in Portugal:
Where to Stay in Lisbon with Family
Martinhal Chiado
For a family-friendly property in Lisbon that's at the heart of the action, we highly recommend Martinhal Chiado. Martinhal properties strive to make family vacations easy, and this one offers a kids club, restaurant, and bar on-site, and unique activities for families. Accommodation includes studios and one and two-bedroom apartments, so there's sure to be space for everyone.
Lisbon Marriott Hotel
A luxurious and modern four-star hotel located in the heart of Lisbon. It is a ten-minute drive from the Humberto Delgado Airport (barring any traffic). The Lisbon Marriott offers excellent views of the city and the River Tagus.
Rooms and suites are spacious, bright, and comfortable. The hotel has a bar, a restaurant, and a fitness center for guests to enjoy.
Where to Stay in Porto with Family
Vila Foz Porto
Vila Foz Hotel and Spa is a stunning property about 20 minutes from the Porto city center in the Foz neighborhood. Accommodations consist of a manor house and a modern hotel building. We would recommend this for families with older children.
The hotel is within walking distance of the beach, the city park, and restaurants. Customer service at Vila Foz is impeccable and families shouldn't miss a meal at the hotel's restaurant, Flor de Lis.
Where to Stay in the Douro Valley with Family
Douro41 Hotel and Spa
This property is a great place to use as a home base for a family trip to the Douro Valley. Douro41 Hotel is about 45 minutes from Porto, and it has everything families need. There are movie nights, pizza-making classes, and a game room with snooker and board games the entire family can enjoy. The hotel has swimming pools and a spa and is located on the river close to hiking and mountain biking trails.
Six Senses Douro Valley Hotel
Six Senses is one of the most stunning hotels in Portugal. The hotel is a refurbished 19th-century manor house and it offers stunning views over the river and valley. Everything is perfect at this resort, from the manicured outdoor spaces to the elegantly designed suites. They offer cooking classes, wine tastings, tours on the river, and family movies.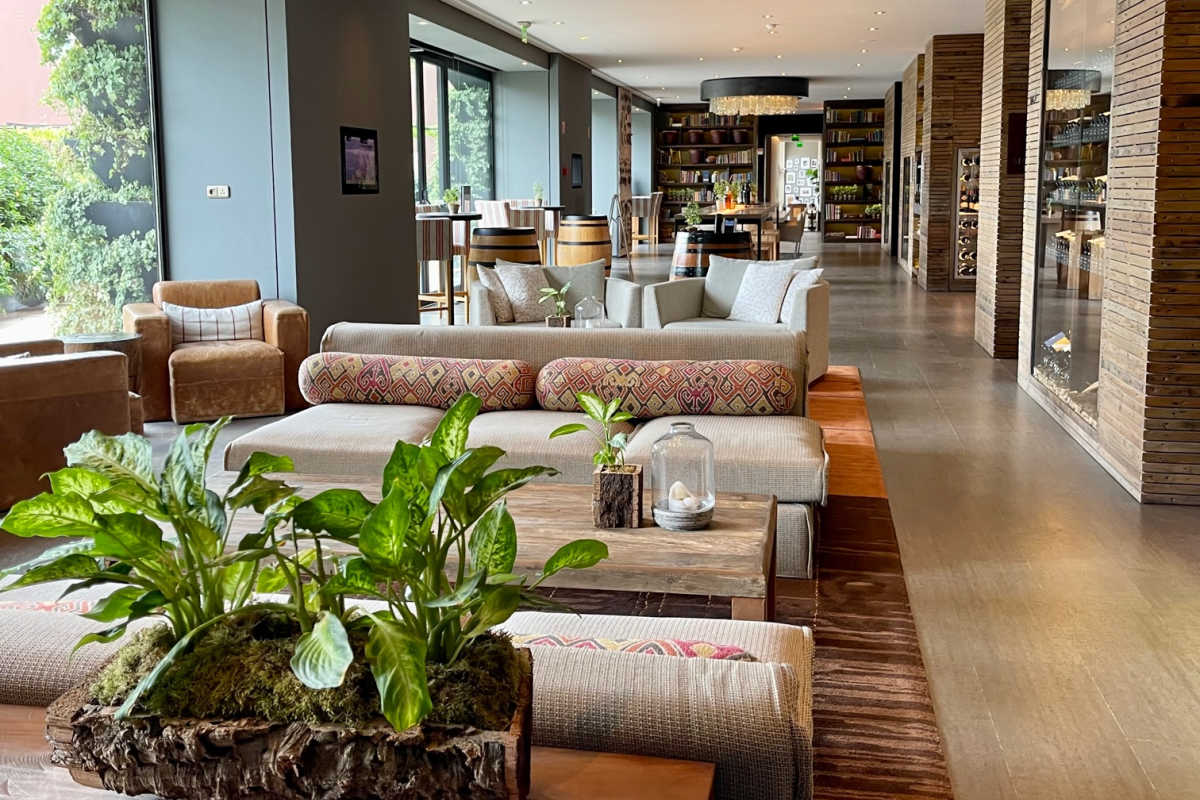 Where to Stay in Alentejo with Family
Torre de Palma Wine Hotel
Torre de Palma Wine Hotel near Monforte dates to the 14th century and feels like you've walked back in time. The massive state is meticulously designed and each of the rooms is unique. Families can stay in one of the junior suites or rent the master suite with its own swimming pool.
Torre de Palma has a variety of family-friendly activities. Take a horse and buggy ride around the property, explore the property's Roman ruins, have a picnic, or do a wine tasting and tour. There's also a spa, horseback riding, a swimming pool, and bicycles making it a great choice for a family holiday.
São Lourenço do Barrocal
São Lourenço do Barrocal is near the town of Monsaraz and 45 minutes southeast of Évora. The property is a former farming village converted into a resort and offers three different types of rooms: farm rooms – former family homes with a terrace, winery rooms – located on the path to the winery, and courtyard rooms – smaller rooms that lead directly to the main walking path of the village.
Families might be more comfortable in the suites, or 2 or 3-bedroom cottages. Each room is different, so it's recommended you call when making a reservation to find the right fit.
Barrocal offers an endless number of activities, including hot air balloon rides, horse riding, archaeology tours of the property, star gazing, cycling, hiking, and more. There's also a spa, a massive swimming pool and green space, a seasonal restaurant with an outdoor grill (Hortelão), and a winery.
Herdade da Malhadinha Nova
Herdade da Malhadinha Nova truly feels in the middle of nowhere but in a good way. The property sits on a 1000-acre estate near Albernoa. There is a vastness to the property due to its rural setting and six individual "cottages" that are easily 5-10 minutes driving from one another.
This Relais & Châteaux property has many lodging options for travelers. The Monte da Peceguina is a country house with 3 suites and 7 rooms sharing a common library, bar, swimming pools, and spa. Casa das Pedras has four enormous suites each with private terraces and pools. Casa das Artes e Ofícios is another villa, with 2 rooms, a kitchen, and a living space. Venda Grande is a home in nearby Albernoa with 4 suites, a kitchen, and a living room. You really can't go wrong with any of these accommodations and they would be perfect for a multi-generational family trip.
There's a large variety of experiences that can be booked through the resort. Favorites include off-road vehicles, horseback riding, wine tasting and tours, and cooking classes. Don't miss lunch or dinner at the property's restaurant and be sure to sample their delicious wines.
Évora Farm Hotel & Spa
The name Évora Farm Hotel & Spa is misleading as this property is not what you have in mind when you think of a "farm hotel". This modern resort is 20 minutes from Évora and is perfect for a family getaway in Portugal.
This modern resort has 56 rooms and 5 villas. Some rooms have bunk beds and private pool access, while others have patios with garden or countryside views. The villas are separate from the main area, but they have three bedrooms, kitchens, living space, and private plunge pools. Another great option for family lodging in Alentejo.
This hotel has a Kids' Club, and several activities geared toward children like their petting farm and kids' yoga. Families can enjoy cycling through the estate, star gazing, hot air balloon rides, and photography classes.
Family hotels in Algarve
Pine Cliffs Resort
This stunning property is a collection of villas, ocean suites, residences, and a hotel. Located in the Algarve, Pine Cliffs has golf, tennis, 12 restaurants and bars, and a kids' village (Porto Pirata) with daily activities. This is the perfect choice for families with children of any age as it has easy access to the beach as well!
Companhia das Culturus
Companhia das Culturus is a sustainable and organic hotel with 40 hectares of stone pines, figs and apricots, cork oaks, and carob trees. It is located in the Algarve's southeastern corner, offering natural beauty, the best beaches, and a rich cultural heritage.
There's a hammam outside Castro Marim for those who want to relax and rejuvenate. The property offers six rooms, of which 3 are lavish suites. This is a perfect spot for a whole family!
Things to do on a Portugal family vacation
Portugal is an underrated treasure trove of history, culture, and natural beauty. Whether you want to surf till the sun sets or explore colorful castles, there's something for everyone in Portugal. If you're searching for places to visit and things to do in Portugal for families, here is a list inclusive of all interests:
Explore the town of Sintra
Sintra is located 40 minutes from Portugal's capital city, Lisbon. It's the perfect day trip from the city, and worth the visit. Explore the colorful Pena Palace and walk the walls of Castelo dos Mouros. Those with mobility issues can still explore both castles but know there are a couple of places where the walkways are pretty steep.
Enjoy at the Oceanario de Lisboa
Your children will squeal with joy when they see the dolphins, penguins, and other sea creatures at the Lisbon Oceanarium. It is one of the most loved places in Portugal for families. The place has a giant central tank home to sharks, rays, and other fish. You can touch stingrays and see them up close. Afterward, explore the surrounding area of Parque das Nações which has a variety of restaurants and attractions.
Take a Surf Lesson
Portugal is a surfer's paradise. The Algarve region has some of the most beautiful beaches in Europe. If you're looking for things to do in Portugal with young children, why not take a surf lesson? Several surf schools in the area offer classes for all levels.
Even if you don't want to surf, you can enjoy the beautiful beaches and stunning coastal scenery.
Sunbathe at the Matosinhos Beach
Resting north of the city of Porto, Matosinhos is a perfect place for swimming, sunbathing, and simply relaxing. With its sparkling water and soft sand, this magnificent beach is captivatingly beautiful. You can play soccer and volleyball or just lounge around with a good book. There are also several restaurants where you can enjoy fresh seafood. The locals love to eat sardines grilled over an open fire. You should give it a try too!
Portugal Family Vacation Itinerary
If want someone else to do all of your travel planning in Portugal, we would recommend Epic Travel. They plan luxury, custom itineraries and will ensure your trip is perfect for all travelers! Everything is perfectly thought out and they pay attention to all of the details so you don't have to worry about a thing. If you reach out to them, tell them we sent you and there will be a special gift!
Weekend in Portugal
If you want a quick city break in Portugal, head to Porto, Lisbon, or the Algarve. I wouldn't recommend trying to do both in a weekend, because they all have plenty of things to keep children of all ages entertained during that time.
In Lisbon, don't miss Jerónimos Monastery, Belem Tower, Castelo de São Jorge, sampling the local pastry (Pastel de nata), watching a fado show, and exploring the Bairro Alto. Here's our Lisbon weekend itinerary.
Porto in northern Portugal is perfect for families who love learning about local history, and walking along the coast, and those who love wine! These are some of our favorite things to do in Porto.
If you want a beach getaway in Portugal, head to the Algarve. With beautiful beaches, delicious seafood (you can find this just about everywhere in Portugal), and copious amounts of sun, it's a great destination for families.
One Week Itinerary for Portugal
I would recommend a one-week Portugal itinerary including Lisbon, Porto, and the Algarve. I would give 2 days to Porto and the Algarve and 3 days for Lisbon. Here's a sample Portugal itinerary.
If you have more time, you'll definitely want to explore Alentejo. Its rolling hills and vineyards remind me of Tuscany!
Where and What to Eat in Portugal
Portuguese cuisine typically consists of fresh seafood, meat, and vegetables. Most locals like to believe that their food is the best in Europe. However, we suggest you go ahead and find out for yourself. There are several Michelin-starred restaurants in Portugal, but you can also find fantastic food in the small cafes and eateries.
You must definitely try the pastel de nata, a custard tart pastry in Lisbon. It is one of the most popular desserts in Portugal. It is available in almost every cafe and bakery in the city.
Porto is famous for its Francesinha, a sandwich made with bread, ham, sausage, and steak. It is usually covered in cheese and served with a fried egg.
If you're looking for something lighter, you can try the Caldo Verde soup. It is a vegetable soup made with potatoes, kale, and chorizo.No matter where you go in Portugal, you will find plenty of good food to try. Just make sure you come with a hearty appetite!
Here are some of the best places to eat in Portugal:
A Portugal Family Vacation Works for All Ages
The loud, proud, and infamous neighboring countries like Spain, France, and Italy tend to steal the limelight from Portugal. For a great food destination, many tourists may say France for its escargot. If travelers think about history and wine, then Florence in Italy would be the answer. And if surfing on the beach till sunset is the goal, then Spain may be what comes to mind.
However, the truth is that Portugal has all of this and more. From its diverse landscape and delectable food to the vibrant culture, medieval castles, and friendly people, this Iberian Peninsula country has something for everyone in the family.
So, what are you waiting for? Start packing your bags and get ready for an unforgettable family adventure in Portugal!