Spanning across California and Nevada, Lake Tahoe is the largest Alpine lake in the United States. This natural beauty has an altitude of over 6,200 feet and depths of over 1,600 ft. Lake Tahoe is an excellent place for lovers of natural beauty, outdoor sports, good food, and a lot of fun. If you are here with family, rest assured that you will enjoy a great vacation because there are endless activities in the area. Here are some of the best places to visit in Lake Tahoe.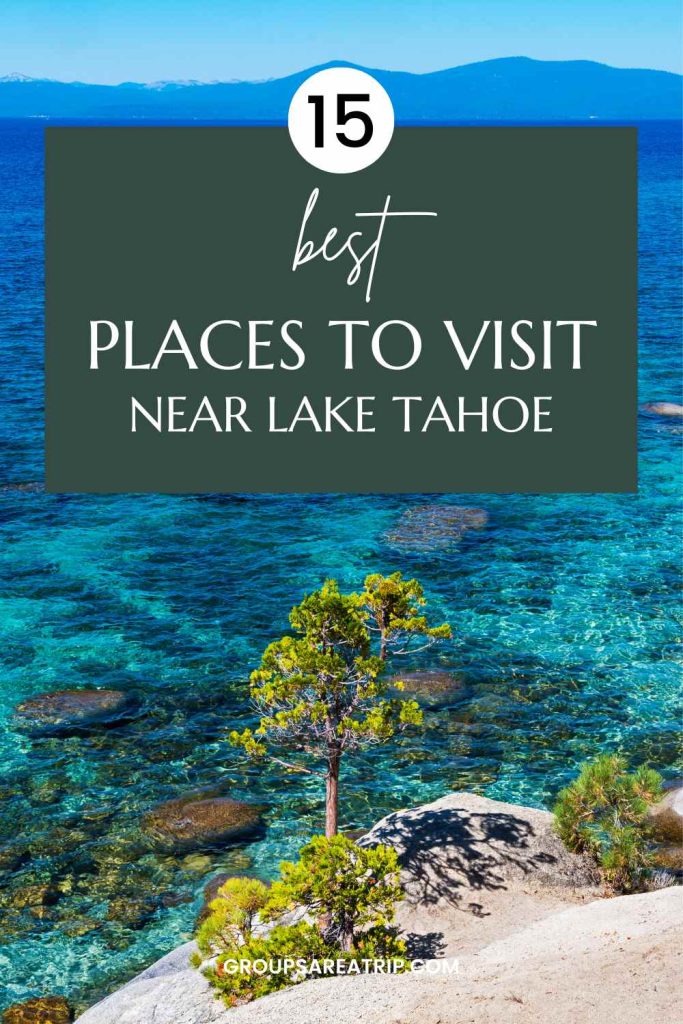 *Disclosure: This post may contain affiliate links, which means we may receive a commission if you click a link and purchase something that we have recommended. Please check out our disclosure policy for more details. Thank you for your support!
1. Emerald Bay State Park
Emerald Bay State Park is one of the top attractions in Lake Tahoe. This park boasts the most beautiful views you will see in Lake Tahoe, and there are also a lot of outdoor activities to enjoy. Outdoor enthusiasts can go hiking, swim in Lake Tahoe, take a guided tour on a boat, try kayaking, and so more.
Emerald Bay is situated along the west shore of Lake Tahoe, and in addition to offering stunning views, it's also one of the best places to go camping. The park has a lot of campgrounds that are perfect for a family reunion in Lake Tahoe. When you visit Emerald Bay, you can hike to the beautiful Scandinavian castle that overlooks the park, Vikingsholm Castle.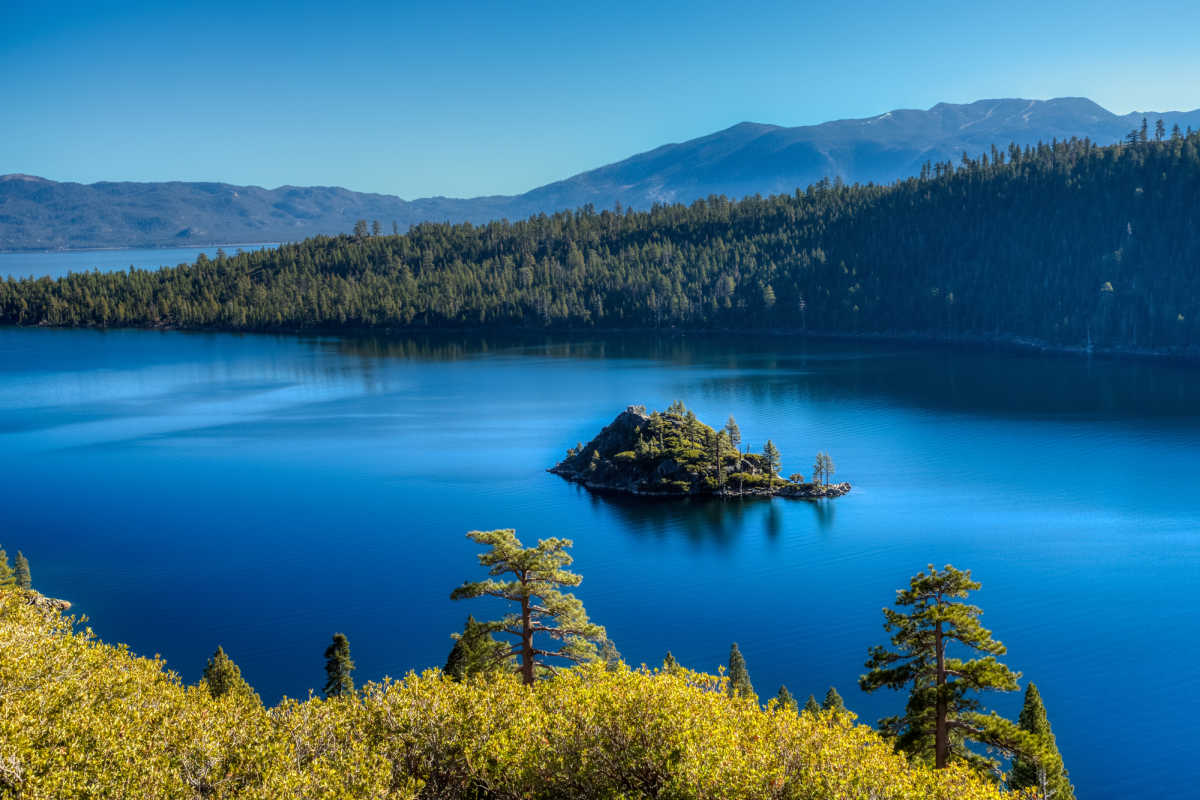 2. Taylor Creek Visitor Center
This impressive facility offers an aquarium where you and the kids can get close-up views of the diverse water life. You will find creatures like frogs, touts, salmon, fish, raccoons, and more. In addition, Taylor Creek Visitor Center is a great place to learn more about the ecosystem, including the local fauna and flora.
The visitor's center also serves as a great informational getaway for outdoor recreational activity in the Lake Tahoe area. Also, Taylor Creek is a perfect destination for cross-country skiing and snowshoeing.
3. D.L. Bliss State Park
D.L. Bliss State Park is a short distance from Tahoe City and is one of the best spots to visit while in Lake Tahoe. The park features a Visitor Center where you can learn about the history of the Lake Tahoe area. Also, you will find beautiful sandy beaches, picnic tables, hiking trails, and a lot of stunning views of Lake Tahoe.
Some other activities to enjoy at this park include swimming, fishing, hiking, exploring the tide pools along the shoreline, and picnicking. D.L. Bliss State Park is also home to the Rubicon Trail, which offers stunning views of Lake Tahoe and is most popular among hikers
4. Ridge Rider Mountain Coaster
An excellent adrenaline-pumping activity to try out in Lake Tahoe is the Ridge Rider Mountain Coaster at the Heavenly Mountain Resort. The Ridge Rider Mountain Coaster offers a ride over the 3,400 feet long mountain with 360 views. The alpine coaster is self-controlled, and you can choose the speed you rocket down the mountain.
5. Tahoe Treetop Adventure Park
This adventure park features about 50 challenges and zip lines, and it's one of the best places to visit for adrenaline-pumping activities. The park is open from May to October so if you are here during these months, be sure to add Treetop Adventure to your list of things to do.
Different courses with different difficulty levels are tailored for beginners, intermediates, and those looking for more challenging courses. Tahoe Treetop Adventure Park also features rope courses, including suspended bridges, swinging lines, climbing walls, aerial walkways, and cargo nets.
One thing is guaranteed when you come here; you will get sweaty, exhausted, and yet so excited. You won't regret bringing your entire family to the Tree Top Adventure.
6. KidZone Museum
The KidZone Museum is the perfect place to bring young children, kids, and even babies. A Baby Zone is available for kids below 18 months to keep them safe and entertained.
At the KidZone Museum, you will find a Jungle Gym, an Exploration Station, and an Art Studio. Kids will also enjoy making their arts and crafts, conducting science experiments, and trying out different costumes.
If you want to keep kids entertained while learning new things and developing their skills, then KidZone Museum is the perfect place to bring them. 
7. Heavenly Mountain Resort
One of the fun things to do with young children in Lake Tahoe is riding the Gondola at Heavenly Mountain Resort. Enjoy a gondola ride at Heavenly Ski Resort while taking in the gorgeous sights of Lake Tahoe and the Sierra Nevada Mountains. The ride usually takes about 15 minutes, and you can get a ticket in advance online or purchase it on-site at the Heavenly gondola station. 
The resort also has a lot of hiking and mountain biking trails, so you can hike to the lookout points or go sledding if you visit in winter. Also, Heavenly Mountain offers over 4,500 skiable areas, a 50-passenger aerial tram, 30 lifts, snowboard parks, and daycare programs for kids.
8. Lake Tahoe Balloons
Here, you and your little ones can enjoy hot-air balloon rides to view Lake Tahoe and the surrounding areas. You will enjoy views of Cascade Lake, Emerald Bay, Fallen Leaf Bay, and Desolation Wilderness.
The balloon ride tour agency was founded in 1992 and has a lot of professionals and special equipment to ensure you get a safe and fun ride about the ground. 
9. Lake Tahoe Sleigh Rides
This carriage ride service in South Lake Tahoe operates from November to March and offers horse-drawn sleigh rides through stunning landscapes. Sleigh rides are one of the best ways to experience a great family vacation in Lake Tahoe.
10. Tallac Historic Site
Tallac Historic Site is considered the 'Grandest Resort in The World' and is open to visitors who want to explore the historic resort of the wealthy. Tours are available into the interior from Thursday to Sunday in the summer months. You will find the 100-year-old Casino, vintage estates, the Tallac Museum, and a Vintage Clothing Exhibit.
While here, you can tour the Pope House and Vahalla estates and enjoy activities like hiking, biking, and picnicking. There are also water sports opportunities, including cross-country skiing and snowshoeing in winter.
11. South Lake Tahoe Ice Arena
This Olympic rink is open all year round and offers opportunities for ice skating and hockey. There are also lessons and school programs available for kids and adults. There are also skate helpers for newbies and other programs your kids will enjoy.
12. Northstar California Resort
Northstar California Resort is one of the high-rated ski resorts in the west and receives many visitors. The resort offers beautiful views of the mountains, many shopping opportunities, and many activities all year round. 
Activities here include skiing, snowboarding, ice skating, and snowshoeing. In summer, you can enjoy swimming and biking. This resort also has kid-friendly slopes perfect for your little ones. There is also an outdoor swimming pool where you can splash water, a spa to relax, and a movie theatre to watch something interesting. There are also options for overnight accommodations for you and your family.
13. Sand Harbor State Park
Visiting during the summer months? Add the Sand Harbor State Park to places to visit in Lake Tahoe. Located in North Lake Tahoe, this park is a great place to enjoy water sports and outdoor adventures like swimming, boating, fishing, scuba diving, and picnicking. Sand Harbor Lake Harbor also offers picnic areas, a gift shop, a visitor center, and a restaurant. We recommend you arrive early to secure a space at the parking lot.
Also, the famous Lake Tahoe Shakespeare Festival happens here at the Sand Harbor from mid-July through mid-August. This festival highlights Shakespeare's famous work alongside some contemporary performances.
14. Kings Beach Recreation Area
Located along the Northern California shore, Kings Beach is one of the largest beaches in the Lake Tahoe area. Some activities you can enjoy at this 13-acre park include swimming, kayaking, sunbathing, and paddle boarding.
This recreation area also offers many amenities, including picnic areas, a playground, restaurants, public restrooms, barbecue pits, and a shop where you can rent equipment for kayaking, boating, and paddle boarding. You have to know that Kings Beach gets crowded, especially in summer, so try to get there as early as you can.
15. Eagle Rock Hiking Trail
The Eagle Rock Hiking Trail is on the west shore of Lake Tahoe and offers hiking opportunities with remarkable views. The Eagle Rock itself is a volcanic outcrop, hundred feet above Lake Tahoe, and a half hike takes you up to 200 vertical feet.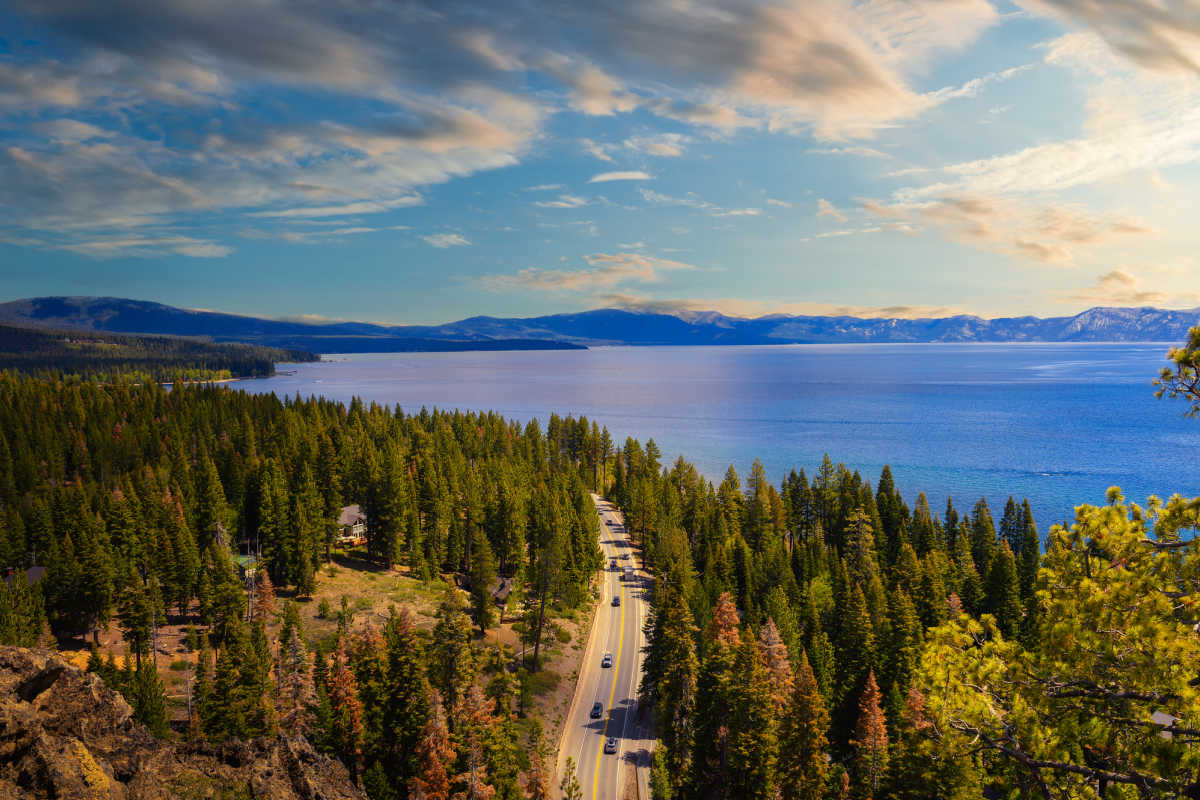 In addition to the hiking trails, you will also be treated to the most gorgeous views in the west. Hiking here takes about 20 minutes (or less if you are experienced), and you can bring your kids too. 
16. San Francisco
There are so many fun places near Lake Tahoe, and an easy one to visit on a day trip is San Francisco. There are many things to do in San Francisco, and it's only a short drive from Lake Tahoe. You can rent a car while in Lake Tahoe to go on your road trip. While you are here, you can visit top attraction sites like the Golden Gate Bridge, Chinatown, and the Museum of Modern Art. 
Lake Tahoe offers great vacation activities that the entire family will enjoy. You can hike through the Sierra Nevada Mountains, take a Heavenly Gondola ride, explore the Vikingsholm Castle, camp at one of Emerald Bay's campgrounds and enjoy the stunning views.
While you are in Lake Tahoe, make sure you enjoy the place to the fullest by trying as many activities as you can.