If you're looking for the perfect place for your outdoorsy family vacation, consider heading to the slopes! A winter getaway can be exciting, full of challenging outdoor activities and family bonding. Below you'll find some of the best family ski resorts across the United States.
*Disclosure: This post may contain affiliate links, which means we may receive a commission if you click a link and purchase something that we have recommended. Please check out our disclosure policy for more details. Thank you for your support!
A family ski trip is great for family members of every age and skill level. Take beginners' classes for both adults and children or enjoy a little break with wine by the fire while kids take a class with an instructor! No one says you have to be proficient in cross country skiing or alpine slalom to enjoy the best ski resorts.
When you're not on the trails, enjoy other kinds of mountain activities like snow tubing or snowboarding. After a long day, head to the indoor pool, relax in hot tubs, or visit the spa! Many winter parks also include things like private lessons and child care programs.
Below you can read about some of the best family ski resorts in the US that are perfect for your multi-generational family. I'll also include information on where you can stay near the biggest family-friendly resorts. So, keep reading and start planning your big winter vacation!
Best Family Ski Resorts on the East Coast
Sugarbush
Opened in 1958, Sugarbush Ski Resort has been one of the top ski destinations in the country since its beginning. It's the largest ski resort in Vermont and one of the largest in New England. Sugarbush boasts 111 trails across 2 mountains in the Mad River Valley near Warren, Vermont.
This family-friendly ski resort is known for its famous Sugarbush Ski & Ride School. You can book skiing and snowboarding classes that are divided by age group, starting at 3 years old!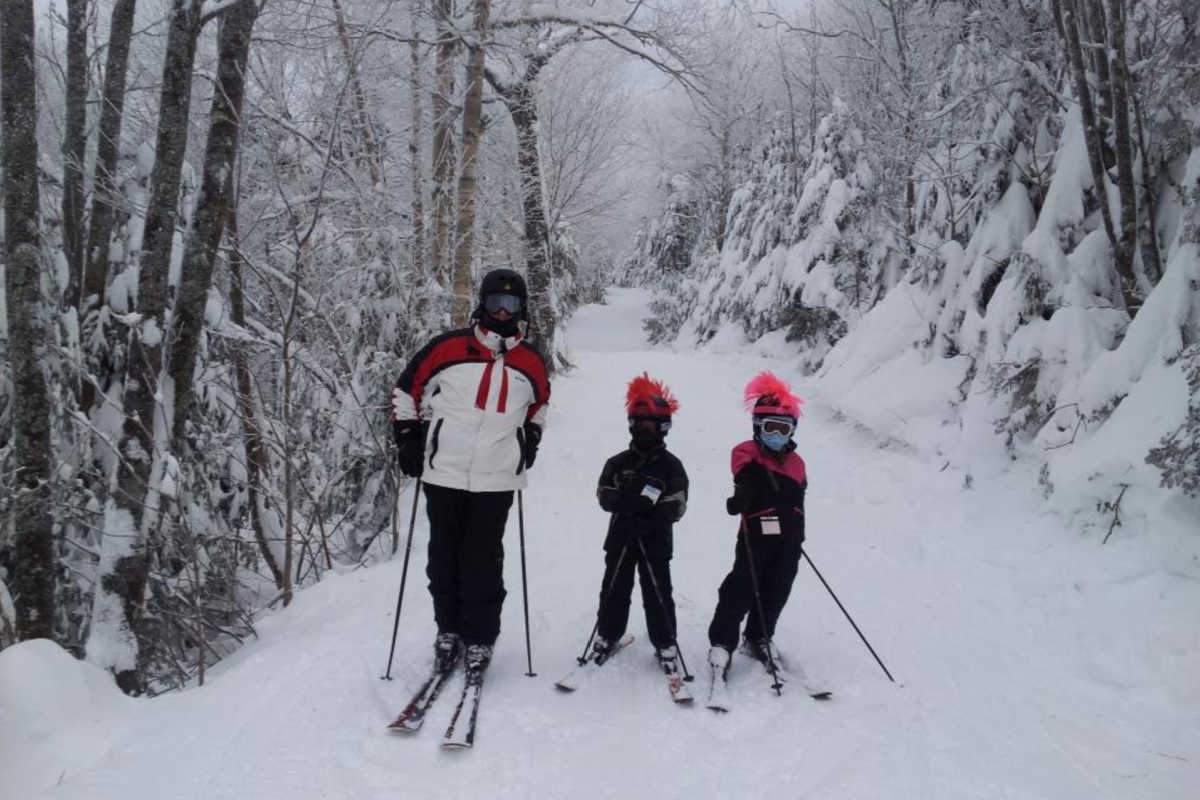 And for children under 3 years, there's a part-time childcare center. The resort also has a variety of amenities off the slopes, including a massage spa, saunas, fitness classes, a children's play center, indoor pools, and more.
Stay in one of the resort's 5 different lodges, which include a ski-in/ski-out condominium complex steps away from the ski lift. Or for more space, consider a vacation rental near Sugarbush.
Smugglers' Notch
Year after year, Vermont's Smugglers' Notch Resort has been awarded the title of the best ski resort in North America for families! Not only does the resort offer multiple terrain parks and 20 different trails for all skill levels, there's also a children's ski program for ages 3-20 years. There's also the child care center for younger children and age-specific activities like the Kids Zone and a teens-only center.
When you're done skiing, your family can enjoy all kinds of indoor and outdoor activities and events taking place every day of the week. Attend the family bonfires or even an adults-only concert!
If you prefer to stay at Smugglers' Notch Resort, there are 5 different condo communities, 2 of which are ski-in/ski-out. A great option for groups is the Trapp Family Lodge with villas and condos. Or check out the lakeside Sterling Ridge Resort with options for families of all sizes.
Stowe Mountain
The Stowe Mountain Resort is one of the largest in New England and includes over 100 trails across 2 mountains. This large ski resort is truly family-friendly with a variety of activities off the slopes. There's a health and wellness spa, an open-air shopping mall, and a rock-climbing center!
Stowe Mountain has ski programs for all age groups starting at 3 years old. Or try out cross-country skiing, ice skating, and gondola rides. In the winter daily childcare is available for ages 2 to 4 years old.
At the heart of the resort mountain village is The Lodge at Spruce Peak, a vast ski-in/ski-out resort hotel. Or for a unique stay near Stowe Mountain, stay at the Topnotch Resort & Spa. They even provide a complimentary afternoon tea service!
Whiteface
The Whiteface Ski Resort is part of the greater Lake Placid Olympic Complex that was developed after the 1980 Winter Olympics. Today it still functions as a U.S. Olympic Training Site and regularly hosts alpine ski events.
The resort is known as one of the best family ski resorts in the Northeastern US, and top-notch skiers come for the big-mountain skiing. Whiteface happens to also be one of the best family ski resorts, with different types of classes for ages 4 years and up.
You can improve your skills at the terrain parks or explore the Olympic Legacy Sites around Lake Placid.
Currently, Whiteface Ski Resort doesn't have child care for young children. But if you stay at the luxurious Whiteface Lodge on the other side of Lake Placid, there's a complimentary day program for ages 1-year and up, as well as babysitting. Or stay steps away from the Olympic Center at the Crowne Plaza Lake Placid.
Killington
Located in central Vermont, Killington Ski Resort is the largest ski area in the eastern US with over 5 dozen trails over 6 mountain peaks. Besides skiing, your family can enjoy all kinds of activities and amenities, including a snow tube park, a spa, and more.
Book private ski lessons for every member of the family, starting at 2 years, as well full-day programs for ages 4 and up. The resort also has a full-time child care center for ages 3 months to 12 years old.
Guests can stay at the Killington Grand Resort Hotel or one of the 3 condo buildings, 2 of which are ski-in/ski-out. For guests who prefer a little more room, book a stay at the stunning 506 On the River Inn Woodstock.
Okemo
Just south of Killington in the Okemo State Forest is the Okemo Mountain Resort. If you're an avid skier, this ski resort specializes in women's alpine skiing and competitive ski programs for all ages! Or you can schedule ski and snowboarding lessons for adults and children from 5 years. However, outside of lessons and programs, they don't offer any type of childcare for younger children.
For your enjoyment, Okemo also has terrain parks and a family-friendly pool and fitness center. They have a variety of lodging options, including villas, a hotel, and ski-in/ski-out condos.
You can also get away from the mountain and stay at the relaxing Pointe at Castle Hill Resort & Spa. Or just 2-miles from the mountain is Main and Mountain, a lovely boutique motel.
Best Colorado Family Ski Resorts
Vail
You'll find the Vail Ski Resort deep in Colorado's ski country. You'll love the Swiss-replica mountain village that features shops, lodgings, and more. The resort is geared towards families with a variety of ski or snowboarding lessons and day programs for ages 3 and up.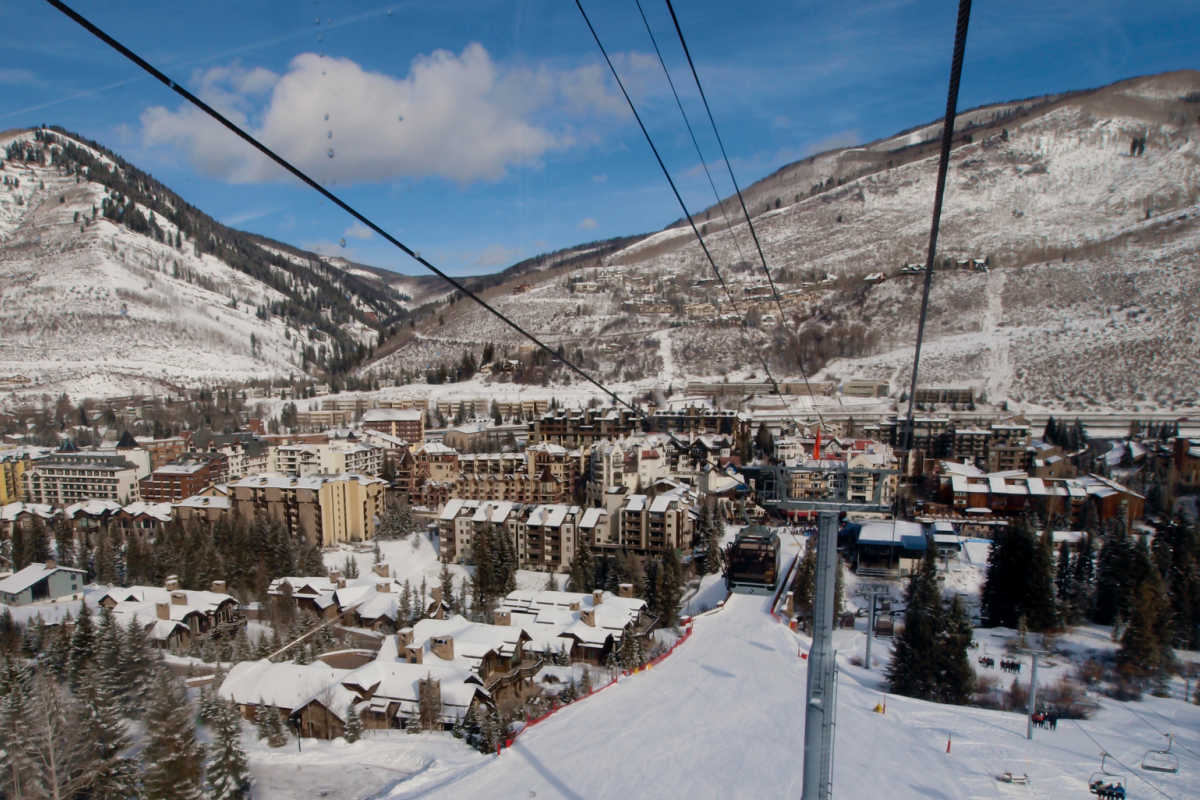 Enjoy seven different spas or go shopping in the village. Or try a backcountry ski or snowshoe tour with a private guide. If you need childcare, full- or half-days are available every day of the week for children 2 months to 6 years old.
The gorgeous Vail Ski Resort offers 3 luxury resort hotels, as well as condos, villas, and the ski-in/ski-out Game Creek Chalets. Vail functions as a resort community, offering endless impressive lodging options, like Four Seasons Resort Vail, and the Sonnenalp Resort & Spa. For families looking for a condo setup, we recommend Antlers Vail and Manor Vail Lodge.
Steamboat
Opening in 1963, the Steamboat Ski Resort has become a mainstay of Colorado's Northwest during its long life. The resort has hosted NCAA ski tournaments many times over the years and is home to the impressive Mavericks Superpipe.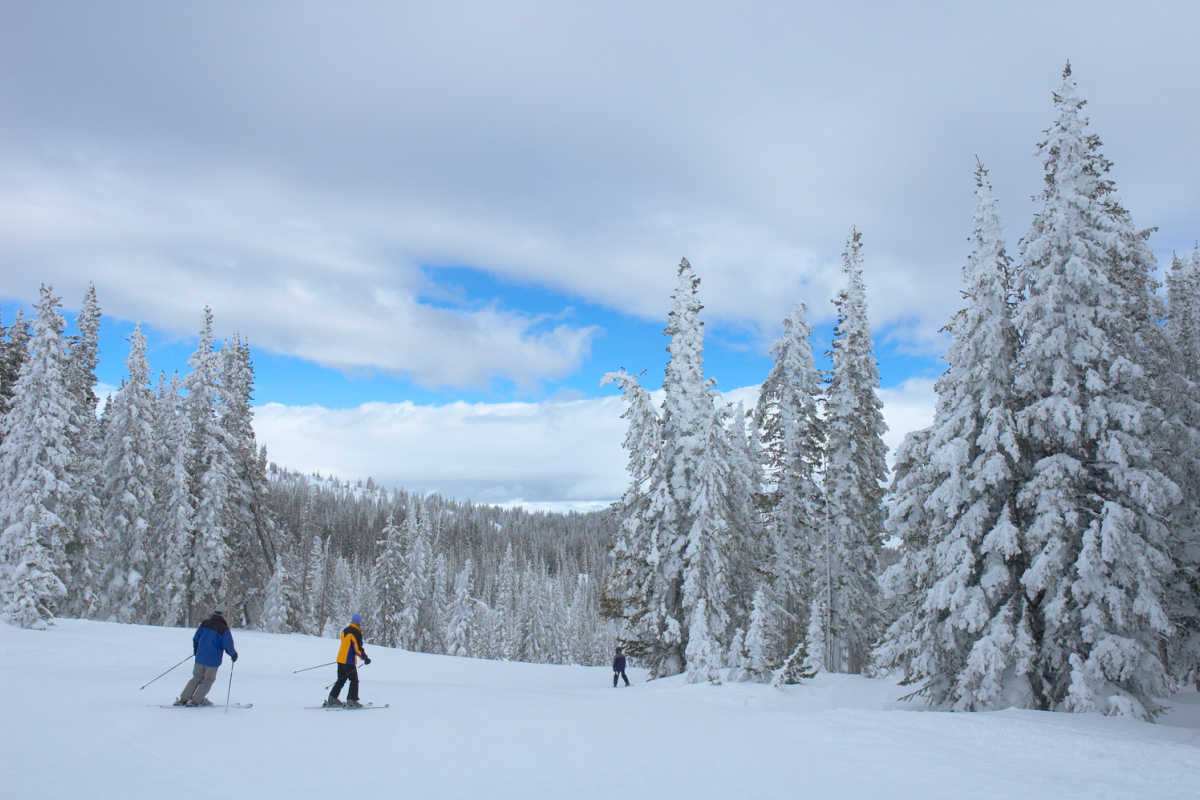 For families, children 3 to 6 years old can attend an all-day program. And for the rest of the family, the Snowsports School has different private and group lessons for ages 7 and up.
Off the trails, enjoy views of Mt. Werner while you enjoy dozens of family-friendly activities, including horseback riding, snow tubing, and a variety of mountain tours!
There is a wide range of places to stay available, not just in the town of Steamboat Springs, but also in many ski-in/ski-out lodges across the resort. Stay central at The Steamboat Grand or consider one of the condo communities like Bear Lodge, Falcon Lodge, and Porches.
Beaver Creek
Beaver Creek is a sizeable resort close to Avon, Colorado. It covers three mountain villages across 5 mountains and offers some of the best family skiing in Colorado. Your family can book both private and group lessons for the entire family, starting from age 3. And they also have a full-time childcare facility for children ages 2- to 5 years.
The hub of the resort is Beaver Creek Village. It features fun oversized art installations and extensive world-class shopping. There's also a performing arts center with regular events and almost 2 dozen dining options from fine dining to ski-in/ski-out cafes.
You can enjoy all of Beaver Creek's luxury accommodations, including the mountainside The Pines Lodge, just minutes from the lifts. Or for the family that wants their own space, consider the high-end suites and rooms at Ritz Carlton Bachelor's Gulch or Hyatt Regency Club Beaver Creek.
Aspen Snowmass
With a stay at Aspen Snowmass, you actually get access to the 4 ski resorts: Aspen Mountain, Snowmass, Aspen Highlands, and Buttermilk. While each one has something unique to offer, they all contain the prestigious Aspen ski school. Starting at age 2.5, there's a wide range of lessons and programs available to the whole family.
There are also multilevel child care facilities at both the Snowmass and Buttermilk Resorts for children from 2 months to 4 years old. Each resort offers the most popular winter activities, but I suggest exploring the town of Aspen as well. Stroll down Main Street, where you'll find a rich cultural center, or soak in Colorado's hot springs.
And when it comes to lodging, there's no end to your options. You can stay close to Snowmass Village at the Villas at Snowmass Club, or in Aspen at the ski-in/ski-out hotel, The Little Nell. For another luxe property, consider the St. Regis Aspen Resort.
Breckenridge
Next is one of the most popular ski destinations in the Western Hemisphere. The picturesque Breckenridge Ski Resort has 187 trails and 4 terrain parks across 5 peaks. Everyone from first-time skiers to professional athletes can enjoy the slopes here.
Check out Breckenridge's group lessons for both children starting from 7-years-old, and for adults as well. Or book a private lesson for 1 person or include the whole family!
For a challenge, try their signature Youth all-terrain program for experienced skiers. And you can send the little ones to one of the resort's 3 childcare centers for ages 2 months to 4 years old while you enjoy the Rejuvenation Spa!
A stay at Grand Lodge on Peak 8 if you are looking for ski in ski out in Breckenridge. If you are looking for a large vacation home, look at the Pine Ridge Condominiums or Powderhorn Condominiums.
Best Family Ski Resorts in Utah
Deer Valley
Opened in the 1930s, Deer Valley Resort has become an important winter destination, just an hour from Salt Lake City. This is where the 2002 Winter Olympics were held, and the resort regularly hosts World Cup events as well.
Many avid skiers prefer Deer Valley, being a rare ski-only resort. Plus, it feels exclusive, with a limited number of tickets sold per day and complimentary amenities for guests, like free ski lifts. The resort is also family-friendly with ski programs for children as young as 3 years old. And you can use a childcare facility for kids from 2 months to 12 years old.
Deer Valley also offers a variety of other activities, like skiing with an Olympic snow sport athlete, or opportunities to go snowmobiling or dog sledding!
Deer Valley has 3 different resort areas, multiple ski-in/ski-out condo buildings, and even high-end vacation rental homes. We would recommend Black Diamond Lodge, a luxury apartment at La Maconnerie #15, or enjoy the hotel amenities at The Chateaux Deer Valley.
Solitude
Solitude Mountain Resort has made a name for itself as a family destination with a focus on beginner and intermediate slopes. It's one of the smaller ski resorts in Utah, with a more laid-back and casual feel than its neighboring ski centers.
There are group and private lessons for ages 4 years and up, as well as a multi-day program specifically for kids ages 6 to 13 years old. The resort has a full-time child care center for kids from 2 months to 12 years old.
And the whole family can enjoy Club Solitude, with access to saunas, hot tubs, game rooms, movie rooms, and more. Or attend workshops and clinics where you can try Nordic-style skiing and snowshoeing!
Stay at one of Solitude's 7 different lodging options, many of which are close to the lifts. The Inn at Solitude is a Bavarian-style lodge with ski-in/ski-out options. And the Silver Aspen Townhomes are the perfect place for large groups.
Alta Ski Area
In the Wasatch Mountains, you'll find the ski-only Alta Ski Area. Opened in 1939, the massive site is known for its varying terrains across 5 mountains that receive more snowfall than other nearby ski sites.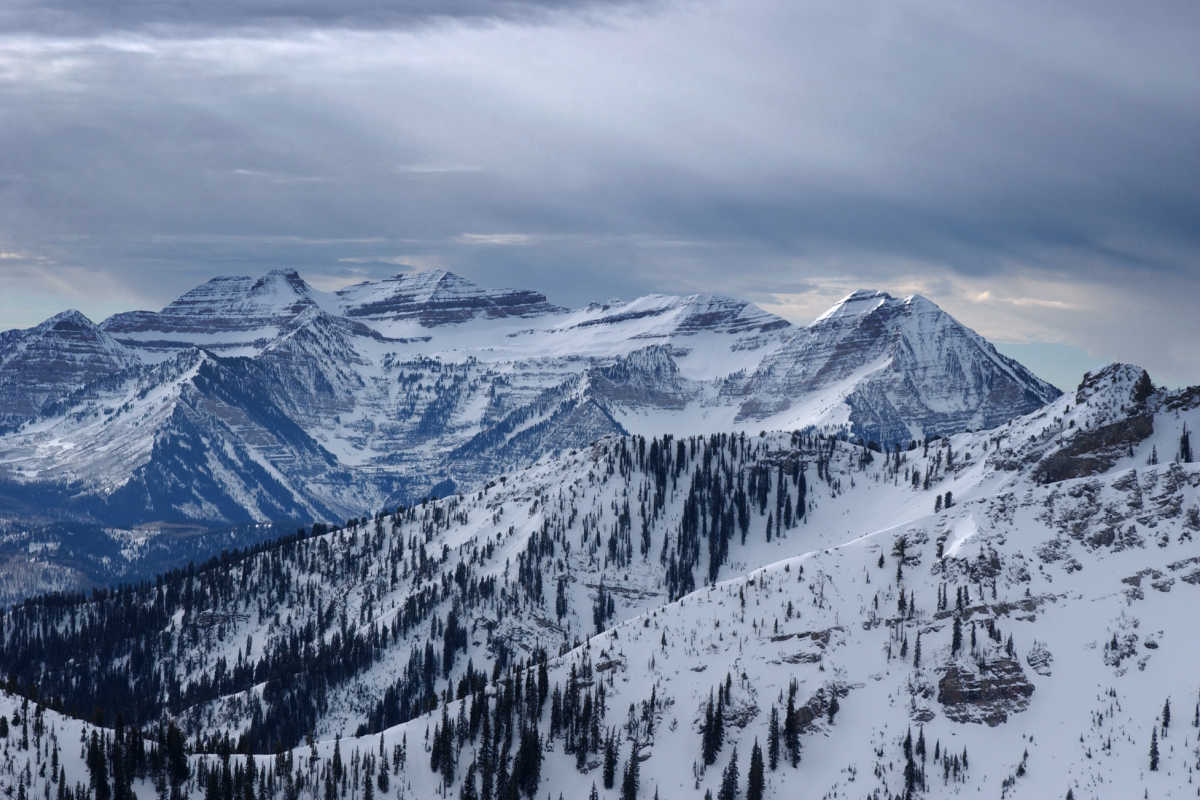 Take advantage of lessons, camps, and season-long programs for kids 4 years and up. There's also a full-time children's center for ages 2 months to 12 years so the adults can hit the slopes. The resort also offers regular events and two wellness spas for your pleasure.
Alta Ski Area provides 5 all-inclusive lodges with their own spas, restaurants, and ski-in/ski-out access. The breathtaking Goldminer's Daughter Lodge offers mountainside suites perfect for multi-generational families. Or if you plan on using your ticket to access Snowbird Ski Resort as well, you can stay nearby at the Lodge at Snowbird.
Best Family Ski Resorts in California
Palisades Tahoe
Heading to Northern California, the Palisades Tahoe Ski Resort (previously named Squaw Valley) is a massive resort near Lake Tahoe. It's a favorite among experienced skiers for its challenging terrain! Starting at age 3, there are lessons and programs for everyone, from beginners to experts.
On and off the slopes your family can find a wide range of fantastic activities, from attending ski races and disco tubing to exploring the resort's museums. And while there are no child care services on the resort for young children, you can speak to the concierge about available babysitting services.
You can stay at The Village at Palisades Tahoe to be near all of the shops and restaurants in the village. Another favorite is Resort at Squaw Creek.
Mammoth
Mammoth Ski Resort is located on the northern face of Mammoth Mountain, on the western side of the Sierra Nevada Mountains. It benefits from the longest season in all of North America (typically November through June!), as well as 300 sunny days a year. It's not hard to see why this is a popular ski resort for families.
You can enjoy 11 terrain parks, including 3 beginner-level parks. There are snowboarding and ski lessons for ages 3 years and up, as well as clinics for those 13 years and older.
Off the skis, ride snowmobiles, go snow tubing, or take a gondola ride. And there's childcare for ages 2 to 6 years, both full and partial days with lessons are included!
For a stay at Mammoth, choose from a resort, an inn, condos, vacation rentals, lodges, and more. Book a condo or townhouse at the ski-in/ski-out The Village Lodge or enjoy the luxury suites at the Westin Monache Resort.
Northstar
Check out Northstar California Resort on the northern side of Lake Tahoe. This family-friendly ski resort has mostly intermediate slopes but is welcoming to beginner and expert skiers as well. Northstar has a quality ski and snowboarding school with lessons and programs for all ages starting from 5 years old.
If snowboarding is your thing, this is the resort for you. Northstar is home to the Burton Snowboarding Academy and its 5 terrain parks are some of the top-rated in the country.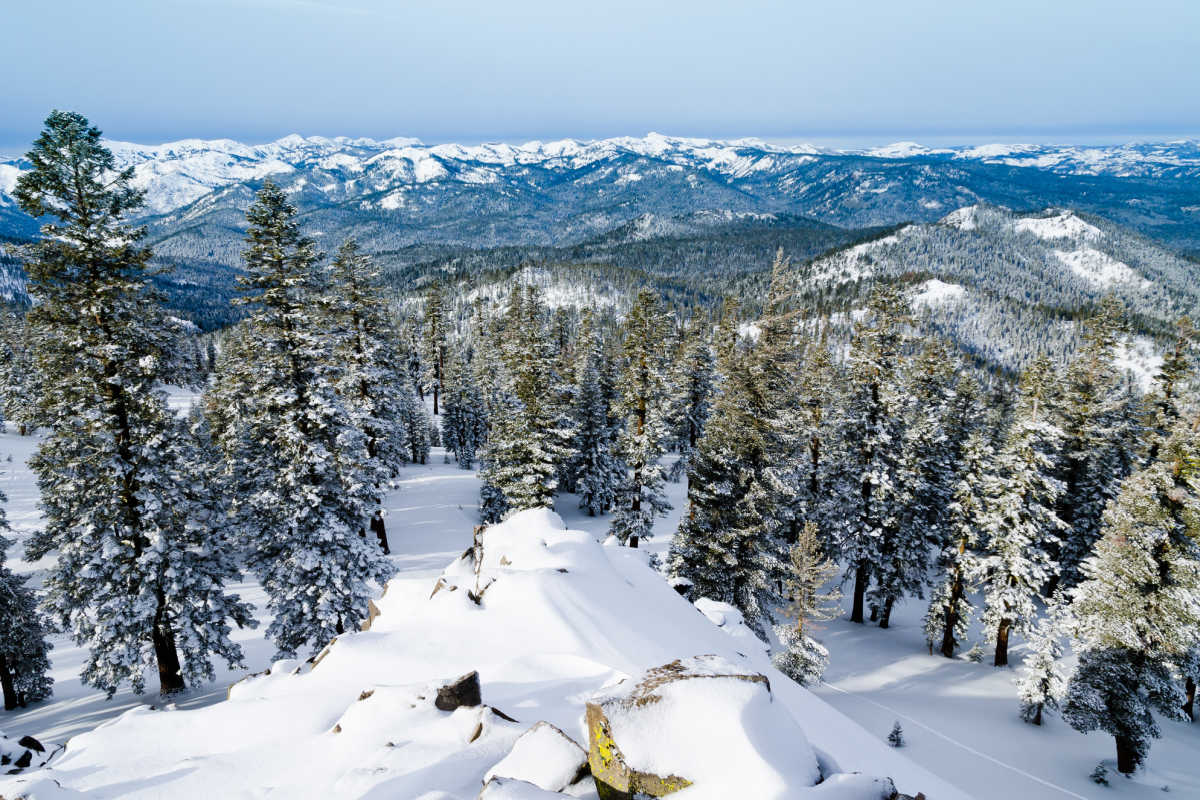 You can also enjoy a wellness spa, beauty salon, and skating rink. Northstar no longer offers childcare services but can help you book local babysitting services.
At Northstar Ski Resort, you'll find everything from high-end resort hotels to chalets and vacation rentals. Book your family at the Ritz-Carlton for both the luxury accommodations and the trail access outside your door! Or you might prefer the spacious villas or One Village Place inside the mountain village center.
Big Bear Mountain
In Southern California, Big Bear Mountain Ski Resort makes its home just south of Big Bear Lake. This is the birthplace of freestyle skiing and there's a strong freestyle skiing and snowboarding culture here.
Children ages 5 and above can choose from different skiing and snowboarding lessons. And there are fun nighttime sessions available for ages 8 years and up! The resort doesn't currently offer any kind of childcare services for younger children.
While there are no slope-side lodgings at Big Bear Mountain, you have many options around the resort and in the town of Big Bear. We would recommend choosing a vacation rental in Big Bear that can accommodate the whole family.
Best Family Ski Resorts in New Mexico
Taos Ski Valley
The Taos Ski Valley north of Santa Fe features some of the highest ski peaks in the Western Hemisphere. Book ski and snowboarding lessons for your family. Private lessons start at age 3 and group programs start at 5 years. A full-day child care center is available for ages 2 months through 3 years.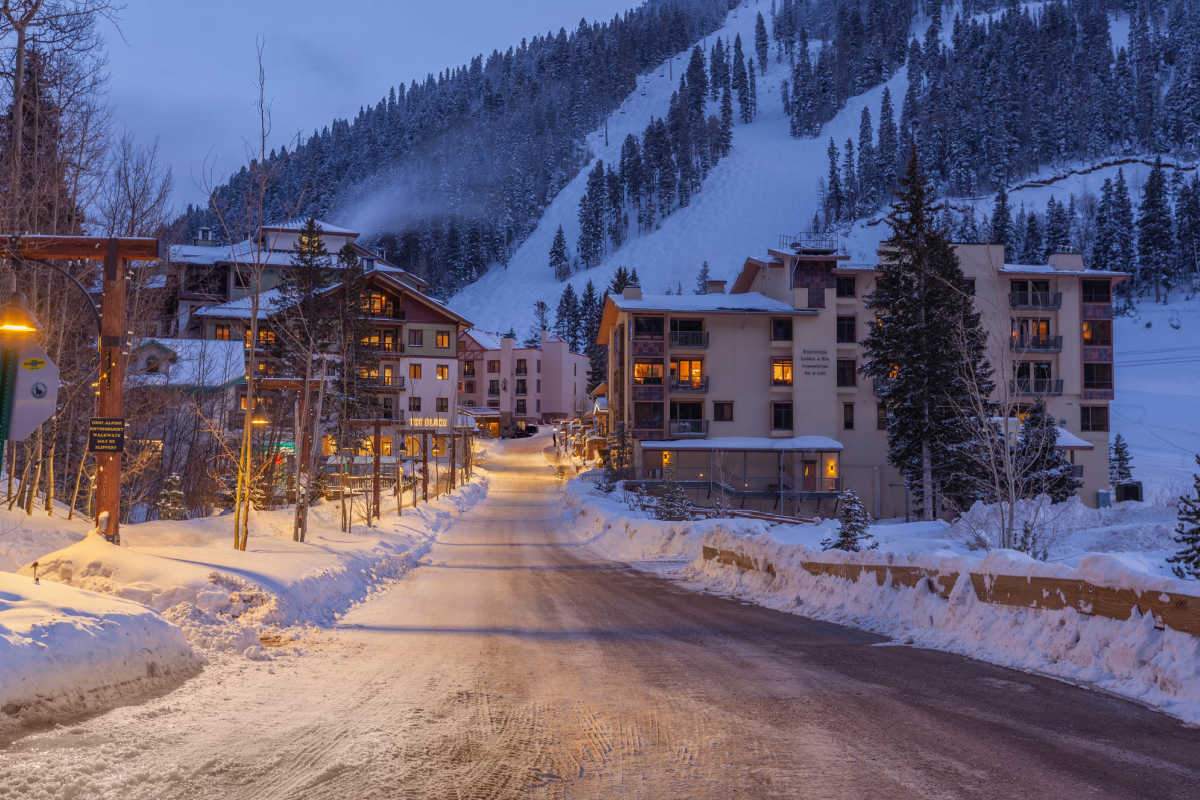 Off the slopes, you will find there is plenty to do. Soak in the mineral-rich hot springs or book a massage at the spa. Take a cooking class or go for a hot air balloon ride! You can even take a trip into Santa Fe for shopping or a bit of gambling.
There are several options for ski-in/ski-out condos in Taos. Or stay at the Blake at Taos Ski Valley which has a spa and wellness center that's perfect for those non-skiers in the group.
Angel Fire
Angel Fire Resort is a small ski resort that specializes in family and outdoor lovers. Enjoy all kinds of snow sports with views of Wheeler Peak, New Mexico's highest point.
There are ski and snowboarding lesson programs for adults and kids ages 4 years and up. At night, head to the beautifully lit slopes for night skiing, or enjoy live music or a game night in the village center.
If you need a place to stay, you'll find a handful of places at the resort and more in the town of Angel Fire, including ski-in/ski-out cabins. Or if you have an RV, stay at the gorgeous Angel Fire RV Resort north of town.
The Whole Family Will Love These Family-Friendly Ski Resorts
Now you have a list of some of the best ski resorts for all ages! The best resorts are the ones where the entire family can find fun and entertainment.
All of the resorts on this list have improved on trail maps with convenient resort apps that also feature things like live weather reports and activity schedules. Plus, they offer classes to fit your family's unique needs, such as adaptable family programs for individuals with cognitive and physical disabilities.
Whether you're a family of novice or experienced skiers, a winter ski trip is an ideal place to relax and learn new skills while enjoying each other's company. I hope you found the right resort for your group's next outdoor adventure! Now slip on those ski boots and head to the lifts!