Italy has everything you may be looking for in a multigenerational vacation destination. Gorgeous historic cities, delicious restaurants and vineyards keep adults happy; pizza, gelato, beaches and plenty of piazzas to run around are perfect for the kids. Beautiful weather and a family first attitude make it a welcoming and inviting place for everyone, from babies to grandparents! These are the tips you need for planning a visit to Italy with family.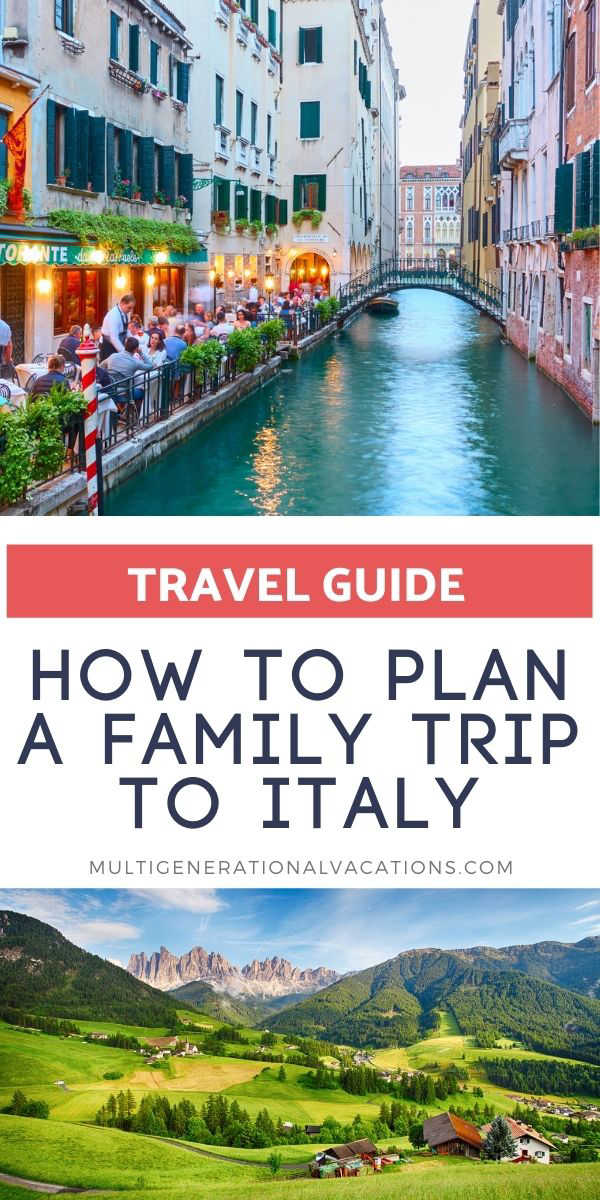 *Disclosure: This post may contain affiliate links, which means we may receive a commission if you click a link and purchase something that we have recommended. Please check out our disclosure policy for more details. Thank you for your support!
Tips for Planning an Italy Vacation All Ages Will Love
What are the major cities in Italy for tourists?
Italy is a long, boot shaped peninsula in the South of Europe. Over 1000km long, Italy has land borders with France, Switzerland, Austria and Slovenia in the north and it is surrounded by the Mediterranean on three sides.
Italy has several international airports serving the north, center and south of the country. The biggest airports in Italy (and most convenient for tourists are): Rome Leonardo da Vinci Airport (FCO), Milan Malpensa (MXP), Venice Marco Polo (VCE) and Catania Fontana Rossa (CTA).
The airport in Rome is the most centrally located and most convenient for visiting Rome, the Amalfi Coast and Tuscany. Milan and Venice airports serve the north of Italy and are good jump off points to visit the Dolomites, Lake Garda, Lake Como and Cinque Terre, as well as Venice and Milan themselves. Catania's airport is the best if you want to visit Sicily.
When is the best time to visit Italy?
Italy can be visited year round but there are four distinct seasons. Your experience will be different depending on the time of the year you go.
For sightseeing, the best times to visit Italy are the spring and fall. During this time, the weather is mild and you will be able to explore cities and historical sights without the scorching heat of the summer or the chilly temperatures and frequent rain of the winter. May, June, September, and October are a busy time for tourists so advance booking is mandatory.
For a sea and sun vacation or for the Dolomites, Cinque Terre, and Amalfi Coast, the best time to visit is the summer (June -August). This is when trails are open and tourism services are fully open. Summer is high season in Italy as foreigners and locals both are taking their vacations. Advance booking is a must.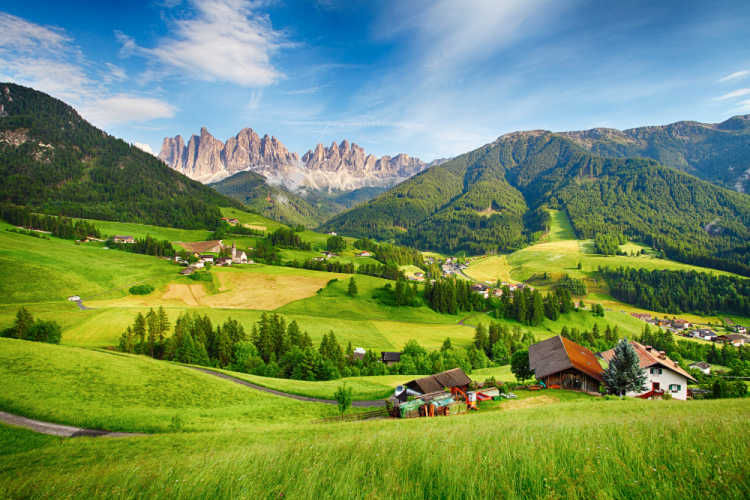 For a budget vacation, the best time to visit is the winter (Nov – Feb) with the exception of the Christmas time and February in Venice. This is when the festivities and the famous Venice carnival cause a spike in visits and prices. During this time, you need to bundle up and be ready for rain. Winters in Italy are not overly cold so it is unlikely there will be temperatures that prevent you from sightseeing.
What's the best way to travel around Italy?
Most visitors arrive to Italy by plane and then explore by car or train. Both are good options and you will need to choose based on what you plan to visit.
Trains in Italy are excellent and provide the best way to explore cities and Cinque Terre. Small kids ride free and there are family offers that make traveling by train as a family easy.
If your family wants to explore the best places to visit in Tuscany, the best things to do in the Dolomites, explore the Amalfi Coast and the South (including Sicily), the best way to get around is by car.
Those traveling from the US who are used to freeway driving, should know that driving in Italy will require a bit of getting used to. For long distances, you will be driving on the Italian 'autostrade': these are Italy's highways. They are pretty straightforward to use.
Once you get out of autostrade and into the cities, things are different. Most towns centers are closed to non-resident cars and apply high fines to rule breakers. However, street signs are often unclear and many of the horror stories of fines from Italy come from people inadvertently driving where they shouldn't!
However, you don't need to worry too much, you just need to know what to expect and we can help! These are our tips for driving in Italy.
What do you need to know before traveling to Italy?
Language
English is widely understood in tourist areas of Italy. That being said, you will need Italian for most daily interactions (shops, small guesthouses, restaurants etc). Learning a few words of Italian goes a long way. You may find many people actually understand English, if spoken slowly, but can only answer in Italian. Do not expect fluency.
Currency in Italy
The currency in Italy is the Euro and the best way to get money while traveling is using local ATMs (Bancomat, in Italian). Credit cards are accepted for bigger purchases, but daily expenses, souvenirs and small amounts (anything under 50 Euro), cash is king and small bank notes are preferred.
It is good practice to only carry a small amount of cash on you at any given time to avoid pickpockets, who are often active in busy areas. In Italy, it is compulsory to have ID on you at all times so a body pouch you can hide under your clothes or a hidden pocket in a crossbody bag are good to have. In general Italy is not a dangerous country, but it is good practice not to flash credit cards, jewels or expensive gear and to always carry your day bag with you.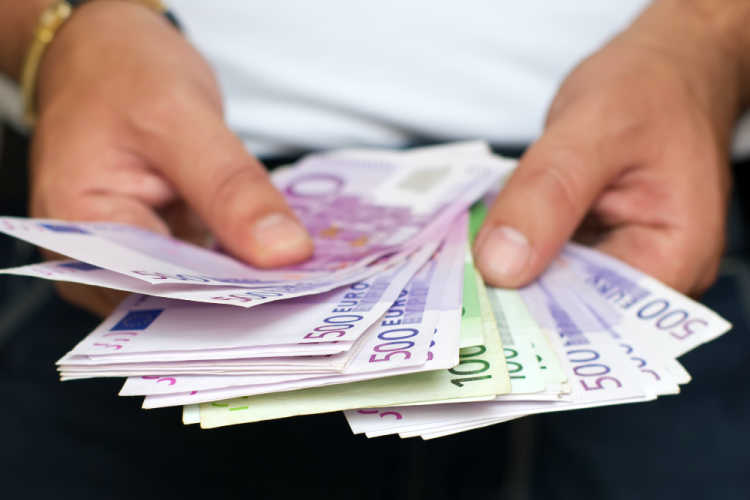 Healthcare in Italy
Italy has a good healthcare system and emergency care is provided to everyone, regardless of nationality.
For tourists, health services are not free, but the cost tends to be rather reasonable. Depending on where you are from, you may be able to be reimbursed at home (EU citizens). The phone number of health emergencies is 118 and there is an extensive network of hospitals and GPs in the country.
Tourist destinations and big cities tend to have English-speaking doctors for local expats and visitors. Healthcare is managed at a regional level so the facilities and booking systems for appointments will vary depending on your location.
What to Pack for Italy
Your packing list for Italy will vary quite a bit depending on the season. Aside from basic clothing items, I recommend you carry:
Excellent walking shoes (sneakers or walking sandals)
A crossbody bag as your main day bag
An Italian phrasebook
Conservative clothing for visiting churches and the Vatican. This includes below-the-knee skirts, jeans/ long pants and tops that cover the shoulders.
Sunglasses, sunscreen, sun hat for summer
Warm winter clothing for November to February travel
Insect repellent for summer (mosquitoes are voracious in Italy)
You can find our full packing list for Italy here.
Destination specific challenges
Despite being a great destination for a multigenerational vacation, it is good to know the following:
Pickpockets operate in busy touristy areas. Do not leave your valuables unattended and avoid putting wallets in back pockets or allowing easy access to purses.
Street signs and directions are not always clear in Italy: always plan extra time for driving and catching trains.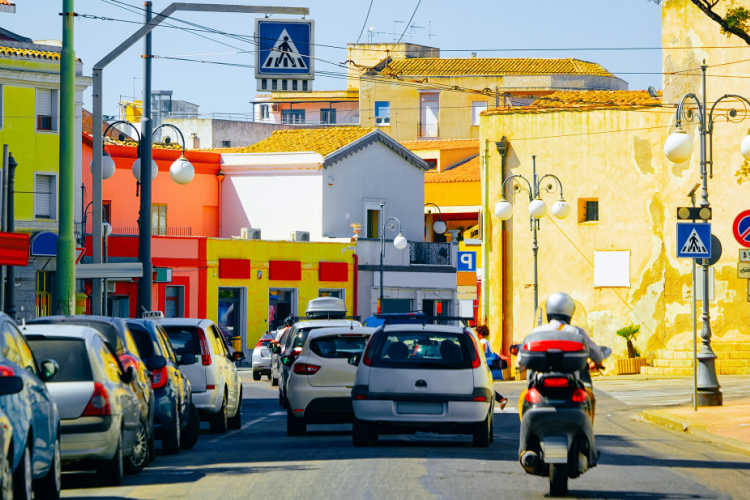 Some areas pose mobility challenges that can be hard on grandparents and small kids. The Amalfi Coast and Cinque Terre are difficult from a mobility point of view as they have steps and steep hills.
To plan a visit to these areas, I recommend you check out specific family guides with all the practical info and tips you need. This is our family guide to the Amalfi Coast and our guide to Cinque Terre for families.
Top things to do in Italy for families
Our recommended activities in Italy for large family groups are:
Sightseeing in Rome
Unique in the world, Rome is a beautiful city with attractions for all ages. Rome landmarks like the Colosseum, the Pantheon and Piazza Navona are easy to enjoy at all ages. There is a vast choice of accommodation in Rome which means you are sure to find a hotel that can cater to kids, parents and grandparents alike. To be near the action, consider booking one of the hotels near the Colosseum.
I recommend you plan at least 4 days in Rome and mix time exploring on your own with some family tours. Plan your tours ahead of time, especially for visiting the Vatican, which is wonderful but large and busy.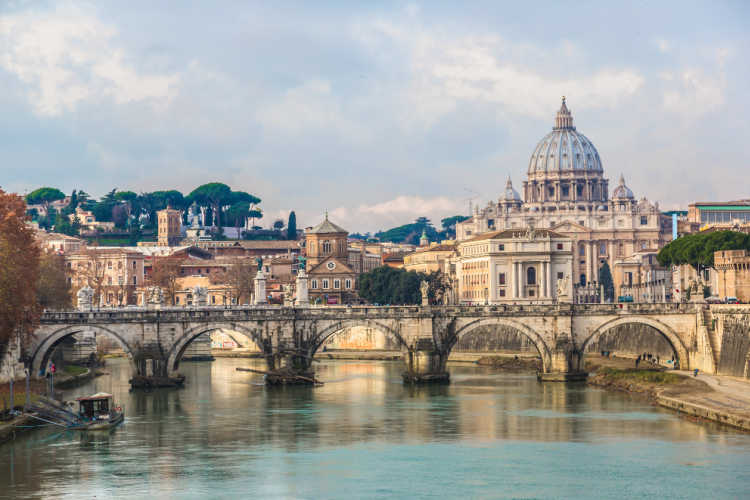 Discover Venice
Venice is unique in the world and a place that is magical at any age. The best way to visit is to stroll around its wonderful center and make the most of the 'vaporini' (water buses) criss-crossing the city. They are fun for kids and make getting around really easy!
Enjoy a Tuscan agriturismo
Tuscany is a wonderful Italian region with typical Italian, historical small towns (Florence, Siena), hilltop villages, and fantastic countryside.
With kids and grandparents, I recommend spending lazy days enjoying long lunches in a local agriturismo. These are farmhouses open to guests that operate as restaurants, educational farms and guesthouses and are great for a multigenerational trip.
CLICK HERE TO SEARCH FOR ACCOMMODATIONS IN TUSCANY
Relax in Lake Garda
Close to Venice and Verona, Lake Garda has beautiful towns perfect for sightseeing, as well as some of the best theme parks in Italy (Gardaland is here). There's a plethora of family accommodation options and cycling and hiking opportunities. If you are looking for a place where kids can be active while the grandparents relax, this is the best spot in Italy!
Take a cooking class
Italian food is world famous and Italians are very willing to teach you how to make it at home. Cooking classes are a popular activity in Italy and they are perfect for all ages. Visitors can learn to make Italian favorites and you can choose between home or restaurant settings. This is a super fun and educational way to make family memories in Italy!
Recommended family restaurants in Italy
In Italy you have restaurants everywhere and kids are usually welcome. If you are in one of the following locations however, we recommend you try the following:
Lola on Via Flamina (Rome) – this is a wonderful family-friendly restaurant that kids and adults will love. It has an extensive menu with traditional Italian dishes and a beautiful terrace with playground.
Dolfin (Venice) – lovely local restaurant with both traditional Venetian food and pizza. The restaurant has high chairs for small kids and good vegan and gluten-free options too, making it perfect for family groups with different needs.
Maiano (Florence) – located immediately outside of Florence and easy to reach by taxi, Maiano is a gorgeous farm with restaurants perfect for the whole family. Sit inside or on the outdoor terrace to taste the food made with their own produce, then take a walk with the kids to see the animals.
Casale di Martignano – wonderful country restaurant on the shores of Lake Martignano, just outside of Rome. The restaurant has a beautiful outside terrace overlooking the lake for a multigenerational meal. There's also a small café right on the lakeshore if you prefer a picnic or a snack. The property has a large lawn for kids to run around and opportunities to swim and boat on the lake.
Large group accommodations in Italy
Villas
Private villas are a wonderful choice for family groups visiting Italy as they offer you complete privacy and large indoor and outside space to be together without being on top of each other. The areas of Tuscany and Umbria offer the largest selection of villas in Italy.
Agriturismo
Agriturismo are country homes operating as tourist accommodation. Think of it as a farm stay in Italy. The philosophy of this type of accommodation is slow tourism so expect traditional décor and local produce. Depending on the establishment, you can get a room or an apartment. Most will have self-catering facilities or a restaurant onsite.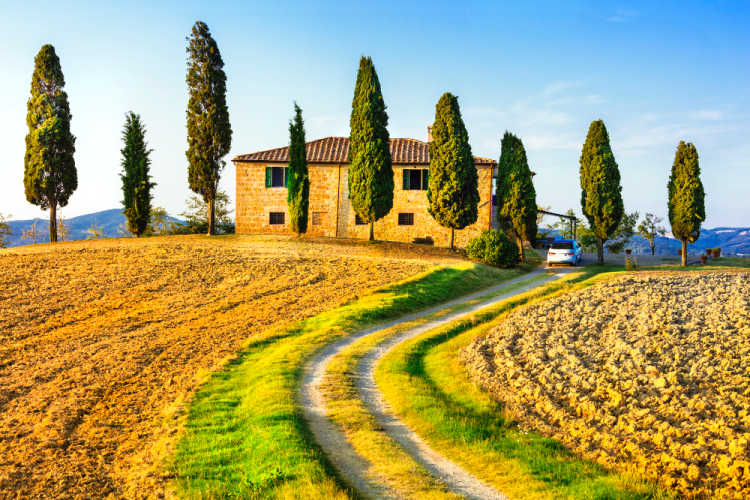 Hotels/Alberghi
Italy has a large selection of hotels in all shapes and sizes. If traveling with small kids or grandparents with mobility issues, inquire about accessibility. Hotels in older buildings may have no elevator or smaller rooms. Large international hotels are usually the most accessible in terms of facilities.
Aibnbs and vacation rentals
Airbnb is popular in Italy and can be a good option of you are staying multiple nights in one location. Accessibility may be an issue. Always ask specifically if the apartment has steps or a lift and inquire about air conditioning if visiting in summer. (And don't miss these tips for booking a vacation rental).
Suggested Italy itineraries
Italy is rather compact, but it has such a concentration of places to see. Families could easily spend a month in any of its regions and not run out of things to do. So realistically, if you want to see 'Italy' you will need a week or more. That said, here are a couple of places that we believe can also work for a weekend in Italy.
Italy weekend itineraries
Rome
You can visit Rome and its main attractions in as little as a couple of days. I recommend you plan one day to see the Colosseum, Trevi and the Spanish steps area. Spend the second day exploring the Vatican and Piazza Navona area.
Florence and Chianti
One day in each city will allow you to get a taste for them. Traveling between the two allows you to admire the wonderful Tuscany countryside. Be sure to find a vineyard and sample a glass of the local red while kids play on the property (yes, kids are welcome).
Venice and Burano
If you only have a couple of days, you can see the main attractions of Venice and experience its charming lagoon.
7-Day Itinerary for Italy
If you have a week in Italy, there are many options. Families looking for a leisurely stay should consider spending the whole week between Florence and Tuscany or exploring two cities. Venice and Florence work well together and so do Rome and Florence.
If you want to see as much as possible and don't mind changing location every night, you could follow an itinerary such as this one (does not include arrival and departure day):
Day 1 Venice
Visit Venice city center, Piazza San Marco, and Doge's Palace.
Day 2 – Venice and Burano
Visit the area of Cannaregio and the Jewish ghetto or treat the kids to a family treasure hunt. In the afternoon take the ferry to Burano and enjoy the island and view the sunset on the lagoon.
Day 3 – Florence
Take the fast train to Florence and spend the day in its stunning city center.
Day 4 – Florence to Siena
Spend the morning sightseeing and shopping in Florence then get a car and drive to Siena. Pick an agriturismo near the town so you can relax in the famous Tuscany countryside.
Day 5 – Siena and local area
Explore Siena, then drive towards Pienza and Val d'Orcia, the area of Tuscany famous for rolling hills and cypress trees. Take in the scenic drive and spend the night in an agriturismo in the area.
Day 6 and 7 – Rome
Make your way to Rome and find accommodation in the city center. Spend the first day in the area of the Pantheon then devote your second day to an attraction of your choice (Colosseum and Vatican will require a morning each, so prioritizing is key) plus lazy strolling in the city center.
As you can see, traveling to Italy with a large group can be overwhelming, but use these tips to help plan the perfect Italian vacation.
About the Author: Marta Correale is an Italian mama of 2 with a passion for travel. Born and raised in Rome, Marta shares her passion for traveling with kids on her personal blog Learning Escapes and is the editor of the online travel magazines Mama Loves Rome and Mama Loves Italy – practical guides for independent vacations in Italy.