One of Canada's natural gems, Banff National Park is an ideal choice for a multigenerational vacation. For many, visiting Banff National Park in Canada is a lifelong dream, and for good reason. Banff National Park is one of the most beautiful places you'll ever visit. With mountain scenery in every direction, turquoise-colored lakes, and exciting wildlife spotting opportunities, you'll never want to leave. And national parks are perfect for trips with grandparents. Use this guide to help plan your multigenerational family vacation to Banff.
*Disclosure: This post may contain affiliate links, which means we may receive a commission if you click a link and purchase something that we have recommended. Please check out our disclosure policy for more details. Thank you for your support!
How to plan a family vacation to Banff
There is no shortage of activities for anyone visiting Banff National Park, from the more adventurous white water rafting tours to visiting historic sites. There are hikes suited to every range of physical capabilities and you'll never have to go far to get jaw-dropping mountain views.
If your style is to chill in a mountain town, leisurely explore the area, and eat good food, you can do that here. If you would rather pack your time full of thrill-seeking activities, you can do that too. For everyone in the middle, the hardest part will be choosing how you spend your time.
For families visiting Banff with kids and grandparents, there are plenty of things to do in Banff for both age ranges.
Where is Banff?
Calgary (YYC) is the closest airport to Banff, 135 km (84 miles) from town. Banff National Park is a 90-minute drive from Calgary, Alberta, Canada.
Getting from Calgary to Banff requires a rental car or using one of these other ways of getting to Banff National Park: Calgary to Banff shuttle, bus to Banff, or private transfer. 
There are three main companies that offer a shuttle: Banff Airporter, Brewster Express, or Discover Banff Tours. The On-It Regional Transit is the most budget-friendly way of getting to Banff. Alternatively, you can arrange a private transfer from the Calgary airport to Banff. 
When is the best time to visit Banff?
The peak time to visit Banff National Park is June through September, with July and August being the busiest times. Despite it being the busiest time, this is when you'll encounter the best weather in Banff. Summer weather means warm days with cool evenings. 
The other best time to visit Banff is in winter for a ski vacation. Banff is home to three world-class ski resorts within easy driving distance. Even if the whole family isn't into shredding down the mountain, there are still many things to do to keep everyone happy in Banff in winter. 
Transportation in Banff
A rental car is by far the easiest way to get around Banff and to see the surrounding area. While we recommend getting a rental car, it's still possible to get around Banff without a car. Banff can get very congested in peak season and parking is limited. 
The Banff townsite is very walkable and most major tourist attractions are served by public transportation or can be seen by joining a tour.
To have more control over your time and where you go, we recommend a rental car. This is especially important when visiting Banff with kids. 
Things to know before visiting Banff
Wildlife safety
Seeing wildlife in Banff is one of the most exciting parts about visiting, but too often people forget the dangers of encounters with wildlife. It's crucial that you keep your distance at all times and don't disrupt the animals. Never try to get closer for a picture, even if the animal seems unbothered or calm. 
This doesn't just apply to the bears in Banff National Park, but all animals. Even elk can become aggressive and attack without warning. Know that by getting too close you are putting both your life and the animal's life in danger. Instead, do the following:
Always keep a safe distance. Better yet, view the animal from your car.
Use binoculars or a telephoto lens to see the animal up closer.
Never feed the wildlife, even the cute squirrels.
Never come between a mother and her babies.
Don't disrupt the animal by making noise or calling it.
Observe quietly for a short time, then give the animal its space.
Mobility issues for families
Since Banff National Park is in the heart of the Canadian Rocky Mountains, this can pose some challenges for those with mobility issues. Most activities require some level of fitness but don't fear there are still plenty of activities for those with mobility issues or for pushing a stroller. 
Having a baby carrier instead of a stroller will make life much easier when exploring Banff.
Since most activities involve some sort of outdoor component, be prepared for changes in weather. Some days it can feel like all four seasons happen in the span of 24 hours.
Healthcare in Canada
Canada has a public healthcare program, but visitors to Canada are not covered for hospital visits or medical services. Health insurance is a must to cover any medical costs while visiting.
The town of Banff does have both a hospital and walk-in clinics for anyone seeking medical attention while visiting.
What to pack for a multigenerational vacation to Banff
Being prepared for the elements is the best way to ensure an amazing time in Banff. While the scenery is likely to blow you away, you want to be outside enjoying it. Layers are important and keep in mind that the spring and summer days can still be quite chilly, especially in the morning or at night. Weather changes quickly in the mountains, so having the right hiking gear for Banff is key. 
The top items we recommend for visiting Banff are good hiking shoes and warm layers. Bear spray is also important when hiking, but wait until you arrive to purchase it.
Best things to do in Banff for large family groups
Case and Basin National Historic Site
Learn about the history of the mountains at the birthplace of Canada's national parks. You can join a tour to learn all about this historic site or do it on your own. This is more than just walking through a cave to see mineral springs. The area also has beautiful walking trails, interactive exhibits, and seasonal events.
Johnston Canyon
While extremely popular, a visit to Johnston Canyon is a must. This easy hike over elevated platforms takes you through the Johnston Canyon to see the impressive Upper and Lower Falls. The Upper Falls will take a little more effort, but you can choose to just visit the Lower Falls and then return back. 
The entire return trip to the Upper Falls is 5.4 km / 3.4 miles or 2.2 km / 1.4 miles to the Lower Falls.
Hike Tunnel Mountain
Hiking Tunnel Mountain is popular with visitors and locals alike. Reached right from the Banff townsite, this 4.3 km / 2.7-mile hike is easy to access and provides panoramic views that are worth every step!
Banff Gondola
One more opportunity to see Banff from another perspective is by taking the Banff Gondola to the summit of Sulphur Mountain. Suitable for everyone in the family, the gondola offers more than just a ride to the top of the mountain. At the top, the stunning views can be enjoyed from the rooftop deck or along the boardwalk. Inside, enjoy fine dining or exploring the interpretive exhibits. 
Vermilion Lakes
Just outside the town of Banff is Vermilion Lakes, the perfect spot to experience a mountain sunrise with Banff's Mount Rundle in the distance. Take an enjoyable hike nearby along the Fenland trail then take some time to slow down and take in the scenery along the shores of the lakes. This is a great place for a canoe ride or stand-up paddle.  
Lake Minnewanka Boat Cruise
Can't get enough of these mountain lakes? Take a relaxing boat cruise on the biggest lake in Banff while enjoying the high mountain peaks all around. Choose a heated, covered boat cruise if the weather isn't great. Even without the boat cruise, a visit to Lake Minnewanka is well worth it.
Raft Tours
Rocky Mountain Raft Tours provides a rafting tour that's perfect for big family groups with seniors and kids. This scenic float down the Bow River is a fun way to see all the mountain scenery and possibly some wildlife from a different perspective. Leaving right from the Banff townsite and with room for everyone, this is a must-do activity!
Banff Upper Hot Springs
After a long day of hiking, soothe those muscles with a soak in the mineral-rich water at the Banff Upper Hot Springs. Learn the history of the hot springs in the heritage building and relax while taking in spectacular views of Mount Cascade and Mount Rundle.
Lake Louise and Moraine Lake
These two iconic Banff National Park lakes should be on everyone's list. It's completely possible to visit both on your own without joining a tour, but summer brings the crowds to Banff National Park and especially to Moraine Lake. If you aren't interested in being up before the sun to get parking at Moraine Lake, it's best to join a tour to ensure you get to visit this spectacular place.
Visit Canmore / Kananaskis
With even more time in the area, the nearby town of Canmore and Kananaskis Country is well worth a visit. Canmore has stunning walking trails through town with shopping and restaurants with superb views.
A visit to Kananaskis will offer equally impressive mountain scenery with opportunities to get off the beaten track.
Recommended family restaurants in Banff
The Grizzly House – A landmark restaurant that shows up on every recommendation list for Banff restaurants. The fondue menu is fun for the whole family and will be an experience you won't soon forget.
Sky Bistro – For a truly amazing dining experience, plan to eat at the Sky Bistro at the top of Sulphur Mountain after taking the Banff Gondola up.
The Fudgery – Everyone deserves a treat at the end of the day! The hardest part will be choosing what to get.
Rocky Mountain Flatbread – Found in the nearby town of Canmore, everyone will love the flatbread pizza served up at Rocky Mountain Flatbread.
Where to stay in Banff with a multigenerational family group
While the Fairmont Banff Springs Hotel might seem like a splurge for visiting with kids, their Kids at the Castle program will ensure your kids are having a blast. There are plenty of fun activities near the Banff Springs Hotel too. 
The Tunnel Mountain Resort is just 5 minutes from town and offers not only a natural mountain setting but also a pool, bike rentals, and an outdoor playground to keep kids entertained. 
Hidden Ridge Resort, tucked away on Tunnel Mountain, has apartment-style accommodations. These apartments are perfect for families visiting Banff NP.
If your group wants to rent a home in Banff, consider looking in Banff, Canmore or Kananaskis.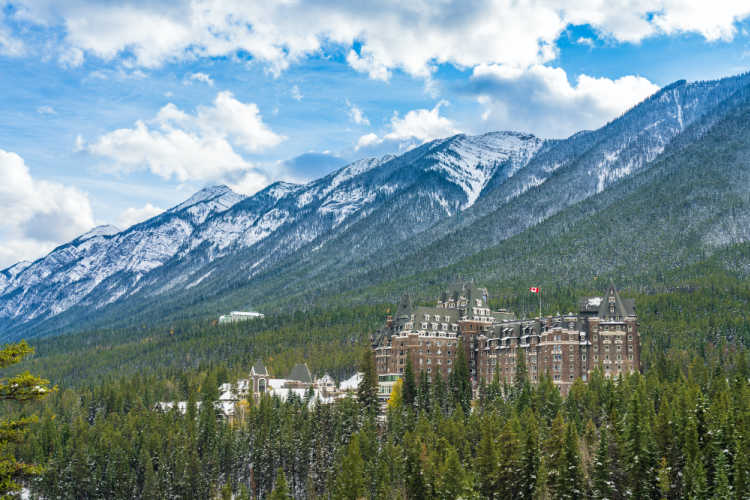 Suggested Banff itineraries
If you only have a weekend in Banff
With only a weekend to explore Banff National Park, use one day to visit Lake Louise and Moraine Lake. Take a short hike in the area or a canoe out on the lake. On the second day visit the popular Johnston Canyon and walk around the Banff townsite. A trip up the Banff Gondola is the perfect way to end the trip with some impressive mountain views. To make sure you don't miss anything, the HopOnBanff bus is a good option.
One week in Banff
After the activities above, add on a walk at Two Jack Lake and a boat cruise on Lake Minnewanka.
If time permits on the day you visit Lake Louise, add a visit to Peyto Lake (a vibrant blue lake north of Lake Louise) or spend a day exploring the Icefields Parkway. 
Explore the nearby town of Canmore and find a family-friendly hike in Kananaskis, like Troll Falls or Heart Creek trail (these are best visited during the week when they'll be less busy).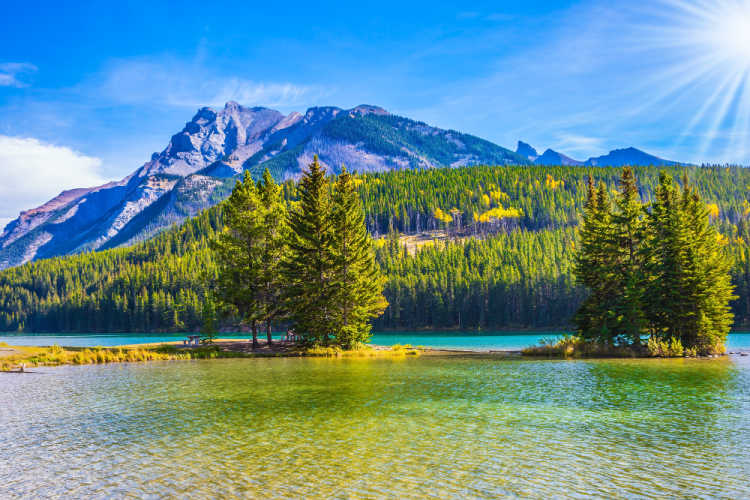 Join a tour best suited to your family's likes, this might be a raft tour, a wildlife tour, or something even more adventurous. 
Don't forget to spend some time relaxing in this incredible mountain scenery, whether that's taking a stroll through town, a trip up the Banff Gondola, or relaxing at the Upper Hot Springs. A vacation to Banff is something all ages will never forget!
About the author: Celine Brewer lives just outside of Banff National Park with her husband and two kids. You'll frequently find them out enjoying life in the Canadian Rocky Mountains, which includes hiking, biking, snowshoeing, skiing, and much more! Celine and her husband also run the family travel sites Family Can Travel and Baby Can Travel.