When it comes to multigenerational travel destinations, it's hard to beat Hawaii. That's because there truly is something for everyone in the Aloha State. From historical sites and national parks, to epic beaches and world-class dining, Hawaii is a slam dunk for family vacations. If you don't know how to plan a Hawaii trip for your multigenerational group, this is a great place to start!
*Disclosure: This post may contain affiliate links, which means we may receive a commission if you click a link and purchase something that we have recommended. Please check out our disclosure policy for more details. Thank you for your support!
Planning a Hawaii trip with a multigenerational family
When visiting Hawaii with extended family, it's important to find accommodations that are centrally located so it's easy to get around by car or on foot. Or stay in a resort where there are on-site restaurants and bars. That way the group can split up some days without leaving anyone stranded.
Hawaii is a laid back state and it's easy to plan several beach or resort days in between more adventurous activities (like zip lining, snorkeling, or surfing). There's something fun for little kids, parents, and grandparents.
Getting to Hawaii
Hawaii is the 50th state, a 6 hour flight from the West Coast and a 10 hour flight from the East Coast of the Mainland United States.
There are 4 main Hawaiian islands: Oahu, Maui, Kauai, and the Big Island. The only way to travel between the islands is by taking an inter-island flight. There are no bridges or ferries between these islands.
Honolulu International Airport (HNL) on the island of Oahu is the largest airport in Hawaii. Although there are also a lot of direct flights to Kauai (LIH), Maui (OGG), and the Big Island (KOA) from the West Coast.
Depending on the island, the best Hawaii resorts and hotels are located within 30 minutes of the airport.
When is the best time to visit Hawaii?
Hawaii is a fantastic vacation destination any time of year. It's really popular to visit during school breaks (Spring Break, Summer, and Winter Break), but those are also the most expensive times to visit.
A budget-friendly option is to visit during Hawaii's shoulder season. This runs mid-April to June in the Spring and September to mid-December in the Fall.
How do you get around in Hawaii?
Since Hawaii is an island, all tourists arrive via plane. Hawaii airports are really easy to navigate. Many are open-air and there are plenty of signs showing where to pick up rental cars or get shuttle service.
Unless visitors are staying in Waikiki, it's necessary to rent a car in Hawaii. There are car rentals available at the airport, although they need to be reserved ahead of time. This is the easiest way to explore Hawaii.
It's important to understand that traffic is an issue in Hawaii, so plan on extra time to get to/from scheduled activities. Parking is pretty easy to find and is usually free (outside of Waikiki.)
If visitors are staying in Waikiki, it can be really expensive to park a rental car. Instead, check to see which Hawaii tours and attractions offer shuttle service from Waikiki hotels. This is a great way to save money and stress. There's a handy Waikiki Trolley that's easy to hop on and explore Waikiki and Honolulu.
Things to know before you plan a trip to Hawaii
Hawaii is part of the United States and therefore people speak English and use the U.S. dollar. However, Hawaii is unique and many locals speak Pidgin, which incorporates Hawaiian words and island slang into everyday language. It can be really helpful to learn a few words in the Hawaiian language before heading to Hawaii.
When exploring Hawaii as a tourist, make sure not to leave any valuables in the car. Car theft is one of the biggest issues in Hawaii. Instead, keep valuables in the hotel safe.
Packing list for Hawaii
Many people think they just need to pack t-shirts and shorts, and that's just not true for most families. When packing for Hawaii, it's crucial to think about what's on the itinerary.
Some water adventures recommend wearing water shoes or rash guards. Other outdoor activities require closed toe shoes.
Hawaii can actually get quite chilly up in the mountains, so it's helpful to have a sweatshirt or jacket to wear up at Haleakala Crater or Kokee State Park.
Families with babies and toddlers will also need to pack swim diapers in order to use resort pools.
And above all else, it's important that families protect their skin from the sun. The only sunscreen allowed in Hawaii is reef-safe sunscreen. There are also sun hats, sunglasses, and UV clothing that can be really helpful.
Best family activities in Hawaii
There are so many fun things to do in Hawaii for multigenerational families. Here are a few top Hawaii activities and attractions that everyone from babies to great-grandparents will enjoy.
Pearl Harbor
Most grandparents will probably want to make a stop at Pearl Harbor on Oahu. The U.S.S. Arizona Memorial is the most famous attraction there, but there's also the U.S.S. Bowfin Submarine, the U.S.S. Battleship Missouri, and the Pacfic Aviation Museum.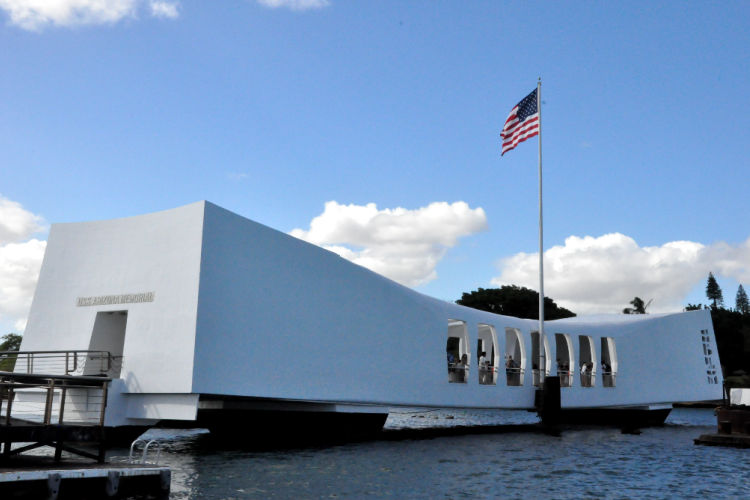 Polynesian Cultural Center
One of the best places to learn about Polynesia through hands-on activities is the Polynesian Cultural Center in North Shore Oahu. It's set up with several Polynesian villages and guests can walk to each one to do a craft/activity, watch a presentation, and even taste food. There's a cool canoe pageant and even canoe rides available. And they have a luau and theatrical show that's pretty outstanding.
Hawaiian Luau
Another fun thing to do in Hawaii with family is attend a Hawaiian luau. There are usually pre-show crafts and activities for kids, a large buffet meal, tropical cocktails, and a hula dancing show. Not all luaus are the same, so be sure to do a little research ahead of time.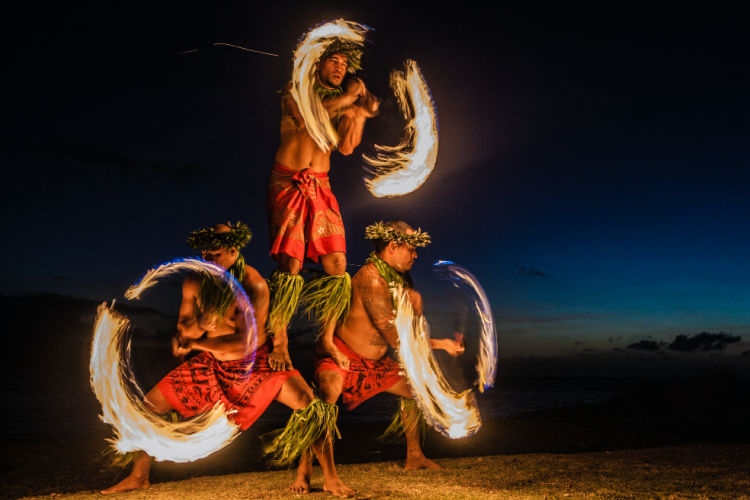 Snorkeling Boat Ride
There are so many amazing boat rides in Hawaii. One of the best options is a snorkeling boat tour. Older family members can enjoy the views while younger family members hop into the water for an undersea adventure. Many boats serve meals and even have a water slide on board.
Spend time at the hotel pool
Don't underestimate how much fun it can be to spend a day at the resort pool. Adults will love sipping cocktails and suntanning while kids will have a blast playing in the water. Many resorts rent out cabanas, which are perfect for multigenerational trips to Hawaii. It's always helpful to have a "home base" to get a break from the sun and rehydrate.
Hawaii food tour
Foodies will love Hawaii because there are so many delicious things to eat. One of the best ways to taste a lot of new things is on a food tour. They are available on all the islands and it's a great opportunity to try authentic Hawaiian plate lunches, garlic shrimp, Hawaiian pastries and shave ice.
Where to eat in Hawaii
There are so many tasty places to eat in Hawaii that it would be impossible to list them all. So, here are a few top picks for traveling to Hawaii with kids.
Monkeypod Kitchen
One of the best mai tais in Hawaii is available at Monkeypod Kitchen (as well as their sister restaurant chain Merriman's.) They put lilikoi foam on top and it's amazing! Their menu is a nice mix of Pan-Pacific and familiar Mainland food. Their kids menu has something for everyone, plus kids under 3 eat free! They have locations on Oahu and Maui.
Duke's
Another popular Hawaiian restaurant for families is Duke's. They are famous for their Hula Pie, which is a massive ice cream pie that's easily shared. There are locations on Oahu, Maui, and Kauai. They are also part of the same restaurant group as Hula Grill, Keoki's Paradise, and Leilani's on the Beach and they all have similar menu items.
Coconut's Fish Cafe
One of the best places to try fish tacos in Hawaii is Coconut's Fish Cafe. It's a casual dining restaurant with a very extensive menu, but they are famous for their fish tacos with fresh mango salsa. They have locations on Maui and Kauai.
Lodging options for families in Hawaii
There are tons of family friendly places to stay in Hawaii. Choices include resorts, hotels, Airbnbs, VRBOs, or vacation homes. These are a few top picks for kid-friendly Hawaii resorts.
Aulani, a Disney Resort & Spa
One of the best places to stay on Oahu with kids is Disney Aulani in Ko Olina. They have a great pool area, it's steps away from the beach, a couple restaurants, an on-site luau, and lots of activities with Disney characters. They even have villas with separate bedrooms, making it ideal for families rooming together.
Honua Kai
One of the best Maui resorts for families is Honua Kai. They have both hotel room and condo options, which makes it pretty versatile. The pool area is really amazing and there's a Duke's restaurant on site. Plus, it's just steps away from the beach.
Hilton Hawaiian Village
A popular Waikiki resort for multigenerational families is the Hilton Hawaiian Village. It's been featured in Hawaii Five-O but it's mostly known for being a massive resort with tons of restaurants and shops. Almost every tour operator stops here, so it's really convenient for families who don't want to rent a car. Plus, they have a weekly fireworks show!
Grand Hyatt Kauai
The best kid-friendly resort on Kauai is definitely the Grand Hyatt Kauai. It's located in sunny Poipu with a gorgeous view of Shipwreck Beach. The location is really convenient for families who want access to kid-friendly beaches, lots of tasty restaurants, and a few shopping areas.
Hilton Waikoloa Village
One of the best places to stay on the Big Island with kids is the Hilton Waikoloa Village on the Kona Coast. They have great restaurants, pool area, and an on-site luau. There's lots of activities, including golfing at championship golf courses and swimming with dolphins!
Suggested Hawaii itineraries
2 Day Oahu Itinerary
For day one, head straight for Pearl Harbor to see the U.S.S. Arizona Memorial, the U.S.S. Battleship Missouri and explore the Pacific Aviation Museum. After that, head to Waikiki for lunch, a bit of shopping, and relaxing at beautiful Waikiki Beach. End the day by sipping mai tais and eating dinner at Duke's Waikiki.
For day two, head up to North Shore Oahu. First stop will be the Dole Plantation, which has some cute activities for little kids and you can enjoy some Dole Whip. Continue up to Haleiwa where you can walk around an adorable surf town. Then, head up to the Polynesian Cultural Center to spend the rest of the day doing hands-on activities, eating dinner, watching a luau, and seeing their theatrical presentation.
CLICK HERE TO FIND TOURS IN OAHU
2 Day Maui Itinerary
For day one, wake up super early to watch the sunrise from the top of Haleakala Crater. Then, head to the Kula Botanical Garden to walk around. Next up is Ulupalakua Ranch for lunch and to see Upcountry Maui. Hit I'ao Valley State Park on the way back to the hotel.
For day two, spend the entire day exploring the stops along the Road to Hana. The drive starts in Paia, an adorable little town. Check out the Garden of Eden, Twin Falls, the Halfway to Hana stand, the black sand beach, and the Seven Sacred Pools. It will be a long day, so another option is to spend the night in Hana.
CLICK HERE TO FIND TOURS IN MAUI
2 Day Kauai Itinerary
Kauai only has one highway and it doesn't go all the way around the island. So, it's best to go North one day and South/West another day.
For day one, start in Old Kapa'a town to enjoy coffee and walk around the little boutiques. Then head up to Kilauea Lighthouse and then all the way up to Hanalei. In Hanalei, enjoy lunch and then head to Hanalei Bay to relax at the beach. After enjoying the calm waves, stop back in Kapa'a to eat dinner.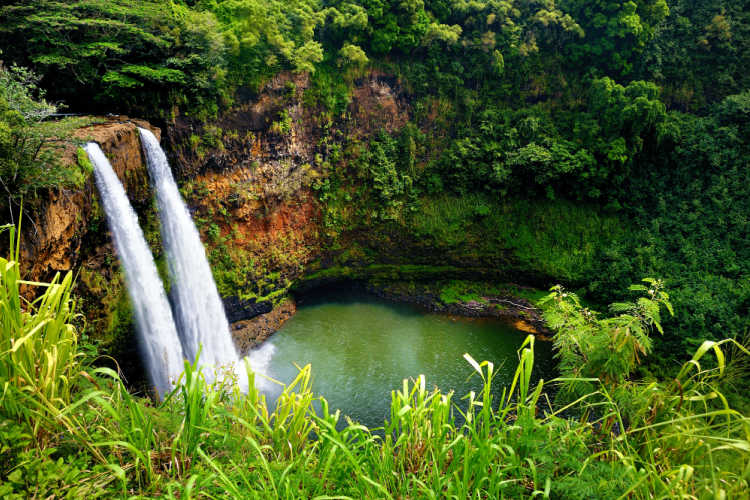 For day two, start in Poipu to eat breakfast and then drive up to Waimea Canyon. There are plenty of hikes to do or you can continue up to the Kalalau Lookout and Kokee State Park. Head back down and stop by Hanapepe, Kauai's biggest little town to grab lunch or see the art. Then, relax at Poipu Beach and plan to eat dinner at one of the many Poipu restaurants.
CLICK HERE TO FIND TOURS IN KAUAI
2 Day Big Island Itinerary
For day one, it's all about exploring Hawaii Volcanoes National Park. It's located 40 minutes from Hilo and about 2.5 hours from Kona. There are plenty of easy walks/hikes here and even the Chain of Craters scenic drive. Drive yourself or take a tour from your hotel.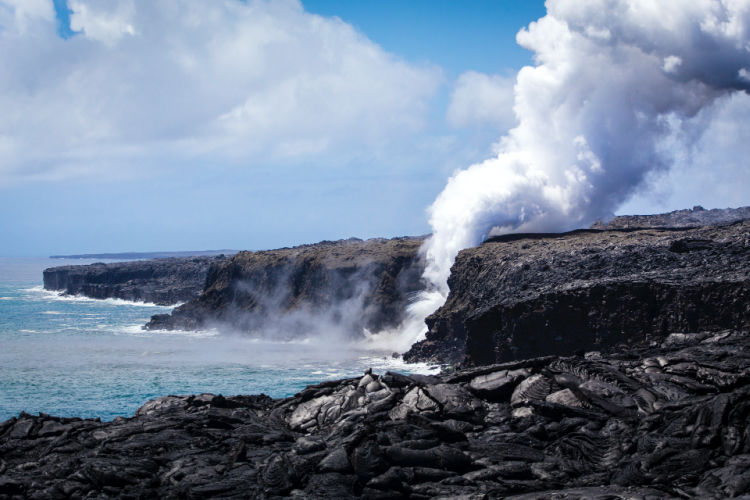 For day two, stop by a coffee farm to taste authentic Kona coffee. Then head to Pu'uhonua o Honaunau National Historical Park to learn a bit about ancient Hawaiian culture and then head into the water to go snorkeling. End your day by exploring Ali'i Drive and eating dinner.
CLICK HERE TO FIND TOURS ON THE BIG ISLAND
About the author: Marcie Cheung has traveled to Hawaii more than 35 times, including multigenerational trips with her extended family as well as her in-laws. She also runs the family travel sites Marcie in Mommyland and Marcie and the Mouse.