If you are tired of hanging around at home, it might be time for a Charleston girls weekend. This Southern Charm-er is the perfect blend of history, amazing food, and fun things to do. A girls' trip to Charleston offers stellar shopping, exciting excursions, and a rich history to explore. The net result: Charleston wows with its Southern hospitality. It's time to "spill the tea" on what Charleston spots would make the best places for girlfriends to gab, gather, and giggle.
With a wealth of activities, restaurants, and sights, Charleston, South Carolina is a surefire bet for an epic girls' getaway. From culinary charmers to historic haunts, it's no surprise that Charleston wins top Southern city accolades every single year. Set your sights on a Charleston girlfriends' getaway and use these ideas to plan an unforgettable weekend trip.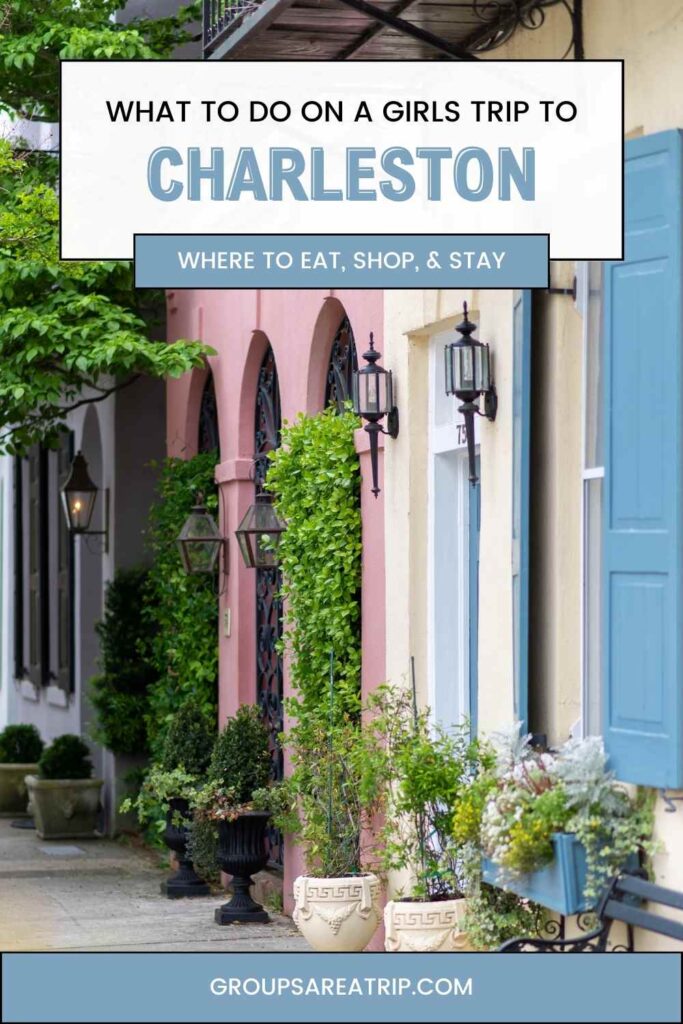 *Disclosure: This post may contain affiliate links, which means we may receive a commission if you click a link and purchase something that we have recommended. Please check out our disclosure policy for more details. Thank you for your support!
What to do on a Charleston Girls Weekend Getaway
1. Shopping on King Street
One of my favorite things to do with girlfriends in Charleston is shopping! With everything from cool coffee shops to historic homes, vintage shops, and upscale boutiques, everyone is sure to find a favorite spot.
Divided into 3 distinct zones, King Street has Upper King (from Calhoun Street to Spring Street), known for its design and dining options; Middle King (from Market Street to Calhoun Street) is considered the fashion district; and the antique district can be found in Lower King (from Broad Street to Market Street). Tops on my shopping list are Anthropologie, Candlefish, Ibu Movement, étuHOME, and Buxton Books.

No Charleston girls weekend is complete without some shopping along King Street and the Charleston City Market.
2. Charleston City Market
Not far from King Street is the Historic Charleston City Market. This farmers market houses more than 300 artisans and their wares. Charleston City Market spans 4 blocks in the heart of downtown.
One of the nation's oldest handicrafts of African origin are the sweetgrass baskets. More than 50 local Gullah artisans trained in this amazing trade can be found at the Market. The sweetgrass baskets are woven using locally harvested bulrush, a flexible marsh grass that thrives in the Lowcountry soil.
Tip: Chat with the sweetgrass basket artists. One of the local favorites is Corey Alston who also gave us a lesson on how to make a sweetgrass Confederate rose.
3. Charleston Walking Tour with Bulldog Tours
The best way to see Charleston and learn all about its history is on a walking tour. And none packs in the history than Bulldog Tours. Did you know Charleston is nicknamed the Holy City because it has 187 churches and temples? Neither did I before my tour.
Other interesting tidbits learned on our walking tour: Charleston is home to the very first French Quarter in the United States. Sorry, New Orleans! And the state tree, the Palmetto, is actually grass! Incidentally, the Palmetto flag of South Carolina is the second most recognized flag in the US (behind Texas).
History buffs will love to hear about Fort Sumter where the Civil War began on June 28, 1776. These same Palmetto trees were used to build Fort Sumter's walls. When cannonballs hit these dense trees, they bounced off! Guess that's a good reason to have the Palmetto as the state tree.
For something a bit different, we recommend a night-time ghost tour with Bulldog Tours. Equally historical, this is an unforgettable experience in Charleston that we highly recommend.
4. Carriage Ride with Old South Carriage Company
300 years of history in one hour? Yes, please! Discover the lore and charm of downtown Charleston with Old South Carriage. Pass by Antebellum mansions, the Charleston historic district, and beautiful parks at the leisurely pace of a horsedrawn carriage. What better way to explore the city than in a carriage pulled by a horse?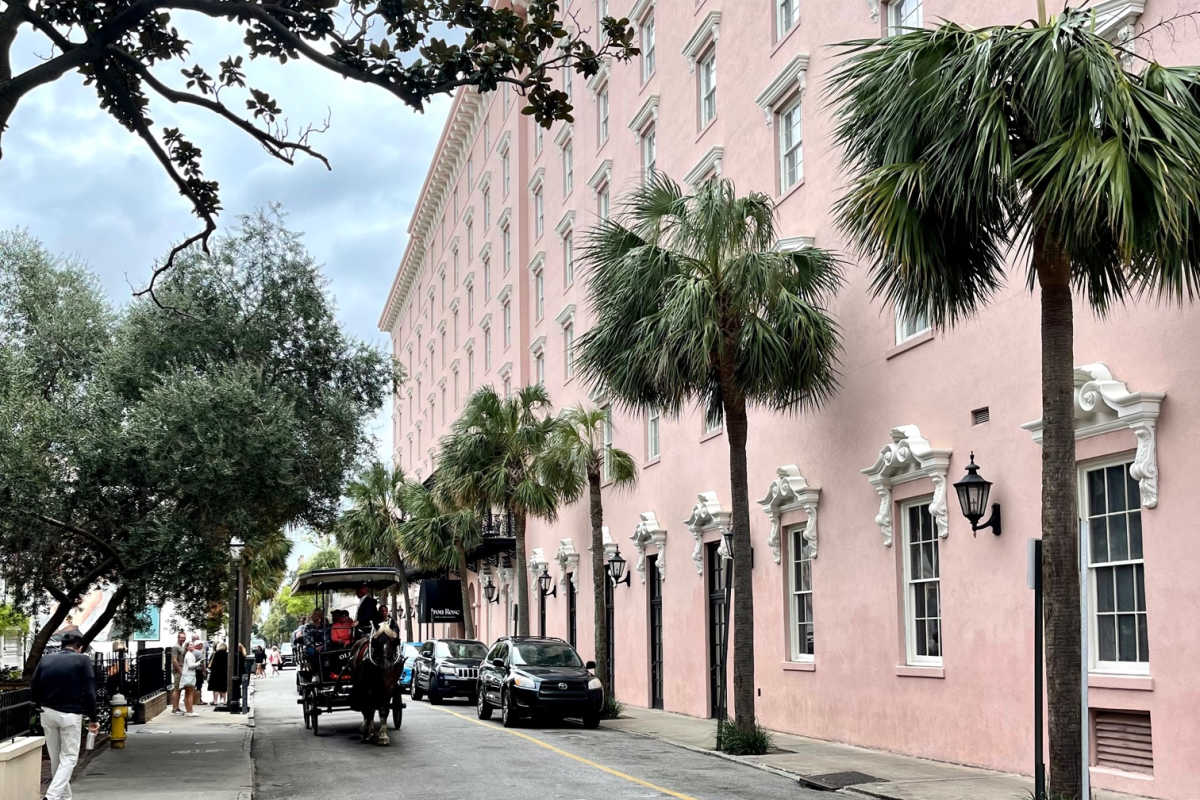 What makes this experience special is the combination of fascinating transportation with a history lesson about the city. This is a great activity for girlfriends who want to see the city in a unique way and love horses.
A licensed guide wearing the red sash will inform and entertain you with historical facts, lore, and humor. Our one-hour narrated carriage tour covers more than 2.5 miles and 30 blocks of historic Charleston. It really is the best way to see the "Holy City" and learn about its rich and vast historical areas and attractions.
5. Waterfront Park
Spanning the Charleston Harbor is the 8-acre Waterfront Park. The park offers fountains, green space, a walking and jogging path, and a long pier. The piece de resistance is the Pineapple Fountain, a symbol of hospitality in this genteel Southern city.
The fountain is flanked by water spouts that beckon hot travelers to cool off in the spraying waters. While girlfriends will be less likely to splash around in the fountain than children, there's something rejuvenating about watching people interact with the water and kids playing.

Nothing indicates Southern hospitality quite like the symbolic pineapple, so Waterfront Park's Pineapple Fountain is certainly appropriate. This is a great spot for a group photo!
6. Rainbow Row
This is a sentimental favorite of mine since my great aunt once owned 87 East Bay Street, one of the iconic Rainbow Row houses. I have fond memories of staying with her and exploring that beautiful house as a kid. No wonder people flock to this area with these brightly colored and diverse homes. Rainbow Row is a must-see destination in Charleston.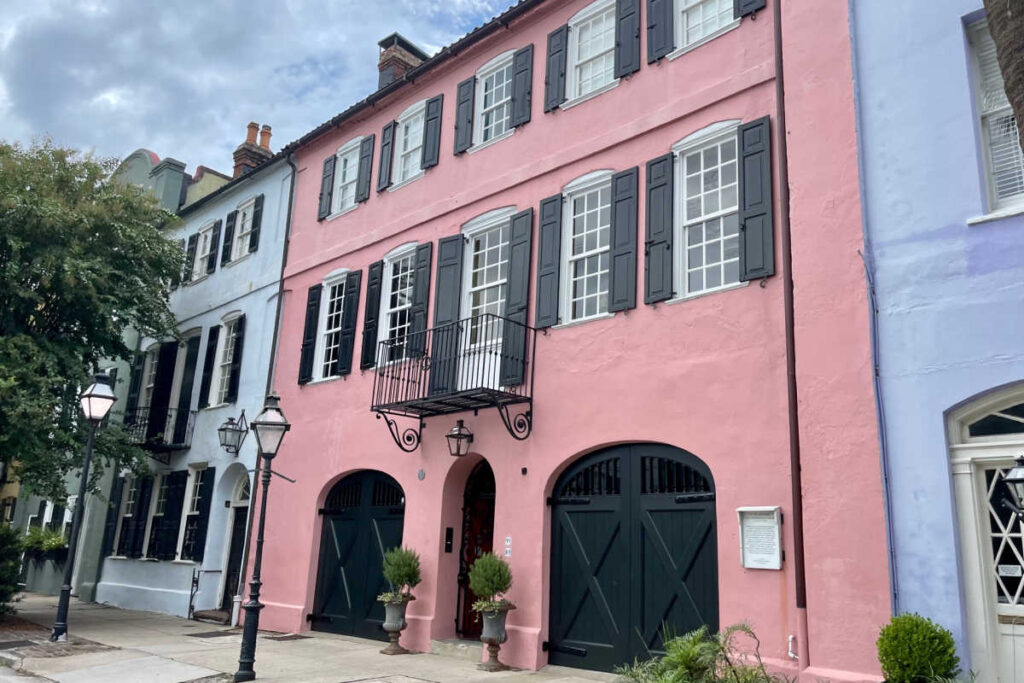 The Rainbow Row idea came about in 1932 when homeowner Dorothy Porcher Legge thought about painting the homes with fresh coats of paint. She thought a variety of tropical colors would spruce up the neighborhood. After Legge's home received its new pink hue, other homes followed, and the rest as they say is history.
7. Middleton Place
Middleton Place is a National Historic Landmark that dates to 1675. It is home to America's oldest landscaped gardens and a lively stable yard that is also home to sheep, cashmere goats, Belgian draft horses, and water buffalo.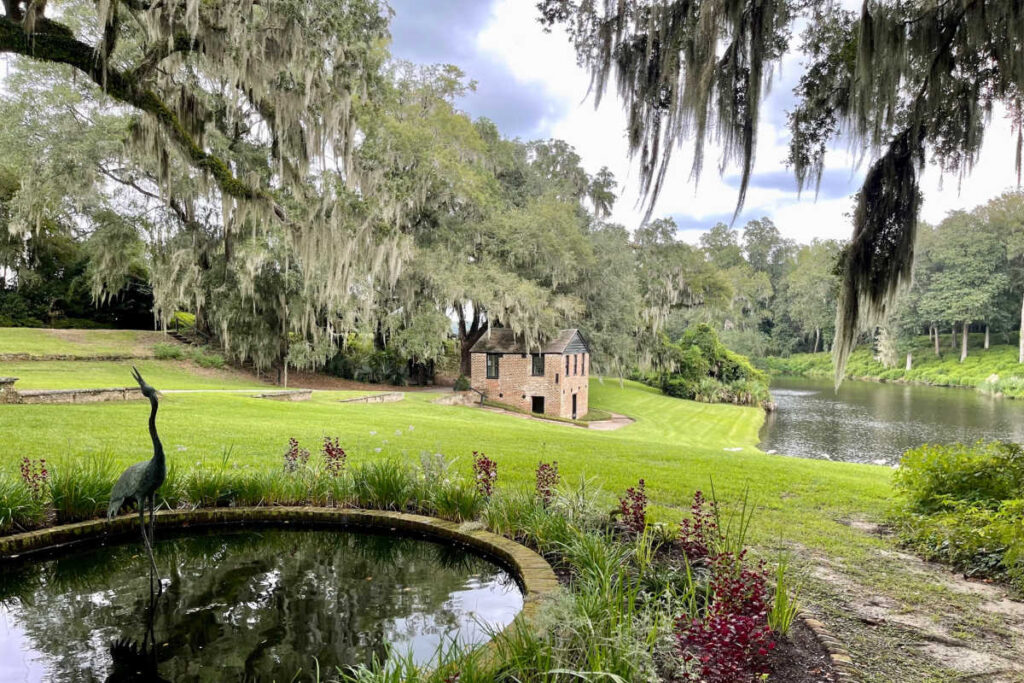 With exhibitions like pottery, weaving, blacksmithing, candle-dipping, and open-fire cooking method demonstrations, touring Middleton Place is like stepping back in time to view the inner workings and history of this plantation.
Outdoor tours are included with general admission. These include Guided Garden Tours, Beyond the Fields: Enslavement at Middleton Place, and Meet the Historic Livestock Breeds. For an additional fee, you can book a house museum tour or a VIP tour that includes a private carriage ride and food credit for Middleton Place Restaurant.
8. Boone Hall Plantation
Boone Hall Plantation is a mainstay of Charleston culture. It's been open to the public since 1956 and has been the setting for many movies and TV miniseries as well as the nuptials of Ryan Reynolds and Blake Lively. 
But what continues to draw visitors year after year are the educational opportunities as visitors embrace Charleston plantation living and Gullah culture via their "Black History in America" exhibit and live presentation of the unique Gullah culture. These entertaining performances take place at the plantation's Gullah Theater.
In 1955, the plantation was purchased by the McRae Family, and Mrs. McRae furnished the house with antiques and began giving tours. Today, the McRae Family still owns the property, and they continue to make improvements to the plantation so that our visitors can experience what plantation life was like.
Boone Hall Plantation admission includes a house tour, a plantation tractor tour, the Black History In America Exhibit, a Slave History Presentation, a Garden Tour, and a Butterfly Pavilion.
9. Have a spa day
​There's no better place for bonding with your best friends than taking a trip to the local spa. Everyone can select their own treatment and truly relax. We enjoyed Salt Spa & Yoga on King Street, but other good options include Woodhouse Spa and several hotels have spas as well.
10. Head to the beach
​If you want some time in the sun on your Charleston Girls Weekend, you're in luck! Charleston is on the water and has easy access to beaches! Kiawah Island is a 40-minute drive, Folly Beach is about 25 minutes, and Sullivan's Island is another good option, about 25 minutes driving as well. Sullivan's Island is also home to the delicious restaurant Obstinate Daughter.
​11. Museums
​If your group wants to learn more about Charleston's history, head to the Charleston Museum. Known as "America's First Museum", you'll find historic artifacts, an armory, and several exhibits detailing the city's history.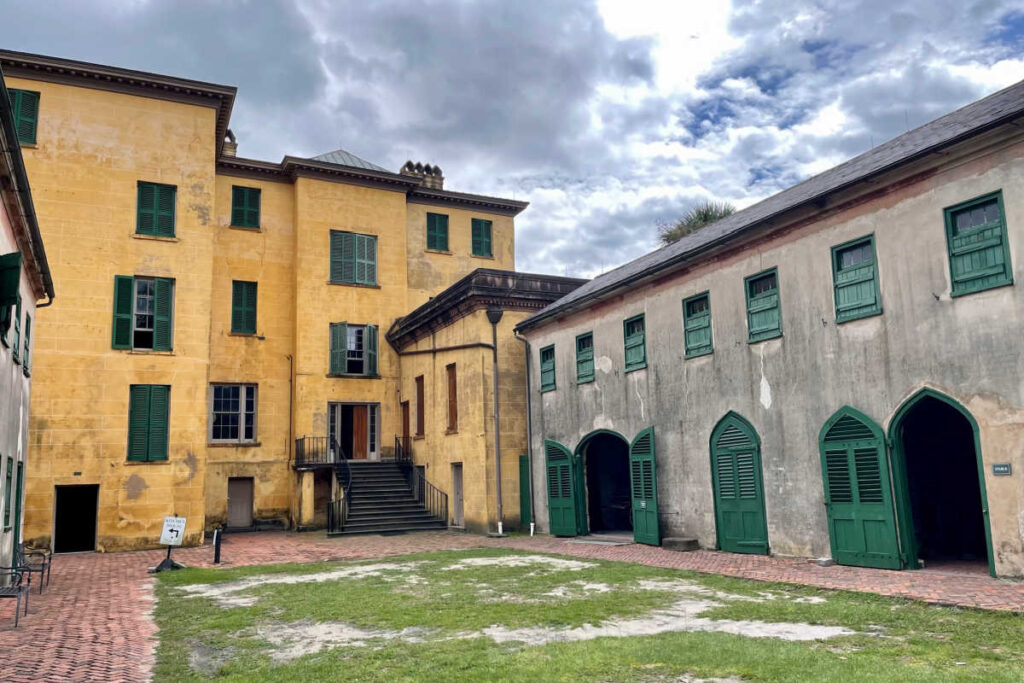 Afterward, take a short walk down the street to one of the local historic houses, the Aiken-Rhett House Museum. This fantastic property was once owned by the Governor of South Carolina and has not been renovated, but preserved. It's like going back in time, and truly a fascinating stop.
Best Restaurants for Your Charleston Girls Weekend
Get ready to grab some great grub with your girlfriends in Charleston! With over 370 restaurants in the Charleston peninsula alone, it means not nearly enough time to try them all, not to mention room in the belly. So we've come up with a short list of great places to eat in Charleston for lunch, drinks, pre-dinner, and dinner.
But in a food city like Charleston, it feels WRONG to just choose one place per category, so we've come up with our top pick as well as a few honorable mentions.
Where to Eat Lunch in Charleston
Home Team BBQ
No trip to Charleston would be complete without barbecue! With an assorted menu featuring salads, tacos, and sandwiches, there is truly something for everyone at Home Team BBQ.  One thing is for certain in the barbecue universe: people are very particular about their sauce choices. So it's smart that Home Team lets guests choose the sauce they like. 
No matter your sauce preference, Home Team has an amazing variety to choose from: Red, Pepper Vinegar, Sweet Red, Carolina Mustard, and Hot Red.
When we couldn't decide between the beef brisket, the pulled pork, or the smoked wings, the item that jumped off the menu was something called the Board: smoked wings, 1/2 rack St. Louis cut ribs, pulled pork, turkey, and homemade sausage alongside 3 sides, grilled bread, house pickles, and pickled red onions.
Try my surprise favorite: Fiery Ron's Smoked Chicken Wings with dry rub and Alabama white sauce. Pair those wings with sweet tea (a Southern staple), beer, or the Home Team Game Changer (gold Caribbean run, spiced Caribbean rum, orange juice, pineapple juice, cream of coconut, and a dash of grated nutmeg) which sounds like the world-famous Painkiller from the Soggy Dollar Bar in Jost Van Dyke, BVI.
Other lunch spots in Charleston
Breizh Pan Crepes – Creperie with both sweet and savory crêpes, omelets & espresso.
Fleet Landing – casual waterfront dining with Southern seafood favorites.
Butcher & Bee – elevated lunch fare featuring fine dining food sandwiched between bread.
Callie's Hot Little Biscuit – serves a variety of hot biscuits, pimento cheese sandwiches, and other treats for breakfast, lunch, and late-night treats.
Xiao Bao Biscuit – converted gas station serving trendy dishes from China, Taiwan, Thailand, and Vietnam.
Melfi's – a modern spin on classic Italian restaurant with fresh pasta, salads, larger plates, and thin-crust pizza.
Best Cocktails in Charleston
Prohibition
No secret knock is required at Prohibition, although it may evoke the sensation of traveling back in time to a 1920s speakeasy. We chose this bar partially for its name and mostly for its reputation as being one of THE best places to grab a drink in Charleston. Boy, it did not disappoint!
With its bourbon barrel ceiling and vintage-inspired decor, Prohibition may feel like a blast from the past with a modern twist. Undecided on what to order? Then choose the casual tasting menu combined with with dealer's choice of beverage pairings. On a side note, they offer happy hour Monday to Thursday, so be sure to stop in for some discounted drinks. Sounds like the start of a decadent evening in the Holy City.
Other bars in Charleston we love
The Rooftop at Vendue – rooftop bar with city views of the Charleston Harbor with cocktails as props
Élevé – French-inspired dishes and handcrafted cocktails in a rooftop garden setting at the Grand Bohemian Hotel
Church & Union – unique bar and restaurant in a former church. The stained glass windows and bar are stunning.
Felix Cocktails and Cuisine – Parisian-inspired cocktail bar with a fun vibe and good drinks
The Belmont – curated cocktails accompanied by a menu of meats, cheeses, and homemade pop tarts
Graft Wine Shop & Wine Bar – when labeled as a "neighborhood wine shop, musical nostalgia trigger, & cool hang spot" it must be good!
The Cocktail Club – King Street upscale lounge with farm-to-shaker beverages and punch bowls sure to keep the party going
Top seafood restaurants in Charleston
The Darling Oyster Bar
The Darling Oyster Bar lived up to its name as being a darling spot for pre-dinner noshing and people-watching. There is truly no better seat in the house than a stool at the 14-seat raw bar overlooking King Street.
There, we feasted on a sea bounty of oysters on the half shell, shrimp, and ceviche. However, be mindful that the oyster bar is first come, first served. Reservations for tables can be made in advance with The Darling Oyster Bar.
Oyster fans will applaud the varieties on the half shell, including local favorites like Bulls Bay Blades alongside Baysides, Pirate Cove, and Umamis. With vibrant energy, shuckers who earn their keep preparing boatloads of oysters, and a view of King Street, it's like appetizers and a show. Wash down the seafood with concoctions like the Fish House Punch: Bacardi gold rum, cognac, créme de péche, and lemon.
Charleston Seafood restaurants
167 Raw Oyster Bar – hip seafood counter/raw bar featuring lobster rolls, oysters, and rosé. Did I mention the lobster rolls?
The Ordinary – former bank now turned seafood hall and oyster bar that's a shellfish lover's mecca.
Leon's Oyster Shop – Old garage serving up fried chicken and oysters alongside cheap beer, rosé on tap, and cocktails.
Where to eat dinner in Charleston with friends
The Establishment
Two words define The Establishment: fresh and seasonal. Located in the historic James Gregorie House on Broad Street, The Establishment is a seafood-centric restaurant focusing on the fresh and sustainable ingredients surrounding the area. Blending on an open kitchen, sleek bar, and live piano music, the Establishment is a prominent player on the Charleston dining scene.
My appetizer of Duck with crispy confit, kohlrabi, pear, and blackberry was divine. Not to be outdone, the entree of swordfish with white acre peas, butter beans, salsa verde, and brown butter was melt-in-my-mouth awesome.
Favorite restaurants in Charleston
Husk-locally sourced and Southern-inspired dishes taken up a notch. Don't miss their Saturday and Sunday brunch!
FIG-the name stands for Flavor, Ingredients, and Grandeur and is the creation of Mike Lata, a renowned chef.
82 Queen-French Quarter grande dame featuring Lowcountry cuisine.
Magnolias-upscale Southern cuisine like Shrimp and Grits to die for.
Slightly North of Broad-eclectic bistro with the moniker SNOB.
Where to stay on a Charleston Girls Weekend
Mills House

– Part of Hilton's Curio Collection, this property in the historic district is within walking distance of shopping and restaurants. There's also an onsite coffee shop, outdoor swimming pool, and al fresco dining in their charming courtyard.
Francis Marion Hotel – Historic high-rise hotel on King Street. There is a full-service spa and fitness center and convenient parking (which is a real treat in Charleston)!
Hotel Bella Grace – Charming hotel, with easy access to the historic district. Next door to Delaney Oyster House.
The Ryder Hotel – This boutique hotel is near the College of Charleston, within walking distance of shopping and restaurants. There's an outdoor pool, valet parking, and breakfast available for an additional fee.
If you would rather rent a house, consider this stunning historic home or this gorgeous property listed on the National Register.
These are just a few of the things we did on our Girlfriends Getaway to Charleston, SC and I hope that this has given you some ideas. If you are looking for other destinations nearby, consider adding on a girls trip to Savannah or Beaufort.
This article was co-written by Kirsten Maxwell and Sherry Boswell.