One of the best ways to create fun memories with your family is by planning a reunion full of fun activities. Are you planning a family reunion and trying to come up with fun activities to make the event lively? We've got you with these unique family reunion ideas perfect for family get-togethers: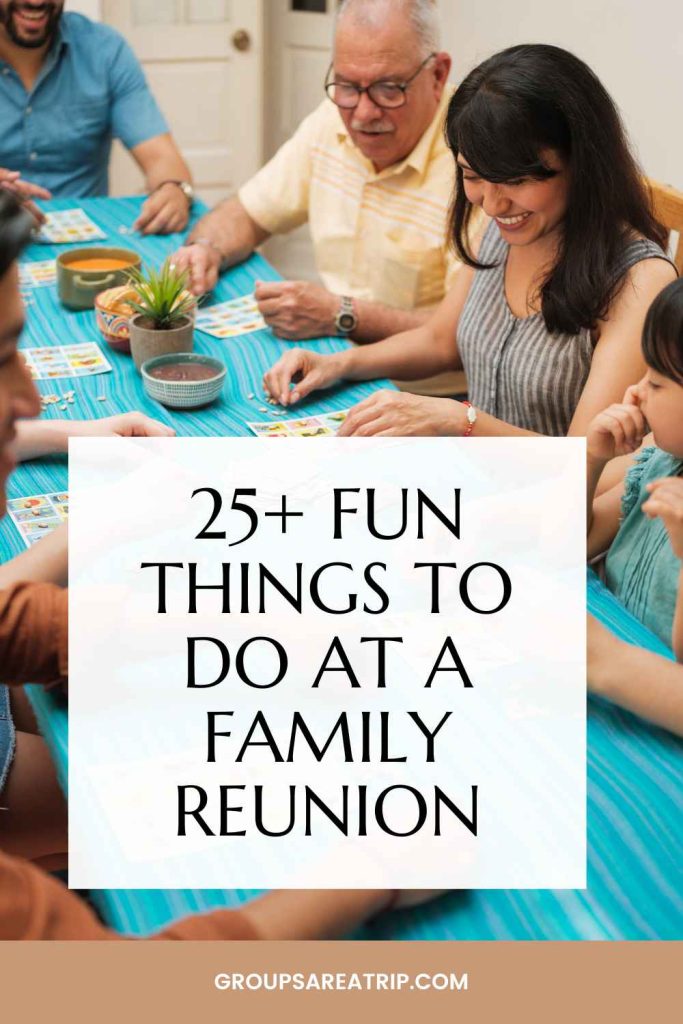 *Disclosure: This post may contain affiliate links, which means we may receive a commission if you click a link and purchase something that we have recommended. Please check out our disclosure policy for more details. Thank you for your support!
1. Themed Celebration
One of the best ways to throw a fun reunion party is by choosing a theme. You can encourage everyone to stick to a color code, wear their favorite costume, dress like their throwback, or wear something from the 80s. It would be fun to see how everyone, from the older members to the younger generation, will pull off the theme.
2. Trivia Night
A trivia game is one of the best family reunion activities that the whole family will love. Split your family members into teams and have them battle out rounds of trivia questions.
A good idea for your special event is to make the questions centered around your family history. You can also mix it with traditional trivia centered around pop culture, TV, and history.
3. Family Talent Show
Do you know a fun game that will make a perfect family reunion experience? A talent show! If you have an uncle that cracks jokes or a younger cousin that raps, this will be a great opportunity to let them shine and entertain the rest of the reunion attendees.
Inform everyone beforehand to get the comedians, dancers, painters, poets, and singers in your family prepared before the day.
4. Baby Picture Guessing Game
Compile the baby pictures of your family members and have people guess who each photo belongs to. You can have all the photographs in black and white so guests won't be able to guess the age of the image easily.
5. Races
A good outdoor family reunion game to spend quality time with your family is racing one another. Stage a sack race where participants try to run into the finishing line in a sack or try an egg race where people race each other while holding an egg in a spoon. The winner is whoever gets to the finish line first without a broken egg. You can also split family members into teams to have relay races or add an obstacle course to make it more competitive.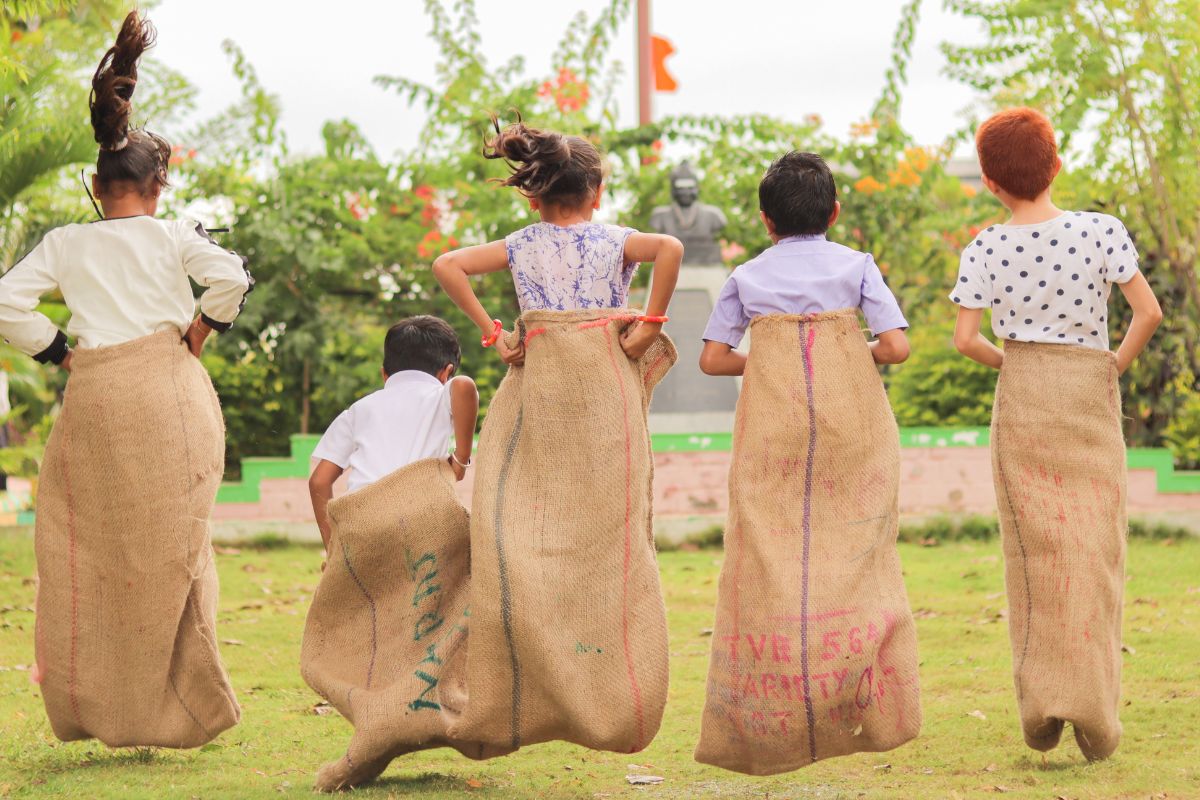 6. Ping Pong
Ping Pong is perfect for all kinds of events, and it's a great idea to add to your list of fun family reunion activities. Find some plastic cups, arrange them in formation on a table, and fill them with little water for balance. Then have people try to bounce the ping pong balls into the cups and remove the cups that get balls in them.
7. Bingo
This classic game is one of the best family reunion games for everyone, and you can make it even more enjoyable by asking questions related to the family.
Create custom cards where players must find a family member that fits the category in the box. You can have questions like the first family member to go to college or the family member who had a fracture from falling out of a tree.
8. Charades
If you're looking for fun family reunion games perfect for people of all age groups, you should consider a game of charades. Split your family members into teams and get them to act out movies, songs, celebrities, or even other family members.
9. Family Recipe Book
Aside from playing games and spending quality time together, family reunions also offer wonderful opportunities to learn more about your family history, including recipes passed down over the generations.
You can have the older family members share recipes they are famous for and compile them into a book you share with people at the events.
Another fun idea is to have family members prepare their favorite recipes and bring them to the event for others to try out, like a potluck.
10. Family Photo Shoot
A family reunion is only complete if you document it. One great idea for a memorable reunion is planning a group photo shoot.
If your budget allows, you can bring a photo booth into the venue or hire a professional photographer to take great pictures of the event. To make the photo shoot more fun, you can plan a color code, costume, or photo props and inform everyone in advance.
11. Ball Games
Are your family members sports lovers? One of the best family reunion games will be group ball games like basketball, soccer, and softball. These games are especially great if you are expecting a large group of people or planning an outdoor reunion/beach reunion.
12. Potluck
Everyone loves good food, right? There is nothing quite like having a variety of dishes that people can try out at the reunion. You can arrange a family potluck and have every family unit bring their best dishes.
This is a perfect idea if you don't want to go through the stress of planning the meal for a big group. Potluck also offers opportunities for family members to trade recipes while eating to their fill.
13. Board Games
A perfect way to have fun during a family reunion is to try out some board games or puzzles perfect for all ages. Consider bringing various board and card games like Scrabble, chess, Monopoly, jigsaw puzzles, Battleship, Crazy Eights, Exploding Kittens, etc. You can have the younger and older generations in different teams or mix them up to make it even more fun.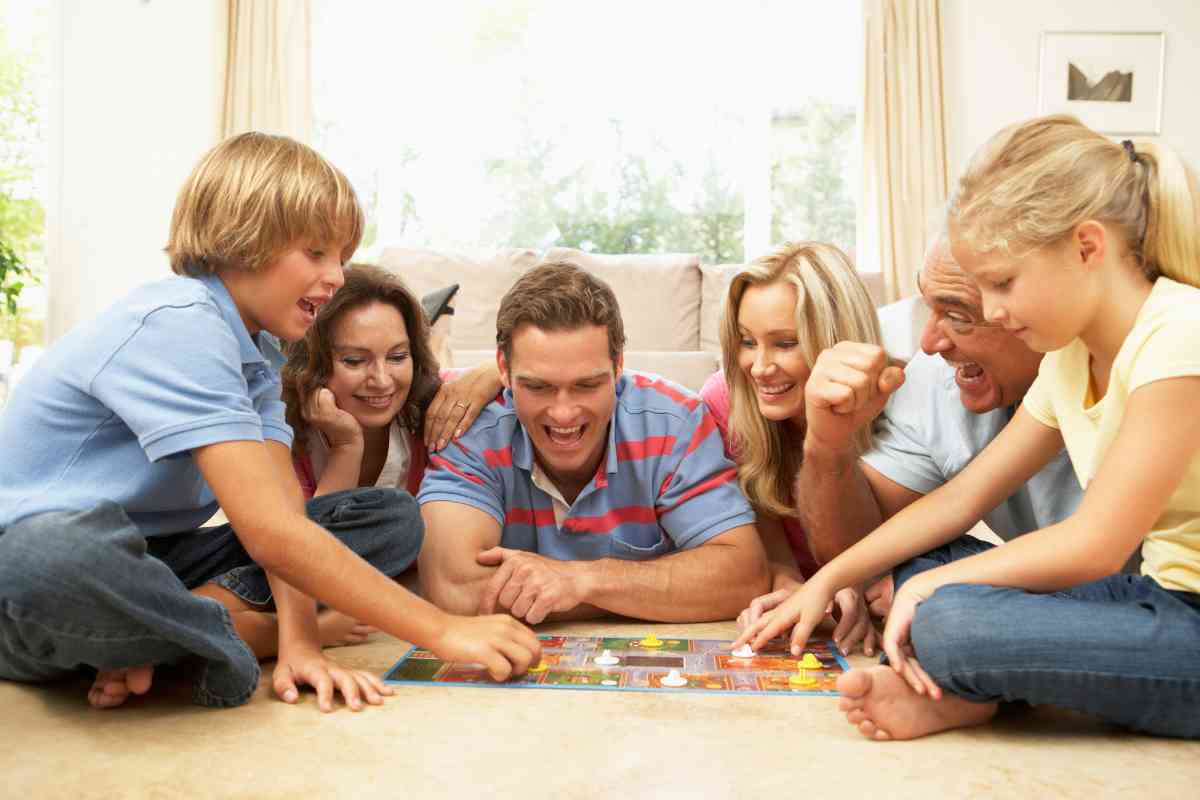 14. Music
What's an event without good music? A great way to enjoy the day is by creating a playlist of songs that will set the mood while everyone enjoys the games, the meals, and the conversations. You can also spice things up by bringing a karaoke machine and having every member sing along to their favorite song.
15. Scavenger Hunt
Another great game that every member will enjoy is a treasure hunt. Split the family into teams and give them a list of items they need to find in the area or around the house.
16. Explore the New Area
If your reunion is a destination vacation, you can try exploring the area to create new memories while having fun. Visit new tourist sites, try out new food, go kayaking, or consider lodging at a campground.
You can also visit museums/art galleries, shop for souvenirs, go hiking, or spend a day at the beach. There will be no shortage of fun at a destination reunion.
17. Family Stories
Storytelling is a perfect way to learn more about the family and connect with one another. A great family reunion activity will be swapping stories with each other.
You can have the oldest member share stories about life during their childhood and have it on record to relieve the stories after the reunion. Telling family stories will work well around outdoor bonfires or indoor candlelights.
18. Dance Party
Another fun reunion idea is a dance party or even a dance contest. Bring a professional DJ to the party and have everyone from grandparents to little kids dance their hearts and body out on the dance floor. Before the event, you can have attendees suggest songs for the playlist.
19. Award Night
A good time to recognize the achievements and skills of every single family member is during a family reunion. Host an Award Night with certificates recognizing and congratulating people for their accomplishments and impressive qualities.
You can have awards for the most generous person, the best doctor, the greatest singer, or the most jovial family member. Give as many awards as possible to ensure no family member is left out.
20. Movie Night
Are you having an outdoor reunion? Consider throwing an outdoor movie night for the whole family. Bring in a projector, mats, blankets, and pillows and you already have the perfect movie night setup! You can also combine a movie night with a picnic or potluck.
21. Create a Map
A fun activity for family gatherings is having a large map on display and getting everyone to mark where they live across the country or world. This is a great icebreaker to get the party started and have people to know each other better.
22. Water Balloon Pinatas
A water balloon toss game will surely make little kids and some older people happy. Fill up the balloons with water, split the family into teams, and have the team burst them without using their hands. The winning team is the one able to burst more balloons, and it will be fun watching everyone get drenched.
23. Jenga
Jenga is perfect for both outdoor and indoor games. Get the giant Jenga for a more challenging game session or the classic tabletop one and have people rearrange the bricks until it falls off.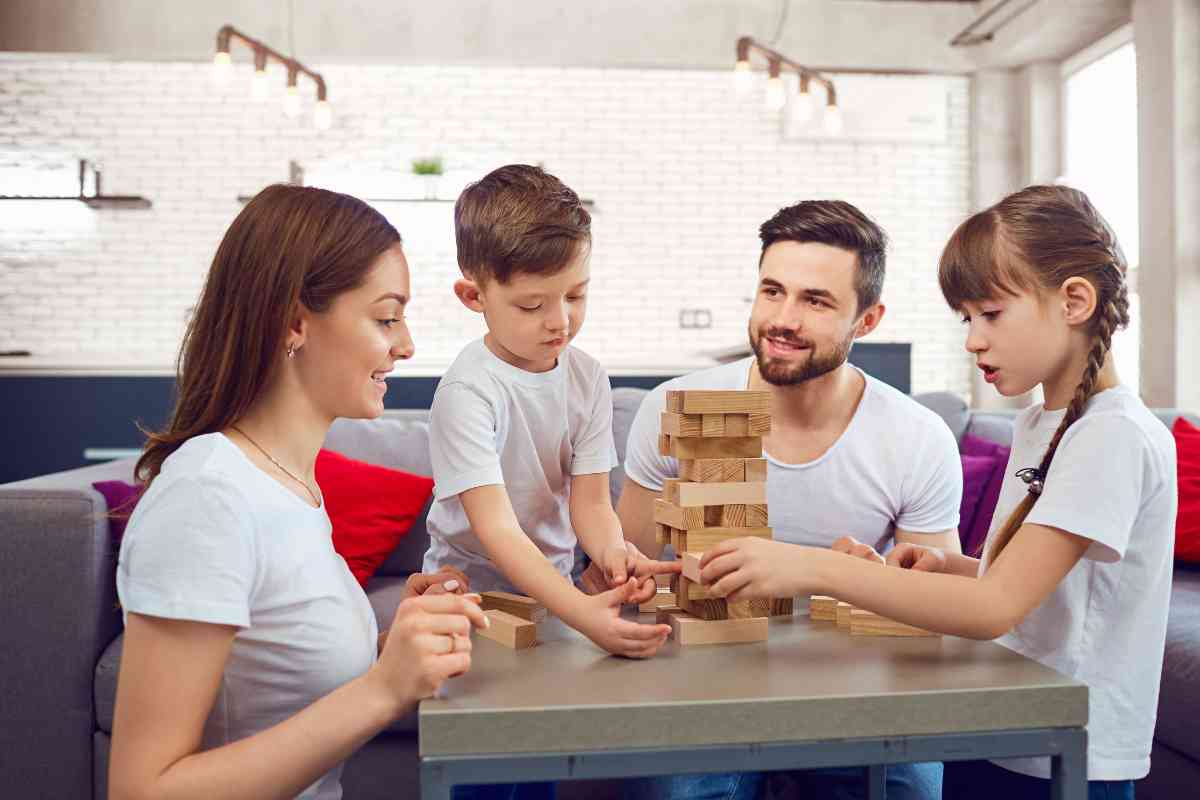 24. Create a Family Tree
A classic game everyone will find exciting is creating a family tree together. Have everyone bring old photographs of their immediate family and descenders so everyone can learn where everyone descended.
25. Virtual Family Reunion
Is it difficult to get the whole family together physically? We have a good idea for you, a virtual family reunion. There are a lot of virtual family reunion ideas you can incorporate into your event. You can have a video chat with your family and host a trivia game, swap family stories, and have a virtual scavenger hunt.
26. Bring Gifts
A family reunion is a great time to exchange gifts with one another. Consider bringing gifts as prizes for winners of the various games you organize during your event. Another fun idea is holding a raffle or staging a gift swap where every family member brings a little something they will give to someone else at the event.
Family reunions are a great way to meet your extended family, create fun memories and learn more about one another. With excellent planning and fun games, rest assured that everyone will have a great time and make unforgettable memories.