Italy is the perfect country to explore on your next family trip. Rich in history, charming villages, spectacular scenery, and unforgettable food, it's truly the perfect spot for kids of all ages. There is so much to see in do in Italy for families it can be difficult to know where to begin.

Use this list as a starting point for planning a multi-generational trip to Italy. It will help you identify where to start, what not to miss, and the main attractions you will find on your family vacation.
*Disclosure: This post may contain affiliate links, which means we may receive a commission if you click a link and purchase something that we have recommended. Please check out our disclosure policy for more details. Thank you for your support!
This simple travel guide of the best places in Italy for families includes the best tips so that you can plan the most spectacular Italian getaway. With so many stunning cities in Italy, I narrowed it down to places where you can:
Explore medieval castles
Visit the best theme parks in Italy for all ages
Have a once-in-a-lifetime experience riding a gondola
Take a dip in shimmering turquoise waters
Walk around picturesque villages
Attend a hands-on lesson and learn about Italian culture and history
Learn how to make your own Italian ice cream
What is the nicest part of Italy to visit with family?
Italy is, without a doubt, one of the most breathtaking countries in the world. With everything from watersports activities, stunning resorts, ancient ruins, and volcanoes, Italy offers a wealth of options for children and adults alike.

Everyone will have a favorite region to explore, but we're partial to Rome and Florence, but love the regions of Umbria and Tuscany too. We are sure your family holiday to Italy will be amazing whether you choose to explore the big cities or the smaller towns.
Best Places to Travel in Italy with Family
1. Rome
Most visitors to Italy start in Rome and with good reason. Italy's capital city is overflowing with tales of fearless gladiators, ancient ruins and catacombs, and so much more. It's the perfect destination for travelers of all ages, and it's a great place to travel with young children as locals can be quite welcoming.

Rome with grandparents is manageable, but there can be a lot of walking. Thankfully, the city's public transportation is quite good and easy to use. If you're looking for romantic things to do in Rome, there are plenty of options.
Highlights of Rome that shouldn't be missed are Vatican City, Sistine Chapel, Colosseum, Roman Forum, and Palatine Hill. The Colosseum, Forum, and Palatine Hill can be explored together.
Book your tickets for Rome's attractions in advance and bring plenty of water and good walking shoes. If you don't want to attempt everything on your own, you might want to consider a private walking tour.
We recommend booking a tour of the Sistine Chapel and Vatican Museums to avoid the long lines. Children might enjoy climbing the dome of St Peter's Basilica, the Vatican's most stunning church, while grandparents explore on their own.
Visit Villa Borghese, a majestic park that is home to a zoo and museums. Young kids will love running around and adults can marvel at the opulence of Villa Medici and take in the art collections.

Tours in Rome
Should your family be interested in a more personal experience, we would recommend booking a tour or hands-on class. Take a pasta or pizza-making cooking class, a gelato-making class, or even a food tour. These are a good option for some quality family time and a lot of laughs.
If your kids want to see what life was like for the ancient Romans, don't miss the two-hour gladiator class at the Gladiator School of Rome. They use replica weapons from Ancient Rome and kids love it!
Families who don't have much time to explore Rome should consider booking a private guide. This allows you to explore at your own pace and set the itinerary if needed.

Most of the top sites in Rome are located right in the city center, making it easy to see it all. Use your guide to show you the Colosseum, Roman Forum, Spanish Steps, Trevi Fountain, Palatine Hill, and more!
2. Venice
It doesn't get any more exciting than Venice, one of the most famous cities in Italy. The entire family will love cruising the canals of Venice in a gondola. For a more immersive experience, book a rowing lesson and learn how to row like a true gondolier.
The main square in Venice is Saint Mark's Square, home to St. Mark's Basilica, and the Doge's Palace. Consider booking a tour that covers both of the buildings and save time waiting in lines.

If you would rather explore on your own, we would recommend getting an audio guide with your admission. The Doge's Palace is extraordinary and kids and adults alike will enjoy a visit.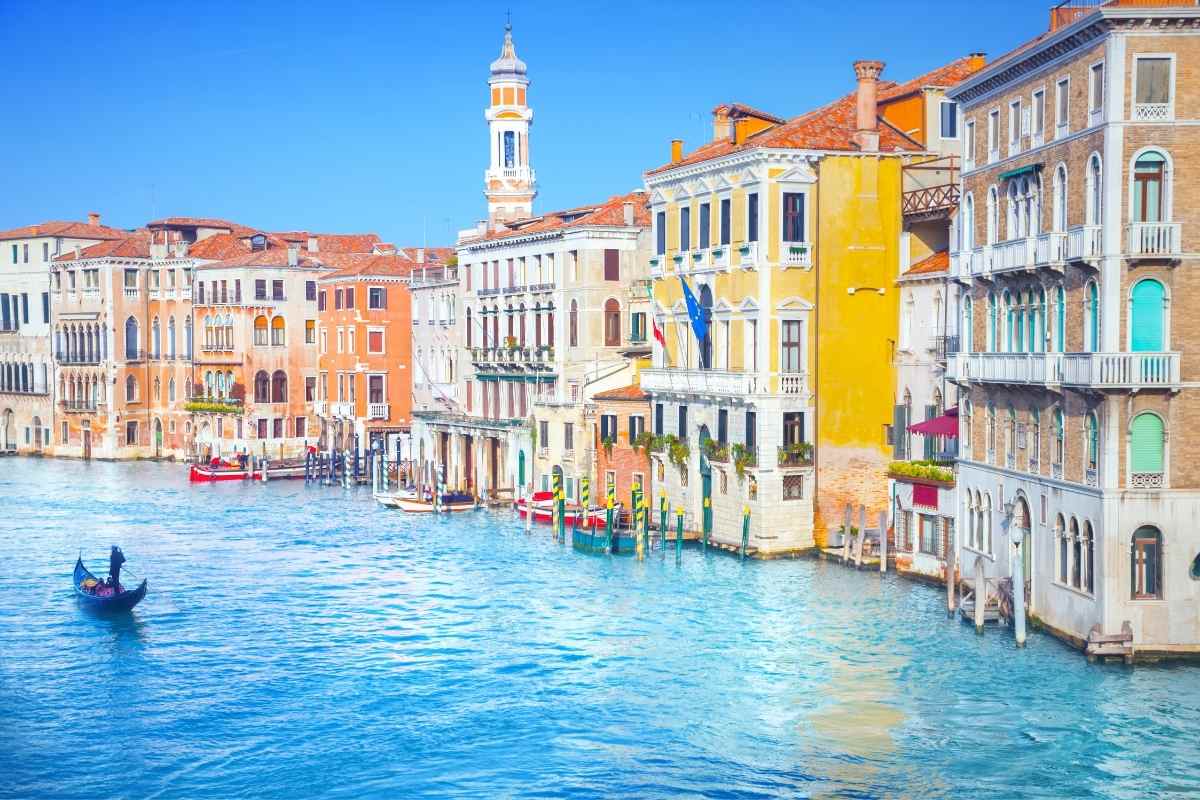 When you're finished, small children will love chasing the pigeons in St Mark's Square. There are also plenty of cafés where adults can grab a coffee and watch the kids run around. It's a great way to burn off some of their energy!
Some of our favorite activities in Italy for families involve taking classes and Venice has some unique ones. Want to try glassblowing? Check out this tour. Mask-making is another option if you want to try your hand at a different Venetian craft.
If you have a few days in Venice, consider taking a day trip to Murano and Burano to see the famous glass and lace-making operations. Or if the family wants some adventure, head to Aquafollie, a water theme park just an hour away from Venice.
3. Naples
Naples is one of the most exciting regions for the whole family. Some of my favorite places in Italy for families are the underground ruins in Naples, like the exciting Galleria Borbonica (Bourbon Tunnel) and Napoli Sotterranea (Naples Underground), two underground caves that are full of mysterious paths.
Take a ride on the Central Funicular which takes families to Piazza Vanvitelli where kids can run around and everyone can enjoy an afternoon gelato break.
Or head to the Park of Capodimonte where kids can play at one of the largest parks in Italy while adults relax and take in the stunning views overlooking Naples.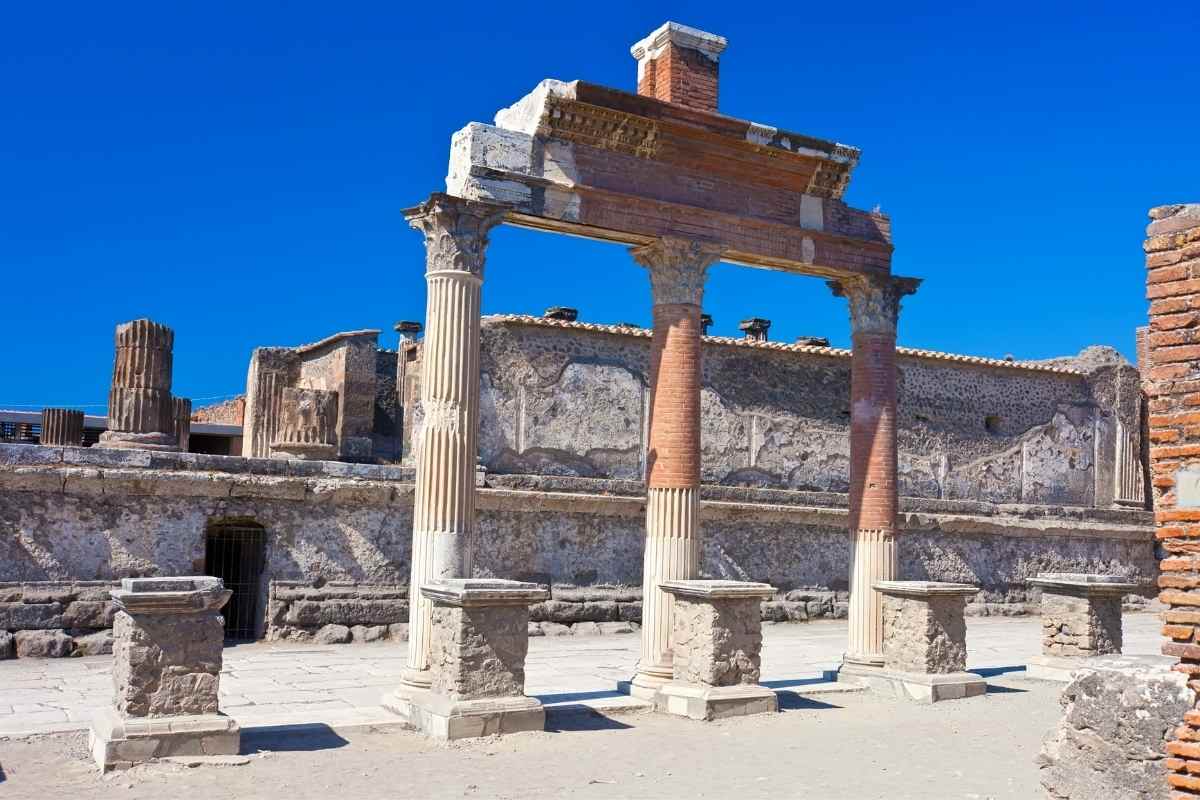 One of our favorite day trips from Naples is visiting Pompeii. This UNESCO World Heritage Site is a must-visit, and we would recommend a guided tour, although it isn't necessary. Kids will love exploring the remnants of buildings, frescoes, and body casts of people who were discovered after Mount Vesuvius erupted in 79 AD. Plan on spending at least half a day here, and bring hats, water, and plenty of sunscreen.
Another not to miss day trip is to the Amalfi Coast where families can spend time exploring Sorrento and Positano and other small towns while visiting some gorgeous beaches.
Don't leave Naples without visiting the majestic Phlegraean Fields, a caldera region with 24 volcanoes and craters. Located 30 minutes away from Naples is an active volcano known as Solfatara di Pozzuoli that is guaranteed to blow everyone's minds.
4. Cinque Terre
Walking through the five villages of Cinque Terre you'll feel like you've been transported into a postcard. This area is made up of the smaller villages Corniglia, Manarola, Monterosso al Mare, Riomaggiore, and Vernaza. Most people explore Cinque Terre on a hike, which takes six hours without stops.
If anyone in your family has mobility issues, this might be one area you want to skip. Most of the towns are not accessible by car and require visitors to reach them on foot. I would not recommend this for families with small children or strollers, but you can take the train and explore that way if you want to skip the hiking trails.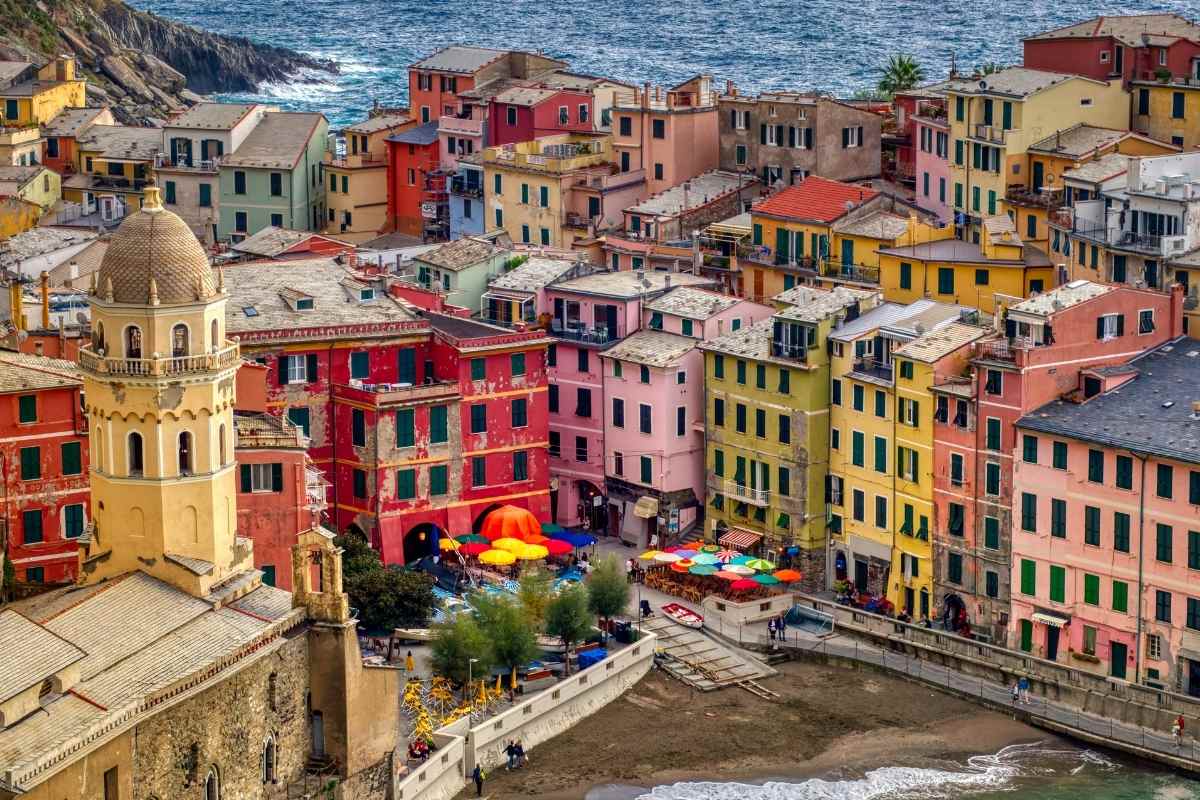 Some of the highlights of Cinque Terre include a walk along the colorful coastal trail or exploring the small villages. We recommend taking in the gorgeous sea view while you kick back with a nice cheese and meat platter and bruschetta at Nessun Dorma or grabbing gelato while the kids play in the local parks and squares.
5. Sicily
Sicily is a natural wonderland overflowing with ancient ruins, pristine beaches, and tons of kid-friendly activities. Palermo and Taormina are good home bases for multi-generational travelers. There are plenty of vacation rentals in Sicily to choose from, and they offer opportunities to explore beyond these Italian cities.
In Palermo, there's a puppet museum, a botanic garden, and even a zoo. The closest beach to Palermo is Mondello Beach if your family wants to spend time building sand castles and soaking up the sun. 
A great day trip is La Rocca di Cefalù. Families can choose to climb La Rocca, a majestic cliff overlooking the town of Cefalu and the ocean. It is a steep climb, so family members not hiking might prefer wandering through the streets of town and exploring the piazzas or hanging out on the beach.
If your extended family is up for an adventure, take a Jeep tour to the summit of Mount Etna volcano (in a 4 wheel vehicle). You will be accompanied by a tour guide who will show you the moon-like landscape and the volcano's crater.
Families that love amusement parks shouldn't miss Etnaland at the foot of Mount Etna. It's the largest theme park in Southern Italy and has roller coasters as well as a waterpark.
6. Sardinia
With over a thousand miles of majestic coastlines, the island of Sardinia captivates travelers from around the world. It's the perfect place if your family is looking for an island vacation in Italy.
Go swimming in Cala Goloritzé, located in eastern Sardinia. It's one of the most striking beaches in Italy. Of course, there are plenty of snorkeling, caving, rock climbing, and kayak opportunities here as well.
Sardinia also has some popular archaeological sites including Su Nuraxi di Barumini which features defensive stone structures dating to 1600 to 1200 BCE. Kids will love clamoring over the stones and learning more about Sardinian history.
Asinara National Park is another popular destination in Sardinia that all ages can enjoy. There are over 12,000 acres to explore, with hiking and horseback riding trails, and fabulous flora and fauna.
It is home to unique creatures like blue-eyed albino donkeys, wild boars, and even peregrine falcons. Consider booking a guided tour that includes snorkeling and time exploring the park.
7. Bologna
Put your chef hats on and visit the Carpigiani Gelato Museum in Bologna, where both little ones and older children can learn the ins and outs of making authentic Italian gelato (ice cream). How cool is that? At the end of the tour, they'll get a diploma that proves they know their way around the kitchen.
Older kids will love climbing the Due Torri (Two Towers) and taking in the stunning views. We would not recommend this for younger children or grandparents who might have mobility issues. While the others are climbing, let the little ones run through the piazza while adults relax at the café.
Afterwards, everyone can enjoy some delicious Italian food. Bologna is known as "la Grassa" (the fat one), so you know the cuisine is sure to be stellar.
Looking to spend time in the beautiful outdoors? Then visit Dulcamara farm, a restaurant and agriturismo that's only 20 minutes away. The restaurant area has a playground and an animal farm, so kids might never want to leave!
Dealing with a rainy day? Then head to Burattinificio Mangiafoco, a tiny theatre where you can watch a magical puppet show. Or head to La Macchina del Tempo, a virtual reality experience that allows visitors to experience different times and places in Bologna.
8. Milan and Lake Como
One of my favorite places to visit in Italy for families is Milan. While this cosmopolitan city is known as a fashion mecca, Milan is an underrated family-friendly destination in Italy.
Visit the Galleria Vittorio Emanuele II, a majestic outdoor shopping mall that is pretty unforgettable. If your family loves scavenger hunts, consider entertaining the kids by asking them to find certain items in the mall, like McDonald's, an angel, the letters SPQR (the acronym of the Roman Senate), or a coat of arms. This will help entertain them while adults shop and take in the exquisite architecture.
Afterwards, head to The Duomo, the 5th largest cathedral in the world and see how many gargoyles the kids can count.
The Scala Opera house holds incredible children's opera shows and they charge one euro for anyone who's under the age of 18. If you want a magical experience, consider booking tickets for one of their nighttime performances and feel the history of the place come alive.
If your family has extended time in the area, don't miss Lake Como. There are some wonderful villas that would be amazing for large family groups. Look at Bellagio and Varenna.
Spend the days on the water exploring towns along the lake or stroll through some of the area's beautiful gardens like Villa Carlotta or Villa del Balbianello.
9. Verona
Spend a couple of days relaxing in the beautiful city of Verona. One of the best things to do is climbing Lamberti Tower for incredible views of Verona's terracotta rooftops. Afterwards spent time soaking up the atmosphere in the adjacent Piazza del Erbe.
Make your way to Shakespeare's iconic Romeo and Juliet balcony for a photo opportunity. You can tour Juliet's house and even leave notes at Verona's Love Wall. There's also Juliet's tomb and Romeo's house. It's a fun area to explore with families.
Verona has small group food tours, tortellini making classes, and even truffle hunting excursions. Adventurous traveling families shouldn't miss river rafting outside of the city or spending time at Gardaland near Lake Garda. There are rides, an aquarium, LEGOland, and even themed hotels.
Molina Waterfall Park is another good option for outdoor adventures. It's a national park that is home to 18 waterfalls and trails that vary in difficulty. The park is only 30 minutes outside of Verona and it's a great opportunity for families to spend time together in nature.
10. Pisa
Of course, one of the most exciting places to take an epic family photo together is at the Leaning Tower of Pisa, one of the most important landmarks in the world. Save yourself a headache and book skip-the-line tickets beforehand.
Pisa also offers city parks, open air markets, and many museums. One museum the kids might enjoy is the National Museum of the Royal Palace. Kids and adults alike will be enthralled by their armory collection.
Discover the magical Pinocchio Park, only 40 minutes away from Pisa. This unique theme park in Collodi is dedicated to Pinocchio, the beloved childhood character.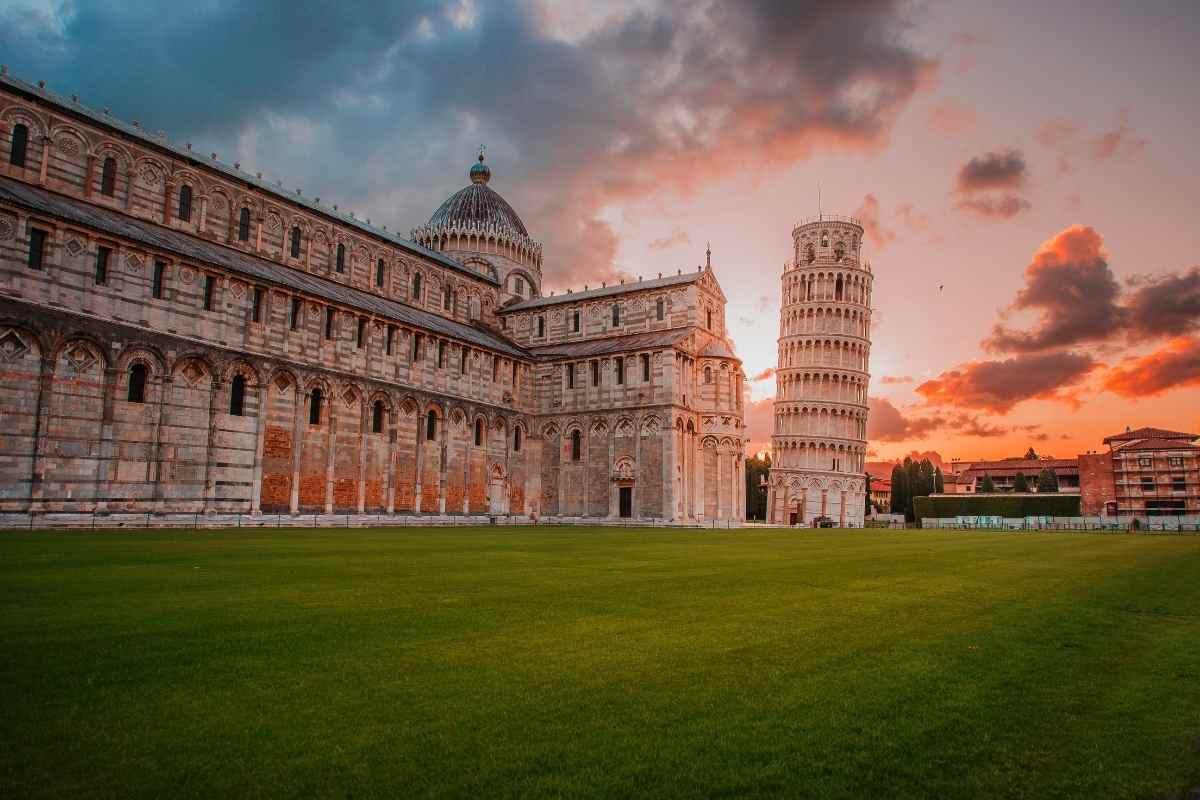 The park is nestled among luscious green gardens, sculptures of Pinocchio, magical creatures, and a mosaic square. There's also a giant sculpture of the whale that infamously swallowed Geppetto and Pinocchio in the childhood storybook. Kids can play inside and climb all the way to the top to get a magnificent view of the park.
Other popular day trips from Pisa include San Giuliano Terme, a spa town with thermal baths, a fortress, and cycling trails. In nearby Lucca families shouldńt miss cycling or walking along the city walls or climbing the Torre della Ore for some spectacular views of the city and the surrounding Italian countryside.
11. Florence
My favorite place in all of Italy is Florence. It has everything you want from an Italian city; amazing architecture, a phenomenal history, and of course, Italian cuisine.
All generations can enjoy a visit to the Uffizi Gallery, the Piazza del Duomo (and a climb to the top of the Duomo if desired), and the Accademia Gallery (home to Michaelangelós infamous statue of David). Kids especially will enjoy the Leonardo da Vinci museum where they can see replicas and drawings of his inventions.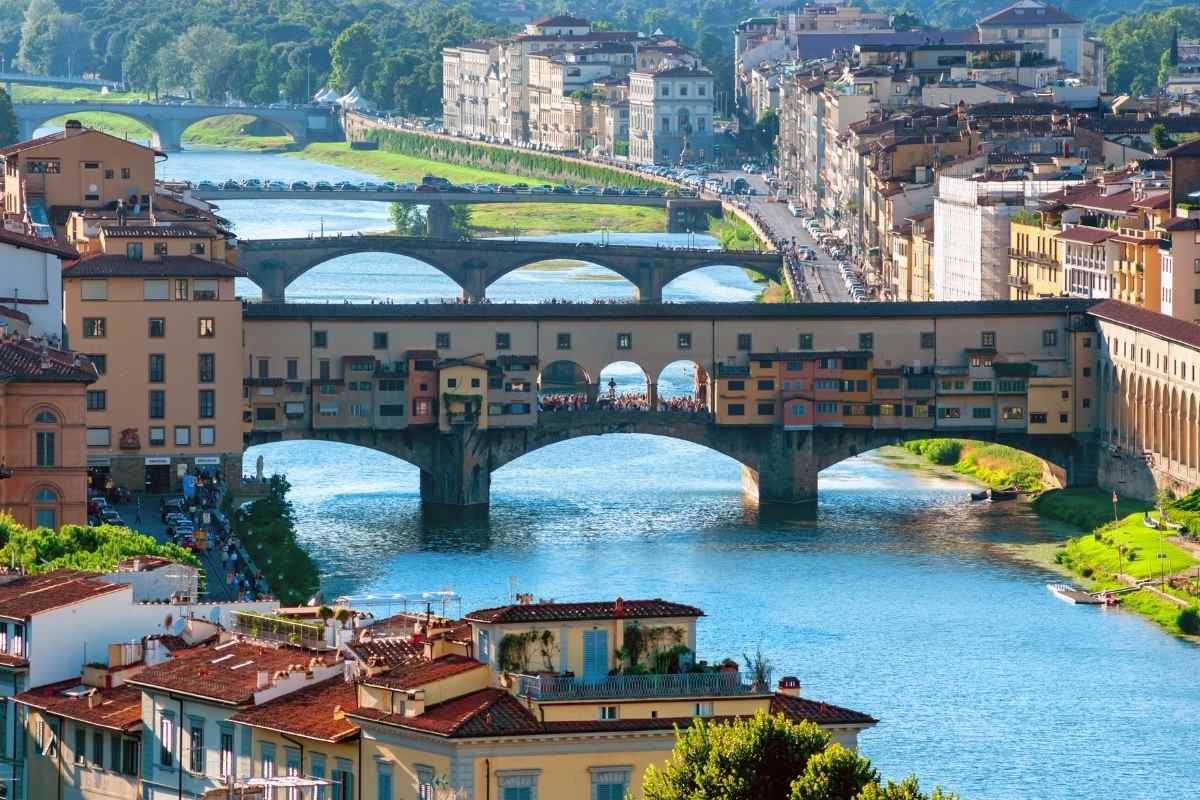 Spend time strolling along the Arno river and make your way to the Boboli Gardens, a magnificent park and gardens that once belonged to the Medici family.
If your family wants to stay at an agriturismo (working farm and accommodation), we would highly recommend Fattoria Corzano e Paterno. Located a half hour from Florence in the Chianti region, this property has houses available for families to rent, a vineyard, olive grove, and cheese made from their Sardinian sheep.
From here you can explore the towns of San Gimignano, Greve in Chianti, and Volterra. All three offer something for all generations, from Etruscan ruins, to wineries and car-free cities where kids can run freely.
12. Bari
In Puglia, families will find stunning coastal towns, charming fishing villages, beaches and National parks. Bari makes for a good homebase as the city has underground tunnels to explore, a castle, a city park, and of course the sea,
Consider booking a boat ride to The Polignano a Mare caves or sample the local cuisine on a street food tour. Be sure to make time for a trip to Alberobello to explore the white washed stone houses with cone shaped roof tops.
When traveling with multiple generations it's a good idea to plan as much as possible ahead of time. Hopefullly this list of places to visit in Italy for families will help you get started so you can fully enjoy la dolce vita.