When selecting the best African family safari lodges, there are a few important factors to consider. When traveling with little ones or even taking grandparents on safari, you might prefer a family tent or private villa. This setup allows you have the entire family under one roof and spend quality time together between game drives and activities.
*Disclosure: This post may contain affiliate links, which means we may receive a commission if you click a link and purchase something that we have recommended. Please check out our disclosure policy for more details. Thank you for your support!
Private villas often come with a dedicated guide and safari vehicles. This allows complete flexibility and the ability to set the pace for the day, including activity schedules and mealtimes. You essentially have a team of staff looking after you and your family.
Many family-friendly safari lodges offer child care services or kid-friendly activities. This allows grown-ups to have some priceless downtime for a siesta or a romantic dinner under the stars. It's also a chance for younger guests to gain a sense of independence. This will give them great stories to share when they return home.
Health is always a consideration with overseas travel, and all the more so when kids come along. For this reason, it's worth considering safari destinations that are free from malaria or extremely low risk. You might be pleasantly surprised to discover that some of Africa's top wildlife destinations fall into this category.
The Best African Family Safari Lodges for All Ages
To help you plan an African safari, and inspire you to choose Africa as the destination for your next family holiday, we've asked Alluring Africa to compile a list of some must-visit safari lodges. Have a look and start imagining your family in these amazing family-friendly lodges.
Best Safari Lodges in Kenya
Mara Bush Houses
Children of all ages are welcome at these exclusive-use properties in a secluded corner of the Mara North Conservancy. The houses are delightfully removed from the more heavily traversed regions of the Mara. If you are looking for exclusive-use villas in Kenya, look no further.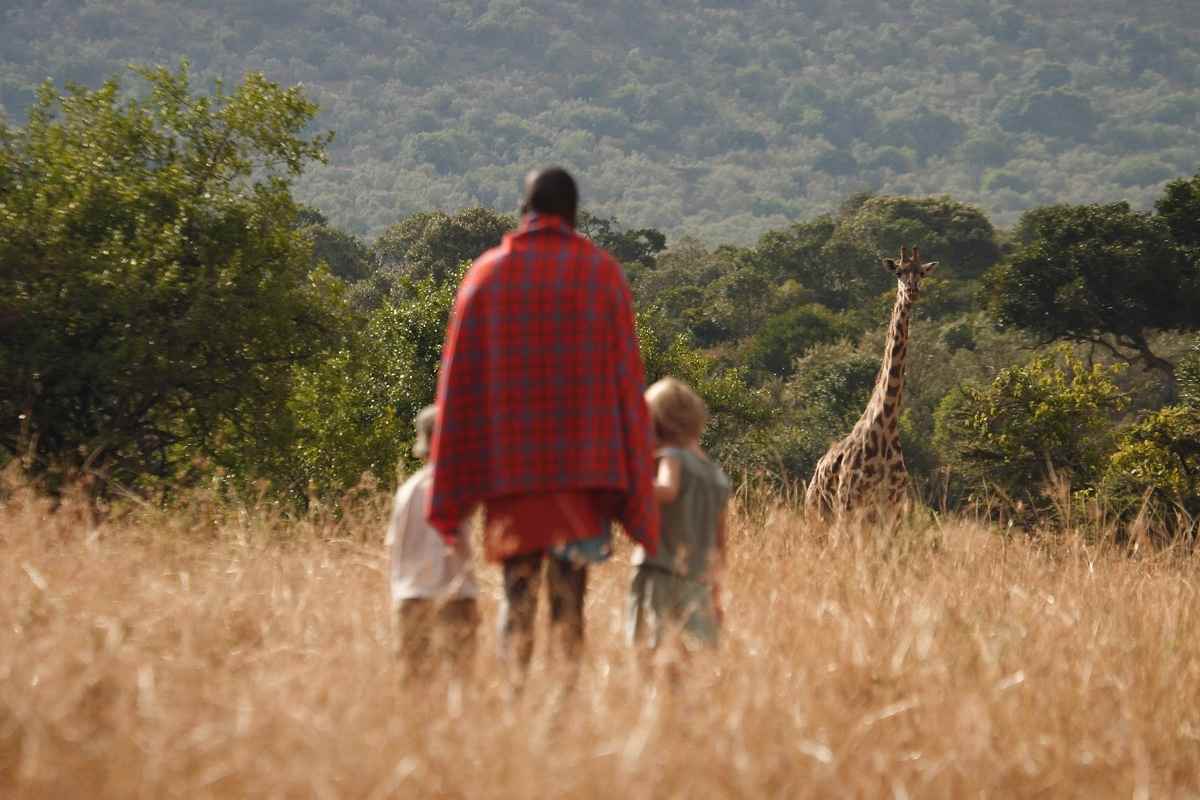 Both Acacia House and Mara House are fully staffed and feature three full bedrooms. Enjoy complete independence when it comes to determining your itinerary. We recommend the game drives in the surrounding Lemek Hills as you search for endangered wild dogs. Small groups might find that creating their own itinerary might make for one of the easiest family vacations ever.
Cottar's Private Bush Villa
The name Cottar is synonymous with East African safari adventures and luxury lodges. This award-winning private villa shows why that's the case. Arguably the most luxurious property in the renowned Masai Mara, Cottar's Private Bush Villa takes elegance to a new level.
The property is staffed by some of the best local guides, making for the perfect safari vacation.
Cottar's Private Bush Villa offers exceptional activities both onsite and in the surrounding pristine wilderness. There is ample space to accommodate up to 12 people and there is a 25-meter swimming pool that everyone will love after a long day.
Segera
This is one of the jewels of Laikipia in Kenya's highlands. It is a voyage of discovery in itself, from its displays of contemporary African art to its unique architecture (including the Nay Palad 'bird nest hideaway).
Segera focuses on personal exploration. There are community visits, guided walks, and staff who will keep children entertained for hours. All family members can enjoy the legendary African bush picnics. Family accommodation options include Villa Segera, Segera House, and the recently renovated Farmhouse. Each one offers complete privacy and its own private plunge pool.
Lewa Wilderness
Lewa Wilderness is more than a lodge; it's an unforgettable experience with a ground-breaking safari ethos at its heart. Think adventure with a purpose, and you're getting somewhere close.
The cottages and garden cottages offer seclusion and privacy. There is a wealth of activities that will keep young explorers entertained for your entire stay. Young kids will make amazing memories and look back fondly on all that they saw and felt.
Activities include daily game drives (including an eco-friendly all-electric vehicle), walking safaris, and even scenic flights in a retro yellow biplane.
Best Safari Lodges in South Africa
Tswalu Tarkuni
Tarkuni Homestead was previously the owners' family home. Its renovation into a private safari villa has remained faithful to its past. The owners have created a wonderful contemporary haven from which to discover the secrets of the remarkable Kalahari.
Tarkuni is set in its own valley and offers five guest suites under one thatched roof. It accommodates up to 10 guests. The Homestead is focused on communal spaces for dining, play, and socializing as you enjoy the best of the South African indoor/outdoor lifestyle.
Little Bush
Sabi Sabi's Little Bush near Sabi Sands Game Reserve in Kruger National Park was specifically created to cater to the needs of families, and it's a delightful experience.
The keywords here are intimacy and seclusion, an impression that's reinforced by the lodge's setting beneath shady riverine trees. In that secluded spot, you'll experience superbly warm hospitality and find six luxury suites. When you and your family need an exclusive getaway, Little Bush is perfect. Think of it as your home away from home in Africa.
Grootbos
Grootbos Nature Reserve offers a unique experience between the forests, mountains, and sea, close to the southernmost point of the African continent.
The unique landscape will draw you in, as will the opportunity to explore pristine wilderness areas.
We think the best way to explore Grootbos as a family is to stay in one of the two luxury private villas and enjoy its breathtaking sea views. On-site activities include mountain biking, whale watching, horse riding, and even shark cage diving. This is one place the whole family will enjoy!
Sarili Shamwari
Shamwari is a storied name on the South African safari scene. They have put all their experience and knowledge into creating the Sarili Private Lodge.
With 5 bedrooms, this luxury outpost is big enough for most families but intimate enough that you can all effortlessly come together to hang out or share meals.
The Eastern Cape wilderness begins at your doorstep, while Sarili itself features a dedicated staff team, including your own private chef and guide. Instead of kids clubs, families will enjoy the Kids on Safari programming and the private pool at the main lodge which has a shallow area for young children.
Best Safari Lodges in Rwanda
Kataza House
Rwanda's safari reputation is based on some of the best mountain gorilla viewing on the planet, but this is not the only area in which this tiny, mountainous nation excels.
Volcanoes National Park is the perfect place to be in Rwanda. On the edge of it, and within easy reach of the starting point for gorilla treks, lies Kataza House. It offers unparalleled exclusivity and comfort, with architecture inspired by its stunning setting.
Luxurious touches include not one, but two heated plunge pools, a fitness center, a theater, and a wine cellar. This is African hospitality at its best.
Best Safari Lodges in Tanzania
Jabali Ridge Private House
The baobab is perhaps Africa's most iconic tree, and Tanzania's Ruaha is famous for them. This private lodge is nestled between several magnificent specimens and represents the height of the exclusive-use luxury safari lodge in the region.
Look out from the deck to spot the buffalo, elephant, and lion that Ruaha is famous for, or simply make the most of having your own 3-bedroom house in the bush.
The private pool and the dining area are always focal points, while the dedicated staff team is there to cater to your every need.
Mkombe's House
The legendary Serengeti is the stomping grounds for the hundreds of thousands of antelope that make up the Great Wildebeest Migration. In that vast savannah, Mkombe's House is the only private villa in the region.
The villa takes its name from a former guide who had a particular affinity for children, and this spirit infuses a private lodge built very much with younger children (and their parents) in mind. Described as a private family oasis, it features secure children's rooms, along with highchairs, car seats, cribs, and baby baths.
Best Safari Lodges in Zimbabwe
Amalinda Lodge
Surrounded by immense, ancient granite boulders, the Homestead at Amalinda in Zimbabwe's historic Matopos region offers a remarkable private safari experience. This is a true family home in every sense, billed as an opportunity to disconnect from reality and reconnect with family and nature.
Privacy and intimacy are high on the list of reasons to fall in love with the Homestead, and it provides the perfect launchpad for extraordinary encounters, including rhino tracking.
Singita Malilangwe House
This contemporary-style safari lodge offers spectacular views from its position on the crest of a sandstone ridge. The wilderness beyond the lodge is truly astonishing, while the house itself is a worthy addition to the landscape.
Each of the five bedrooms has a private deck, while kids and adults alike will naturally gravitate to the amazing infinity pool. As in any family home, the kitchen is a hub of activity. At Singita it's an interactive experience that kids will love.
The many outside areas lend themselves to the wellness experiences for which this private lodge is well-known.
If you're thinking about a safari with kids, it's important to find the right destination for your family. The safari accommodations offer something for all members of the family and every one of them is a great option. If you're looking for the right place for your family safari holiday, reach out to our travel partner, Alluring Africa. They know the best family-friendly safaris and can ensure the best trip for your family. Click here and use my code KAAT to schedule a complimentary consultation and waive their $250 trip planning fee.