When looking at vacation options for large families, there are many options to choose from. If you are looking for something with lots of entertainment and things to do while also being affordable, an all -inclusive resort can be the answer. These are the reasons to stay at all inclusive resorts when traveling with extended family.
Reasons to Choose an All-Inclusive Resort
An all-inclusive resort is ideal when it's your first time traveling with three or more generations of family members. All-inclusive resorts are becoming a go-to option for multi-generation vacations and there are plenty of reasons why. Here are a few of the reasons they should be an option for your multi-gen vacation.
What is an All-Inclusive Resort?
When you book an all-inclusive hotel or resort, you can sometimes select different food and drink plans. This allows each family to tailor a package that fits their needs.
Accommodation options span from self-catering, where nothing is included in the room rate, to all-inclusive, where everything is included. Many resorts will also include transfers, kids clubs, gyms and sports courts, daily activities and evening entertainment. Properties range from the basics with a pool and buffet restaurant, to luxury with adult-only areas, butlers, and a la carte dining.
If you want to know more about all-inclusive resorts and why they are great for large families, here are six reasons to consider.
Child care at all-inclusive resorts
When you go to an all-inclusive resort on a multi-generation vacation, you have several childcare options to choose from. These properties are some of the best places to travel with a baby since parents can have alone time when they use the property's childcare service.
There are an endless number of family-friendly resorts which offer child care services, from kids' clubs and water parks to play areas and sports courts. Typically the property has an entertainment staff that coordinates activities for age groups up to 16, and finds ways for them to enjoy their time at the resort.
An all inclusive property offers children a chance to make new friends, learn new skills, be creative and have fun. The adults of the family can relax when children aren't underfoot and do all the "boring" things the children don't want to do.
If you aren't comfortable using the on-site childcare, adults can also take turns looking after the children. Grandparents can take the children to the evening entertainment, while parents have a romantic dinner and vice versa. 
Family hotels always cater for children, so there will be plenty of things for children to enjoy.
Food at all-inclusive family resorts
As mentioned, using all-inclusive resorts for your multi-generation vacations means food and drinks are all included in the price. If premium alcohol is important to you, you might need to clarify this when booking. Some resorts do not include premium drinks in their all-inclusive packages.
Having a variety of food options is great when you are a large family going on vacation, as you don't have to worry about anyone going hungry. All intolerances and allergies are catered for, and buffets allow everyone to make their own meals. No one has to clean up after the meal!
Resorts always offer a wide range of foods in their buffet restaurants, and usually have a la carte restaurants too. They cater to even the fussiest of eaters!
Food is usually available throughout the day so you no longer have to worry about teenagers who eat everything, or children wanting money for refreshments. Everyone can eat and drink to their heart's content.
Affordable
The wonderful thing about choosing an all-inclusive resort for your large family is that everything is included in the price. Adults no longer have to negotiate over who is paying for what, or if you can even afford it, as when booking an all-inclusive resort, you can usually work out a per head rate.
When booking a multigen vacation with a travel agent, the cost of your trip will usually include the hotel, all food and drink, and even flights and transfers. Sometimes, flights themselves could cost as much as the whole trip, which makes this one of the most affordable ways to take a multi-generation vacation.
You can also make your money go further by booking an all-inclusive resort, as the standards are incredibly high, so pick the right resort and you'll get fantastic service and facilities for an affordable rate.
Everything is covered
If you've booked a package holiday with a travel agent, you won't have the usual worries that might come with a multi-generational trip. The majority of the multigenerational trip planning can be left to others, which is a huge relief!
Working out how to get from the airport to the hotel, researching what there is to do in the area, and who will want to do it, as well as everything we've already mentioned, is no longer an issue.
All you need to do is get to the airport and onto the plane. Everything is covered upon arrival. A car service will pick you up from your destination's airport and drop you off at the hotel where you check into your room and get all the information you need to enjoy your trip.
If you want to book day trips or tours, the resort and travel agent websites usually offer guided tours. Tours usually include transport and entrance fees, so you just have to book the trip.
This is what makes all-inclusive resorts one of the best options for your multi-generation vacations!
Something for everyone
When you know what everyone wants to get out of your vacation, you will always find a resort that will make everyone happy.
Kids will love the clubs, and grownups can relax by the pool or have lunch without worrying about it flying everywhere. There is usually a daily schedule offering activities for the whole group (such as Bingo), kids (such as soccer games), and parents (such as wine tasting). Usually there are high-end restaurants that are perfect for adults-only time, and buffets that are kid friendly. There really is something for everyone.
Making lasting memories is what multi-generation vacations are about!
Multi-generation friendly
All-inclusive vacation resorts are popular for all of the reasons explained above and more. They are so convenient, many large families choose them for their multi-generation trip.
Meeting other families on their vacations is one of the best things about this type of hotel. Families can make lifelong friendships in these resorts. They end up taking trips together, eating together and staying in contact once the vacation has ended.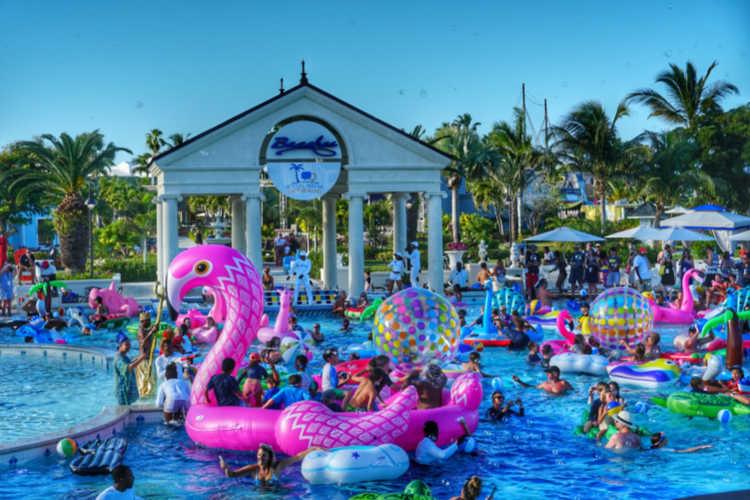 So there you have your 6 reasons why all-inclusive resorts are best for multi-generation vacations!
Looking for all-inclusive resorts that are awesome? Check out these all inclusive resorts in Mexico and Beaches Turks & Caicos which is perfect for all ages.