Lake Tahoe is a beautiful destination with its crystal blue waters, giant boulders, and stunning alpine views. As expected, this location receives a lot of visitors, and there are many places to take Lake Tahoe photos while you are here. 
Are you visiting Lake Tahoe with family? If so, it's the perfect time to take family pictures and document your special memories. There is no shortage of photo spots in Lake Tahoe, and we have put together a list of the best photo locations for Lake Tahoe family portraits. 
*Disclosure: This post may contain affiliate links, which means we may receive a commission if you click a link and purchase something that we have recommended. Please check out our disclosure policy for more details. Thank you for your support!
21 Best Lake Tahoe Photo Spots
1. Emerald Bay
Emerald Bay is one of the most photographed spots in Lake Tahoe, and for obvious reasons! This beach is about a 20 minutes drive from South Lake Tahoe and features beautiful water views that are perfect for taking pictures. You can also take photos of Emerald Bay itself, and the best view is said to be at Inspiration Point.
NOTE: This area draws numerous visitors at sunrise and sunset as you'll find a stunning reflection of the sunrise on the water. Be sure to arrive early to find parking and give yourself plenty of time to get to the photo shoot location.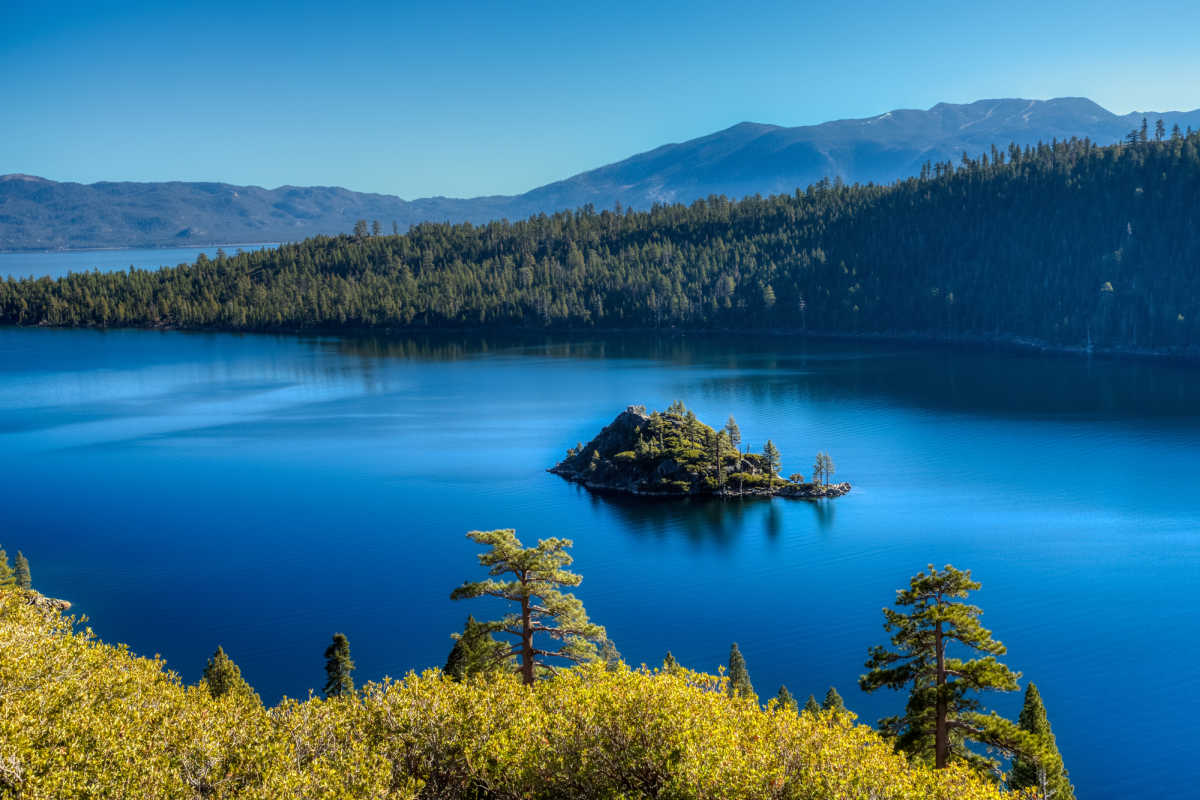 2. Rubicon Trail
Rubicon Bay features many piers perfect for taking gorgeous pictures. This trail goes around Emerald Bay and passes through D.L. Bliss State Park and is ideal for hiking and walking. This spot also offers some campsites perfect for a summer vacation. 
3. Heavenly Gondola
Located at South Lake Tahoe, this is the best place in the Tahoe area to enjoy a gondola ride. The ride up to the mountain is the perfect time to take beautiful pictures with your family. You will also find short hiking trails where you can get some panoramic photos of Lake Tahoe.
4. D.L. Bliss State Park
Another great Lake Tahoe location for sightseeing and photography is D.L Bliss State Park. This beautiful location is perfect for camping with your family, relaxing at the beach, and enjoying water activities like swimming and boating. Head to this park early to beat the crowds and get the best pictures. 
5. Eagle Falls
Close to Emerald Bay is Eagle Falls, where you will find beautiful waterfalls with rocks and spectacular views. The lookout below the falls is the perfect place to stand. 
6. Vikingsholm 
Vikingsholm sits at the edge of Emerald Bay and is a beautiful example of Scandinavian architecture. It is a popular day trip in Lake Tahoe and families can tour the home if they wish. A family photo in front of this grand estate will be something you always treasure.
7. Fallen Leaf Lake
Fallen Leaf Lake is a secluded spot lined with trees. This stunning location also has one of the prettiest campgrounds, perfect for taking outdoor camping photos.
Try to find a spot close to the lake so you get pictures that show the beautiful redwood trees.
8. Secret Harbor Cove
Secret Harbor Cove features a beautiful beach surrounded by boulders and clear, calm turquoise water. This is one of the most photogenic spots in Lake Tahoe and can be accessed through the Secret Harbor Beach Parking Lot.
Take pictures with the submerged boulders and the beautiful lake as a backdrop. Another picture idea is at the small beach area, especially when the sun hits the lake, giving it a brilliant blue-green color. 
NOTE: Secret Cove is a nude beach, and it's clothing-optional, so be careful when bringing kids here. We also recommend you hire a professional photographer for the best picture results. 
9. Truckee River
Another location with beautiful views of the Lake Tahoe area is along the Truckee River. The river is popular with visitors who enjoy white water rafting, swimming, and floating, but there are walking trails along it that are perfect for taking pictures.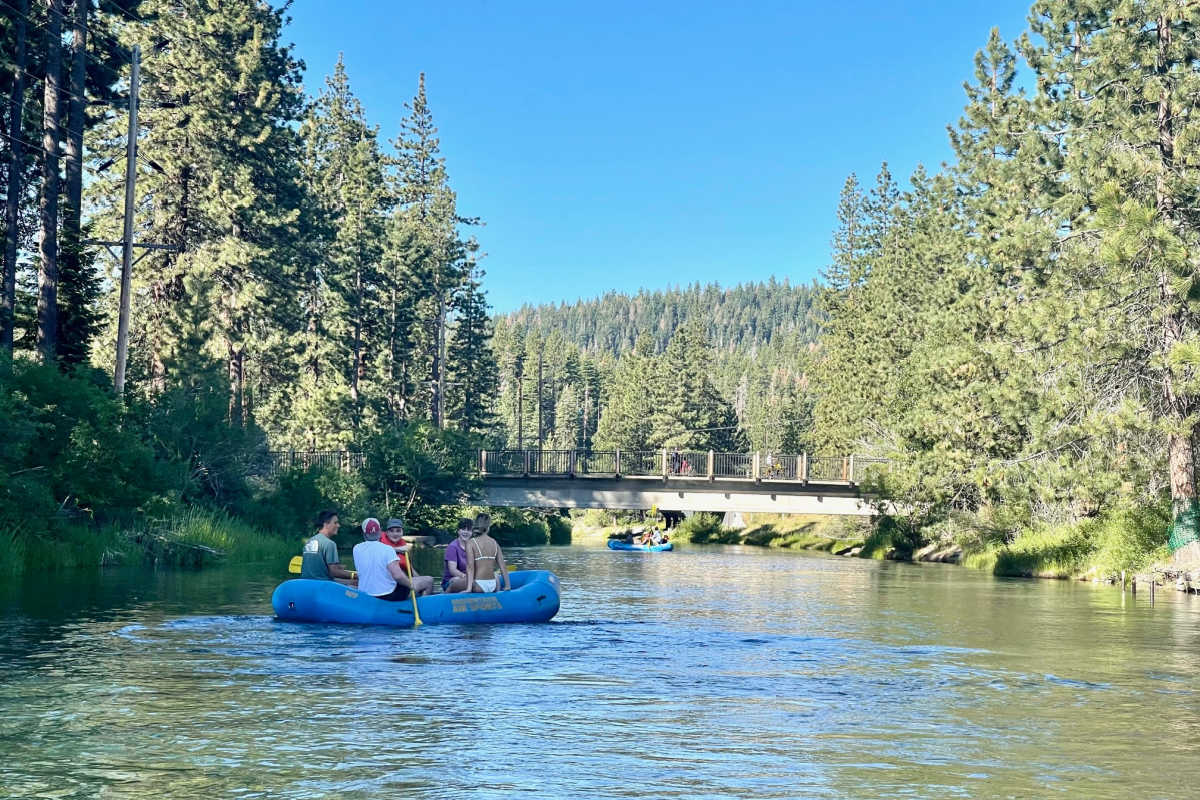 10. Monkey Rock
The views at Monkey Rock are completely worth a picture as it has 360-degree views of Lake Tahoe. This trailhead is located behind Tunnel Creek Cafe, south of Incline Village, and you can take some photos with the stone monkey.
11. Bonsai Rocks
Bonsai Rocks are located a few miles south of Flume Trail Mountain Bikes and feature a large boulder (sticking out from the water) with four small trees sticking on the top. Its natural beauty and gorgeous views make it a popular spot for Lake Tahoe photographers. To get a perfect photo session, you should show up very early in the morning or about an hour before sunset. 
12. Lake Tahoe East Shore 
The East Shore of Lake Tahoe boasts gorgeous beaches and beautiful rock formations. The best time to hit this spot is during sunset when the golden hue reflects on the beaches and rock formations. 
The East Shore is one of the best places to take pictures because it's not as crowded as other spots, and you are likely going to get the whole place to yourself. This area features many large sharp granite boulders, so we recommend you wear hiking boots to protect your legs.
You can also take pictures at the East Shore Trail, which connects Incline Village and Sand Harbor.
WANT TO HIRE A PROFESSIONAL? WE HIGHLY RECOMMEND FLYTOGRAPHER!
13. Sand Harbor
One of the best spots for photos in Lake Tahoe is Sand Harbor which is just a short drive from Incline Village. The beach is so beautiful, with its turquoise water, giant boulders, and beautiful trees. It's no wonder this beach is one of the most popular Instagram spots in Lake Tahoe.
For a family photo shoot, we recommend you get there as early as possible when the water is calmer, and there are fewer people. 
14. Cave Rock
Cave Rock offers a 360-degree view of Lake Tahoe, and although it requires a hike to get to the spot, the outcome will be worth it.
Be careful when climbing around the rock, though, as it can get slippery. Also, wear sneakers or hiking boots when coming here, especially if you plan to climb the rock with your little ones. 
15. Mount Rose
Mt. Rose is another popular photography spot in the Lake Tahoe area. This very tall mountain provides epic lake views and is worth a visit both in summertime and wintertime. 
16. Chimney Beach
This hidden beach has an actual chimney, hence the name. The blue waters and beautiful pine trees make it a perfect spot to take photographs. You can also take pictures next to the old chimney, which is a remnant from a caretaker's cabin that used to be there. 
Although it's a secluded beach, this spot gets crowded during peak season, so arrive early for your photo session.
17. Mount Tallac
Another mountain location perfect for a family photo shoot is Mount Tallac. This mountain boasts views of the Tahoe and Desolation Wilderness perfect for photo backdrops.
While you are here, we recommend you catch the sunrise or sunset views, as it's one of the most stunning views you can get of the sunset in Lake Tahoe. No matter the angle you take the picture, you will end up with desirable results. 
18. Skylandia Park
Another great place to take photographs with young children is Skylandia State Park and Beach, especially in winter when the area is covered in snow. You are likely to come across a lot of professional photographers at this spot, especially wedding photographers. Skylandia Park is also perfect for biking, hiking, picnicking, kayaking, and swimming.
19. Legacy Trail
Nestled in Truckee City is the Legacy Trail, where you will find a well-paved trail with a backdrop against the Truckee River and High Sierra crest. Legacy Trail also offers easy access to two major recreational spots in the area; Truckee River Regional Park and Riverview Sports Park.
20. Tahoe Rim Trail
Tahoe Rim Trail can be a little challenging to get to, but the picture results are always breathtaking. You can also enjoy leisure hiking and mountain biking through the incredible vistas, alpine lakes, and beautiful meadows.
21. Lake Tahoe Ski Resorts
If you are in Lake Tahoe in winter, the perfect place to take pictures will be in any of the beautiful sky resorts in the area. Some of the best resorts for stunning views include Northstar, Heavenly Ski Resort, Palisades Tahoe, and Kirkwood. 
Whether you want to take photos you can add to the family album or take stunning images you can post on social media, Lake Tahoe is undoubtedly the best location to take beautiful vacation shots. While these are just some of the best photography spots, there is a lot more to do in Lake Tahoe besides taking pictures. Take your time to enjoy the many activities and take in the views while you are here.