If you are looking for the best family resorts in Florida for a group trip, these are the places you want to book. From beachfront resorts to deluxe theme park properties, these places tick all the boxes for a Florida family reunion. These are the best Florida resorts for families and friends.
*Disclosure: This post may contain affiliate links, which means we may receive a commission if you click a link and purchase something that we have recommended. Please check out our disclosure policy for more details. Thank you for your support!
Florida family resorts all ages will love
Orlando resorts for kids and grandparents
Encore Resort at Reunion
If you're planning a Disney World trip with the grandparents and want the perfect balance between theme parks and relaxation, you'll find it at Encore Resort at Reunion.
There are so many things to do in Orlando and this property offers easy access to all of them. Encore's website offers the ability to book park tickets and they offer complimentary transportation to Walt Disney World, Universal, and SeaWorld.
This stunning gated community has the best of both worlds. It offers vacation home rentals that are big enough to accommodate everyone with residences offering 4 to 13 bedrooms! Encore also offers an on-site water park, kids' club, fitness center, restaurants, and daily activities. You have the benefits of a vacation rental and a resort, and no one will complain about that!
This is a great Orlando resort for family reunions. Each vacation rental is privately owned which means that decor varies, so take your time to research all of the options and choose the right one for your group.
There are restaurants both inside the resort and out, however, it's the perfect opportunity to cook and spend time together in your home. If there are enough of you, you can take turns! (And if you need recipe ideas, we've collected some of the best meals to cook on vacation)!
CLICK HERE TO BOOK YOUR STAY AT ENCORE RESORT
Disney's Animal Kingdom Lodge
How exciting to look out from your balcony and see a giraffe eating its breakfast! You can do that at Disney's Animal Kingdom Lodge, a 43-acre reserve with over 30 species of wildlife, amazing pools, and excellent dining options. It's easily one of the best family resorts in Florida.
Of course, there's the excitement of the Disney parks, but don't miss a chance to spend the day on property. Families can swim at one of the property's pools and play at the splash pad, or try a painting class overlooking the savanna.
At night join around the campfire and roast s'mores, then stay for a movie under the stars. Don't miss the Hakuna Matata playground and Pumba's Arcade. Whatever the kids want to do, we are sure the adults will want to join in!
The rooms at Animal Kingdom Lodge have African-themed decor and some have savanna views, so you really can wake up with the wildlife. There are super comfy beds and sofas. It's the perfect place to rest your head and feet after a long day in the park, without having to travel too far. For families who want everyone under the same roof, the property offers the Animal Kingdom Villas with one to three bedrooms.
Some of the best Disney World themed restaurants can be found at Animal Kingdom Lodge, including Boma, Jika, and Sanaa. They all give you a taste of African cuisine as well as classic American favorites (for the fussy eaters). At Sanaa, some tables overlook the savanna so everyone can watch the animals while eating.
CLICK HERE TO BOOK YOUR STAY AT ANIMAL KINGDOM LODGE
Florida Keys Family Resorts
Hawks Cay Resort
You'd be forgiven for thinking this stunning resort has its own island. At Hawks Cay you can enjoy the benefits of an island resort, with the ability to drive around the Keys for the day if you want to explore.
This is one of the most kid-friendly resorts in Florida. They have a huge play area for kids and offer activities for all ages. Families can try snorkeling or deep sea fishing, or even have the experience of being a dolphin trainer for the day. Dolphin Connection is a Florida marine life program unique to the Resort. It's the only place in the US that offers guests a chance to meet and interact with dolphins.
Families can rent equipment at the resort for kayaking, paddle boarding, and tennis. If you want to book a private charter for fishing or a sunset cruise, that's available as well.
Rooms at Hawks Cay are spacious and designed with the Caribbean and Florida in mind. They offer accessible versions of most rooms, including the family room, which comes with a double bed and bunk beds.
If you're looking for something more spacious, a villa with 3-4 bedrooms gives you privacy and enough room for the whole family.
There are plenty of dining options for you here too. With six restaurants, not including in-room and lunch boxes for days out, you're spoiled for choice. There's seafood, snacks, a steak restaurant, and a "marketplace" for a quick family dinner.
If you want to explore outside the resort, check out this guide for how to plan a Florida Keys vacation.
CLICK HERE TO BOOK YOUR STAY AT HAWKS CAY
Florida Atlantic Coast Resorts
Ritz Amelia Island
The Ritz-Carlton properties are some of the best family resorts in Florida. The Ritz-Carlton on Amelia Island has 13 miles of beach, a AAA Five Diamond restaurant, and offers a luxurious location for a group trip to Florida.
Ritz Kids is available for 5 to 12-year-olds. They offer fun and exciting educational activities about mysterious creatures of the deep, sharks, and being good stewards of the environment. Children learn about the island's natural wonders through hands-on adventures in the kids club.
Families can spend time on the golf course or enjoy the beach and water activities. They can also learn to surf or stand up paddleboard, kayak, or simply relax by the pool. When the adults need time away from the kids, head to the oceanfront spa.
All rooms and suites feature a balcony with an ocean view, and some rooms are made to be connected for larger groups. Rooms on the Club Level have access to the lounge with all-day snacks, a personalized concierge service, and a special Ritz Kids Night Out on Friday and Saturday evenings featuring fun activities for kids.
In addition to the resort's AAA Five Diamond restaurant, Salt, be sure to try the other restaurants on property. Many offer coastal and seafood menus, but if you want a gourmet burger, The Pub is sure to fit your needs.
CLICK HERE TO BOOK YOUR STAY AT RITZ AMELIA ISLAND
Disney's Vero Beach Resort
Did you know there's a Disney resort in Florida that isn't in Orlando? It's true! Disney's Vero Beach resort is located 2.5 hours southeast of Orlando on the beautiful Treasure Coast. Here families can enjoy fun in the sun and endless activities, but there are plenty of opportunities for relaxation as well.
Active families have access to basketball, volleyball, tennis, and even a miniature golf course (there are also many golf courses in the area for those who want them). There are bicycle rentals, kayaking, and even fishing. Be sure to book an extended stay so you can try all of the activities the resort has to offer!
Rooms at the resort can be garden or ocean view, and come in standard room sizes or 1 and 2-bedroom villas. No matter the size of your group, there will be a layout that works for you.
When it comes to dining, families can enjoy a meal at Wind & Waves Grill or Wind & Waves Market or head into downtown Vero Beach where there are plenty of restaurants for all tastes.
CLICK HERE TO BOOK YOUR STAY AT DISNEY'S VERO BEACH
The Breakers – Palm Beach
The Breakers resort prides itself on not only offering luxury and high standards but also offering fun activities for the whole family.
Here, playing golf doesn't have to be something the adults do in their alone time. The resort offers family lessons at its state-of-the-art golf range. You and your family can enjoy complimentary bicycles, play tennis or basketball, or spend time at the beach. The resort offers snorkeling, paddling, kayaking, and surfing excursions.
At Camp Breakers, kids can enjoy everything from nature excursions to scavenger hunts. Campers will be perfectly entertained if parents and grandparents need time on their own.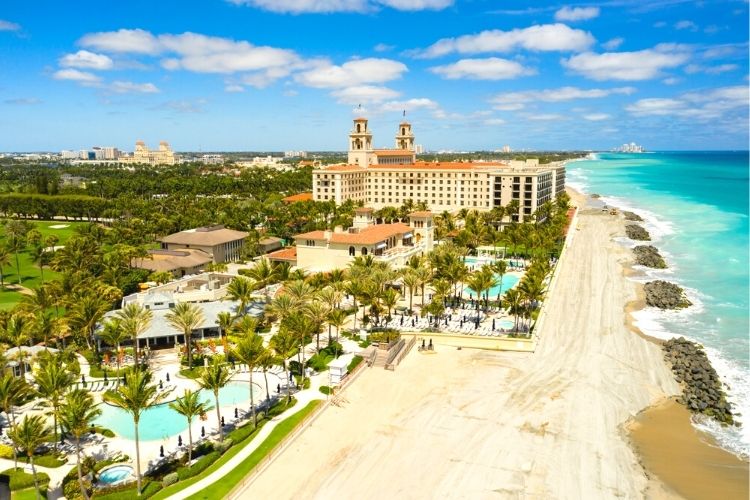 When it comes to restaurants, there are ten different ones to choose from including a steakhouse and an Italian restaurant with plenty of kid-friendly options like pizza and pasta. Even the fussiest of eaters will find something they like with so many options.
Room types come in different sizes, so there's sure to be enough space for your group. For the best experience, book a suite with an oceanfront view. Relax in your room with the sound of waves crashing and wonderful views!
CLICK HERE TO BOOK YOUR STAY AT THE BREAKERS
Florida Gulf Coast Resorts
Sandpearl Resort – Clearwater Beach
Sandpearl Resort is consistently voted one of the best family resorts in Florida. Located in Clearwater Beach, the property has direct beach access, a kids club, a spa, and marina. This AAA Four Diamond resort sits on powder white sand on Florida's Gulf Coast and offers plenty of fun activities for families.
For families looking to spend time at the beach, you can make it as active or relaxed as you like. There are beach chairs, cabana rentals, and hammocks, all with food and beverage service. Those looking for ocean adventures can rent wave runners, try parasailing, or even learn how to build sandcastles.
Camp Ridley is the Sandpearl's kids club for ages 5 to 10, offering fun-filled activities and education about the local animals. Kids can take a nature scavenger hunt or try their hand at arts and crafts. No matter what they choose, they are sure to have fun!
Adults can enjoy some pampering at the Spa at Sandpearl, sip cocktails by the zero-entry pool, or take group wellness classes at the fitness center. The resort also offers food and wine tastings as well as tours of the resort's dynamic art collection.
Guest rooms come in a variety of configurations and offer views of the city and gulf. There are suites that will sleep up to 8 people if that's a more comfortable choice for your crew.
There are two restaurants on the property, Caretta on the Gulf (the only AAA Four Diamond restaurant in Clearwater) and Tate Island Grill. Families can also take meals in their room or head out to Clearwater and try the local cuisine.
CLICK HERE TO BOOK YOUR STAY AT SANDPEARL RESORT
South Seas – Captiva
TEMPORARILY CLOSED – The gorgeous South Seas Island Resort in Captiva is surrounded by a 330-acre wildlife preserve on the Gulf Coast. It started as a key lime plantation a hundred years ago, but has evolved to the stunning property you see today. There are endless activities for all ages, making it one of the best Florida Gulf Coast resorts.
Families can kayak, fish, sail, golf, or play tennis. Search for manatees and turtles in their protected wildlife sanctuary and go bird watching. This part of Florida is known for its beautiful beaches and amazing shelling, so plan on spending hours strolling on them.
Camp Skullywags is the property's kids club, and it's available for children between the ages of 3 and 11. Children love the arts and crafts activities and playing indoor and outdoor games. There's so much to do at South Seas, the kids will never want to leave!
When it comes to accommodation you can choose from the Harbourside Hotel with guest rooms and suites, Vacation Rentals of 2-3 bedrooms, or Homes of Distinction which are luxury homes that sleep up to 18 guests. The vacation homes are spacious, offer privacy, and are perfect for family reunion groups.
If you don't want to cook on vacation, there are five restaurants offering everything from pizza slices to grilled Mahi Mahi. If you have access to a kitchen, there are two stores where you can buy your own food and beverages.
CLICK HERE TO BOOK YOUR STAY AT SOUTH SEAS ISLAND RESORT
JW Marriott – Marco Island
At JW Marriott Marco Island, you will have everything you need. Sitting on three miles of beautiful beaches along the Gulf, the property offers a luxury getaway that's still family-friendly.
This well-rounded property has two championship golf courses, 12 restaurants, a hotel spa, and endless activities. There are tennis courts, sailing and shelling excursions, and even wave runner rentals.
Kids from ages 5-12 can join the Tiki Tribe for a daily fee. Here they can have supervised fun in the pool, play games, paint, and learn about animals. Families might want to rent one of the hotel's sailboats or kayaks and head out for manatee and dolphin watching.
There are several room types with different views: the gardens, the resort, and the gulf. Make sure you check them all out to find the perfect fit for your group. The Sirene rooms and suites are for adults only, so if you have adult "children" this could be a good option.
As mentioned, there are 12 places to dine at this amazing resort. Many serve primarily American cuisine from burgers and fries to waffles and pancakes, but you can also find great pizza at 400 Pazzi's. If you're looking for a quiet dinner without the kids, Teroso is an adults-only restaurant serving Mediterranean food.
CLICK HERE TO BOOK THE JW MARRIOTT MARCO ISLAND
Hilton Sandestin
The Hilton Sandestin offers a luxury stay at a budget-friendly price. Families will enjoy the large suites, swimming pools, and sugar sand beach in front of the property. The Hilton is perfectly placed for outdoor adventures and sunny days.
Guests have access to four championship golf courses, tennis courts, and bicycle rentals. There's a complimentary shuttle to golf and tennis, as well as to the Baytowne Marina and The Village of Baytowne Wharf. At the marina, you can charter a fishing boat for the day or take a dolphin-watching tour. The Village offers charming shops and restaurants as well as festivals throughout the year.
Children between the ages of 5 and 12 can participate in the Kids Krew during the day, and Kids Night Out program at night. These fun-filled activities allow parents and grandparents to take a break, and kids won't even notice they're gone. Children ages 14 and up can try paddle boarding and kayaking at the resort.
The Deluxe Family Suites and Family Parlour are ideal for large families. Family suites come with bunk beds, and the family parlor has bunk beds and a seating area. There aren't many hotels that offer bunk beds so kids will love this layout.
When it comes to dining, you can find anything from casual poolside meals to delicious steaks at their AAA Four Diamond restaurant, Seagar's. Those with adventurous eaters, shouldn't miss the Hadashi Sushi Bar with some of the best sushi in the area.
CLICK HERE TO BOOK YOUR STAY AT HILTON SANDESTIN
Looking for more vacation ideas? Don't miss our favorite Caribbean resorts for a family reunion and family reunion ideas in the US.