As you plan your dream honeymoon or travel with your partner, consider spending time on the beautiful island of Oahu. This list of things to do in Oahu for couples will make your stay extra memorable! From sunset sailing to couples massages, there is something for everyone on this list.
So whether you want to relax and enjoy each other's company or are more adventurous about what the island offers, Oahu is the perfect place for a romantic getaway.
*Disclosure: This post may contain affiliate links, which means we may receive a commission if you click a link and purchase something that we have recommended. Please check out our disclosure policy for more details. Thank you for your support!
Unique Things to Do in Oahu for Couples
1. Enjoy a scenic Sunset Cruise
Sunset sail cruises are the perfect way to experience the beauty of Oahu while enjoying time with your significant other. The tranquil atmosphere and stunning scenery make it the ideal setting for a romantic date.
Whether you are celebrating a special occasion or want to unwind after a long day of sightseeing, a sunset cruise is an ideal way to end your day in paradise.
And if you're lucky, you might even spot some dolphins or whales playing in the distance.
2. Blue Note Hawaii
Blue Note in Oahu is the perfect date night spot for couples. Enjoy a night out with great music. From jazz to blues to soul, the performers are top-notch and will have you dancing all night.
Plus, there's a full bar with delicious cocktails and small bites to keep you fueled for the evening. Be sure to check the schedule to see if they have any comedy shows, laughter is always a good idea!
3. Kualoa Ranch
Kualoa Ranch is the perfect place for couples who want to have an adventurous date. The ranch offers many different tours.
You will be able to explore the stunning natural beauty of Hawaii and bond over thrilling activities like zip lining, ATV riding, and even Jurassic Park tours.
With spectacular mountains and ocean views, it's the perfect backdrop for those Instagram-worthy couples' photos. Whether you're an adrenaline junkie or just looking for a fun day out with your loved one, Kualoa Ranch has you covered.
4. Helicopter Ride
Are you looking for adventurous things to do in Oahu for couples? A helicopter ride is a perfect way to see the island from a unique perspective and explore areas inaccessible by car.
It's a thrilling adventure that will take your breath away and provide you with some unforgettable memories!
5. Take a Surfing Lesson
No trip to Hawaii is complete without a surf lesson in the place where the sport was born. Yup, Waikiki is where surfing first started.
Surfing in Waikiki offers some of the best conditions in the world for learning and the most beautiful views. Even if you spend more time falling off your board than riding waves, you'll still have a fantastic time soaking up the sun and scenery with your significant other.
You will see everyone from kids to 80 years old riding the waves. We know you can do it too!
6. Attend an Authentic Luau
If you are planning a trip to Oahu with your significant other, an authentic luau needs to be on your itinerary. Not only will you feast on delicious Hawaiian cuisine and sip on tropical drinks, but you'll also be treated to traditional Polynesian dances and fire dance performances. And let's be honest, who doesn't love a good fire dance performance?
You might even get pulled up on stage for hula dancing if you're lucky. We recommend going to Toa Luau because it's family owned and your attendance helps the local economy.
7. Ride a Traditional Outrigger Canoe
Riding a traditional outrigger canoe can be an enriching experience for couples looking to add adventure and cultural immersion to their romantic getaway.
Outrigger canoes have been used for centuries by Polynesian cultures for fishing and traveling between islands. It is a tradition that has been passed down through generations.
Couples who opt for this type of activity can ride the canoe and witness breathtaking views of the ocean and surrounding landscapes. The stability of outrigger canoes also makes them ideal for beginners or those who may be nervous about being out on the water.
8. Go Snorkel
Snorkeling is a great activity for couples of all ages and skill levels. It allows you to share in the excitement of discovering new marine life, and it encourages communication and teamwork as you navigate through the water together.
Plus, snorkeling is a low-impact activity that doesn't require any special training or equipment. All you need is a mask, fins, and a sense of adventure! And if you're lucky you'll get to swim next to a Hawaiian sea turtle!
9. Go Whale Watching
Are you visiting Oahu during the winter months? A popular thing to do is watch whales from November to late April. You will witness these incredible creatures' majestic beauty in their natural habitat.
The breathtaking scenery of the Hawaiian coastline, coupled with the thrill of spotting a humpback whale breaching or slapping its tail on the water, creates a truly memorable experience.
It's also an excellent opportunity for couples to learn about marine life conservation efforts and gain a deeper appreciation for the natural world around them.
10. Submarine Tour
Riding on the Oahu submarine provides an opportunity to create unforgettable memories that few people ever witness. There is so much to see and discover, from vibrant coral reefs to schools of tropical fish.
The peaceful atmosphere of the underwater world is perfect for couples who want to spend quality time together in a serene and beautiful setting. Plus, the knowledgeable crew will provide exciting information about the marine life and history of the area, making it an educational experience as well.
11. Have a couples photoshoot
Consider having a beach photoshoot with your partner during your trip to Oahu. The stunning natural beauty of the Hawaiian coastline is perfect for photos.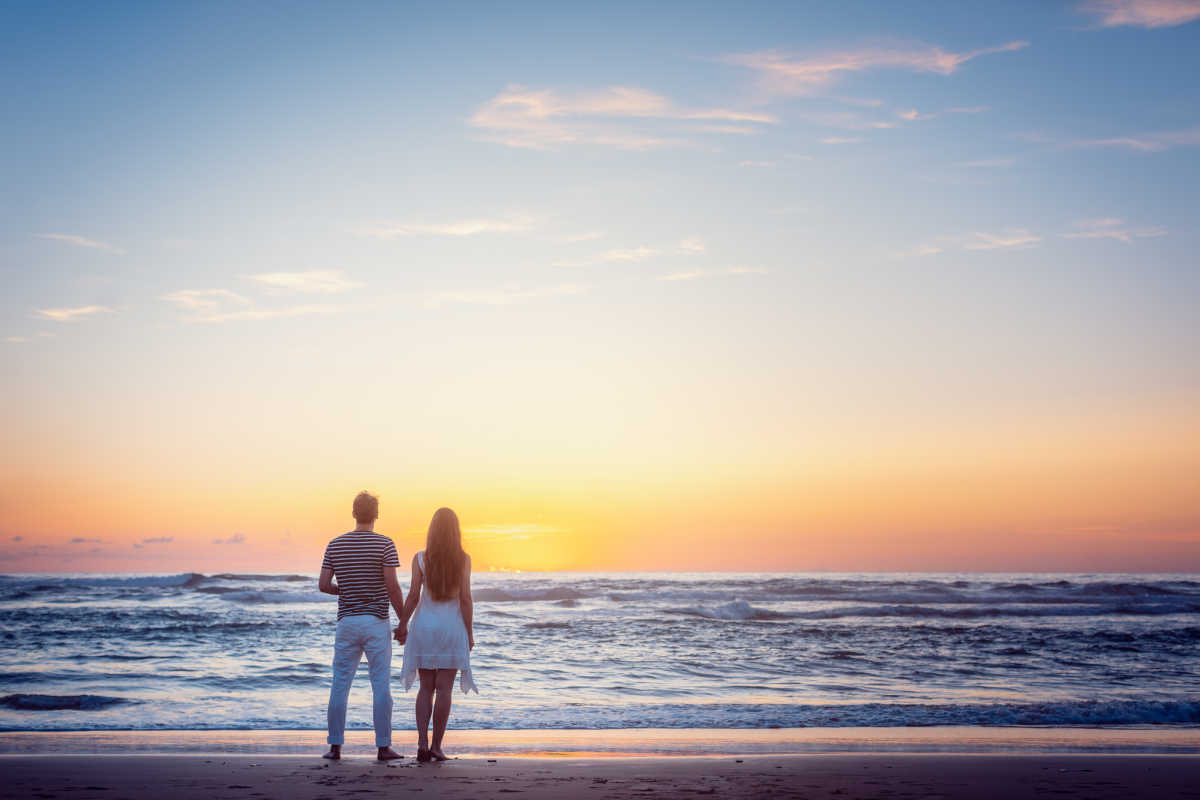 Additionally, the laid-back atmosphere of Oahu makes it the perfect place for a romantic photoshoot.
Where do you find a photographer? Flytographer is a great way to find local photographers. Also, on social media or Google, look up Oahu Photographers.
12. Luxury Picnic
Oahu has multiple destinations that are perfect for a picnic, from a botanical garden to the beach.
A sunset beach picnic is a perfect way to enjoy time with your loved one.
There's nothing more romantic than spending an afternoon in the sun, surrounded by the sound of waves crashing against the shore.
Beach picnics are also a great way to enjoy nature and all the island offers. Plus, there's no need to worry about packing a lot of food or drinks. Book a cute beach picnic so they will care for everything; you must show up! It's also a great way to support local small businesses.
Check out these local businesses
13. Stargazing
There are few things more romantic than lying under the stars together. What could be better than doing that in one of the most beautiful places on Earth?
Oahu is a prime spot for stargazing, with its clear skies and lack of light pollution. So grab a blanket, pack some snacks, and spend an evening enjoying the wonders of the universe. You won't regret it!
Here are some great locations to go stargazing
Mount Tantalus near Honolulu gives you a great view of the city and the night sky.
Mokule'ia Beach Park is located in the northwest part of Oahu, about an hour from Waikiki. Mokule'ia Beach Park's nearest town is a bit far, making it perfect for stargazing.
Kaena Point State Park is the darkest place on the island, making it even possible to see the Milky Way. Super cool!
14. Couples Massage
There are many reasons to book a couples massage spa day in Hawaii. The most obvious reason is that it is a relaxing and romantic experience you can share with your partner.
Massages will relieve stress and promote relaxation, making them the perfect way to unwind after exploring the island. In addition, Hawaii is known for its world-class spas, so you can be sure that you will be pampered with the best.
15. Ride on a Segway
Whether you want to explore historic landmarks, scenic beaches, or hidden gems off the beaten path, there's a Segway tour for everyone. Plus, with knowledgeable guides to show you around, you'll learn all about the history and culture of Hawaii.
FAQ for a Couples Trip to Oahu
Is Oahu good for couples?
Yes, Oahu is great for couples because there is an array of things to do, from relaxing to adventurous. Also, Oahu has many options for dining and spas. It is an island that is easier to get around than other Hawaiian islands.
When is the best time to go to Oahu for a honeymoon?
The Oahu climate doesn't change too drastically throughout the year. The best months to visit Oahu are May, and September through October. During these months, prices are lower, the weather is excellent, and crowds are fewer compared to the high season.
Are seven days in Oahu too long?
Seven days is the perfect amount of time to spend in Oahu. Spending seven days in Oahu will allow you to relax and explore the island without feeling overwhelmed and not rushed
Conclusion – Why You Should Plan a Couples Trip to Oahu
Oahu is a beautiful destination for couples looking for a romantic getaway. From couples massages to beach picnics, there are plenty of activities to enjoy together.
Exploring the beautiful scenery of Kualoa Ranch on an ATV ride can be a thrilling experience, while a sunset dinner cruise can be a perfect way to end a day filled with adventure. Whether you're looking for relaxation or excitement, Oahu has something to offer every couple.
About the author: This post was written by Bridget, a travel writer and owner of Bridget Gutierrez Travels, where she helps you plan memorable vacations to Oahu. As a Hawaii local, she specializes in travel to Oahu, Hawaii.