The glittering Middle East city of Dubai is not only a child's paradise but also a fascinating introduction to the Bedouin culture and the Middle East region. Planning a family trip to Dubai can be overwhelming, but this detailed destination guide will help you create the perfect multigenerational family trip.
*Disclosure: This post may contain affiliate links, which means we may receive a commission if you click a link and purchase something that we have recommended. Please check out our disclosure policy for more details. Thank you for your support!
Emiratis are very family-focused so much of the city has been developed with the large family's needs in mind – from a plethora of kids family attractions to large hotel rooms!
Don't let anyone fool you into thinking the city is all beaches and high rises, these naysayers clearly have not attempted to scratch far beneath the surface. You do really need to head beyond Dubai city itself for a more in-depth Emirates experience, but undoubtedly a week in Dubai you could get a great taster of what the country and the region is about.
Where is Dubai?
Situated on the Arabian Gulf in the Middle East, Dubai is the largest city in the United Arab Emirates (though not the capital – this is Abu Dhabi, 150km further west).
Long before the Emirates were formed in 1971, Dubai had been a bustling trading port but it's only since the discovery of oil in the 1960s that the city has burgeoned. Since the launch of Emirates airlines in the 1980s, Dubai is now one of the world's busiest transit airports sitting at the crossroads between Europe, Asia and Africa.
Dubai today is a colorful kaleidoscope of nationalities, expats representing almost 200 countries make for an immensely diverse city. Emiratis only make up about 11% of the population, and there's a Sunni Muslim majority, but the country is welcoming of all religions and nationalities.
Things to know before you visit Dubai
Dubai can often come across as a sparklingly, glitzy, and modern city, but don't be surprised by the dust and heat too. For the most part, the city has been set up in such a way to cope with the year-round heat – with everything from air conditioned bus stops to indoor ski slopes; but remember it is located in the desert.
If you are coming from a cold climate you are going to find the summers HOT and the winters mild, do be prepared for this, timing can be everything!
The best time to visit Dubai
So, knowing that it's hot, hot, hot when are you best visiting Dubai for a multi-generational trip?
Without a doubt the cooler months of winter are going to suit most family members best. "Winter" – broadly speaking – runs from November to April but you'll find the coolest times are late December to mid-February (daytime highs are around 75°F to 78°F in winter, water temperature dips to 73°F).
We'd only recommend visiting from May to mid-October if you are big fans of the heat or just passing through for a couple of days. You will find the intensity of the heat can be a bit much if you are not used to it and the sea water can feel hotter than the air, defeating a beach break! Summer highs can be as much as 115°F to 120°F, with water temperature up to 93°F.
The shoulder seasons are perfect for beach trips. Early November fits in great with exploring other parts of the Middle East region when it's not busy and late March/April align with spring break, making for optimal times for families with school-aged kids – though also the busiest (read most expensive!) time to visit.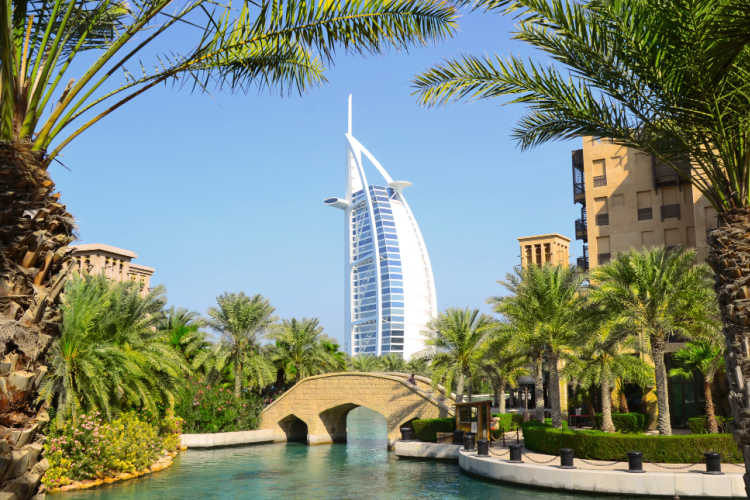 Transportation in Dubai
Dubai is a big, thriving city that has expanded exponentially in recent decades. Although transportation systems have attempted to keep up with this growth, you will find as a tourist there are likely times you will need to rely on taxis or private vehicles to get around – objects on a map are further apart than they appear!
Particularly if you are travelling as a large family group, you may find it more convenient to hire drivers for the day than to all hop on the Metro. The Dubai Metro is clean, efficient, and relatively cheap, but it pretty much only runs through the center of town and to the airport.
You will have no problem with strollers in developed parts of the city, but older parts of the city have high curbs aren't always optimal for strollers or the disabled.
Must pack items for Dubai
Other than packing for the heat, the next most important thing you must pack for is religion and modesty. Although not an ultra-conservative Muslim country, there are nonetheless religious sensibilities to observe. You will see many (mostly tourists, though an increasing number of expats) flaunting the rules; don't take this as an open invitation to do the same.
We would suggest at a minimum, ladies cover knees and shoulders in public areas. Malls for example will insist on this as a minimum dress standard, no skimpy beachwear, clingy or transparent clothing.
Should you be planning to visit a mosque or the older areas of the city, a long dress/skirt or pants for ladies would be more appropriate than shorts. We have a complete guide on what to wear and when here – it can be tricky as private beach resorts anything goes but public family beaches and parks there's a different standard expected.
Other important things to remember when you pack:
Sunscreen, sunglasses and hats
If visiting in the summer, antiperspirant wipes and anti-chafing cream
Your own refillable water bottle
A voltage converter – Dubai has type G plugs and runs on 230V
A pashmina or shawl for ladies – the aircon can be fierce and if you ever feel uncomfortable simply wrap it over your shoulders
Language, currency, and communications
Despite Arabic being the official language, you will be able to get by completely with English in the tourism and hospitality sector; the vast majority of workers in these industries are expatriates and English is the common language.
The currency you will need is the UAE Dirham, fixed to the USD at 3.67:1 (100AED = $27USD) Bring credit & debit cards with you, or you can very easily find cash exchanges in all the malls.
The country has an extensive 5G network in the major cities, but international calls aren't cheap and many video messaging apps are blocked. Pick up a travel SIM at the airport or you can rely on free hotel/shop wifi whenever you are out and about.
Healthcare in Dubai
In the unfortunate event you fall ill in Dubai, you'll be pleased to know that there is a comprehensive public and private health care system. Always travel with insurance and you will have access to a wide range of specialty hospitals.
If you have prescription drugs, do check they are not on the banned substances list of the UAE and you bring adequate supplies with you. A copy of your script or doctors' letter may be needed, just in case. Pharmacies are plentiful for your day-to-day health and medical needs, always staffed with English & Arabic speaking staff.
Best activities for families in Dubai
Dubai is a city that can really play to everyone's interests if you look beneath the glossy surface. Some suggestions that cover history through to high-adrenaline fun include:
Al Fahidi Historical Neighbourhood
Start in the Al Fahidi Historical Neighbourhood. This should be on every Dubai itinerary as it will give you a great sense of life before the city's mass development. Explore the many tucked away museums then stroll onward to Al Seef that seamlessly blends old with new and the waterfront of Dubai Creek. Take a traditional abra (wooden boat) across to the old side of the city is a great experience then explore the traditional gold and spice souks in Deira.
Dubai Mall and Downtown Dubai
A completely modern take on the city, head to the Dubai Mall and Downtown Dubai – a huge number of experiences to explore in the mall (other than shopping!) from ice rinks to aquariums, VR theme parks, go karting and scaling the world's tallest tower. Enjoy free nightly entertainment with the fountains on Burj Lake and the Burj Khalifa light show.
Beaches in Dubai
The beaches are obviously a huge drawcard with (almost) guaranteed daily sun. You can stay at a beach resort or just visit one of the popular public beaches or grab a day pass to a nice beach club to enjoy the luxurious side of Dubai.
Dubai Marina
Dubai Marina and JBR are popular tourist highlights, enjoy waterfront dining, water sports or join a cruise out into the beautiful Arabian Gulf waters to take in the city's dramatic skyline.
Theme parks in Dubai
Theme parks and water parks galore! Atlantis Aquaventure and Wild Wadi are up there amongst the best in the world, don't miss Dubai Parks & Resorts with Legoland, Bollywood Park and Motiongate theme parks with incredible roller coasters, and the entirely indoor IMG Worlds of Adventure. Travel an hour's drive away to Abu Dhabi for the Yas Island trio of Warner Bros World, Ferrari World & Yas Waterworld.
Dune bashing in Dubai
At least one trip out on a desert safari is a must. Do your homework carefully though, especially if you have younger and older members of your group. Being thrown around in a dune bashing 4×4 may appeal to your teens but grandma probably won't thank you!
There are more sedate desert safari options that focus more on the desert and wildlife than the sand sports. If you're feeling game, sign up for one of the luxury glamping options overnight for a truly unforgettable experience.
We have a complete guide to Dubai family activities here for you to pick and choose from.
Recommended family restaurants in Dubai
If there's one thing Dubai does extremely well, its international dining. With such a diverse population you can be sure there is an eclectic mix of dining on offer.
Popular dining spots near the famous malls and beaches or within resorts undoubtedly come with a price tag (and are permitted to serve alcohol), but there is plenty to be enjoyed too at the street eats end of the scale, you just have to be willing to hunt it out!
Want to try traditional Emirati cuisine? Seek out a branch of Al Fanar, or the Arabian Tea House in the Al Fahidi Historical Neighbourhood.
Something simply amazing? Get the grandparents to babysit so you can go and enjoy a romantic night in front of the fountains with Burj Khalifa views from Thiptara, Thai dining at its best.
Take all the family to see the Dubai Fountains from Tribes, OFK, Social House or Carluccios, all in Dubai Mall offering waterfront seating with a variety of cuisines covered.
High Tea? Spoil your parents to an incredible "7-star" experience at the Burj Al Arab overlooking the Gulf at Skyview Bar.
Friday is a weekend and Brunch is actually lunch! Dig into the Dubai all inclusive drink and dining concept of weekend Brunching at a family-friendly venue such as Bubbalicious at Westin Mina Seyahi or Beachcombers at Jumeriah Beach Hotel
Craving American food away from home? CLAW Crab Shack in Souk Al Bahar will fit the bill for all the family.
A great value purchase if you are staying a week or more is the Entertainer app, thousands of 2-4-1 and discount offers for a small upfront cost, many vouchers can be used again and again, great for groups, it can easily pay itself off within a meal or two.
If you will be heavy on the theme park and paid attractions, also consider investing in the Dubai Pass.
Suggested itineraries for Dubai
If you only have a couple of days for your stopover in Dubai, you'll really need to narrow your list down and consider what can be achieved in this time to placate everyone's interests. With two days we'd suggest:
½ a day around Burj Khalifa/Dubai Mall to experience modern Dubai
An afternoon/evening in the desert
Stroll the Al Fahidi District and Al Seef Waterfront and the souqs to experience old Dubai
A water park or beach experience
Catch an Arabian Gulf sunset from one of the city's many roof top or beach bars
A full week in Dubai will allow you to work in plenty more breaks and "me time" for everyone in your group. In addition to the essential highlights above, you could also add:
One to two full theme park days
Add a morning at Dubai Miracle Garden and an evening at Dubai Garden Glow (seasonal)
Spend an evening at Global Village – a spectacular world showcase event (seasonal)
Take a boat cruise and spend time around Dubai Marina
Catch an early morning camel race or visit the camel farm
Add a further cultural day to visit the Jumeirah Mosque and spend some time at the Sheikh Mohammed Centre for Cultural Understanding
Take a day trip to Abu Dhabi on a highlights tour – catch the stunning Sheikh Zayed Grand Mosque, Qasr Al Watan (the country's brand new and utterly breathtaking Presidential Palace) and experience the Louvre Abu Dhabi
Join a tour to the country's east coast to cross the dramatic Hajar Mountains and dip your feet in the Gulf of Oman, even go snorkeling
Dubai is one of those cities that really allows every member of the family to pick and choose what activities suit them best. You can very easily mix and match activities the whole family can enjoy together with alone time and one-on-one experiences.
Where to stay in Dubai with a large family group
Dubai is primarily a long, stretched out city from the Dubai Creek and the "Old" side of the city, including the airport, all the way along the gulf coast. Although quite far from DXB Airport, the areas around Dubai Marina, JBR, Jumeirah Beach and Palm Jumeirah have the most appeal for families.
If you are only making a short stop in Dubai, the convenience of being near Downtown Dubai or close to DXB airport and Dubai Creek may be better. The older areas of the city Deira and Bur Dubai tend to be cheaper and still offer family-sized serviced apartments, often at a fraction of the cost of Downtown.
AirBnB is also possible in Dubai, you may choose a family villa in the suburbs if you wish your whole family to stay under one roof – with your own private pool and maid!
Some favourite hotels and resorts in Dubai we'd recommend:
You can see all of our favorite Dubai family hotels & resorts here.
Remember Dubai may be the biggest but not the only place to visit in the Emirates. It is generally the most expensive with the most activities on offer but if it's a holiday in the sunshine you're after, do consider also splitting your time with the other six Emirates.
Head to the capital Abu Dhabi and the gorgeous beaches of Saadiyat Island, spend some more time at an exclusive desert resort or head further north to Ras Al Khaimah for cheaper but still incredible beach resort luxury, golf clubs and mountain extreme sports and hiking.
Bio: Keri Hedrick is a British/Australian travel writer and mum of three who has been based in the UAE for nearly a decade. As well as her personal Blog Our Globetrotters she is the editor of online publications Family Travel in the Middle East and her latest venture Dubai Travel Planner – helping you self-plan your dream trip to Dubai.