The city of Chicago has plenty of fabulous options for a romantic escape, but there are some other options outside of the city that shouldn't be missed. These romantic getaways near Chicago are less than five hours away and perfect for your next weekend getaway.
*Disclosure: This post may contain affiliate links, which means we may receive a commission if you click a link and purchase something that we have recommended. Please check out our disclosure policy for more details. Thank you for your support!
Romantic Weekend Getaways Outside Chicago
Galena, Illinois
Located on the western border of Illinois, Galena sits just east of the Mississippi River and offers a fun mix of history and boutique shopping. Just three hours from Chicago, Galena has a historic downtown filled with shops, breweries and wineries, and restaurants. It's the perfect place for romantic strolls with your partner. Here are some of the experiences you shouldn't miss:
Galena Cellars Vineyard and Winery has produced more than 20 varieties of grapes and 40 wines since the mid-1980s. Visitors can take a vineyard tour or even stay on the property. Of course you should order a glass or buy a bottle of your favorite wine after a visit to the tasting room.
The half-mile long main street has antique shops, boutiques, food specialty shops and more, enough to provide a full day of entertainment. If you're a couple that loves outdoor adventure, head to the Galena River Trail for a hike or consider a hot air balloon ride at sunrise or sunset over the Galena hills with Galena on the Fly.
Galena's culinary scene offers ample options for a romantic and fun dinner. Log Cabin Steakhouse is the city's oldest dining establishment and has a private dining room you could reserve for a special evening. with delicious entrees and Fritz and Frites Bistro offers German and French entrees and a robust wine menu.
Where to Stay in Galena
A romantic getaway to Galena should include a stay at one its bed and breakfast inns. Guests enjoy a look into Galena's history with a stay at the Jail Hill Inn, the town's former jail. Located on a hill, the 135-year-old building provides some of the most beautiful views of the area. The rustic B&B is centrally located downtown.
Offering a taste of Ireland, Irish Cottage Boutique Hotel provides some true hospitality. Located a few minutes from downtown, the boutique hotel offers a complimentary breakfast that makes you think you're at an Irish countryside inn. The hotel also has an Irish pub.
Lake Geneva, Wisconsin
Lake Geneva is one of the best romantic getaways near Chicago. The city is about a 90-minute drive from the city, offering art and antique shopping along with excellent wineries and breweries.
The town is known for its beautiful mansions that sit along the lake. Some estates date to the 19th century when the town was known as the Newport (Rhode Island) of the West. It's one of the more popular day trips from Chicago.
Begin your visit with a stroll along Main Street, where you'll find everything from antiques to home goods to fudge. If shopping wears you out, visit one of the area's wineries, such as Staller Estate Winery, which offers over a dozen varieties of wine. Take a tour of the winery or vineyard, followed by a tasting.
For a romantic excursion, consider taking a private cruise around Lake Geneva with Lake Geneva Cruise Line. This is the perfect way to see the town from the water.
Those looking for adventure should head to Lake Geneva Ziplines & Adventures where you can fly through the trees on their zip lines and ropes course. They're even open during the winter for the true thrill seekers out there!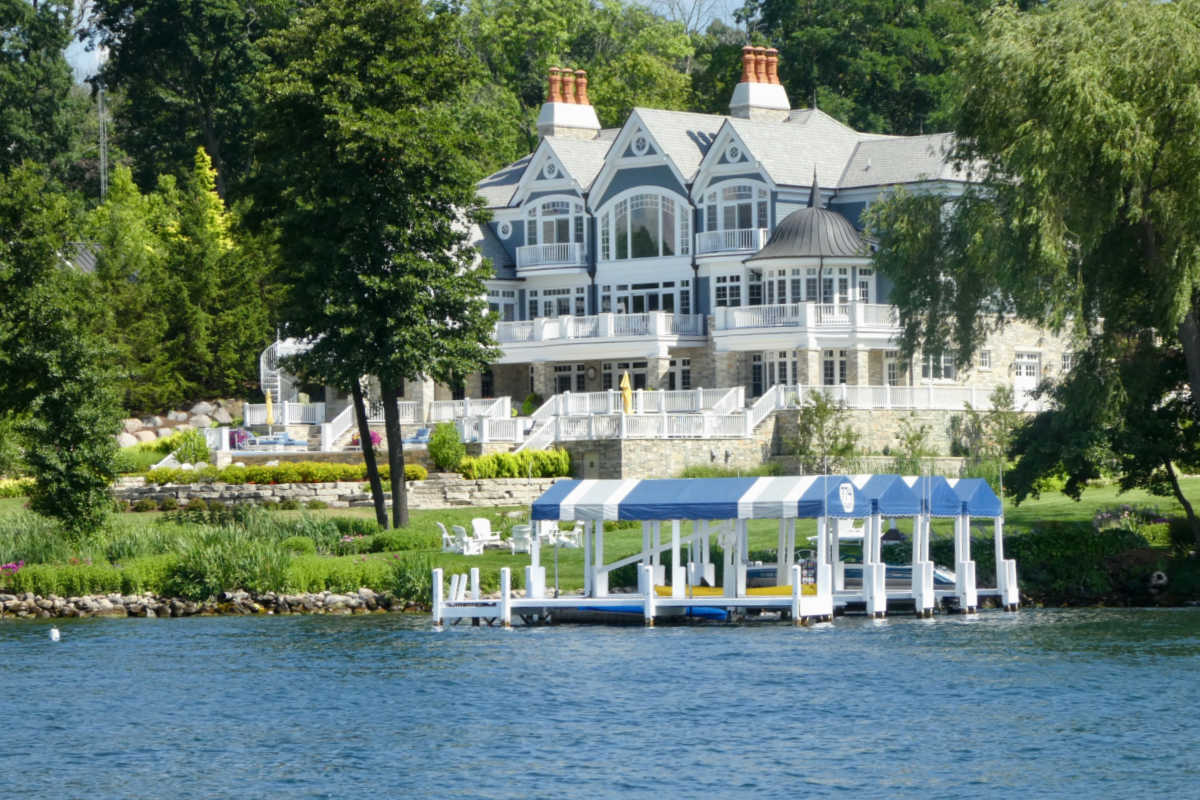 For the perfect place to take a romantic stroll, head to the Lake Geneva Shore Path. The trail covers over 26 miles around the lake. If you prefer a shorter walk, consider starting at the Lake Geneva library and heading out from there. You won't be disappointed.
Overlooking Lake Geneva, Barrique Wine & Brew Bar might be THE romantic spot you're looking to dine. With everything from fresh seafood, including oysters and Alaskan snow crab, to tasty sandwiches, dinner and wine at Barrique may be a wonderful gift for the love of your life.
For an Italian experience, head to Ristorante Brissago at Grand Geneva hotel has some of the best Italian dishes in the area. They even have a private dining room for the perfect romantic evening.
Where to Stay in Lake Geneva
Another option for a romantic dinner in Lake Geneva is Baker House. This 19th century mansion has a stunning dining room where you'll be surrounded by opulent furnishings and transported back in time. Don't miss their signature cocktails, followed by one of their seafood or steak entrees. For the full experience, book a room for the night as the property is also a hotel.
Lake Geneva is home to beautiful hotels and inns. The Grand Geneva has golf, spa, and ski options. The Suites at Geneva National Resort & Club offer upscale spacious rooms with beautiful views of the golf course. Be sure to play a round or two to round out your romantic weekend getaway near Chicago.
Want to explore outside the Midwest? Don't miss these lovely romantic getaways in the USA!
Aurora, Illinois
Less than an hour's drive west of Chicago, Aurora offers plenty of attractions for a weekend of fun.
Start with a tour of the memorable Farnsworth House in nearby Plano. The building resembles a shoebox, with interior closets and walls that are surrounded by a glass exterior. It was built for Dr. Farnsworth as a weekend retreat, and the project was considered a marvel during its early days. Today, thousands of tourists visit the home along the Fox River.
Nearby Oswego is next up on your itinerary. Enjoy lunch at the beautiful Venue 5126 which doubles as a wedding venue, but has a gorgeous porch that overlooks the property. *Note, the restaurant closes in the winter, but re-opens in the spring.
An afternoon break should also include a stop at the Oswego Brewing Company. Home to over a dozen varieties brewed on site, the brewery is spacious and offers board games to play and televisions for watching sports.
Hardware, a fully sustainable gastropub and brewery is in North Aurora. It provides a perfect environment for a romantic dinner. Dimly lit, the menu provides a nice selection, from locally grown vegetables to an amazing brisket dinner. The bar also has about 400 whiskey selections from which to choose.
A trip to the Paramount Theatre for a Broadway-style show is the perfect way to end a romantic weekend near Chicago. The immaculately-designed theater is one of Illinois' best theaters for watching a musical or play.
Where to Stay Near Aurora
When you're ready to retire for the evening, head to Hotel Arista, a luxury boutique hotel in nearby Naperville. They have several romance packages and a spa that is perfect for couples.
Indianapolis, Indiana
Located about three hours from Chicago, Indianapolis offers an urban getaway for couples. Even though romance is the theme, there are so many things to do in Indianapolis, including a trip to the Indianapolis Motor Speedway Museum. A history of auto racing, located on the grounds of the famous Indy 500, is enhanced with exhibits of championship-winning cars on display.
Canal Walk, not far from the JW Marriott, is a wonderful spot for a romantic outing and is a definite must for anyone considering romantic weekend getaways near Chicago. Take a walk along the water, or rent a paddle boat and cruise along the canal.
When finished you can visit the museums and monuments located along the Canal Walk, including the Eiteljorg Museum celebrating America's western heritage and the Medal of Honor Memorial. Monument Circle, one of the city's most popular attractions, is about ten minutes walking.
Where to Stay in Indianapolis
A stay at the centrally located JW Marriott Indianapolis is the perfect spot for a romantic weekend. The hotel's immaculate décor adds to the romanticism of your visit. Rooms are well-appointed and provide excellent views of downtown Indianapolis, White River State Park, and Lucas Oil Field.
If a unique hotel stay intrigues you, then reserve a room at the Ironworks Hotel. The boutique hotel is located in a former Ironworks building in the Keystone area.
A favorite among tourists and celebrities, enjoy a special dinner at St. Elmo Steak House. An Indianapolis staple for more than 100 years, the steakhouse offers a delicious meal as part of your special occasion. Also consider Livery, which serves delicious Central American cuisine in an intimate setting, or Bluebeard, a superb farm to table gastropub, and James Beard semi-finalist.
Traverse City, Michigan
One of our favorite romantic places in Michigan is Traverse City. It is just under five hours from Chicago, and offers a fantastic weekend escape any time of year. Known for its vibrant art scene, outstanding restaurants, and ideal waterfront location, couples will enjoy a getaway to Traverse City. There are vineyards for wine tasting, local bike trails, and the most amazing sand dunes to climb at nearby Sleeping Bear Dunes.
In the winter months, try a fat tire bike ride along the trails at 45 North Vineyard and Winery. If craft breweries or distilleries are more your speed, you'll be sure to find one that fits your liking as there are close to 20 taprooms in Traverse City. You can also spend your days shopping at the city's 150+ galleries and boutiques, followed by a bite to eat at one of the local cafés, such as Grand Traverse Pie Company.
Be sure to sample some of the best restaurants in Traverse City during your stay. The Cooks' House has world class chefs and features a fabulous tasting menu made with locally grown and foraged food. Trattoria Stella is a can't miss restaurant in Traverse City, known for its intimate Old World charm and delicious Italian cuisine. Another romantic restaurant in Traverse City that's well loved by locals and visitors is Boathouse Restaurant. With beautiful harbor views and wonderful seafood and steak entrees, it's worthy of any special occasion.
Where to Stay in Traverse City
For the perfect romantic escape, book a room at a winery attached to an inn, such as Black Star Farms or Chateau Chantal. The Inn at Black Star Farms has luxurious guest rooms, farm to table meals, and a stunning setting on 160 acres of rolling hills in Northwest Michigan wine country. Chateau Chantal has beautiful views as well, sitting on a hilltop just outside Traverse City. The property offers wine tastings, bed and breakfast, and romantic getaway packages.
For a full resort experience, head to Grand Traverse Resort & Spa where you'll find a casino, spa, shopping, golf, and four different swimming pools. You can't go wrong with any of these lodging choices.
Milwaukee, Wisconsin
Take a 90-minute drive north to Wisconsin's cheese country for a romantic getaway to Milwaukee. Known for its beer and brats, Milwaukee is home to interesting attractions, such as the Milwaukee Art Museum.
Located on the lakefront, the museum's shape resembles a sailboat commonly seen on the water. With about 30,000 pieces of art, the museum may be best known for its brise soleil, which helps regulate energy. During the day, the wings open to provide natural energy. They close at night to help insulate the museum.
While this might not be the top of your list for romantic getaways near Chicago, we're here to tell you it's worth the visit. Nothing beats a kayak ride along the riverfront for an unbeatable view of the city's architecture, with stops along the way at some of the local breweries. Milwaukee in the winter can be extremely romantic with its charming restaurants and unique museums.
If you're a history buff, be sure to take a tour of the Miller brewery or the historic Pabst brewery. Another fun stop is the Harley-Davidson Museum where you can take a tour of the legendary motor company.
Dining in Milwaukee can be a unique experience. Try an authentic German meal at Mader's or head to Sanford, a critically acclaimed restaurant featuring global cuisine.
Where to Stay in Milwaukee
A stay at the historic Pfister Hotel can enhance a romantic getaway. Opened in 1893, the Pfister provides a luxurious stay in one of Milwaukee's classic buildings.
If you prefer a more intimate setting, reserve a room at the Shuster Mansion. A historic mansion on the city's west side, the Shuster is the perfect spot for a quiet, romantic stay.
As you can see, there are some excellent romantic getaways near Chicago. With these intimate hotels, restaurants, and activities, you will surely have fun choosing the perfect place for that special couples vacation.
Want some more romantic ideas? Check out this post: Our Favorite Chicago Hotels for a Romantic Getaway