Sometimes you just need a romantic getaway to enjoy some quality time with your love. There's nothing more intimate than exploring a new place with a romantic partner! You can take in beautiful sites, have fun, or celebrate a special occasion. It might be Valentine's Day, your honeymoon, or just a random weekend. You don't need a reason to celebrate your love without a fabulous place for a couple's trip. These are some of the best destinations for a romantic couples trip in the US and around the world.
*Disclosure: This post may contain affiliate links, which means we may receive a commission if you click a link and purchase something that we have recommended. Please check out our disclosure policy for more details. Thank you for your support!
Most Romantic Getaways in the USA
I've traveled around the world with my husband, and I want to share some of our favorite places to visit as a couple. Think about whether you want to go on a warm-weather or cold-weather retreat. Enjoy a couples massage, take in views of the Eiffel Tower, or have fun enjoying outdoor adventures with your love. It's all on this list!
1. San Diego
In Southern California, San Diego is one of the best destinations for a romantic couple's trip. The endless beauty of America's Finest City can't help but stir up feelings of love!
Go for a romantic stroll along white sand beaches at sunset or enjoy drinks and nightlife in the historic Gaslamp Quarter. The stunning Balboa Park is a gem of San Diego, and it should be a requirement to spend a few hours there on a couple's trip.
Splurge on a decadent stay, splurge on the historic Hotel del Coronado. Better yet, book a suite at the romantic L'Auberge Del Mar in downtown Del Mar with easy access to the beach, shopping, and restaurants.
Enjoy the water when you go kayaking around the cliffs at La Jolla Cove or explore the La Jolla tide pools together to see what kind of marine creatures you can find. And for a fun, laid-back outing, win your sweetheart a stuffed bear at Belmont Park!
2. Las Vegas
You might not know that Las Vegas is one of the most romantic cities in the US. Known as Sin City, Las Vegas is also a city for lovers, with endless attractions, spectacular scenery, fine dining experiences, and luxury resorts. Whether you're the gambling type, or you just want to see the sites, there's something here for every couple.
Grab a couple of seats at a show like The Beatles LOVE by Cirque du Soleil at the Mirage. Better yet, see a famous singer who has a residency in Vegas while you're there! Come prepared, because sometimes at the smaller shows they'll ask you if you're on your honeymoon or celebrating an anniversary!
You can enjoy private rooftop pools, go for a couples massage at a resort spa, or have a romantic dinner at a fun restaurant. For a bit of fun, visit the Neon Museum or go on a gondola ride at the Venetian Hotel!
A few options for a romantic getaway are Aria Resort & Spa, Four Seasons, and Wynn Las Vegas.
3. Napa/Sonoma
Napa and Sonoma Valleys are located roughly an hour north of San Francisco. That easily makes them one of the best destinations for a romantic couple's trip. Enjoy a weekend retreat for two or you can fly in for a relaxing week at some of the most famous wineries in the world.
Which one is best for you and your date? Napa Valley and the town of Napa are more refined. Main Street is home to Napa's art scene. See a show at the Napa Valley Opera House or have a romantic candlelit dinner upstairs at Allegria. Be sure to go for a wine tasting at the luxurious Opus One Winery in Oakville.
Sonoma Valley feels a bit more country, with B&Bs, family-owned wineries, and the vintage Sonoma Valley Wine Trolley (which is a must for fun couples!). For the outdoorsy couple, take the opportunity to head to Sugarloaf Ridge State Park and go for a waterfall hike.
Don't know where to stay in the area? Check out Vintage House, Bardessano, and Alila.
4. Sedona, Arizona
Sedona is the ideal retreat for couples who love access to the outdoors. Every day you'll wake up to unbelievably beautiful red rock formations and endless blue skies. What else could inspire you to get away from it all with your special person?
Sedona is known for its top-notch spa resorts like Enchantment and L'Auberge de Sedona. Don't want to book a room? You can still schedule treatments at a resort or one of the many day spas and wellness centers in town.
Go shopping in the heart of Sedona at the Tlaquepaque Arts and Crafts Village, with its babbling fountains and gorgeous Spanish Colonial architecture.
People come to Sedona from all over the world to get back to nature. Reconnect with your partner off the grid with a hike to Lover's Knoll. This is a popular proposal and marriage spot overlooking the towering formations of Red Rock State Park. For a special time you won't forget, take a star gazing tour outside of Sedona.
5. Door County, Wisconsin
Located on a peninsula stretching out into Lake Michigan from Green Bay, Wisconsin, Door County is known as the "Cape Cod of the Midwest." It's the perfect lakeside retreat, with balmy weather, tons of outdoor activities for every season, and picture-perfect towns overlooking the water. There are bed and breakfasts throughout the area but look at Fish Creek or Sturgeon Bay to be close to restaurants and shopping.
During the warmer months, you can enjoy beach days every day, with over 50 unique beaches in Door County! Go hiking or horseback riding along endless trails with views of the water from the region's rural state and county parks.
You can take pictures in rolling lavender fields or go cherry picking or wine tasting in the summer. The winter months see a second high season in Door County. Go cross-country skiing or ice fishing or cuddle up with your love on a snowy sleigh ride at Lautenbach's Orchard Country Winery!
6. The Catskills, New York
Leave the big cities behind and head to the Catskill Mountains in upstate New York. Located two hours north of NYC on the west side of the Hudson River, the Catskills is a mountainous region that has always been popular with city dwellers for romantic weekend getaways. You can enjoy the natural beauty of the Catskills, along with the small towns with big personalities scattered throughout.
Couples with a love for a good drink will want to check out some of the best breweries around. These include Catskill Brewery in Livingston Manor and Prohibition Distillery in nearby Roscoe.
For a place to stay, check out the Roxbury Motel in Roxbury. It's a boutique hotel made from an old motor inn with masterfully themed and whimsical rooms.
Make sure you explore Woodstock, a fun, artsy town filled with artisan stores, boutique shops, bakeries, and fabulous eateries.
Best International Destinations for a Romantic Couples Trip
7. Costa Rica
Escape to paradise with a romantic trip to Costa Rica. The Central American country is known for its wild jungles and sprawling beaches along both the Caribbean and the Pacific Ocean.
Book an unforgettable stay at El Silencio Lodge & Spa, set in the cloud forests of the Bajos del Toro region! Take in majestic views of the Arenal Volcano with a day pass to the Arenal Springs Resort & Spa. There, you'll soak in hot springs surrounded by rainforests and tropical gardens.
Set the mood with a natural aphrodisiac by going on a tasting at one of Costa Rica's many chocolate plantations.
Head to the coast to enjoy a dozen different stunning white sand beaches with walks on the beach or explorations of sea caves and tide pools.
If you're an adventurous couple and want to get your heart rates up, one of my favorite things to do in Costa Rica is to visit a jungle zipline park!
8. Puerto Rico
The small island country of Puerto Rico is a wonderful warm-weather destination for a romantic trip. You'll find all kinds of things to do here, with dreamy experiences like a nighttime kayak tour of Puerto Rico's naturally bioluminescent bays or horseback riding on the beach. You can go on a thrilling tour of the jungle and jump into a waterfall!
Head into Old San Juan and let the beautiful city inspire you. Take a sunset cruise of San Juan Bay or a moonlit stroll along the beach. Why not spice things up with a salsa dance class? For an atmospheric dinner for two, get a table at Carli's Fine Bistro & Piano in Old San Juan, where you'll enjoy elevated cuisine and live jazz music.
There are a couple of great choices for a romantic trip to Puerto Rico. Look at St. Regis Bahia or El Convento Hotel.
9. Banff, Canada
Spend some quality time as a couple in the town of Banff, nestled into the mountains of Alberta's Banff National Park. During the winter months, Banff comes alive with winter tourism in full swing.
Go skiing, ice skating, dog sledding, or enjoy a scenic winter hike (there are even glacier hikes!). With Bow River running through the middle of town, you're set all year round for scenic hikes with mountains and evergreen trees reflecting off the water. How romantic!
During the summer you can enjoy the view when you go canoeing at Vermillion Lakes. Enjoy the natural wonders of Banff in another way by spending a day at Banff Upper Hot Springs. This historic bathhouse is naturally fed by hot springs. You can enjoy different pools while you take in the Canadian Rocky Mountains.
Book a room at Fairmont Banff Springs or Rimrock Resort Hotel, for a romantic stay in Banff.
10. Quebec City, Canada
With 400 years of history and architecture, Quebec City is a fascinating place and the perfect spot for a romantic trip away. There's definitely an old-world feel that has always made the French-speaking destination a popular one for honeymooners and couples.
Take a stroll through Old Quebec and take in all of the historical sites on every block. Walk down the winding streets of the Petit-Champlain District for unbelievable views.
A must while in Quebec City is staying at a historic luxury hotel like Fairmont Le Château Frontenac alongside the St. Lawrence River. They have a great wine bar where you can try ice wine.
If you're visiting in the summer, plan a day trip to nearby Île d'Orléans. While there, you can explore maple groves, fruit orchards, cheese shops, and wineries. If visiting in winter, it is the best time of year to see the Northern Lights in Quebec City.
11. San Miguel de Allende, Mexico
San Miguel de Allende is a magical old city in the mountains of Central Mexico. Just walking the winding cobblestone streets feels romantic as you check out centuries-old baroque Spanish architecture.
Every building is painted a different color, including coral pink and sunshine yellow. It's a true feast for the eyes. Even though it has a southern locale, the high altitude means mild weather for exploring. Make sure to visit the romantic neo-Gothic-style church, Parroquia de San Miguel Arcángel.
This is the perfect destination for art lovers. San Miguel de Allende is known for its strong art scene. Visit the Fabrica La Aurora, where you can watch artists at work or peruse original pieces. Head to the neighborhood of Guadalupe for street art, or the Mercado de Artesanias to pick up souvenirs. While you're here, you have to enjoy a romantic sunset dinner at one of the many rooftop restaurants in town.
We recommend a stay at Rosewood San Miguel de Allende for a romantic getaway.
12. Cancun
Cancun is a popular destination with honeymooners, so finding romantic things to do won't be difficult! The resort city's Zona Hotelera is where to see miles of beautiful beaches, all-inclusive resorts, and quality restaurants. You can spend your entire time in the Hotel Zone and have a blast, or you can explore a bit!
Take a catamaran tour of nearby Isla Mujeres, where you can get in the water and explore the island's white sand beaches. Or rent a car and drive a few hours south to Tulum, where you can see cenotes and Mayan ruins.
Take a romantic moonlight ride through the floating gardens of Xochimilco. Make memories on a snorkeling adventure to see coral, sea turtles, shipwrecks, and underwater art.
Some of our favorite hotels for romance in Cancun are Beloved Playa Mujeres and Hyatt Zilara.
13. Turks & Caicos
The Turks & Caicos Islands in the Caribbean offer countless outdoor adventures and island-hopping trips for the couple who loves to try new things! Take a clear kayak tour of Mangrove Cay or ride ATVs made for 2 on Providenciales to see all the historic sites. Try out a private jet ski tour to see the shipwrecks along the southern coast.
Winter is whale season in the Caribbean. The best place to see humpback whales is on a whale cruise off the coast of Salt Cay and Grand Turk. You should also make time for a photo shoot on the pier at Horse Stable Beach for the most stunning pictures.
Enjoy an intimate beachfront dinner under the stars. This is a perk you can find out about when you stay at one of the fantastic luxury resorts in the Turks & Caicos, like the Wymara Resort or the The Shore Club.
14. Lisbon
Let Lisbon's ancient beauty inspire you when you take a romantic vacation to Portugal's capital. The laid-back city has a warm and inviting culture that's perfect for reconnecting.
Spend your days exploring local restaurants, sampling the famous pasteis de nata and bachalhau. You have to experience authentic fado music at a rustic restaurant like O Corrido. Have a moody candlelit dinner in a castle-turned-restaurant like the baroque Valle Flôr.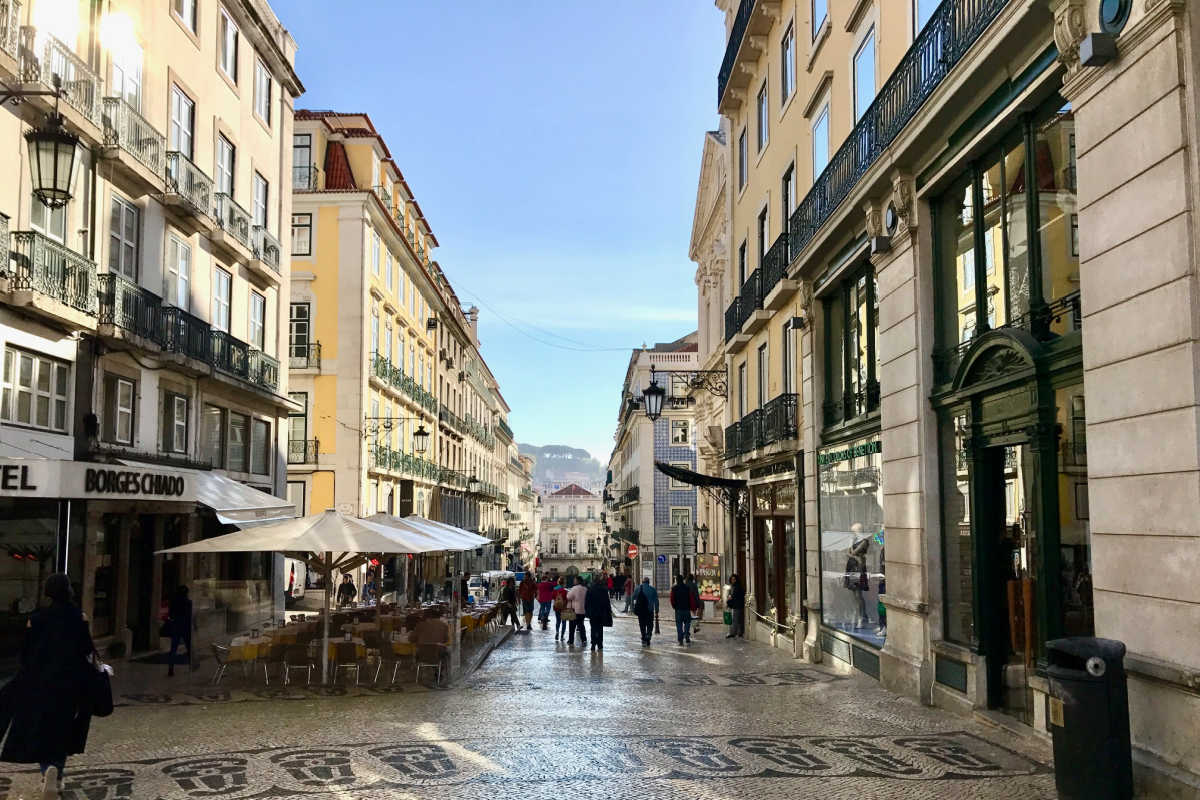 For couples with a shared interest in history, Lisbon is the perfect place to explore 400-year-old historical sites. Belém Tower on the banks of the Tagus is as intimidating as it is beautiful, and the massive Jerónimos Monastery has to be seen in person!
There's also Castelo de Sao Jorge, which doubles as a museum with archeological artifacts and offers stunning views of Lisbon. If you need a quiet beach day away from the city, head just west for expansive, golden sand beaches along the Atlantic Ocean.
Book a stay at Torel Palace or Memmo Alfama for a romantic getaway in the city.
15. Bali
Possibly the most romantic place in Indonesia is the island of Bali. Nicknamed the Land of the Gods, it's known for its overwhelming beauty and unique attractions.
For couples, you'll want to take advantage of all the amazing cheap salon parlors and day spas around Kuta where you can book a couples massage! In fact, many of the best things to do in Bali are in Kuta, like excellent beaches for swimming and surfing.
To explore the breathtaking natural beauty of Bali, start in the Gianyar Regency. Here, you can't help but feel romantic while you explore stunning waterfalls and temple ruins of the uplands. Of course, you'll want to rent a car and visit the Belimbing Rice Terraces. This is where you can walk among the terraces and enjoy a relaxing, scenic meal at a nearby restaurant. If you have time, visit Lempuyang Temple and see the majestic Gates of Heaven.
16. Dubrovnik, Croatia
Nestled between the rocky coastline on the Adriatic Sea, Dubrovnik is a Renaissance-era city that looks like something out of a storybook! The perfect romantic getaway, Dubrovnik offers amazing views and fascinating tourist attractions.
For a truly unforgettable experience, embark on a Dubrovnik cruise from Sail Croatia and sail along the stunning coastline of the city. Explore hidden coves, visit charming islands, and indulge in the luxurious amenities onboard as you soak up the beauty of this enchanting region.
In Dubrovnik, don't miss the Love Stories Museum, where you can read about famous couples, learn about Croatian traditions, and see one-of-a-kind artwork.
Go for a ride on the cable car up to Mount Srd where you can take in views from over 1350 feet above the city. We recommend timing it just right so you can enjoy a cocktail and dinner at the restaurant while watching the sunset!
Old Town is one of the biggest draws to Dubrovnik. This historic area is packed with 16th-century churches and mansions completely surrounded by massive 500-year-old stone walls! You can take a long walk along the walls or for a different view, head to the quiet Porporela Pier. Here you'll experience views of the city from the water.
If you're a fan of the show Game of Thrones, you'll want to take the walking tour of filming sites in Dubrovnik!
Consider a stay at the intimate and historic Pucić Palace or Hotel Bellevue, a cliff-side property with stunning sea views!
17. Paris
Known as one of the most romantic places in the world, I had to include Paris on my list! A requirement is to tour the Eiffel Tower or at least walk the manicured Champ de Mars.
Get a darling hotel like Hôtel La Comtesse Tour Eiffel or vacation rental in Saint-Germain for the best views of Paris' most famous landmark. Spend your mornings at a streetside cafe enjoying a leisurely French breakfast or end your day savoring a glass of wine at a cozy wine bar.
A romantic couple's trip to Paris isn't complete without a visit to Montmartre. The vine-covered buildings, cobblestone streets, and winding alleys leading to secret gardens are fun to explore with your special person. Be sure to visit the Mur des Je t'aime, or Wall of Love, where people have written love notes in hundreds of different languages!
Visit One of the Best Destinations For A Romantic Couples' Trip Around the World
You can find romantic getaways in the US and across the world. The universal language of love takes on new meanings when you find something to do together in a special place somewhere new.
Perhaps you want to have fun hiking in rainforests and snorkeling off a tropical island. Or maybe enjoying a candlelit dinner inside a medieval castle is the epitome of romance for you and your love. I hope my list of destinations for a romantic couples trip inspired you!