When planning a group trip it can be difficult to find a destination everyone can agree on. The one true exception might be Alaska, where the natural beauty will take your breath away, no matter your age. One of the best ways to explore Alaska is on a small ship, specifically UnCruise Adventures, which allows your family to get close up with glaciers and wildlife. If an intimate vacation with family or friends is on your radar, an UnCruise Alaska voyage should be at the top of your list.
*Disclosure: This post may contain affiliate links, which means we may receive a commission if you click a link and purchase something that we have recommended. Please check out our disclosure policy for more details. Thank you for your support!
*We were guests of UnCruise Adventures for the purpose of this review. As always, opinions are 100% our own.
Why UnCruise Alaska Adventures Are Perfect for Groups
1. Everyone in one place
Most UnCruise ships hold from 20 to 90 passengers meaning it's easy to find your family or friends any time of day. There are common areas for lounging, meeting other guests, or spending quality time together.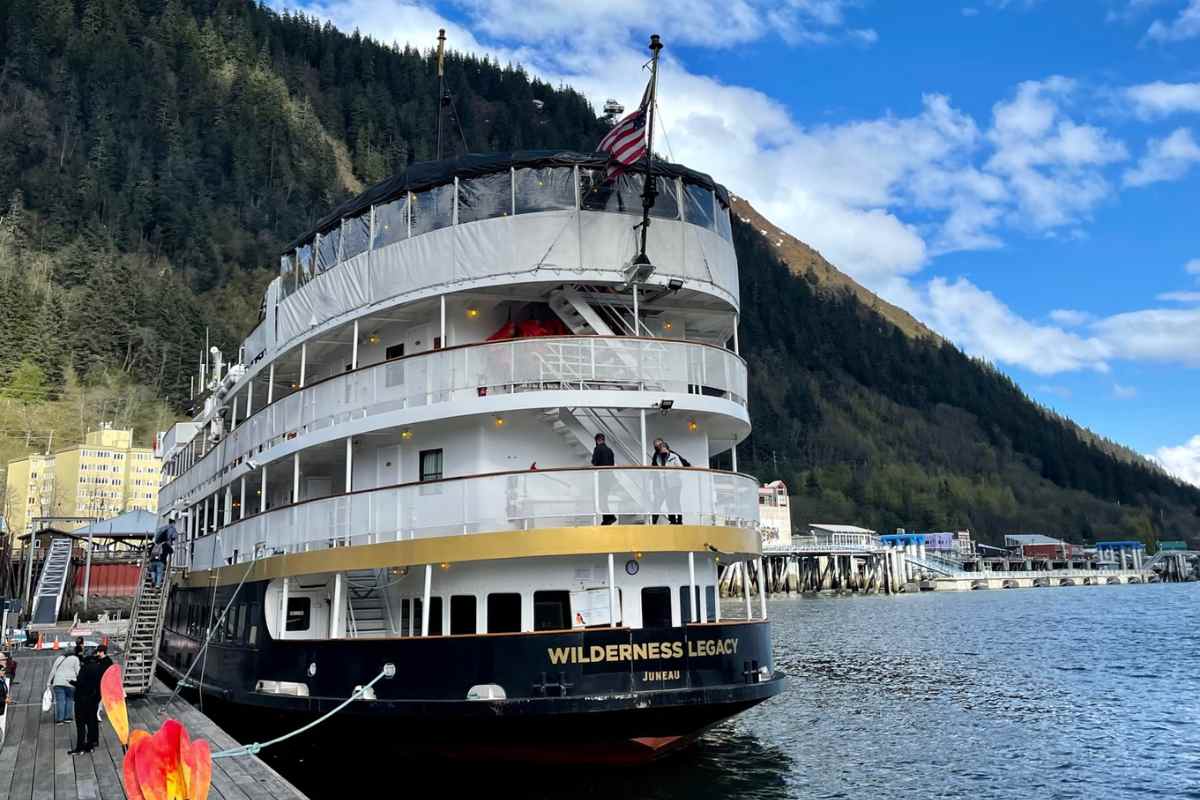 Our ship was the Wilderness Legacy and we sailed with 70 people, but the ship can accommodate up to 86. There are only 43 cabins which makes it easy to find your family and friends on board. Even if your rooms aren't next to each other, it will only take a few minutes to connect and you won't spend half your day trying to track them down.
2. Meals that someone else cooks – food and beverage is included
One of my favorite things about a cruise vacation to Alaska with UnCruise is that all of the meals are included. No worrying about grocery shopping or cooking on vacation because someone else is doing all of the hard work!
We must say, the food on UnCruise does not disappoint as you will be treated to fresh seafood every day and delicious creations from the ship's chef!
For breakfast, there were light pastries and coffee in the lounge for early risers, and meal service in the main dining room. A rotating menu with two main dishes was offered every day, in addition to yogurt, oatmeal, eggs, bacon, and more.
Lunch and dinner were equally satisfying with each one having three options to choose from: meat, vegetarian, or fish as your main entree, with several side dishes to round out the meal. All lunches and dinners ended with dessert. We didn't have a bad meal the entire trip.
3. Adventures for all ages and abilities
During the summer months in Alaska, UnCruise offers the ultimate outdoor classroom. Kids participate in scavenger hunts, examine species they find on the beaches under magnifying glasses, and go on hikes, kayaks, and boat rides. The ideal age for young travelers is 10-14, but older kids will equally enjoy the adventure. 
Each day guests choose from a variety of activities. This means travel groups can have time exploring together or they can go off on their own and meet other guests. There are typically two adventures each day, one in the morning and one after lunch. Some might want to go for a leisurely meander along the beach, but others might want to take a bushwhacking hike (and yes, that's as intense as it sounds, mud, trees, and all). Others might choose to stay behind and enjoy the ship's hot tub or play cards in the lounge.
If your group has various levels of physical fitness there's no need to worry. Every day there are skiff rides (boat rides from the ship) that require minimal activity and stuff for the adrenaline junkies (snowshoeing on a glacier anyone?). This is just one of the many things that make UnCruise perfect for groups!
4. Connect with nature
A trip to Alaska gives everyone a greater appreciation of nature as they are constantly immersed in some of the most pristine wilderness the state has to offer. The beauty of a small ship is the ability to travel to places the big cruise ships miss, providing glimpses of nature in its purest form.
UnCruise is also a digital detox from the world we live in. Cell phones won't work most of the time and there is no wi-fi onboard. Make the most of the week by bonding with your travel group and enjoying Alaska's wilderness.
5. Comfortable spaces for gathering
As with many cruise ships, there isn't enough space in your cabin to host your family and friends. No need to worry because UnCruise ships have a bar and lounge area that is perfect for all ages.
This is a great space for catching up after the day's adventures. There are books and DVDs available (there's a DVD player in each cabin), as well as cards and puzzles. 
In the evening there are educational presentations about Alaska and its wildlife, and sometimes there are game nights or fun group activities. The crew usually organizes these events and they are often in the lounge, available to point out animals that can be seen from the ship like moose, brown bears, sea lions, and birds.
6. Unique destinations
Most of the Alaska cruise ships dock in towns like Ketchikan, Skagway, and Sitka. On our UnCruise Wild Wooly & Wow itinerary, we started in Juneau but never docked in any towns. All of our transportation was via skiff and we went to remote destinations.
Chichagof Island was one of the stops, and UnCruise is the only company with permits in the area. We also explored Ideal Cove, LeConte Bay and glacier, and the Keku islands. Look them up on a map and you'll see they are pretty removed from civilization.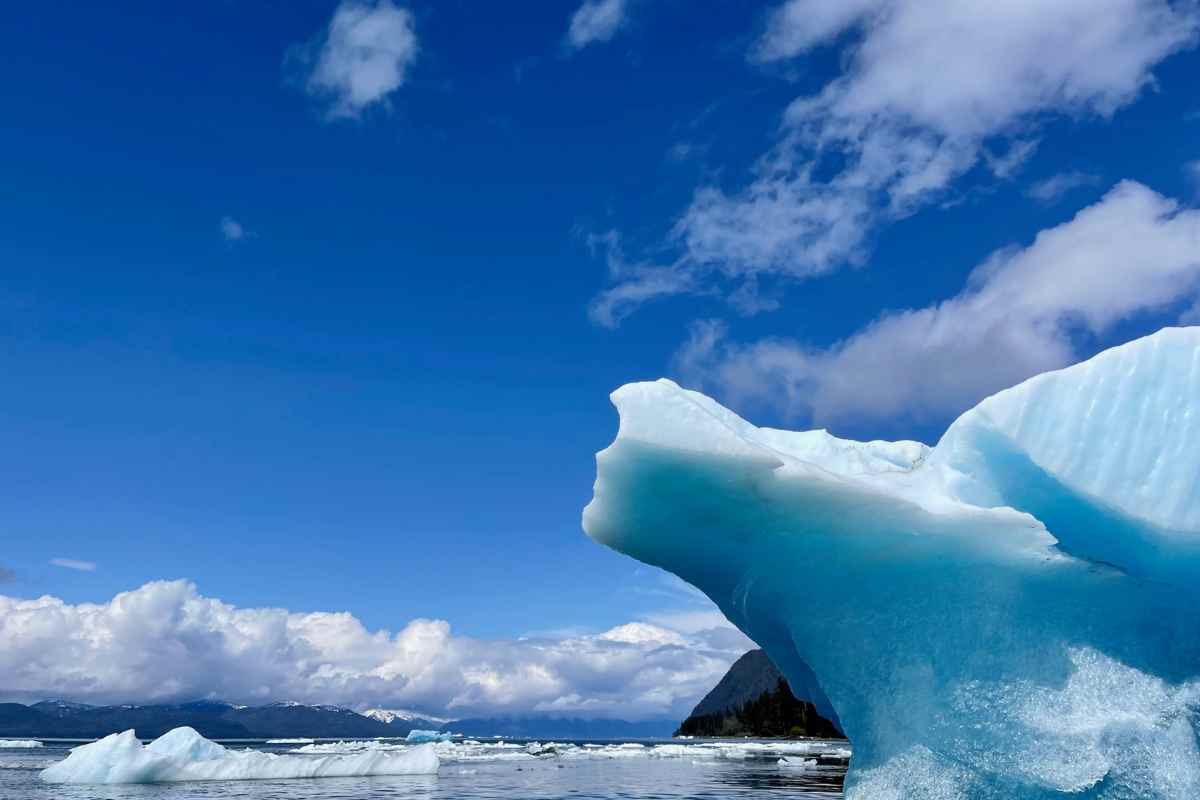 One of the highlights was Glacier Bay National Park where we had the opportunity to do a "polar plunge". I'm sure they are one of the few cruises that allow passengers to jump into the frigid waters.
7. Making new friends
Even though you are traveling with family and/or friends, it's important to know you will meet other passengers. There is no assigned seating at dinner, so you can always intermingle there or in the lounge. You will also make new friends on the excursions and the staff is amazing as well. By the end of the week, you will have new friends from around the world. 
A group trip on an UnCruise Adventures ship guarantees excitement and fun, and Alaska isn't their only itinerary. They also visit Baja Mexico, Hawaii, Belize, Galapagos, and more! Where will you go first?