The National Parks in the United States are some of the best places to plan a multi-generational vacation. Getting out into nature, spending time together roasting marshmallows over a campfire, and spotting wildlife along the trails are a great way to make memories for everyone in the family. With multigenerational travels becoming more and more popular, check out these eight reasons why visiting National Parks with grandparents will blow you away!
Reasons to Visit National Parks with Grandparents
*Disclosure: This post may contain affiliate links, which means we may receive a commission if you click a link and purchase something that we have recommended. Please check out our disclosure policy for more details. Thank you for your support!
1. Brings back memories for the older generation
Visiting the National Parks and other wild spaces in the United States is not only enjoyable but it can add another level of significance to multigenerational trips as grandparents and parents delight to see their children and grandchildren uncover the places they remember from childhood.
If your grandparents enjoyed traveling and visited a National Park as a parent themselves or a child, consider re-visiting that National Park to allow them to share their experience from that visit with the younger generations. Those experiences can really help bring the park to life for grandchildren and the whole family can create new memories together.
Today, the older generation is in better health and enjoys an active lifestyle, meaning they can share their love of the parks through fun activities such as white-water rafting, hiking, and river boat tours.
Grandparents want to be included in all the fun and visiting the national parks together can be a wonderful way to share their past experiences. Multigenerational travel is a great way to focus more on experiences rather than gifts, so consider booking a trip to a national park for a special milestone or anniversary.
2. Gives you time to unwind
Visiting the National Parks is one of the best places to go on a multi-generational family vacation because it allows plenty of time to catch up and slow down. The pace is meant to be a bit slower with time to linger at sights such as the changing leaves during fall in Shenandoah National Park or allowing the kids to clamber over the beautiful red rocks of Arches National Park.
Even if you intend to pack in the sights, there will still be plenty of time for shared meals at dinner and stargazing in the evenings before tucking the little ones into bed and enjoying some adult time.
A bonus of multigenerational vacations means that there are extra hands to babysit the grandkids, meaning the parents can catch a break and some time to themselves. Multi-generational travel has many benefits, but parents will agree that having extra adult hands to help with the children is one of the huge advantages.
3. National Parks offer access for everyone
National Parks have done a wonderful job of making the great outdoors accessible to almost anyone, even those with mobility issues. With lodging directly in the park, free transportation between major sights and paved trails in some locations, it is easy to see why National Parks are great for everyone in the family.
In addition, National Parks have made great efforts into making their parks disability friendly with specialized park maps, informational signs and trails.
If you are looking for the best national parks for those with disabilities, check out the following options for National Park family vacation ideas with grandparents that accommodate for wheelchairs and other disabilities.
Exploring the great outdoors has wonderful benefits for everyone in the family including lower stress, improving muscle tone and a good dose of Vitamin D. Children will enjoy the ability to climb, run and just be themselves in the great outdoors.
4. National Parks are affordable
National Parks are one of the most affordable vacations with affordable daily, weekly and annual rates. Check out the rates below for annual passes for a full year of fun.
Regular Annual Pass: $80
US Military: Free Annual Pass
4th Graders: Free Annual Pass
Seniors (62+): $20 Annual Pass or $80 Lifetime Pass
Access Pass (person's with disabilities): Free Annual Pass
The National Parks typically charge by the vehicle, so if everyone can fit into one vehicle, then you can all use the same pass. Another great benefit of multi-generational vacations is that everyone could use the Senior Pass.
Want to visit for free? There are five days during the year where you can visit the National Parks for free!
The 2020 Free Days Include:
January 20, 2020 (Birthday of Martin Luther King, Jr.)
April 18, 2020 (the first day of National Park Week)
August 25, 2020 (the National Park Service's birthday)
September 26, 2020 (National Public Lands Day)
November 11, 2020 (Veterans Day)
In addition, National Parks offer lodging inside the parks at varying rates and style of lodging including lodges, RV parks, and camping. Be sure to book a year in advance for vacations in the summer months as lodging fills quickly.
The majority of the ranger programs are free (or have a nominal fee) to participate in including day and evening programs. Children will enjoy the free Junior Ranger program where they can complete a booklet in order to earn a junior ranger badge. The booklet has multiple pages of activities to complete and the requirements are based on the child's age.
5. National Parks are meant to be enjoyed for generations to come
Visiting the National Parks is a tradition that should be passed from generation to generation. Planning a multi-generational trip to the National Parks helps to ensure that the grandchildren will continue the tradition with their children and so forth. Imagine re-creating a photo that you took with your family generations from now.
In addition, you'll be passing on the love of nature and the splendor of the national parks to the current generations. Helping to teach them to appreciate the great outdoors and help to protect it.
The National Parks continue to reinvent ways for visitors to enjoy their trails and national monuments. Multigenerational travelers can enjoy river rafting through the Grand Canyon with companies like OARS, complete with a geocaching adventure in Arizona's Petrified Forest National Park. With increased wifi and internet access, the parks are integrating social media and interactive apps to provide a digital aspect to the visitor's experience.
6. Endless options
With 58 National Parks scattered all over the US, there are endless National Parks vacations for families across the US, including Hawaii and Alaska. Since multi-generational families often live in various locations, finding a central location to meet up is easy with so many National Parks to choose from. Having options also means that there is a National Park that will suit the preferences of each person in the group.
Need some extended family vacation ideas? Visit Acadia National Park for amazing sunsets, delicious seafood, and the opportunity to get out on the water. Want to learn about geology, have a fantastic chance to see the local wildlife and watch geysers explode? Check out Yellowstone National Park.
Some of the National Parks are also close together to combine multiple parks in one trip. A popular route is flying into Las Vegas, renting an RV and spending time in Zion National Park, Bryce Canyon, Antelope Canyon and then Grand Canyon National Park before flying back out of Phoenix.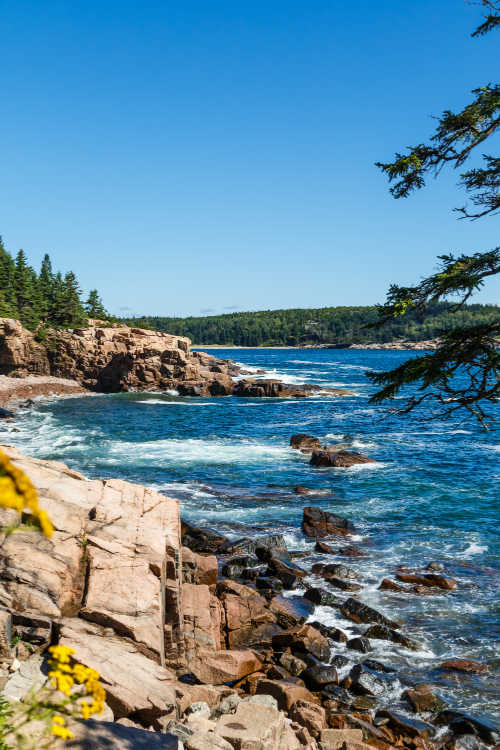 7. Educational Opportunities
The National Parks are an amazing outdoor classroom full of fun and unique opportunities to learn about concepts such as geology, space, forming of coral reefs, plant life, animal habitats and erosion.
As mentioned above, children can really dive into the environmental aspects with the parks Junior Ranger Program. Families can participate in Ranger Programs throughout the parks and learn about the park's unique aspects at the visitor's center and National Park tours.
National Parks are the perfect place for everyone in the family to learn about what truly makes our country special. National Parks like Yellowstone, Zion and Acadia focus on the incredible natural
splendor and beauty of our nation's diverse natural features and wildlife. Alternately, National Historical Parks and Historic Sites like Gettysburg, Valley Forge, the Manassas Battlefield bring to life the people, history and events that have shaped the nation we are today.
8. Opportunities to engage in unique activities
The National Parks have a plethora of tour operators ready to bring your visit to another level. With grandparents enjoying an active lifestyle, multigenerational families are able to share adventurous activities together such as hiking through the Narrows Trail in Zion National Park. Try out rock climbing in Saddle Rocks, Joshua Tree National Park or do some rafting or kayaking down the Snake River in Grand Teton National Park.
The National Parks offer plenty of opportunities for multigenerational families that are looking for a sense of adventure and exploration.
Thinking about planning a multigenerational vacation but not sure how to plan one? Check out our top tips for planning your first multigenerational vacation! Need someinspiration for some places to book a trip? Check out our top multigenerational travel destinations.