I had the opportunity to take a three-day cruise on Odyssey of the Seas from Fort Lauderdale to the Bahamas and back, and I must say, this ship really has something for everyone. Odyssey of the Seas is one of the newest cruise ships from Royal Caribbean as part of its Quantum OasisClass.
The ship has everything from robots making cocktails to an Alice-in-Wonderland themed restaurant and an indoor skydiving adventure. Whatever your family loves to do, we are sure all ages can be entertained aboard the Odyssey of the Seas.
*Disclosure: This post may contain affiliate links, which means we may receive a commission if you click a link and purchase something that we have recommended. Please check out our disclosure policy for more details. Thank you for your support!
**We were guests of Royal Caribbean for the purposes of this review. As always, opinions are 100% our own!
What families will love about the Odyssey of the Seas
Odyssey of the Seas Room Options
If your family really wants to splurge, consider booking one of the Royal Suite Class rooms. These rooms come with the highest level of service including exclusive experiences, luxury accommodations, and inclusive amenities.
Each of these rooms comes with a dedicated concierge or Royal Genie who will assure you have everything you need to make this your best vacation. This VIP package has everything from complimentary deluxe beverages and dining to priority entrance on many on-board activities. For families who want an elevated experience, these are the rooms to book.
Other room classes include: interior, balcony, window, and virtual balcony. Yes, the virtual balcony rooms have technology that delivers real-time views on floor to ceiling panels.
Honestly, you can't go wrong with any of the rooms on Odyssey of the Seas. They are all very comfortable with ample storage, decent sized bathrooms, and a seating area. There are connecting cabins on the ship, so if this is important to you, be sure to tell your booking agent.
Dining for every palate
If you have a picky eater in your extended family there's no need to worry. Odyssey of the Seas has something for every palate whether they're looking for pizza and pasta or an epic dining experience.
Cafe Promenade has an epic buffet that's a perfect start to the day. If you want a traditional American breakfast (eggs, bacon/sausage, toast), they have it. There's also smoothies, pastries, pancakes, waffles, and more. Windjammer also serves breakfast, and it's a good option on the ship. If breakfast isn't your thing, there's a Starbucks on-board so you can get your caffeine fix and a small breakfast. You will not be lacking for choice to start the day. 
There are restaurants on Odyssey of the Seas that are complimentary, and others that require an additional fee. The ones included in your cruise package include: Solarium Bistro (continental), Sorrento's Pizza, Cafe@Two70 (quick and easy options throughout the day), Cafe Promenade (sandwiches and dessert), and El Loco Fresh (Mexican food).
Premium restaurants are worth the splurge if your family is looking to try something new. Izumi is the ship's Asian restaurant that serves sushi, Teppanyaki has the hibachi tables that always entertain. Chops Grille serves a variety of steaks and Giovanni's Italian Kitchen serves giant portions of pasta and pizza.
For the ultimate dining experience on Odyssey of the Seas, try Wonderland, a themed restaurant featuring fantastical creations a la "Alice in Wonderland". There's also Chef's Table a five course dinner complete with wine pairings.
Odyssey of the Seas On-board Activities
We guarantee the entire family will be entertained by the on-board activities on Odyssey of the Seas.
Young children can spend their time frolicking in the pool, playing at the splash pad (Splashaway Bay), or hanging out in the kids' club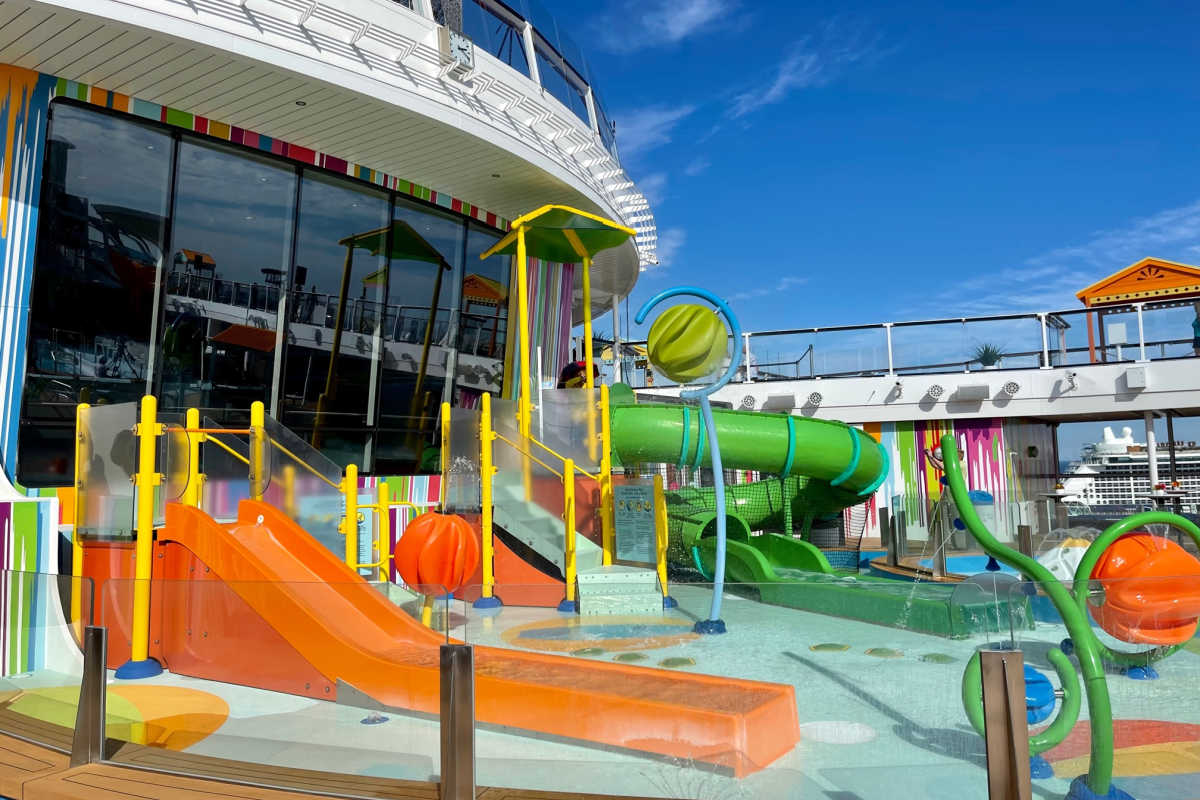 Older children can also enjoy the pool deck, but they might prefer hanging out at Adventure Ocean. This unique space offers everything from crafting, to games and a play structure. The areas are divided into age groups, and there's even a space for the teens, complete with a gaming lounge and movie space.
There are plenty of on-deck activities the family can enjoy together. Try the Ripcord iFly simulator where you can feel what it's like to fly. This is for ages 3 and up, and you'll need to book a time slot in advance. Another popular activity is the Sky Pad, a virtual reality jumping experience (for ages 6 and up). Or how about the Flowrider surfing simulator for ages 6 and above? All of these are perfect for the thrill seekers in your family.
Other fun things to do on Odyssey of the Seas include laser tag, a virtual reality zone, rock climbing wall, bumper cars, and an arcade. There's also a casino, spa, and state-of-the-art workout facility for the adults in the group.
Day at CocoCay
Our cruise docked at Royal Caribbean's private island, CocoCay. This place is a full day of fun and adventure, and families will not be disappointed!
Just so you're aware, the Perfect Day at CocoCay offers complimentary activities, and attractions that have an additional fee. There are beaches and swimming pools, and we recommend reserving one of the cabanas (there are some lounge chairs that are free on a first-come first-served basis, but we prefer to pay a little extra for reserved seating and service). This way you will always have a meeting point and no one will get lost.
The attractions that cost extra are the zip line, the helium balloon ride, equipment rentals (such as kayaks and snorkels), and the water slides. There are also five complimentary restaurants on the island and one that charges for food (Captain Jack's).
The island is within walking distance of the ship, or you can arrange for a golf cart to drive anyone in your party that might have mobility issues. There's also a shuttle around the island that's available all day long.
Why You Should Take the Grandparents on an Odyssey of the Seas Cruise
It can be difficult to find a multi-generational trip that works for all ages, but a cruise with the grandparents is quite easy. The ship is fairly accessible with elevators, rooms outfitted for wheelchair users, and swimming pool lifts, as well as handicap accessible excursions in certain destinations. As you can see, there is something to entertain everyone, making it the perfect choice for your next family reunion.