Lake Tahoe offers many activities and experiences for people of all ages; hence it is one of the best locations for large groups. Planning a Lake Tahoe family reunion or family vacation? Consider this your guide to the best places to stay and the best ways to enjoy your vacation.
*Disclosure: This post may contain affiliate links, which means we may receive a commission if you click a link and purchase something that we have recommended. Please check out our disclosure policy for more details. Thank you for your support!
Places to Stay in Lake Tahoe
The best place to stay in Lake Tahoe often depends on the activities you and your family will enjoy the most. South Lake Tahoe, for instance, is known for its vibrant nightlife, while the North Side of the lake is known for its gorgeous resorts. The East Side boasts a high desert, and the West offers the most beautiful side of the lake.
Here are some popular places in Lake Tahoe that are perfect for family reunions:
Donner Lake Village – Truckee City, North Lake Tahoe
One of the best places in the Lake Tahoe area to hold a family reunion is Donner Lake Village. Here, you will get to enjoy great lakefront views, accommodation options, and access to a lot of outdoor activities. The B&Bs here have rustic vibes and come with free WiFi and full breakfast service.
Heavenly Valley Townhouses – South Lake Tahoe
Heavenly Valley Townhouses will feel like home with its private bathrooms, fully-equipped kitchens, and fitness room. The townhouses also have a great location and offer easy access to Heavenly Mountain Resort.
Forest Suites Resort at Heavenly Village
Located at Heavenly Village, you already know to expect beautiful views and upgraded amenities. Forest Suites offers hotel rooms and suites that can sleep up to 6 adults. Guests also enjoy full kitchen service, private bathrooms, and an outdoor fireplace.
Forest Suites is a short drive to the Heavenly Mountain Resort, where you can enjoy a Heavenly Gondola Ride while taking in the panoramic views of the lake. Guests in Forest Suites can also enjoy winter activities like sleigh rides, snowmobiling, skating, and cross-country skiing.
Resort at Squaw Creek: Olympic Valley
Lake Tahoe has many luxury resorts, and The Resort at Squaw Creek, located in Palisades Tahoe (formerly Squaw Valley), is one of them. This resort hosts 405 luxurious rooms with many modern amenities, including a full-service spa, 4-star restaurants, golf courses, hot tubs, heated swimming pools, shops, and much more. The resort also has fine restaurants and spas for massages after the day's activities.
In addition, the Resort at Squaw Creek is located at Olympic Valley (home to the 1970 Winter Olympics) and is perfect for water sports enthusiasts who will enjoy skiing and snowboarding. The resort also offers programs for kids between 4 to 12, so it's a perfect place for young children.
Franciscan Lakeside Lodge: North Shore Lake
One of the best places to stay on the North Shore is Franciscan Lakeside Lodge which is just a few minutes away from Kings Beach. Franciscan Lakeside Lodge is also a short distance from major ski resorts, including Northstar Ski Resort.
Landing Resort and Spa: South Shore Lake
Landing Resort and Spa offers luxurious rooms and suites with TVs, fireplaces, and fridges. Large groups can lodge in the three-bedroom suites featuring large beds that can sleep up to six guests, heated floors, and bathrooms. The resort also boasts upgraded amenities like a pool, spa, restaurant, and fitness center.
Landing Resort and Spa offers opportunities for outdoor activities, including biking, water skiing, and fishing.
Hyatt Regency Lake Tahoe Resort, Spa and Casino
Located in Incline Village, The Hyatt Regency Lake Tahoe Resort, Spa and Casino is a 4-star resort with a private beach, restaurants, and casino. This hotel is perfect for large groups and features 422 rooms and cottages with stunning lakeside views.
Zephyr Cove Resorts
Zephyr Cove Resorts offer guests rooms and rental cabins perfect for families. The cabins feature fully-equipped kitchens, TVs, and other amenities. Guest houses have private bathrooms, refrigerators, microwave ovens, and more. Zephyr Cove Resorts also has on-site dining options and is close to major attractions like Tallac Historic Center and Heavenly Ski Resorts.
Things To Do for Your Lake Tahoe Family Reunion
Lake Tahoe is a perfect playground for families and lovers of the outdoors. This alpine haven boasts beaches, ski resorts, snow parks, and attraction sites that will keep you busy all day. Here are some family-friendly activities perfect for a family reunion:
Lake Tahoe Cruise
One of the best ways to enjoy the spectacular views of Lake Tahoe is by taking a cruise around the lake. During this two-hour scenic cruise, you will learn more about the area, enjoy great views, try out local cuisines and sway to beautiful live music.
Visit Taylor Creek Visitor Center
Taylor Creek is nestled on the south shore of Lake Tahoe and should be one of the first drops for visitors in the area. At the visitor center, you will find interpretive self-guided trails, the Lake of the Sky Amphitheater, and the Stream Profile Chamber close to the Rainbow Trail. In the Steam Profile Chamber underground, visitors can study aquatic life through floor-to-ceiling glass windows. 
Emerald Bay State Park
A family retreat in Lake Tahoe isn't complete if you don't stop by Emerald Bay State Park. This park has been designated a National Natural Landmark since 1969, and it has even evolved since then. Emerald Bay is one of the most photographed spots in Lake Tahoe and features one of the finest beaches in the area too. The whole family can enjoy activities like swimming, kayaking, hiking, scuba diving, and boating in this area.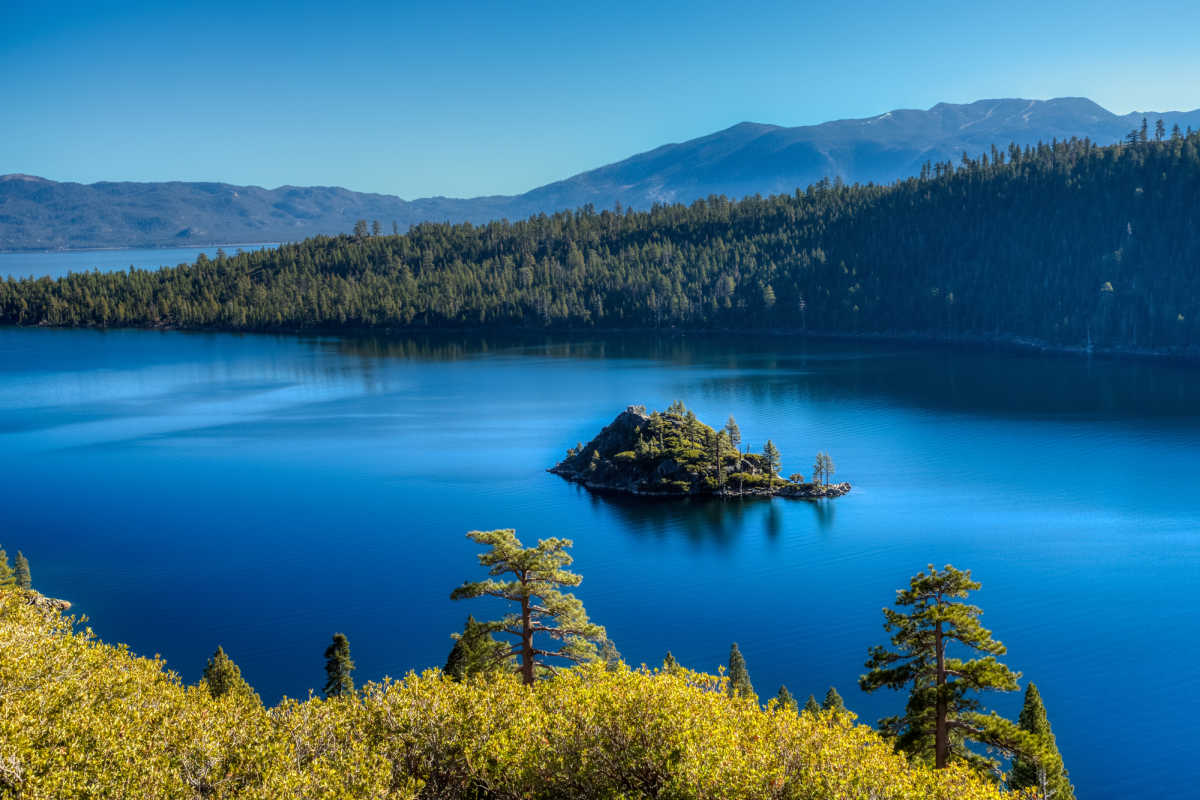 While you are here, you can also tour Vikingsholm, a stunning castle that showcases an example of Scandinavian architecture.
M.S. Dixie II Sunset Dinner Cruise
MS Dixie II is the largest sightseeing boat cruise in South Lake Tahoe, with plenty of space for 500 passengers. This cruising vessel is operated by Zephyr Cove Resort and treats passengers to dinner, entertainment, and sightseeing cruises.
Kings Beach Recreation Area
For some beach fun, head to Kings Beach to enjoy a full day of activities, including fishing and swimming. The facility offers picnic tables, a playground for kids, ramps for a boat ride, and a court for basketball. There are also many hotels and lodges near this beach.
Hiking
Lake Tahoe is popular amongst hikers and features the best trails for both professional and family-friendly hikes. Some popular hiking trails include Bayview Trailhead, Eagle Rock Trailhead, and Tahoe East Shore Trail. We like the AllTrails app for finding local hikes.
Camp Richardson
Camp Richardson offers year-round fun for the entire family. You can enjoy ice cream at the historic store, ride bikes on the flat bike paths, and lodge at the camping accommodations. Camp Richardson also has many amenities, including a Mountain Sports Center, where visitors can cycle in summer and ski/snowshoe in winter.
St. Francis of the Mountains
Also known as Fallen Leaf Lake Chapel, this church is popular for its rustic charm and beautiful scenery. St. Francis of the Mountains was built in the 1900s and named after St. Francis, the patron saint of birds and animals. The chapel is close to Fallen Leaf Lake, famous for biking, hiking, and beach activities.
Tahoe Treetop Adventures
Want some adrenaline-pumping fun suitable for the whole family? We recommend Tahoe Treetop, which features zip lines, suspension bridges, rope courses, and platforms among trees. This adventurous place is suitable for kids over the age of 5 and also features miniature golf, climbing walls, and monkey courses.
Heavenly Ski Resort
One of the best places to get views of Lake Tahoe in the summer months is Heavenly Ski Resort. While you are here, stop at the Observation Deck for pictures and gorgeous views.
Epic Discovery
Epic Discovery is a fun-filled recreational center is at Heavenly Mountain Resort and offers many entertaining activities atop a mountain. You and the rest of the family can enjoy gondola rides, mountain coaster rides, zip lining, guided ATV tours, rock climbing, and other activities. There are also rope courses, hiking trails, and climbing walls young children will enjoy.
Tallac Historic Site
Tallac Historic Site was a summer retreat for three of San Francisco Bay Area's elite families. While you are here, you can visit the Tallac Museum, watch a blacksmith in action, stroll through the gardens, and tour the estates.
Mountain Biking
Lake Tahoe is perfect for mountain biking activities, with options suitable for beginners, experts, and intermediates. Some famous mountain biking spots include Tahoe Rim Trail, Powerlines Trail, and Mr. Toad Wild Ride. There are rental spots throughout Tahoe where you can rent mountain bikes and other gear for a safe and enjoyable ride.
Golfing
Lake Tahoe offers some of the best golf in the United States, so we recommend you try some golf courses with the rest of the family. One of the most popular spots to enjoy golfing in Lake Tahoe is Edgewood Golf Course, where players of all skill levels can play while being treated to stunning views. You can also play miniature golf with kids in Kings Beach, where you will find an 18-hole course and arcade.
Rent an e-bike
For a guided and fun Lake Tahoe adventure, consider booking an e-bike tour around the lake, where you can enjoy the gorgeous scenery on two wheels.
Lake Tahoe is one of the best locations for a family reunion or any occasion that requires that the whole family is together. There are great places to lodge, gorgeous attractions sites for sightseeing, and opportunities for many outside activities. Take your time to enjoy quality time with your family while exploring the stunning areas in Lake Tahoe.