If you are looking at spending the holiday season away from home, you will want to carefully pick a hotel that does Christmas well. We are talking gingerbread houses, decorations throughout the property, Santa meet and greets, and everything you need for the perfect holiday celebration. Here are some of the best Christmas hotels in the USA. Each one has its own way of making the festive season special.
*Disclosure: This post may contain affiliate links, which means we may receive a commission if you click a link and purchase something that we have recommended. Please check out our disclosure policy for more details. Thank you for your support!
Must Visit Christmas Hotels in the US
December travel can be crazy, but well worth the effort to enjoy one of these beautiful Christmas hotels decked out for the holiday season!
1. Sonnenalp Hotel – Vail, Colorado
If you want the feeling of visiting Europe in the winter without going overseas, this is the hotel for you.
Set in the charming Bavarian-esque ski resort town of Vail, Sonnenalp exudes Old World charm. During the holiday season, every nook and cranny of the hotel is bedazzled.
The town of Vail has an outdoor ice rink, Christmas tree lighting, and a lantern walk led by Santa. And Sonnenalp is in the heart of it all, within walking distance to shops, restaurants, and skiing.
CLICK HERE TO CHECK RATES AT SONNENALP
2. The Greenbrier – White Sulphur Springs, West Virginia
This hotel has so much holiday spirit that it is the location of its own Christmas film, Christmas at the Greenbrier! The Greenbrier has been known for centuries as "America's Resort" and during the holidays they go all out.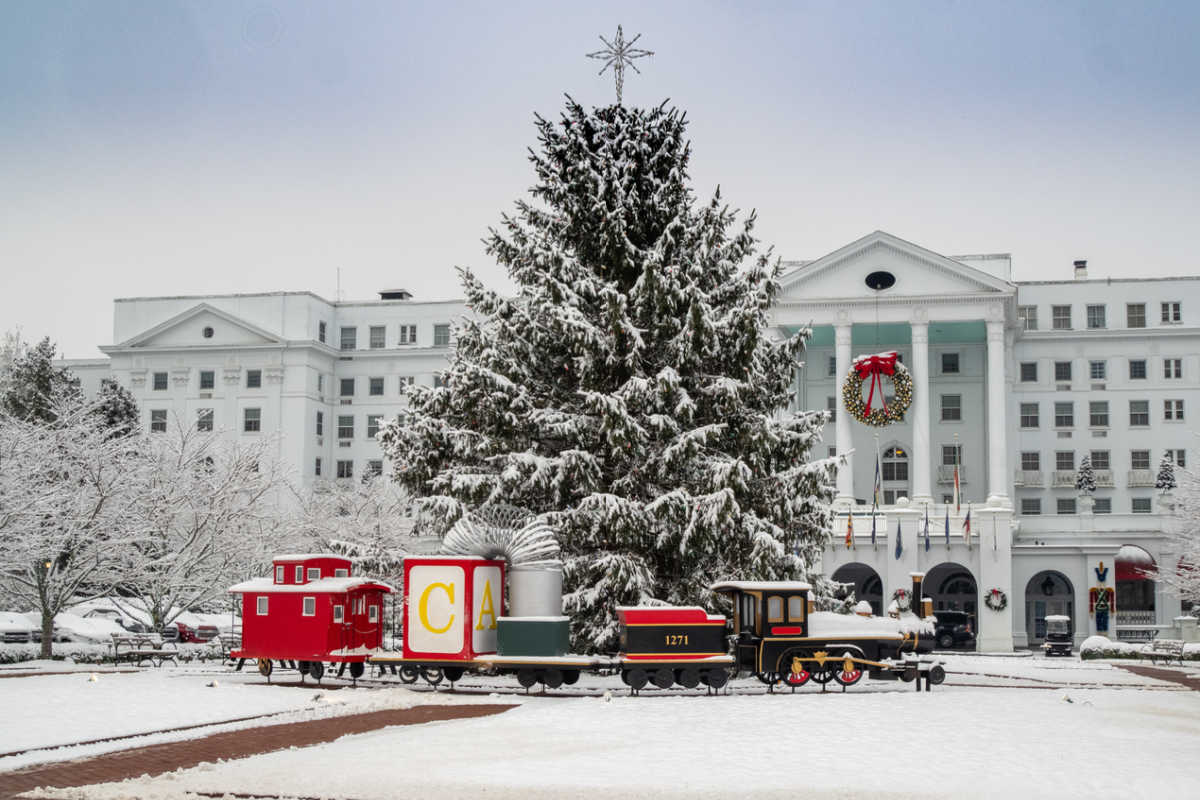 There's a dedicated Christmas shop with gifts and decor, "Weekends with Santa", Christmas carolers, wreath making, and gingerbread house building.
It all kicks off with the Christmas tree lighting and the arrival of Santa to "Light up The Greenbrier."From Thanksgiving through to New Year, hotel guests are welcomed like family. Any holiday at The Greenbrier is a holiday well spent!
3. Biltmore – Asheville, North Carolina
Biltmore is a magical place to spend the holiday season. The estate and its hotels are elaborately decorated with twinkling lights, Christmas trees, ribbons, and garlands. There are two holiday events that are essential for guests staying on the property, Christmas at Biltmore Daytime Celebration and Candlelight Christmas Evenings. Both are special in their own way and we recommend trying both if you have time.
There are several properties on the estate, the Village Hotel, The Inn, and the Cottages on Biltmore Estate. They off a variety of Christmas holiday packages that offer great value for money.
Imagine waking up on Christmas Day morning to a festive walk around the grounds followed by a traditional Christmas lunch.
4. Hotel del Coronado – San Diego, California
It might seem a struggle to find a hotel that does Christmas well when it's in a warmer location, but if that's what you're looking for, Hotel del Coronado has it.
There's ice skating next to the beach, spectacular light shows, and Victorian festive afternoon tea with finger sandwiches. If that's not enough, there are also holiday movies with Santa, beachside igloos, and gingerbread houses. Hotel del Coronado has one of the best beaches in San Diego and some of the best Christmas celebrations in the county!
CLICK HERE TO CHECK RATES AT HOTEL DEL CORONADO
5. Big Cedar Lodge – near Branson, Missouri
Big Cedar Lodge really goes all out with their Christmas activities! There are three different Christmas light tours, specialty holiday dining, family portraits, and even a special Christmas service at their garden chapel.
And that's not all! You'll certainly feel like you're visiting the North Pole with all of the holiday fun! Don't miss story time with Mrs. Claus, breakfast with Santa, and the opportunity to learn how the Grinch stole Christmas from the man himself. The place is full of holiday cheer, and it's a great hotel for family time.
CLICK HERE TO CHECK RATES AT BIG CEDAR LODGE
6. The Plaza – NYC
It wouldn't be Christmas in New York City without staying at The Plaza. You can follow in Kevin's footsteps with The Plaza's "Home Alone 2: Fun in New York" package. This is offered year-round, but for a film-accurate experience, it has to be when the hotel is decked out in holiday decor and welcoming in the season.
Ride a limo around the Big Apple, devour a large cheese pizza, and make sure you have room for a Home Alone Sundae (16 scoops of ice cream with all the trimmings).
Don't miss their famous Christmas lunch! The Christmas Grand Buffet has a delicious assortment of dishes, while the afternoon teas have a festive makeover too!
7. Trapp Family Lodge – Stowe, Vermont
You'll be forgiven for thinking you've stepped into the Austrian countryside when you pull up to this beautiful wooden beamed lodge.
Cozy up by the fire, surrounded by Christmas trees and festive cheer, or snuggle under a blanket while you take a sleigh ride around the grounds through the freshly fallen snow. Make sure you keep an eye out for the sparkling ice sculptures while you're out and about!
The hotel encourages guests to get involved in Stowe's annual traditions. The town gathers to watch the Christmas lights get switched on, listen to live music, watch the children's lantern parade and decorate cookies. Christmas is the most wonderful time of year here.
CLICK HERE TO CHECK RATES AT TRAPP FAMILY LODGE
8. Omni Mt Washington – Bretton Woods, New Hampshire
Omni Mt Washington offers ice tubing, sleigh rides, and snowshoeing in a winter wonderland. It's the perfect place for a white Christmas.
The Christmas in the mountains schedule is packed, as you'll try to fit all of the must-do holiday traditions in one day. From breakfast with Santa and Mrs. Claus, to a holiday movie at the end of the day. There's also caroling, gingerbread house demonstrations, story time, and even wildlife encounters. Be sure to give yourself enough time to experience it all.
There are also three "Santa Saturdays" for a toned-down version of the day, and the Holiday Craft Bazaar, where you can make Christmas gifts for loved ones. Families will love a stay at the Omni and it's a great home base for exploring all of the things to do in the White Mountains.
9. Woodstock Inn & Resort – Woodstock, Vermont
Woodstock Inn goes all out for the holidays. A great time to visit this hotel is over Woodstock's Wassail weekend. The hotel, guests, and community come together for holiday movies, musical performances, ornament making, the annual parade, and the gingerbread contest.
Speaking of gingerbread, the hotel famously features a life-size gingerbread house in their foyer, and they don't stop there with decorating. You'll see trees, garlands, and decorating everywhere, creating a cozy space for you to enjoy the holidays.
The Christmas Day Grand Buffet is the icing on the cake! Your Christmas dinner will be lovingly cooked by the talented culinary team, with ingredients grown in the Inn's very own garden. Tip: Don't wear a belt!
CLICK HERE TO CHECK RATES AT WOODSTOCK INN
10. Nemacolin Woodlands Resort – Farmington, Pennsylvania
Nemacolin has an amazing schedule of activities year-round, and in the winter season, it only gets busier!
During your stay, you can enjoy breakfast with Santa and watch live entertainment at "Unwrapped at Nemacolin". Three shows run throughout the month, "Unwrapped on Ice", "Unwrapped on Pointe" and "Unwrapped with Magic" so no matter when you visit, there's a show to get you into the holiday spirit.
You can also visit Santa at the shops or at breakfast, and just ask the hotel if you'd like to surprise your kids with a bedtime elf visit!
11. Fairmont Princess – Scottsdale, Arizona
The Fairmont Scottsdale Princess has the full Christmas package. You'll want to plan your visit before you book as there is so much to do!
This is one of the top Christmas celebrations in the Valley of the Sun, and you won't want to miss an opportunity to take the Princess Express train, visit Graham's S'more Store and have the Ultimate Santa Experience.
Have you ever been ice skating in the desert? Well now is your chance to add this unique opportunity to your bucket list. With kid-friendly activities and entertainment all season long, this is the place to create some great family memories.
There are several packages, but the Ultimate Santa Experience, is, well, ultimate! Make Christmas cookies with Mrs. Claus, attend the Elf Academy, read a story with Santa, and get some elf, I mean selfies, with the big man!
CLICK HERE TO CHECK RATES AT THE FAIRMONT SCOTTSDALE PRINCESS
12. Ritz Carlton Reynolds Lake Oconee – Greensboro, Georgia
It all kicks off at Ritz Lake Oconee in November when their 6,000 square-foot ice rink in The Forest is lit up with 500,000 twinkling lights. From then on, it's non-stop festive fun!
Nothing brings Christmas cheer more than carol singers! Caroling on the Linger Longer Express is a tradition that guests take part in to welcome the holiday season.
Build a teddy bear at the workshop, write your letter to Santa, craft your own holiday decorations, join Mrs. Claus for gingerbread making, and attend the "Elves in Training" Ritz Kids night out.
13. Gaylord Hotels – Multiple locations
Take your pick of any properties owned by the Gaylord brand, they all do Christmas well. With properties in Nashville, Dallas, Orlando, Denver, DC, and San Diego, each one will have its own holiday celebration.
Most Gaylord hotels celebrate with a 3D immersive experience called "ICE!". Each hotel is unique, but you should expect storytelling through ice sculptures, Circus performances, sliding down icy slides, and bumper cars… on ice!
To find out how each hotel is celebrating the holiday season, visit their dedicated website page.
14. Broadmoor – Colorado Springs, Colorado
Countdown to Christmas with Broadmoor. In the twelve days leading up to Christmas, there's a holiday-themed activity, so even if you aren't staying for the big day, you can get into the holiday spirit.
There's nothing more festive than the annual Broadmoor Holiday show. This variety show features local talent, from songwriters to The Broadmoor Pops Orchestra. Follow that with Elf Stories, Santa breakfasts, and giant gingerbread houses, and you've got the makings of a Christmas to remember.
CLICK HERE TO CHECK RATES AT THE BROADMOOR
15. The Peninsula – Chicago, Illinois
Another city option for those who like hustle and bustle during the festive period is Chicago. There's so much to see and do if you spend the holidays in Chicago.
The Peninsula offers "The Holly Jolly Family Holiday" package, the ideal option for those with small kids who are spending Christmas Day at the hotel. It includes gingerbread decorating with the hotel pastry chefs, festive stories, and meeting Santa.
Be sure to make a reservation for The Peninsula's Holiday Afternoon Tea, where the 20-foot Christmas tree and lavish holiday décor at The Lobby enhance the traditional English tea menu.
It doesn't stop there! You also get access to a whole library of holiday movies AND an in-room Christmas tree, so Sant knows exactly where to find you.
CLICK HERE TO CHECK RATES AT PENINSULA CHICAGO
16. JW Marriott San Antonio Hill Country – San Antonio Hill Country, Texas
When you want to escape the cooler climates at Christmas time, San Antonio should make your shortlist. Specifically, the JW Marriott San Antonio Hill Country.
Their signature experience is always "Light up the Night", where you can watch thousands of lights twinkle to the beat of the music in the outdoor wonderland. It runs from late November until the end of December, so if you can't get there for the big day itself, you can still enjoy the festivities.
Kids can watch holiday movies on the back lawn, take a horse-drawn sleigh ride, have visits with Santa, and there's even an Elf on the Shelf DIY scavenger hunt. There are endless holiday events and activities at the resort.
17. Great Wolf Lodge – Multiple Locations
Snowland at Great Wolf Lodge is not one to be missed. The hotel decorations will take your breath away, from the life-size gingerbread house to the decorated suites, you'll be spending your special day in Winter Wonderland.
Even though it may be Winter Wonderland on the inside, they promise that you can still hang out in their water park in the 84-degree heat, and the MagiQuest as well as other activities will also be running.
18. The Peabody – Memphis, Tennessee
If you're looking for a pre-Christmas getaway, you'll want to visit The Peabody Memphis for their tree lighting ceremony. The spectacular tree can be enjoyed from two floors and is lit by Santa Claus himself.
The Light Up The Holidays package is the best way to attend the ceremony, which is only open to hotel guests. The package includes a spot at the ceremony, a keepsake ornament, and unlimited hot drinks to keep you warm on your outdoor strolls.
19. The Hotel Hershey – Hershey, Pennsylvania
At The Hotel Hershey, Christmas lasts three months! The top package for the season is the HersheyPark Christmas Candylane package, which gives you two nights to enjoy everything the hotel and park offer.
If you are driving, you can bundle up in the car with a hot chocolate and drive through the 2 miles of wooded trails lit by nearly 600 animated displays! On foot, you can enjoy all the rides, Santa and reindeer meet and greets, and more lights than ever before.
20. Disney's Aulani – Oahu, Hawaii
Who brings the Christmas magic better than Disney? And what better place to experience it than on the beautiful island of Oahu?
It kicks off on the 1st of December, with our favorite characters donning their festive Aulani holiday outfits and Hawaiian-inspired holiday decor decking the halls.
The holiday activities start, with cookie decorating accompanied by Goofy, and 'Ohana Disney Movie Nights on the lawn. If you listen carefully, you will hear carolers performing around the grounds, and on Christmas Eve Santa pays the guests a visit, and there's hot cocoa and cookies!
The delicious Christmas dinner, known as Christmas Ka Wa'a Lūau, celebrates the season and the culture of the island. Followed by Mickey-themed sweet treats and holiday movies, you'll have the best Christmas vacation ever.
CLICK HERE TO CHECK RATES AT DISNEY AULANI
21. Bellagio – Las Vegas, Nevada
The Bellagio, and specifically its Conservatory, is beautiful all year round, but at Christmas, it undergoes an unbelievable transformation.
Thousands of flowers, ornaments, and lights, and several days of work go into making this winter wonderland in the desert. Even if you don't stay at the Bellagio, we recommend waiting in line to walk through the displays.
CLICK HERE TO CHECK THE RATES AT BELLAGIO
22. Grand Geneva Resort & Spa – Lake Geneva, Wisconsin
Grand Geneva Resort & Spa in Lake Geneva, WI is one of the Midwest's top vacation destinations for holiday fun with its annual Christmas in the Country experience. This six-week celebration features over-the-top holiday décor, private igloo dining, breakfasts with Santa, a heated Trolley Tour of Lights, the option to have a decorated Christmas tree in your hotel room.
New this year is a jumbo gingerbread display of the resort's beautiful ski hill. In addition, the city of Lake Geneva is full of holiday charm and programming, with wonderful Midwest holiday hospitality.
CLICK HERE TO CHECK RATES AT GRAND GENEVA RESORT & SPA
23. Lotte New York Palace
After a multi-year restoration of the Villard Mansion (the façade of the hotel), the Lotte New York Palace is putting on quite a holiday show! The iconic courtyard Christmas tree will be back this holiday season with a slew of holiday programming for guests and visitors to enjoy. Fabulous holiday experiences include a fun outdoor Winter Bar, specialty cocktails in the Gold Room, letters to Santa, a gingerbread replica of The Palace, weekends with the Rockettes and Santa, and more! Families will love everything about this hotel!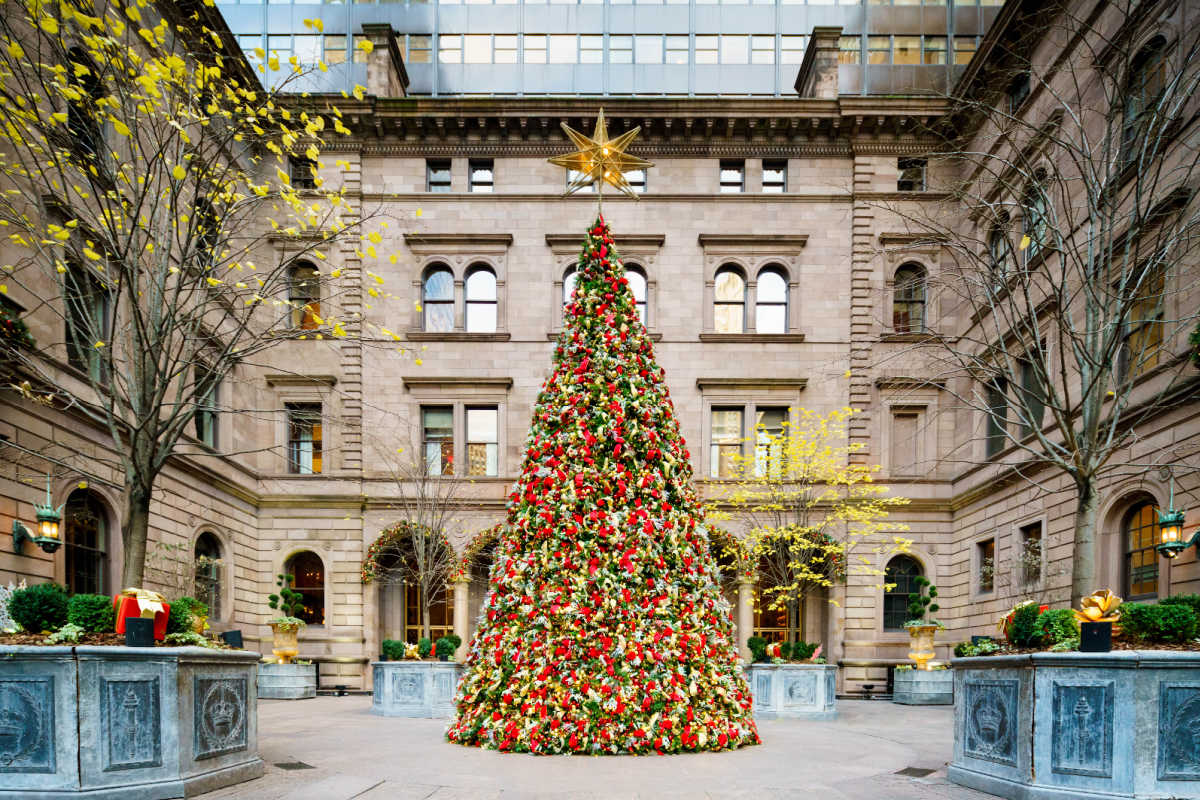 24. Playa Largo Resort – Key Largo, Florida
Playa Largo Resort in Florida is also celebrating in over-the-top style this season, complete with an indoor roller skating rink pop-up in one of its ballrooms, a holiday escape room, and more! This stunning oceanfront resort is celebrating island style with an island holiday market, a holiday passport to dine (holiday dishes and beverages at different on-site restaurants), and even tropical gingerbread houses. Who doesn't love a fun in the sun holiday?
25. Hotel Bennett – Charleston, South Carolina
Hotel Bennett goes all out for the holiday season. There's a life-size gingerbread house, a Christmas tree lighting ceremony, holiday tea (including tea with Santa), and Breakfast with Santa too! Their Home Sweet Hotel Bennett package offers a beautifully decorated Christmas tree, adorned with twinkling lights and festive ornaments, right in the comfort of your room. Your reservation also includes complimentary hot chocolate from the Life-Size Gingerbread House. Enjoy some true Southern hospitality this holiday season!
And there you have my list of the best hotels for Christmas in the USA. Do you have a favorite hotel for Christmas? Feel free to send us your recommendations!