Switzerland – the land of cheese and chocolate – is an incredible family-friendly destination that has all the elements for spectacular and successful multigenerational holidays in every season. From delicious regional cuisine to beautiful mountain landscapes dotted with picturesque wooden chalets and dairy cows, and active adventures on land, lakes and even in the air, a family vacation in the Swiss Alps and its historic cities will make for unforgettable and lasting travel memories.
*Disclosure: This post may contain affiliate links, which means we may receive a commission if you click a link and purchase something that we have recommended. Please check out our disclosure policy for more details. Thank you for your support!
Tips for Planning a Switzerland Vacation All Ages Will Love
Easily accessible from the United States, Switzerland is located in western Europe and bordered by France, Italy, Germany, Liechtenstein and Austria. Zurich Airport (ZRH) is the main international hub for inter-continental flights, and access to Switzerland's famous SBB Railway network is just a few easy escalators below the airport.
The Swiss Federal Railway system is renowned for its punctuality. Trains really do leave on time, and they have two ticket classes, First and Second. Tickets can be pre-purchased online at Eurail or at the station upon arrival.
You can get anywhere in this compact country by train, and further with a connecting PostBus, which as you may have guessed, carries both mail and passengers into smaller towns and alpine villages.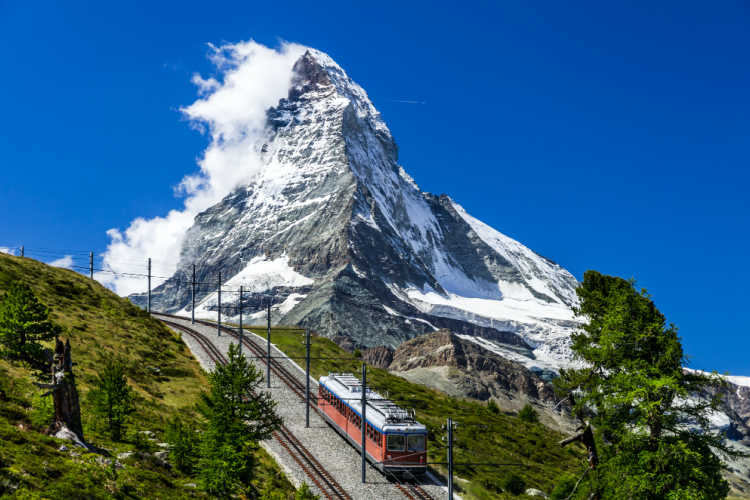 Families traveling from North America can obtain the Swiss Family Card, which allows kids 6-15 years old (kids under 6 are free) to travel free with a parent traveling on a Swiss Travel System pass. This pass can be purchased for various lengths of stay, depending on your itinerary.
Passes include train travel, free use of public transportation in more than 90 urban areas, and free admission to more than 500 museums, plus 50% discounts on mountain excursion trains like Zermatt's Gornergrat and the Jungfraujoch.
If renting a car in Switzerland for maximum mobility and freedom, note that fuel is highly taxed and very expensive, and that drivers keep to speed limits in the country, as speeding tickets can be sizable.
Many Swiss towns do not permit cars in their downtown commercial areas. Public parking lots are well-signed and easily spotted as you enter a city, including the number of parking spaces available at any given time.
Best Time to Visit Switzerland
Switzerland is beautiful at any time of year. In winter, the country's famous Alps and alpine villages are blanketed by snow that lures skiers, riders, and anyone who loves invigorating snow sports and an après that includes warm melted cheese fondue.
During the warm summer months, visitors can explore more than 40,000 miles of hiking trails, as well as via ferratas, zip lines and cycling paths that connect the Swiss Alps. Swiss cities like Bern, Zurich, Lucerne, Geneva Lugano and Basel are home to local festivals and filled with historic natural and art museums. Swiss National Day is August 1st, and it is always a special time to be in the mountains to enjoy huge bonfires, alphorns and festive feasts.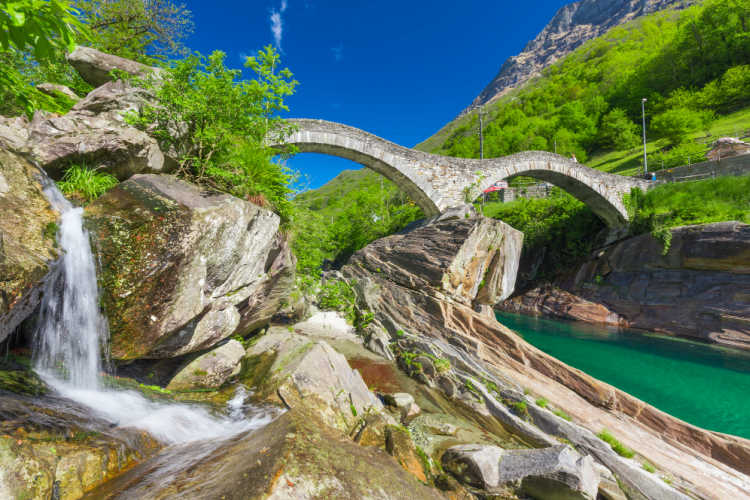 Switzerland travel trips for families
Language
There are four national languages in Switzerland; Swiss-German, French, Italian and Romansh. Depending on which Swiss region you visit, one language will be dominant to that region and canton (state).
Most Swiss citizens speak 2+ national languages, and English is widely spoken by many people in businesses and the larger cities, but to varying degrees depending upon age. Knowing some key phrases in the language of the region you're visiting is always appreciated.
Currency in Switzerland
The currency in Switzerland is the Swiss Franc, which you can get while traveling by using local ATMs. Switzerland is not part of the EU, and Euros will not usually be accepted in Swiss businesses. Credit cards are accepted for larger purchases, but cash is still very much favored for smaller, daily expenses.
Healthcare in Switzerland
Switzerland has an excellent healthcare system and emergency care is provided to everyone, regardless of nationality.
Tourists from EU/EFTA countries are entitled to receive health services during visits to Switzerland. Nationals from other countries like the United States must have sufficient insurance to cover the costs of treatment in Switzerland.
The phone number for health emergencies is 112 and there is an extensive network of hospitals and doctors in the country.
Tourist destinations and big cities tend to have English-speaking doctors for local expats and visitors.
What to Pack for Switzerland
Your packing list for Switzerland will vary quite a bit depending on the season. Aside from basic clothing items, I recommend you carry:
Excellent walking shoes (sneakers or walking sandals). Pack hiking boots if you plan on any serious hiking during your visit.
A crossbody bag or backpack as your main day bag
Phrasebook in Swiss-German, French or Italian
Outerwear, layers and ski apparel if visiting in winter or planning snow sport activities from November to March.
Sunglasses, sunscreen, sun hat for summer
Insect repellent for summer, particularly in the mountains (for mosquitoes and horseflies)
You can find our full packing list for Switzerland here.
Destination-specific Challenges
Switzerland is expensive. The cost of food, gas, accommodation and restaurants can be eye-opening for travelers from the United States. Budget accordingly.
The crime rate is low. However, pickpockets and purse-snatchers do operate in the cities, especially in busy places like airports, train stations and some public parks.
Some of Switzerland's older city centers are laid in cobblestones, which can tough on small-wheeled strollers.
Top Things to do in Switzerland for Families
Our recommended activities in Switzerland for large family groups are: (4-6)
Visit Bern
Switzerland's capital city is a UNESCO World Heritage Site known for its historic 12th century Old Town of charming arcades, fountains, cobblestone streets and views over the Aare River Valley. Stop in at Einstein House to view the famous physicist's living quarters. If visiting in summer, relax at the Aarebad Marzili pool area and be sure to join the locals in floating in the fast-moving Aare River.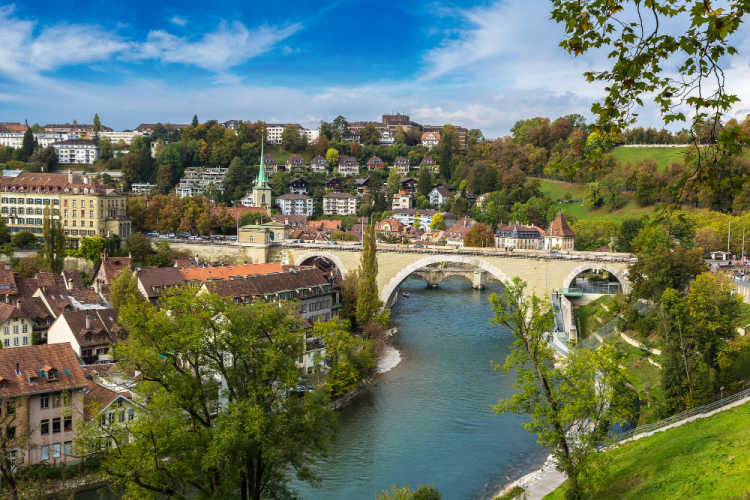 Explore the Bernese Oberland
Mountains make up nearly 60% of the Swiss landscape, so any visit should include time exploring the Alps. The Bernese Oberland region includes some of the most famous and spectacular mountains and villages, including the Eiger, Monch and Jungfrau peaks and the picturesque towns and villages of Interlaken, Grindelwald, Mürren, Adelboden and Kandersteg.
Get active in the mountains
No matter which alpine region you choose in the Swiss Alps, options for outdoor adventures are everywhere. In winter, there's skiing, riding, skating, tubing, and tobogganing. In summer, visitors can hike for miles, (even go hut-to-hut on multi-day hikes), mountain bike, swim, sail, parasail, trottinette and fly down mountain coasters.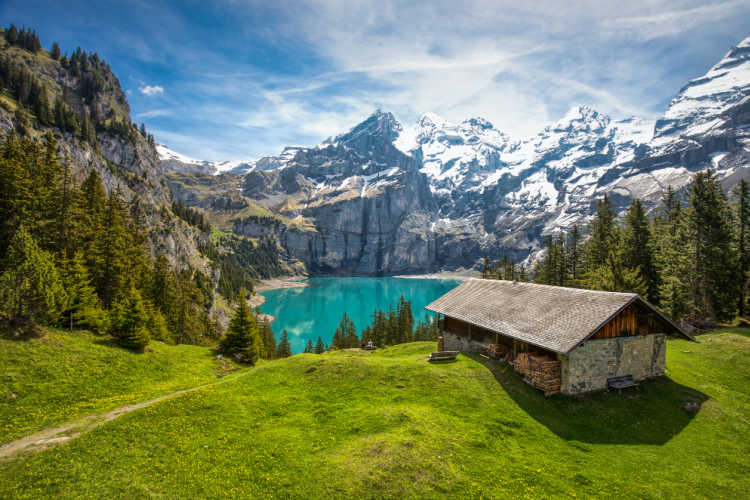 Enjoy time by Swiss Lakes
Many of Switzerland's cosmopolitan cities like Geneva and Zurich, and its smaller centers like Lausanne, Thun and Lucerne are located on beautiful lakes. Boat cruises are very popular on many of these lakes, as is swimming, paddle-boarding or simply enjoying the sandy lakeshore on a sunny summer day.
Take the Grand Train Tour
While the Grand Train Tour of Switzerland totals over 795 miles and is one of the most scenic train rides in the world, it's possible to break it up in sections to make it easier for families. Choose the Zurich-Lucerne-Interlaken route to go from city to scenic city, or the stunning Glacier Express that connects magnificent Zermatt at the foot of the Matterhorn with the equally charming and sophisticated St. Moritz.
Recommended family restaurants in Switzerland
The Swiss love their food (as well as their wonderful Swiss wine), and family-friendly restaurants can be found throughout the country. In fact, you cannot go far, even in the mountains, without coming across a charming café, restaurant or guesthouse. 
Klötzlikeller (Bern) – A lovely subterranean, cave-like restaurant in Bern's Old Town serving burgers, salads, and delicious rösti, a fried shredded potato dish often covered in cheese, ham and egg.
Restaurant La Marmite (Grindelwald) – A higher end restaurant inside the Hotel Kirchbuhl, with stunning views of the village and the Eiger. The food and service here make for a special and celebratory family meal.
Haus Hiltl (Zurich) – The world's first vegetarian restaurant (founded 1898) is located in the heart of Zurich, near the Bahnhofstrasse. Choose from all manner of fresh and creative vegetarian food, including sandwiches, salads, pastas, finger foods and main dishes.
Pizzerias (everywhere) – Every Swiss city and town has a pizzeria offering a selection of kid-friendly pies that won't break the bank. They're a great choice for famished families.
Migros – A shout out to the ubiquitous Migros grocery store chain found throughout Switzerland. If you'd like to save money in this expensive country, purchase from the Migros' great selection of pre-prepared foods for day trips and picnics. Don't skip the chocolate aisle.
Large Group Accommodations in Switzerland
Swiss hospitality is legendary, and famously expensive. The cost of hotel stays for large family groups can escalate quickly. House, apartment and chalet rentals that can accommodate everyone in your traveling group will be the most cost-effective way to stay and play in Switzerland. You'll have a home base, a kitchen to prepare meals (another money-saving hack) and enjoy time together as a family.
Airbnbs and vacation rentals
Airbnb is popular in Switzerland and can be a good option if you are staying multiple nights in one location. VRBO is another option. Accessibility may be an issue. Always ask specifically if the apartment has steps or a lift and inquire about air conditioning if visiting in summer.
Fancy a stay in a hay loft, tube or treehouse? Check out the unique accommodation listings on MySwitzerland.
Suggested Switzerland Itineraries
Switzerland is wonderfully compact, but you do have to travel over – or through – mountains to reach some of the more remote places in the country. Families could easily spend a month exploring Switzerland and not run out of things to do.
Switzerland weekend itineraries
Bern
Spend a few days exploring one of my favorite cities in Switzerland, the family-friendly city of Bern. Wander through its Old Town arcades, enjoying the chime of the 12th century astronomical Zytglogge (Clock Tower). Swim at the free Marzilibad, stop into Einstein House, and enjoy the miniature railway and playgrounds of the Gürten. Plan a day trip to Ballenberg, the Swiss Open-Air Museum displaying over 100 original Swiss buildings and architecture
Geneva and Lausanne
Explore French-speaking Switzerland by spending one day in each of these cosmopolitan cities on Lake Geneva. Enjoy the scenic train ride along the lake in view of rolling hills and terraced vineyards of white wine grapes. Explore Olympic history and the international flair of the urban nature of Switzerland's western-most city.
Zurich
Spend a day visiting this urbane city, which is Switzerland's economic center. Stroll through its old town and along the promenade of Lake Zurich. Visit the Swiss National Museum and if you're into soccer, the FIFA World Football Museum or the Uhrenmuseum which is dedicated to horology – watchmaking – one of Switzerland's most important industries. Read this article if you're looking for more things to do in Zurich.
7 Day Itinerary for Switzerland
If you have a week in Switzerland with family, there are many options. The compact nature of the country means that you can visit quite a lot of Switzerland in seven days. Families looking for a leisurely stay should consider spending the whole week using Bern as a base; it provides easy access to other cities, alpine villages and the famous Bernese Alps. Or explore two cities. Lausanne and Geneva work well together, and so do Bern and Zurich.
If you want to see as much as possible and don't mind changing location every night, you could follow an itinerary like this one (does not include arrival and departure day).
Day 1 – Zurich
Visit the city center, its lakeshore and the Swiss National Museum
Day 2 – Lucerne
Visit the Museum of Transport, the Old Town and the covered Chapel Bridge. Take a cable car to Mount Pilatus to enjoy spectacular views.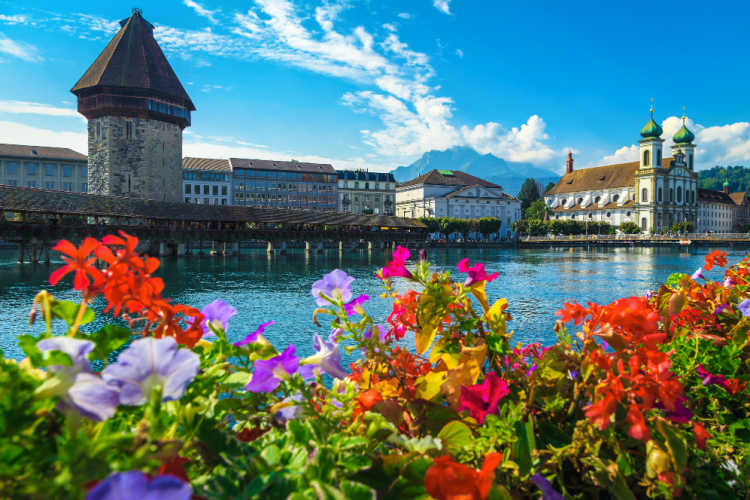 Day 3 – Bern
Wander through its Old Town arcades, fountains and view the 12th century Zytglogge (Clock Tower. Swim at the free Marzilibad, stop into Einstein House or the Paul Klee Museum, and enjoy the miniature railway and playgrounds of the Gürten.
Day 4 – Interlaken and Thun
Take a quick train ride to Thun and board a boat for a scenic tour of the Lake of Thun. Wander through Interlaken enjoying views of the famous Monch, Eiger and Jungfrau mountains, and visit Thun's historic 12th century Thun Castle.
Day 5 – Grindelwald and Lauterbrunnen Valley
Take the train into the Alps to the picturesque village of Grindelwald or Lauterbrunnen. Go for a hike along well-signed trails, view stunning Trümmelbach Falls, and ride the Jungfraujoch, the highest railway in Europe.
Day 6 – Zermatt
Take the scenic train from Brig to Zermatt to stroll through the pedestrian-only village at the foot of the most famous mountain the world, the Matterhorn. Travel up the Gornergrat cog-railway for views of snow-covered peaks and glaciers.
Day 7 – Lausanne
On the shores of Lake Geneva, the French-speaking city is home to the International Olympic Committee headquarters. Visit the Olympic Museum, stroll through the city's medieval streets and along the lakeshore Olympic Park.
A trip to Switzerland with extended family makes for a memorable multigenerational holiday.
About the author: Claudia Laroye is a freelance writer, content creator and editor living in Vancouver, British Columbia. She writes about adventure, family, luxury and sustainable travel for a variety of online and print outlets around the world, including; Vancouver Sun, Air Canada enRoute, Lonely Planet, Fodor's, Explore magazine, and the Vacay Network. She's been traveling to Switzerland since she was a baby; her maternal homeland is one of her favorite countries in the world.