Madeira is a great place for an extended family vacation because it is a small island with plenty of things for all ages to do and see. Whether you are there for a family trip or for visiting one of the many cruise ships that dock in Funchal, this guide will tell you all you need to know about a Madeira family vacation.
*Disclosure: This post may contain affiliate links, which means we may receive a commission if you click a link and purchase something that we have recommended. Please check out our disclosure policy for more details. Thank you for your support!
What Madeira lacks in sandy beaches, it makes up for in mountains, lush green landscapes and a surprisingly rich history. 
For such a hilly area, it might be difficult to know how accessible Madeira is, and how easy it is to get around, but don't worry! We will tell you all you need to know.
Where is Madeira?
Madeira is a small island off the coast of Morocco. However, it is owned by Portugal. There are three other islands surrounding it, but only Porto Santo is inhabited. That island can be reached by ferry from the city of Funchal.
When is a good time to visit Madeira?
Due to its location, Madeira island is warm all year round. In the summer, when the temperatures are at their highest, you can explore the cooler mountainous terrain.
In the winter you can spend your Christmas holiday lounging by the pool and watching the fireworks ring in the new year.
If you want to get the heat but avoid the crowds, plan your Madeira family vacation for May/June or September. Or if you'd like milder weather, the island is a pleasant 68 degrees in March. In short, this is a great destination for any time of year.
Transportation in Madeira
Sadly there are no direct flights to Madeira from the United States, so this location works best as part of an itinerary. Start in another European country, or even in Morocco!
The only airport on the island is Funchal Airport, AKA Cristiano Ronaldo International Airport. Because yes, this is the birthplace of the international soccer player!
The airport is conveniently close to the city center, and although it is possible to get a bus, I'd advise booking a taxi or minivan to get you to your hotel, whether that's in Funchal or somewhere else on the island.
Your hotel can book your taxi but you'll need to pay cash on arrival. It costs about €35 to get from the airport to the other side of the city in a regular taxi, and about €45 in a minivan.
Renting a car in Madeira
A lot of people choose to rent a car when they arrive in Madeira. I'd only recommend it if you are planning to leave Funchal frequently because the city itself is very walkable.
The main roads of Madeira are very well structured, however, you still need to be a confident driver with excellent clutch control (unless you're lucky enough to rent an automatic).
If you do consider hiring a rental car, keep in mind that a lot of other people will rent cars as well. Since parking on the island is limited, booking a tour might be the best option.
We recommend staying in Funchal, as the island is so small that you can take a day trip to almost any part of the island.
As mentioned, the city is very walkable. Most of the shops and amenities are situated at the bottom of the mountain, so there are no steep climbs unless you absolutely want to.
What language do they speak in Madeira?
As Madeira is owned by Portugal, the national language is Portuguese. A large part of the island's income is from tourism, so many of the locals speak English and restaurants will provide English menus.
It's a very warm and welcoming island where nothing is too much trouble, so it is appreciated if you learn a few common words and phrases. "Hello", "please", "thank you", "goodbye" and "excuse me" are good to know in any country you visit.
If in doubt, we resort to Google Translate!
What currency do they use in Madeira?
Madeira uses the Euro, which is helpful if you are visiting from another European country. Be sure to carry cash with you, especially for taxis and tipping hotel staff. Most businesses will accept card payments too but it's always good to have cash handy, especially when you come across handmade craft markets!
Healthcare in Madeira
Madeira has both public and private healthcare, but all non-nationals and non-EU members will need good travel insurance as outlined by EU regulations.
Most of the hospitals are located on the south side of the island, so keep this in mind if you are visiting the northern coast.
As we are about to discuss, Madeira is a safe place to holiday, but if family members have health conditions that might require treatment, it's something to consider.
Is Madeira safe for a family holiday?
Madeira is very safe, and perfect for a family holiday. As with any trip, you will want to keep valuables safe and be aware of tourism scams. During our week in Madeira, we didn't even get overcharged for a taxi fare.
What to Pack for a Madeira family vacation
Baby Carrier/stroller: We got around Funchal with two strollers perfectly fine, but a carrier would open up more options
Sun shirt: If you have a baby or toddler, a sun shirt is a must-have to protect your little one from the strong UV rays in Madeira.
Flipflops
Sunglasses, sunscreen, and a hat
A sarong or long skirt: Perfect for visiting churches, monasteries, and other religious sites.
Packing cubes
Backpack: If you're hiking, a backpack is good for carrying water and snacks.
Moisturizer and chapstick: Sun and wind will dry the skin out.
Is Madeira accessible?
As the island is built of volcanoes and mountains, not all parts are going to be stroller friendly, and I wouldn't advise it as a destination for wheelchair users.
The center of Funchal can be likened to Lisbon, there are flat parts, but the paths are often cobbled and uneven.
We took two strollers along the seaside promenade and even up the cable car to the top of the mountain with no trouble, but I wouldn't recommend it to a wheelchair user, or someone who isn't stable on their feet.
Which Part of Madeira is Best for Families?
The size of the small island makes it perfect for a family adventure!
As I mentioned, you can easily visit the opposite side of the island on a day trip. So the best part of Madeira is Funchal. It's next to the airport and has lots of amenities,
Funchal is also the starting point for most island tours. There are plenty of hotels, restaurants, and shops, so on pool days, you have your pick of things to do.
Wherever you stay, it's likely to be on the coast, so you'll usually have a panoramic view of the Atlantic Ocean but arguably, Funchal's views are the best!
Recommended Restaurants for a Madeira family vacation
Terreiro Concept
This restaurant is a great choice if you are staying at either of the Savoy hotels. It's the ideal place for a quiet and relaxed family dinner (Not ideal for toddlers, but young children and upward). 
They have a variety of dishes that will satisfy even the fussiest of tastebuds, and a children's menu that includes chocolate mousse with M&Ms!
Reids Afternoon Tea
Afternoon tea is usually what comes to mind when you are looking to visit the UK, however, Reids hotel would give Fortnum and Mason a run for their money. In my opinion, it beats it because of the stunning view!
Afternoon tea on the terrace of Reids is not to be missed. The service is incredible, and the food keeps on coming (As is expected with any quality afternoon tea).
They accommodate dietary needs and it's a good excuse to get dressed up.
The Ritz Madeira (Not THE Ritz)
If you need somewhere that will please everyone, where the children can run around playing and no one will bat an eyelid, The Ritz is where I'd recommend. It's not super fancy, but the menu is substantial, the food is good, and they are great with families who have young children.
It's the perfect place for families to be themselves and for children who aren't on their best behavior that day.
Where to Stay on a Madeira Family Vacation
It's not difficult to find a five-star hotel in Funchal, however here are our top three. If you're not looking for five star, there are many other great choices for family resorts in Madeira.
Reids
Reids is the crowning jewel of the Funchal skyline. Its pink exterior cannot be mistaken for anything else!
It may be older, but it still rivals the Savoy Palace when it comes to luxury. You have tennis courts, a spa, bespoke experiences, kids' clubs, and PlayStations for older children.
Breakfast is also included, but there is a specific family time offer that includes adult dinners, a discount on an extra room, and discounts on food for young children.
Savoy Palace
One of the newest additions to Funchal, Savoy Palace is one of the best hotels for facilities. Breakfast in the buffet restaurant is included and there are several restaurants available to Savoy Guests. 
You can access the sea via the neighboring Savoy, the Royal Savoy.
There is a kids' pool, a babysitting service, and several experiences designed for little ones. It's also home to the largest spa in Funchal, so adults can have some pamper time.
Pestana Casino Park Ocean and Spa Hotel
All of our chosen hotels are a short walk from Funchal city center, however, Pestana Casino Park is by far the shortest at just one kilometer.
The list of family sports and games you can play is as long as your arm! There are basketball courts, ping pong, tennis courts, and a kids club to name a few.
Their family room is made of two adjoining rooms, so you can enjoy the best of both worlds.
All of the above-family hotels will have incredible ocean views!
Weekend Itinerary in Madeira
There are so many things to do in Madeira, but if you are stopping for only a few days then this is what we recommend.
Day one
Morning: Take a cable car ride up the mountain in Funchal! If you're not a fan of heights, don't look down! It's a very steep ride up to the top. If you can take a peek, the views aren't to be missed.
At the top, you can visit the Madeira Botanical Garden. These beautiful gardens have diverse flora and can brighten anyone's day.
Before you leave, have lunch at Cafe Teleferico. They have a wide range of food and drinks, you can polish off your meal with a delicious slice of cake.
Now you could get the cable car back down, but it's far more fun to go down in a wicker toboggan! You can get pushed down to the halfway point by men in boater hats and enjoy the views.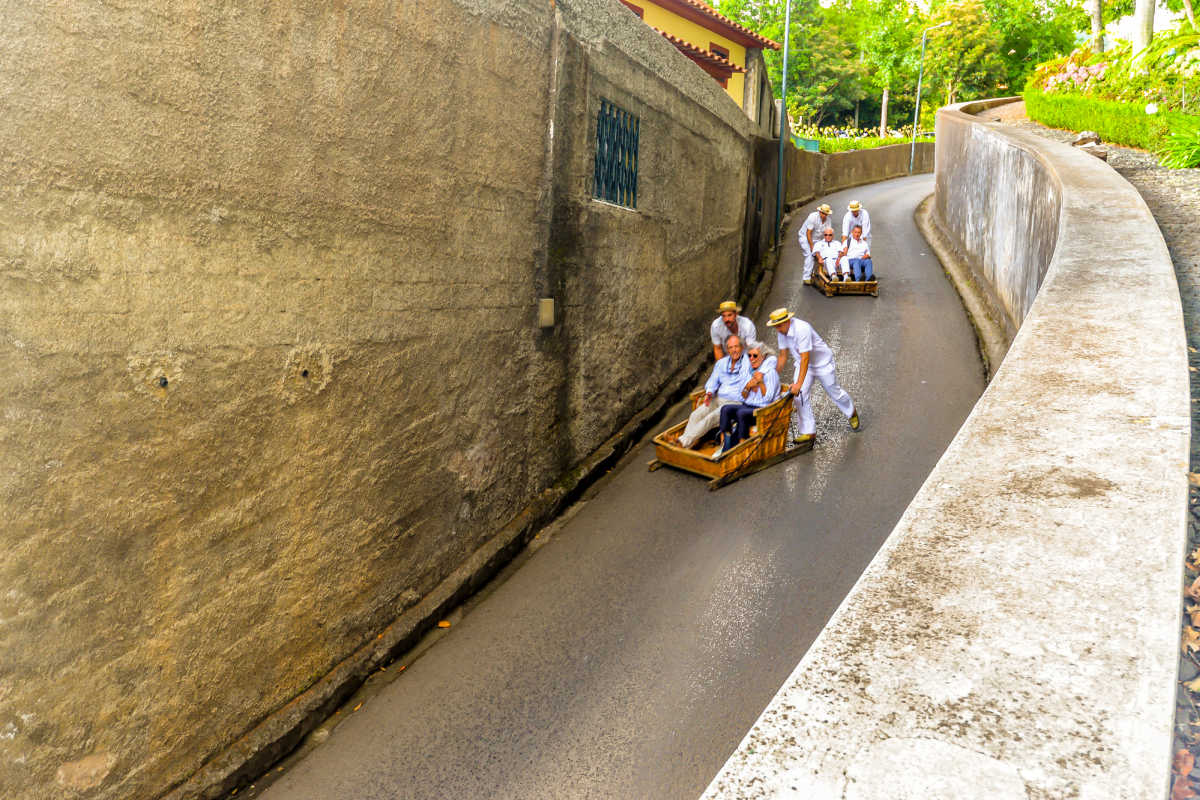 Afternoon: Go dolphin and whale watching on a pirate ship! The Flagship Tour of Santa Marina Columbo leaves at 3 pm, so you have time to wander around town before boarding.
Set sail along the coast of Madeira in search of marine life, and take a break to swim in the refreshing sea.
Finish the day with dinner at The Ritz. As mentioned earlier, it's a great place to enjoy food and spend time together, talk about the day, let the kids run around (If they still have the energy), and relax.
Day two
Morning: Book a half-day (Or a full-day) Levada walking tour. If you are keen walkers, I'd highly recommend the 25 Fountains Tour. It's a full day, but the majority of it is driving to and from the walk. 
The one we were on had children as young as 7/8 and we didn't find it as tough as we anticipated. It features stunning waterfalls and is considered the most beautiful levada walk.
Alternatively, book a half-day tour, just don't miss out on seeing this unique feature of the island.
Afternoon: If you book a full-day tour you won't have time for anything else, but if you have the energy you can visit the Madeira Aquapark where you can also grab a bite to eat.
We found that it was more popular with local people rather than tourists, but there's something for the whole family there. With a lazy river, toddler slides, and slides for the older kids and adults, you'll find something no matter what the age of your kids.
Wrapping up your Madeira family vacation
Madeira is the ideal destination for an extended family vacation. You can enjoy this beautiful island in one day if you're on a cruise, two if it's a pit stop, or a whole week if you're looking for something more relaxing.
About the author: Sian is a London-based writer and travel enthusiast. She works as a Campaign Manager in the education industry, and eats, sleeps, and breathes travel in her spare time.
Her love for travel and adventure began in 2009 when she went quad-biking through the Sinai Peninsula in Egypt. Since then she has traveled to a number of countries, searching out unique spots and activities wherever she goes.
In the last year, she has been to Portugal, Berlin, and Madeira and hopes to visit Jamaica next.