Planning a girls trip to Dublin, Ireland but not sure what to do once you get there? Then you are in the right place. We're sharing our top recommendations for things to do for a group of girlfriends in Dublin, Ireland.
If you are looking to plan your weekend in Dublin itinerary, this list of some of the best things to do during a girls' trip to Dublin will soon have you planning an amazing visit.
From historical sites to the best places to combine dinner and cocktails, get your group ready for a fun and unforgettable trip to Dublin.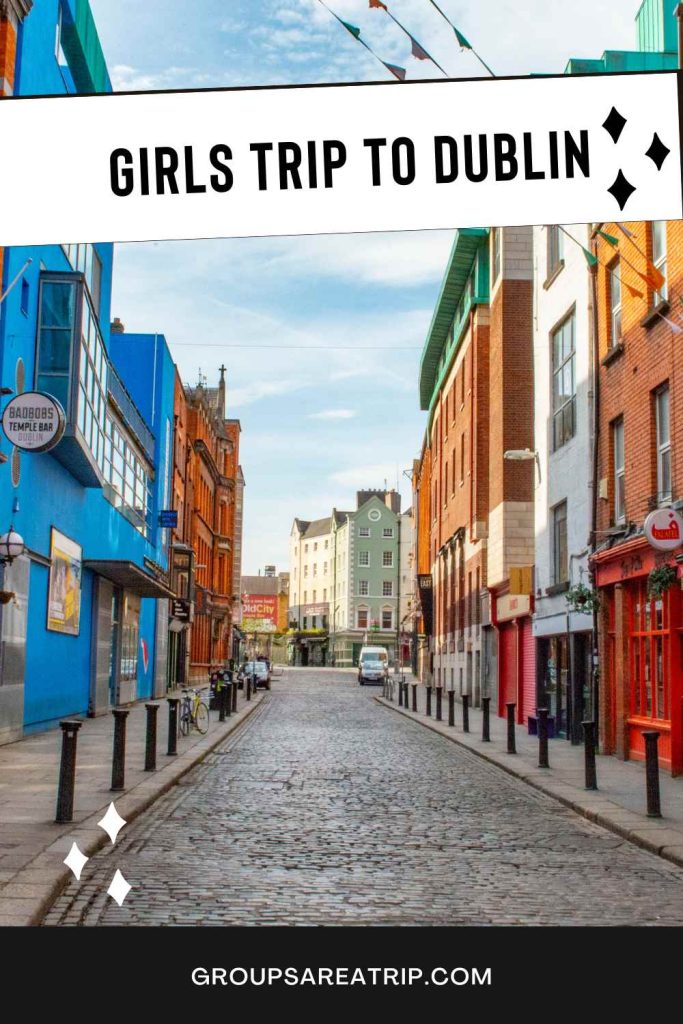 *Disclosure: This post may contain affiliate links, which means we may receive a commission if you click a link and purchase something that we have recommended. Please check out our disclosure policy for more details. Thank you for your support!
7 Best Things to Do on a Girls Trip to Dublin, Ireland
Dublin, Ireland has a wealth of things to offer those who plan some time in the city. From tourist attractions to shopping and plenty of places for cocktails, narrowing down your itinerary can be a hard task.
To help you out, here are seven of the best things to do on a girlfriend getaway in Dublin.
1. Take a tour of the city
One of the best ways to get your bearings in any new city is to take a tour. Dublin is no different. There are walking tours, bike tours, and even food tours. These are a great opportunity for a local guide to share their extensive knowledge while showing you the sights and sounds of the city.
While walking and food tours are the most popular ones, an idea unique to the Irish capital is a tour in which you get a Dublin whiskey experience.
Ireland is famous for both Guinness beer and Irish whiskey. Dublin offers visitors a chance to learn about both through tours. There are tours that take visitors to both the Guinness Storehouse and the whiskey distilleries in the city which include Jameson and Teeling.
If you want to visit some of the lesser-known bespoke distilleries, head to Dublin Liberties Distillery or the Pearse Lyons Distillery. Irish whiskey is so famous there is even a whiskey museum in Dublin if you want to visit that too!
Plan on walking after your tour or have a designated driver since a tasting experience is often included.
Tours in Dublin We Recommend
2. Visit Kilmainham Gaol
If there are any history lovers among your group of girlfriends, then no visit to Dublin would be complete without a visit to Kilmainham Gaol.
Located a few miles outside of the city centre, this former prison can be reached via some of the hop on hop off bus tours. Just confirm with the driver first that the stop is on the route. Another option is to grab a taxi that will take you there directly.
Kilmainham Gaol is a prison that opened at the end of the 18th century. It was built to replace an older one and became infamous as the jail where political fighters involved in the 1916 Easter Rising were held. They were later executed for their part in the 6-day sieges as part of Ireland's fight for independence from British Rule.
Visitors can only enter the jail via a guided tour. Tickets sell out fast, so book your tickets 28 days ahead of your visit to avoid disappointment.
The tour lasts an hour, and your guide will share stories about former inmates and conditions inside one of Dublin's famous monuments. Afterward, you can visit the museum to learn more about the Irish struggle for independence and the subsequent Irish Civil War in the first quarter of the 20th century.
3. Channel your inner Viking
Dublin was founded by the Vikings and celebrated its millennium in 1988. In parts of the city, evidence of the Vikings has been found during archaeological digs and construction projects. Many of the artifacts found are on display in the National Museum of Ireland in Kildare Street. This is a free museum to visit in Dublin.
Dublinia, located beside Christ Church Cathedral, is a museum where visitors can peer into both Viking and Medieval Dublin through interactive displays. Character actors are on hand to answer any questions. In the Viking section, there is a replica Viking house and boat. It's a great way to get a feel for what the city might have been like at the time of the Vikings.
The Medieval floor is also interesting with a medieval city street which includes a doctor 'medicine cabinet'. There is also a merchant's kitchen, and medieval games, and you can learn about the crimes and punishments of ancient Dublin.
If that isn't quite what you had in mind, why not channel your inner Viking on a Viking Splash tour of Dublin? You and your girlfriends will board an amphibious vehicle and race through the streets of Dublin. Laugh together as you don Viking hats and shout at the terrified passers-by.
This tour passes by some of Dublin's famous points of interest including St Patrick's Cathedral, Christ Church Cathedral, and Trinity College before getting out onto the water of the Grand Canal.
It is a fun thing to do in Dublin and even more fun with a group of friends.
4. Explore Dublin Castle
Dublin Castle was the seat of British Rule in Ireland until 1922. Today it is a monument, houses government departments, and is a conference center.
Visitors can take tours of the State Apartments. This is where the Lord Lieutenant of Ireland (British governor of Ireland) stayed while in Dublin. They are ornately decorated and a wonder to see.
Aside from the State Apartments, Dublin Castle is home to both the Revenue and Garda (Police) Museums as well as the Chester Beatty Library. These are all free to visit.
The Chester Beatty Library is one of Dublin's gems. It is home to a comprehensive collection of religious and secular works of art and manuscripts from around the world.
5. Shop till you drop
When it comes to gifts to buy in Ireland, Dublin is a great city for them. Most tourist sites (including Book of Kells and EPIC Museum) have a gift shop with Irish souvenirs.
For cheap and fun gifts, pop into Carroll's gift shop. They can arrange to mail your purchases home.
The Irish Design Shop on Drury Street and Kilkenny Design on Nassau Street are two other great places for stocking up. They have some unique Irish souvenirs and gifts for home such as Aran sweaters. Another local shop we recommend is Avoca on Suffolk Street.
If you and your girlfriends want some general retail therapy, there are two great parts of the city we recommend. The first area is Henry Street on the northern side of the River Liffey. Grafton Street on the southern side of the River Liffey is the most popular place for shopping in Dublin. Both are pedestrianized streets with a wide range of shops, cafes, and restaurants. Near Henry Street, you will also find Jervis Street Shopping Centre (mall) with even more shops to peruse.
6. Get out of the city
If you have 3 or more days in Dublin, then you can also join a tour from Dublin to somewhere else in Ireland. Popular choices are the Cliffs of Moher, the Ring of Kerry, the Giant's Causeway, or even Blarney Castle to kiss the Blarney Stone.
There are a whole host of tour operators with a large choice of day trips on offer. Your group can choose anything from half-day tours to tours lasting 13 hours. This is a great way to see more of the Emerald Isle without hiring a car or finding alternate accommodations.
Day Trips from Dublin We Recommend
7. Enjoy some cocktails
Of course, while on a girl's trip to Dublin, I am sure cocktails will be on the menu. There are plenty of places to enjoy an Espresso Martini or a Strawberry Daiquiri.
You can combine dinner and cocktails either at The Church Bar on Jervis Street on the north side of the city, or Nolita's on South Great George's Street on the south side of the city. If you are in Nolita's another great place for cocktails is the Capitol Lounge on Aungier Street.
Or if you want rooftop cocktails while enjoying a view across Dublin, the Marker Hotel is one of the best spots, particularly at sunset. You can also catch great city views from the Gravity Bar at Guinness Storehouse.
Tips for your trip to Dublin
How to get to Dublin, Ireland
Dublin is served by an international airport that has direct flights from many cities across Europe and the US. This includes New York, Washington DC, Los Angeles, San Francisco, Chicago, and newly added Dallas.
European cities with direct flights to Dublin include all of the London airports, Paris airports, Rome, Milan, Berlin, Copenhagen, Lisbon, Madrid, and more.
Airlines from the US include Aer Lingus, American Airlines, United Airlines, and Delta. Airlines from destinations within Europe include Ryanair, Aer Lingus, British Airways, Air France, Lufthansa, TAP Portugal, and Turkish Airways, to name but a few.
From the airport – Dublin City Centre can be reached by taxi or bus. There are dedicated Airlink Express or Air Coach buses that take visitors directly into the city.
Where to Stay on a Girls Trip to Dublin
Accommodation in Dublin is plentiful and there is something to suit all budgets. For budget-friendly, your group of girlfriends could choose a room in a hostel such as the Abbey Court, Jacob's Inn, or the Generator Dublin. For hotels, budget-friendly include the Staycity Aparthotels or Hilton Garden Inn Dublin City Centre.
If you and your group of girlfriends want something a bit more upmarket, then check into The Merrion, The Shelbourne, or The Alex.
Final Thoughts on a Girls Trip to Dublin
The Irish capital is a great city for a girls' getaway, be it for a long weekend or a few days more. There is plenty to fill your time in the city including sightseeing, day trips to other parts of Ireland, plenty of retail therapy, and lots of places for those post-shopping cocktails.
About the author: This article was written by Cath Jordan, from Travel Around Ireland. Cath is originally from Dublin, now living in Portugal. She returns home every year to explore more of the Emerald Isle so she can share her insider knowledge with her readers.