For years I've wanted to explore Scotland in depth, so when I learned about the West Highland Way route through western Scotland to Ben Nevis (the UK's highest mountain), I was sold.
Having never been on a walking holiday before, I wasn't sure what to expect. Knowing that I didn't want to try wild camping and spend my nights in a sleeping bag, I began researching tour companies to organize the journey.
Just to clarify, this is a self-guided hike. However, we were looking for someone to take care of the details and help us with scheduling, directions, and reservations.
After doing some research we settled on EasyWays Walking Holidays. We opted for an 8 day/9-night itinerary of the West Highland Way trail. The schedule is completely flexible and customizable depending on how long you want to walk each day and whether you want to build in rest days.
EasyWays was responsible for everything, from organizing our lodging to arranging baggage transfer. It was so nice to check in at the end of the day and know there would be a room with a comfortable bed and private bath waiting for our arrival. I'm sharing my personal experience of hiking this long-distance walking route with my friend to help others who might want to make the same trip.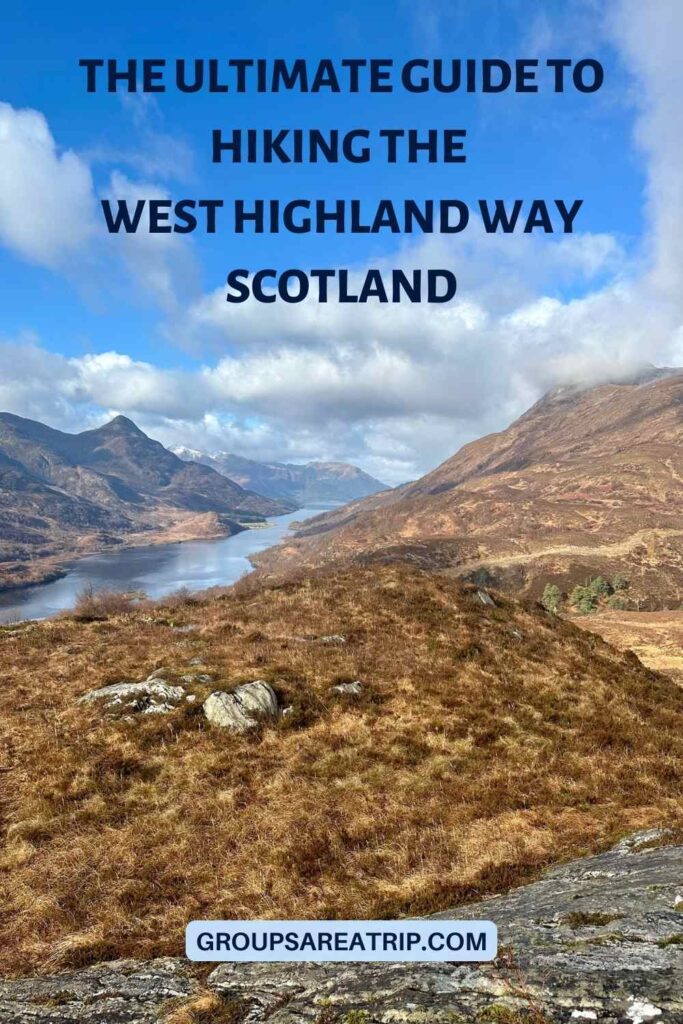 *Disclosure: This post may contain affiliate links, which means we may receive a commission if you click a link and purchase something that we have recommended. Please check out our disclosure policy for more details. Thank you for your support!
What is the West Highland Way?
Scotland's West Highland Way is a walking trail through the western part of Scotland. This long-distance hike is approximately 96 miles (154 kilometers) from Milngavie, a suburb of Glasgow at the gateway to the Highlands, to Fort William. It passes through some of the UK's most stunning landscapes.
Here is what it's like to embark on the West Highland Way Walking Tour. This article is complete with planning tips and insights into the journey's unforgettable itinerary.
The West Highland Way is Scotland's first officially designated long-distance walking path. It is part of Scotland's Great Trails network. Established in 1980, it passes through the Western Highlands, taking walkers on an adventure through dense forests, past gorgeous lochs, and close to some of Scotland's highest peaks, including the iconic Ben Nevis.
The route includes a mix of paved paths, roadways, old forest service roads, old military roads, as well as all sorts of gravel and rocky paths.
There were a few hills, with up to about 1,500 feet in elevation change a day at most, but the highest point on the walk was about 1,800 feet above sea level. Our longest days were about 17 miles.
This is not just a hike, it's a historical journey through Scotland. You will see everything from old military roads to caves where Rob Roy is said to have once hidden out from the English.
West Highland Way Route
As I mentioned, the long- distance route begins in Milngavie (pronounced "mull-guy"), on the outskirts of Glasgow. From there, the hiking adventure heads north, past Loch Lomond, Scotland's second largest Loch, before coming to an end in Fort William.
Along the way, you will find some of the most spectacular, iconic landscapes of the Scottish Highlands. You will pass snowcapped peaks, ruins of olds stone houses, moors, lochs, rugged valleys, pastures dotted with sheep and the famous Highland cattle.
West Highland Way Itinerary
This long-distance trail is used by hikers of all abilities. There is a typical route everyone uses. Here's a brief outline:
Day 1: Milngavie to Drymen
Day 2: Drymen to Rowardennan
Day 3: Rowardennan to Inverarnan
Day 4: Inverarnan to Tyndrum
Day 5: Tyndrum to Inveroran
Day 6: Inveroran to Kingshouse
Day 7: Kingshouse to Kinlochleven
Day 8: Kinlochleven to Fort William
We flew into Glasgow the day before our hike began. It was a short taxi ride from the airport to the suburb of Milngavie. (Note: The tour price did not include airfare, ground transportation, or the last night's accommodation in Glasgow).
We spent the first night at the Premier Inn. This is an economy hotel, but it offered a clean and comfortable room. It is located just south of downtown Milngavie where the West Highland Way route begins. It is a short walk to the town center. There are limited dining options.
After we reached the finish line in Fort William, we arranged for a transfer service to return us to Glasgow where we stayed at a Hilton Garden Inn for the night before catching our return flights to the US. 
Planning Tips for Hiking the West Highland Way
Here are a few things I would plan on before committing to this long-distance walking trail:
1. Booking Accommodations
Plan and book your trip as soon as possible. This is the most popular walking route in Scotland, so lodging fills up quickly. Most of the options are hotels and there are some guest houses along the way.
2. Arrange for transportation
As I mentioned, we were responsible for flights, accommodation in Glasgow on the last night, and transfers to/from Milngavie and Fort William.
Note: Given the popularity of the walk, we assumed there would be ample transportation options to get us back from Ft. William to Glasgow. This is not the case. The options are either long bus or train rides or taking a taxi. We chose the latter that our hotel in Ft. William helped us arrange, but at a cost of about 250 Pounds.
3. Consider weather conditions
You will want to consider the weather conditions. We traveled in early April and had a mix of cool, rainy weather and dry, sunny days. It was cool but, but other than the rain on 2 days of our walk, it was the perfect weather for hiking. The lows a couple of mornings were just above freezing, with highs in the low 60s.
My understanding is that May is the driest month, and June through August is midge season (they're nasty little biting bugs, similar to mosquitos).
Understanding that you may get more rain and it will be cooler, I think the best time of year to hike the West Highland Way is on the edges of the season, either in October or late March through April.
4. Prepare physically
It's important to be in decent shape before tackling this 96-mile route. I'm fairly fit and started training a little over a month in advance, taking long walks on the weekend.
I tried to walk 6 miles or so most days, taking longer 10–15-mile walks on the weekends leading up to the trip.
My friend who traveled with me was more diligent and worked his way up to walking 16-18 miles a few times a week by the end of his training.
5. Packing essentials
Since you are using baggage transfer s, you can pack a few more items in your suitcase, but don't overdo it. The transfer service allowed one bag up to about 40 pounds.
You will also want to bring a lightweight backpack to use on the trails.
I have a complete packing list below, but know that the weather can quickly change. You will need waterproof gear and layers to deal with temperature variations. Most of the overnights are in small villages so you will want to bring everything you need because stores are few and far between.
6. Safety and navigation
The whole route is fairly well-signed. I recommend bringing a paper map as cell service was spotty in a few places.
Breakfast is provided at each accommodation, and you can purchase a sack lunch to take each day. I would recommend bringing your own trail mix and energy bars so you can have them if you get hungry before your next stop.
Along the trail, some places have "honesty boxes" where you can take what you need and leave payment in a box. There was everything from food to camping supplies.
Daily Overview of the West Highland Way
Hiking the West Highland Way is a memorable experience filled with beautiful scenery, some physical challenges, and the warm hospitality of the Scottish Highlands. This iconic long-distance walking tour offers a remarkable adventure that hikers will treasure for years to come.
Here's a detailed overview of what each day entails:
Day 1: Milngavie to Drymen
The first day we were up early to get around and have our suitcases ready downstairs for the baggage transfer service at 8am.
At the Beef Eater restaurant next door to the hotel we had a cooked-to-order meal before gathering our gear and heading out around 8:30. (Note: All breakfasts were included in the price). It was approximately ½ mile to the beginning of the West Highland Way route. The walk was a mixture of paved paths, roadways, old forest roads, and mostly gravel paths. There were a few hills, but no significant elevation changes and nothing too challenging.
At approximately mile 7 we arrived at the Beech Tree restaurant. Unfortunately, at the very beginning of the season it is closed on Tuesdays and Wednesdays, so we were out of luck and continued on.
About a mile and a half later, we came to Turnip the Beet, another restaurant. Unfortunately, it was still closed for the season. They did, however, have an honesty box offering and a place where you could refill water bottles.
After getting away from town, there are occasional houses, but this segment was mostly through open countryside with an occasional roadway nearby. This stretch was punctuated by small hills.
One thing to look out for, if you are staying in Drymen, is when you reach the A811 roadway, you turn off the Way there and make your way into Drymen. The Way does not go directly through the town. All in, we walked about 12 miles the first day.
Where we stayed
That evening we stayed at Kip in the Kirk, a guest house in Drymen. It is a former church, and rooms are clean and comfortable. The staff was friendly and invited to tea soon after we arrived where we were treated with fresh baked scones.   
Drymen is a cute village with a couple of restaurants. We ate at the Clachan in the center of the town, and highly recommend it. However, it is small and gets quite crowded, so reservations are needed.
Day 2: Drymen to Rowardennan
After a continental breakfast, we left our luggage in our rooms and set off. Unlike the prior day where we walked past occasional houses or other buildings, and there were some nearby roads, after rejoining the Way (after walking down a local road) it was more remote.
The first five or so miles were not difficult. It was overcast, misting and lightly raining, and foggy all day. Most of the first part was through forest, much of it on a service road through a pine forest.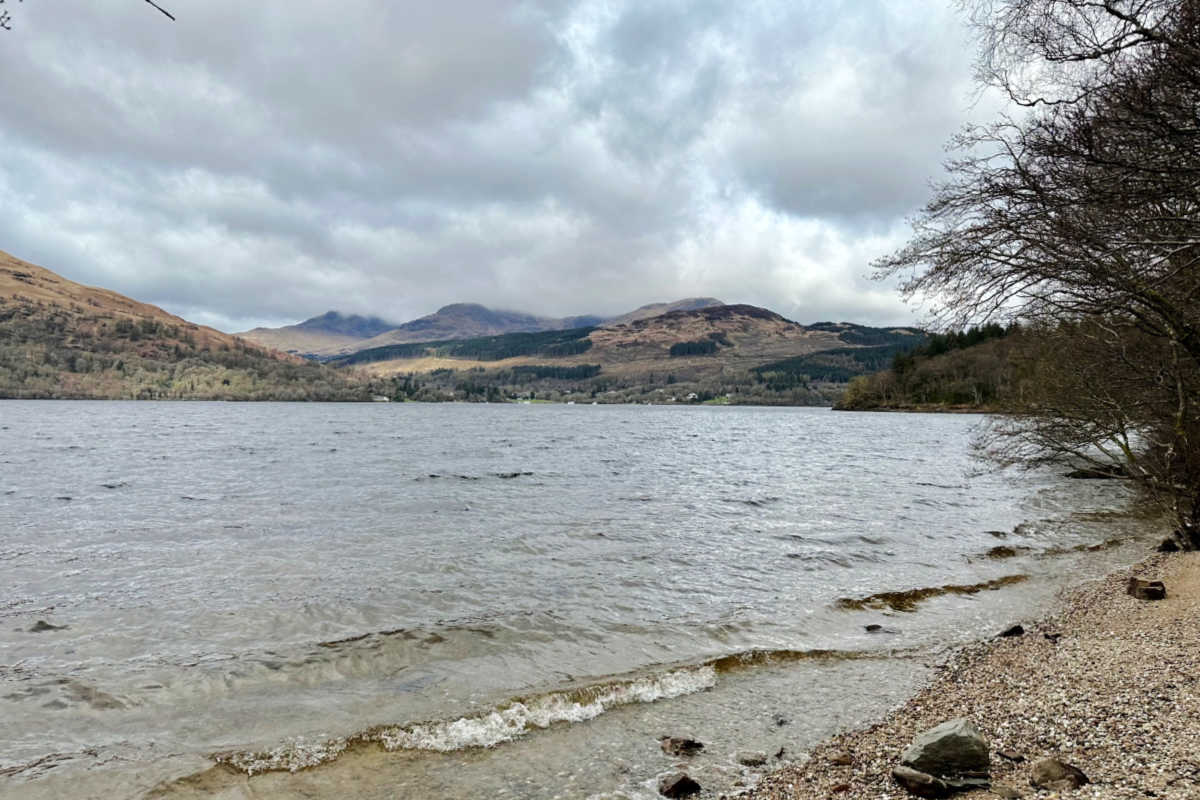 Emerging from that, the country opened up and we moved into rolling pastures where sheep were grazing. This led to by far the steepest climb thus far where we climbed to approximately 1,100 feet, the peak near the foot of Conic Hill. I am sure this would challenge the capabilities of most walkers.
Unfortunately, the path to the top of Conic Hill was closed as they were renovating it. There was a slick and muddy path we had to descend, but were able to get on the newly constructed, stone path after a short way.
We continued on to a well-maintained gravel path through towering pines emerging in Balmaha at about mile 8. This small town sits on the eastern banks of Loch Lomond, and we had a great lunch at the Oak Tree Inn restaurant (which didn't open until noon) overlooking the lake.
With full bellies, we set off again. The remainder of the walk was less challenging. There were beautiful views of the hills and landscape while walking along the shore of Loch Lomond. (They would have been better if it weren't for the overcast skies, rain, and mist.)
Where we stayed
In the end, while the guide books said this leg was 14 miles total – and so we thought leaving lunch that we were well over half way – it was actually about 17 miles. After 8 plus hours of walking we arrived at the Rowardennan Inn in Rowardennan.  
The Inn was well-run, and situated on the shores of Loch Lomond. Rooms were clean, comfortable, and quiet. It also had a nice restaurant where we had a good meal.
Day 3: Rowardennan to Inverarnan
The next morning, we had a nice cooked to order breakfast at the Inn. We dropped our luggage off in a storage room so it could be picked up and transferred.
A little over 2 miles into the walk, there is a fork in the road. You can either take the low road – which is staying on the Way – or the high road. The two meet up again a little over 2 miles later. My friend took the low road and I took the high one.
Here is the difference between the two roads. The low road hugs the lakeshore, and is up and down, over rocks and tree roots. On the high road, there is a bit of an initial climb, but it is smoother and less challenging. Both have a lot of waterfalls.
The low road though, while more challenging than the high, was spectacular. Still, the high road is gorgeous as well with, of course, more elevated views of the Loch.
After meeting up the trail continues to Inversnaid where there is an Inn with a restaurant at about mile 8 (for the day). As we departed from Inversnaid, the trail became more difficult.
The next five miles were much like previously described. It was a low road with the trail hugging the lake shore, up and down hills, over obstacles. While not technical climbing, it was slow going and taxing. After emerging from that, at the north end of Loch Lomond, it flattened out and we began walking through fields again.
Where we stayed
Although the guidebooks say this segment is 14 miles, it took us 8 hours and almost 17 miles according to the GPS. We finally arrived at the Drover's Inn, our stop for the night.
The Drover's Inn is situated in an obviously old, large stone building on a highway. It is the proverbial only game in town, except it is not in a town, just an inn along a highway.  
While the property is just .3 miles off of the Way, there is evidently few other accommodations in the area. This is apparent from the way the hotel is operated.
Inside, the hotel is beyond tattered. The Inn is run down and in desperate need of maintenance and repairs. Further, the front desk staff were incredibly rude.
Moreover, when I got to my room and went to take a much needed shower, aside from petty complaints about the tiny shower and poor water pressure, the hot water lasted only a few minutes, after which it was icy cold. It was the imperfect end to a long, difficult day.
That said, the food in the Pub at the Inn was good, and the restaurant staff, unlike the desk staff, was friendly and welcoming. In fact, many of those dining were not trapped hikers, but locals who came for the food.
With respect to the rooms though, they were incredibly loud due to traffic on the road outside and what sounded like a reception going on in an adjacent room. I had to sleep with ear plugs and a white noise app on my phone. While I'm sure I've stayed at a worse hotel, I cannot recall it.
Day 4: Inverarnan to Tyndrum
We had a cooked to order breakfast at the Drover's Inn and set off to Tyndrum. This was a much easier walk than the previous day, although still a bit longer than advertised at about 12½ miles.
The trail began heading down the valley running north from Inverarnan before heading through some pastures and forests. The weather was perfect and it was a blue bird day.
Here, the scenery was exactly what I had expected from Scotland with the mostly treeless, iconic Scottish mountains in all directions, and an occasional snow-capped peak. For most of the day's walk we were adjacent to a gentle flowing stream that was punctuated from time to time with rapids and waterfalls.
Where we stayed
After about 6 hours and 13 miles we arrived at the Tyndrum Lodges. The Lodges are newer buildings, without much character, but 1,000 times better than our previous night's accommodation.  
They offered good-sized rooms that were clean and comfortable. The owners couldn't have been more helpful and welcoming. Plus, Tyndrum Lodges offers laundry service which was perfect as we were about halfway through our trip.
For dinner, we went to the Tyndrum Inn pub at the nearby hotel for drinks and dinner. The meal was nothing special, but when you are starving, it really doesn't matter.
Day 5: Tyndrum to Bridge of Orchy
As the Tyndrum Lodges are not set up for breakfast, they gave us a sack breakfast at check in which consisted of a pre-packaged croissant and pastry, some fruit, and a juice box. The rooms also had hot kettles with instant coffee which was all we really needed.
This day's walk was the shortest, by far, at just 7 miles. We picked up the trail again after walking past some houses in Tyndrum. Before leaving town and walking through a valley where there was a highway off in the distance most of the day with mountains on either side.
The weather was sunny with perfect temperatures in the low 60s and sunny, idyllic when walking through the iconic Scottish landscapes.
Where we stayed
We arrived in Bridge of Orchy hotel after just 2 ½ hours.
The Bridge of Orchy is a small village adjacent to an old stone bridge of the same name, which is situated over the River Orchy.
Next to the bridge is the Bridge of Orchy Hotel, which was easily the nicest accommodation of the trip. The hotel consists of an old, but very well maintained main white stone building with several modern, stylish buildings adjacent. The modern hotel rooms were well appointed. There is a nice restaurant as well, which appears to be the only option in town. 
Day 6: Bridge of Orchy to Glencoe
We enjoyed a nice breakfast in the hotel's dining room, and set off on the Way, which runs right next to the hotel and across the Bridge of Orchy. This segment was just about 12 miles, as advertised.
It was a spectacular day's walk through the iconic Highland landscapes that I had envisioned. The only difference was the water, as there were streams, waterfalls, lakes, pools, and marshes everywhere you looked.
I was surprised by the height of mountains around us and the snow-capped peaks. It was stunning, as was the open expanse of the valleys. At times, we were completely alone, and we could see miles in all directions without another soul in sight.
Luckily, we had another beautiful day. It did become quite windy though, and as we climbed to a bit over 1,400 feet it cooled off. Still, it was a beautiful day that seemed easy in comparison with some of the prior days.
The first half of the day was fairly manageable terrain, but the last half was mostly climbing over rough, loose mixed rocks of all sizes. This was uncomfortable on the feet and that made it slow going.
Again, we had stunning scenery walking along the boundary of Rannoch Moor, with snowcapped peaks in all directions. We could also see Ian Fleming's Black Mount Estate in the distance on the opposite shore of Loch Tulla.
Where we stayed
We arrived at the Kingshouse Hotel near Glencoe about 4 hours after we set out. The Kingshouse is a nice, modern hotel set all by itself with seemingly nothing around it. It is right on the Way so it does a great business. Unfortunately, we had been unable to get a room there so we caught a taxi to the Clachaig Inn, nearby.   
Clachaig Inn, which is also near Glencoe, is a small inn situated in a very narrow valley with huge stone mountains abruptly and steeply shooting up all around.  
The scenery was spectacular, and it gained some notoriety as the setting for several scenes from Harry Potter and the Prisoner of Azkaban, including Hagrid's Hut, the sundial and turreted gatehouse, and the Bridge to Nowhere.
The Inn offered terrific hospitality. Its pub had an incredibly impressive assortment of beers on tap plus numerous cask ales, not to mention a huge variety of Scotches.
Word to the wise though. There are "inside" rooms in the footprint of the older part of the hotel, and "outside" rooms, which are in exterior buildings. While the "inside" rooms are fine, the "outside" rooms are newer, more spacious, and far, far quieter. Although not nearly as loud as the Drover's Inn, there was a lot of noise until after midnight.
Day 7: Glencoe to Kinlochleven
The day began with a good breakfast at the Clachaig. A taxi took us to the Kingshouse Hotel where we rejoined the Way.
This segment was advertised to be 9 miles and that seemed right. We started off in a northeasterly direction from Kingshouse, which was approximately 900 feet above sea level, through a wide valley with dramatic mountains in all directions. The trail was fairly level and typical rock and gravel.
It had rained through the night and was raining off and on throughout the day. Consequently, the waterfalls and streams rushing off of the mountains were too many to count. Intermittent rain showers gave way to moments of sun in between. It was a day of waterfalls and rainbows.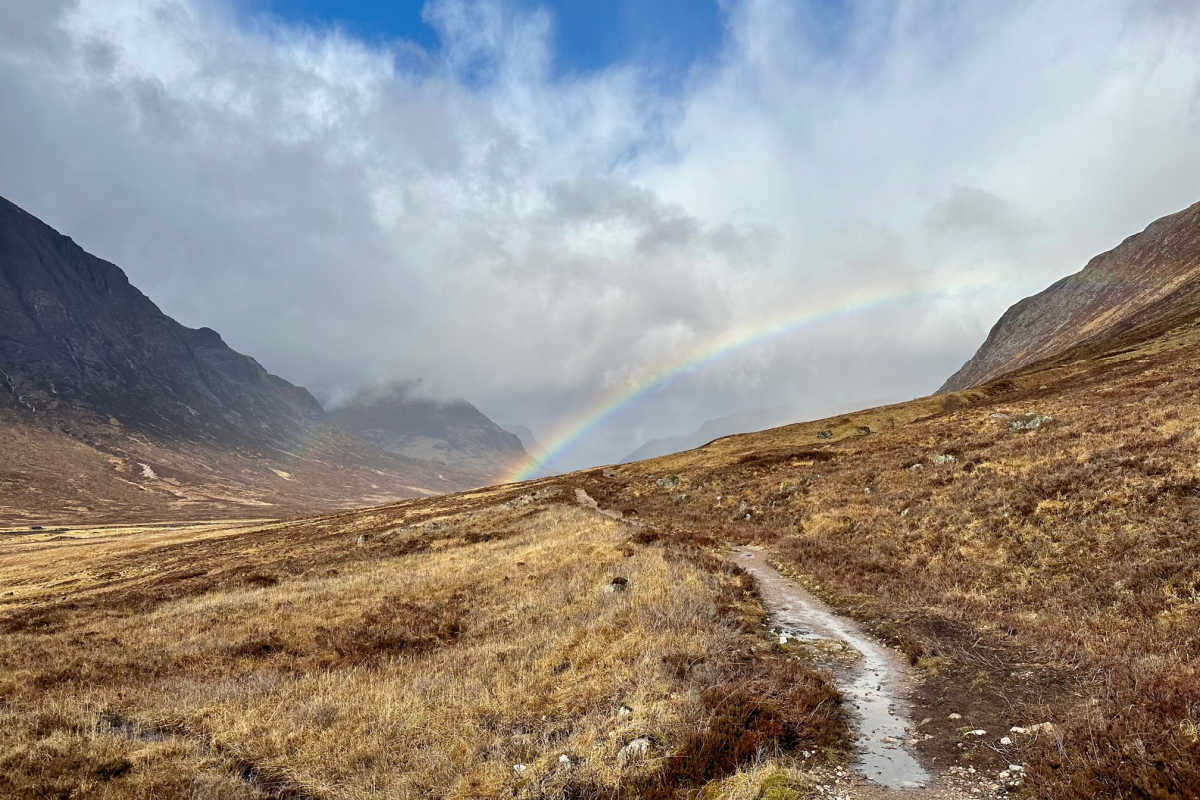 As we walked through the valley there was a highway off some distance to our left. After several miles we joined the highway, and the West Highland Way ran along near one side.
After a mile or two, we departed the roadside and headed up on the path toward the "Devil's Staircase."
At that point the path began to ascend, gradually at first. There was a beautiful, fast-moving stream running along the trail.
After gradually ascending to about 1,300 feet, the trail steepened as we came to the Devil's Staircase, which is a section of trail where it switches back and forth and it is a steep climb upward. It wasn't all that demonic, but it was challenging, although not undoable. In fact, what made it hardest was the fact that it was incredibly windy with sideways rain and sleet.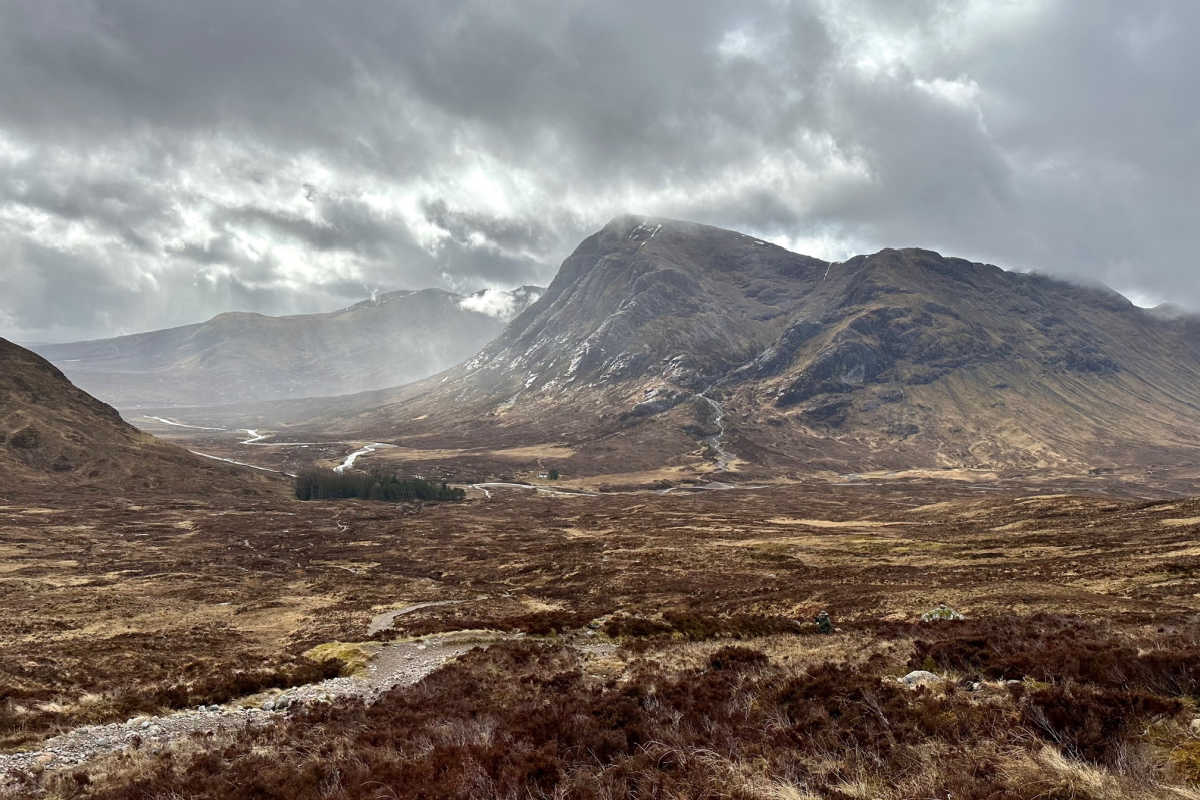 The Devil's Staircase climbs to about 1,800 feet above sea level, after which it flattens out for some time before a several mile descent to Kinlochleven and near sea level. As you can imagine, this offered some fantastic views though before heading into forests for the last part of the segment.
Where we stayed
We arrived at the small village of Kinlochleven in time for a late lunch at one of the several local pubs. Kinlochleven is an incredibly cute town, although it is past its heyday as a company town for an aluminum company.
We stayed at Bankhouse B&B. This unique accommodation is housed in a former Bank of Scotland building. Although compact, the rooms were very comfortable, the water pressure in the showers was outstanding, and the host was very hospitable.   
Day 8: Kinlochleven to Fort William
After a nice breakfast at the our B&B we set out for the final leg of our trip.
From here the West Highland Way route takes you north out of Kinlochleven where you almost immediately begin to climb. Thankfully, it is a fairly short ascent from about sea level to 800 feet.
The views from the top are spectacular. At the top as the trail begins to level off, there are side trails to go up to a rocky outcropping nearby.
Our host at the Bankhouse B&B suggested going up one of the side trails and we would highly recommend this as well. Although probably only about 30 feet higher, it offers panoramic views of the valley, with Kinlochleven on the east end and Loch Levin to the west.  (This is the image in the lead Pinterest photo).
From here the path heads northwest. The terrain is up and down much of the day varying between 650 feet to 950 feet in elevation. As with much of the trip there are spectacular views of the mountains, and in the early spring, snowcapped peaks.
However, for hours the Way passes through land that had been logged, (it looked like years ago), and had not been replanted. Consequently, there were just tree stumps and debris.
At about mile 10 or 11, the trail began a slow decent eventually leading to Ft. William, down its High Street, and to the End of the Way.
The last segment was about 14 miles. This was the advertised distance, and was one of the more difficult with the elevation changes and uneven terrain.
We were exhausted and happy to be done for the day. It was thrilling to have finished, but also sad the adventure was over. Overall, it was everything I had hoped for, and the memories and sense of accomplishment are sure to last a lifetime.
Where We Stayed
Craig Nevis Guesthouse where the rooms were comfortable in an upstairs addition. The host was super nice and it was a great place to stay for the night. We grabbed a bite to eat at one of the restaurants on the High Street before turning in for the night.
Packing Tips for the West Highland Way
This list is for those who stay in hotels, rather than camp. A critical factor in packing is also knowing when and where you may be able to do laundry along the way.
Following the 4th segment, we were in Tyndrum and stayed at the Tyndrum Lodges which offered laundry service. (I suspect that many places in Tyndrum do offer laundry because it is a natural halfway point).
So, assuming you can do laundry on the way you really only need to pack for 4 days. You will also need to take into account the weather forecast before leaving.  
All this said, this is my recommended packing list (in addition to what you wear on your travel days to and from the area):
Packing List for the West Highland Way Route
rain coat
rain pants
gaiters
1-3 pairs of comfortable, quick drying hiking pants (depending on how many days you are comfortable wearing same pants and/or 1-3 pairs of hiking shorts depending on the weather)
Good day pack (with chest strap) capable of holding a couple of bottles of water, rain apparel, lunch, and any other miscellaneous belongings
5 pairs of good quality hiking socks
First aid kit (be sure it contains supplies to treat blisters, like antibiotic ointment, peroxide, band aids, liquid skin, athletic tape, needle, nail clippers)
good mid or high top, water-proof hiking boots
A pair of running shoes or trail shoes as back up and to wear as alternative to hiking boots
Flip flops or Oofos (for the evenings)
T-shirt and undergarmets for each day's walk
Trail mix or other snacks to take each day
Swiss Army knife (always good to have when you're spending time outdoors)
Refillable water bottle
Clothes for the evening after the days walk is through and you've showered (socks, shorts or sweats, shirt, sweatshirt or fleece)
Base layers
1-3 fleeces, light jacket, or fleece vest (depending on weather) (Note: You could opt for a coat or quarter zip fleeces with a thick fleece vest – personal preference)
Portable charger, phone charger cords, power adapter
plastic trash bag (which I put dry stuff in in my day pack on rainy days and small sized zip locks to keep stuff dry)
Printed instructions, map, and/or itinerary in case you don't have cellular access
Toiletries, sun screen, and bug spray
Hat
About the author: Jason Maxwell is an attorney by day, but an avid travel lover at heart. His dream was to hike the Appalachian Trail, but when he learned about inn-to-inn hiking where he could stay in hotels rather than camping, he changed his mind. This is his first walking tour, but it won't be his last. All photo credits to him.