New York has the best energy, entertainment, and culture, making it the perfect destination for a girl's trip. If you love bonding over great food, shopping nonstop, and sharing unique experiences, then you'll love your time in the Big Apple. Even if you're one for slower-paced trips, you'll still have a great time during your girls trip to New York City. After all there's some incredible parks, laid-back bars, and some of the best spas in the world.
Today, we're highlighting the best things to do during a NYC girls trip, so read on and get ready to have the best time with your besties.
*Disclosure: This post may contain affiliate links, which means we may receive a commission if you click a link and purchase something that we have recommended. Please check out our disclosure policy for more details. Thank you for your support!
How to Get Around New York City
If your friends are traveling from outside New York, they're either going to drive, take the train, or fly. There are three airports that offer easy access to NYC: JFK, Newark, and LaGuardia. LaGuardia (LGA) is the closest, followed by Newark (EWR) and JFK (although Newark and JFK are quite similar in distance from Manhattan).
For friends that live on the east coast, a train might be an option. It's worth looking into if they don't want to drive and pay for parking in the city.
There are three main ways you'll get around New York City: by foot, on the subway, or in an iconic yellow taxi. Mix and match depending on the time of day and your plans – here's what we recommend:
To and from the airport: taxi (or book a car service or rideshare)
Exploring the City by Day: Subway and Foot
Late night: Taxi
If you have the budget, you might skip the subway altogether and wave down a taxi when needed. But the subway is the most cost-effective option and is easy to use once you get the hang of it.
Best Things to Do During Your Girls Trip to New York City
1. Have a Spa Day
New York City is a bustling place – after all, they call it the city that never sleeps. But they still know how to offer relaxation and pampering.
You'll have a couple of options for your NYC spa day: a hotel's spa or a dedicated wellness club. Using a hotel facility is a great way to check out a property that you aren't staying at, while wellness clubs may offer more unique experiences. Some places to check out include:
Either way, spa treatments, massages, and other wellness bookings are some of our favorite things to do in New York.
2. Go Shopping
Ok, relaxing is great, but you can't beat all the amazing shopping in NYC. Whether you are looking for colorful souvenirs or high-end boutiques (or anything in between), you can easily shop til you drop in New York.
Something for Everyone: 5th Avenue
Fifth Avenue in NYC is probably the most famous shopping district in the world. The Manhattan street features super-posh designers, flagship department stores, and supersized mall staples like H&M and Zara. You can also find all kinds of souvenirs as well.
For Touristy Fun: Times Square
Of course you'll spend time in Times Square, but definitely carve room in your budget to do some shopping here. The themed stores are so kitschy but impossible to resist. M&M, Hershey, and Disney all have huge stores here, and you can also find fun versions of classic retail shops, like Forever 21 and Sephora.
For Unique Finds: East Village
If you love one-of-a-kind gifts, vintage treasures, and quirky shops, East Village is the perfect place to go. This neighborhood is full of trendy boutiques and super-niche shops, so it's our favorite spot for fun shopping during a girls getaway.
3. Go Up for City Views
One of the most simple yet exciting things to do in NYC is to find a place with great city views. We recommend heading to Summit One Vanderbilt, Edge Observation Deck, Top of the Rock, or the Empire State Building for fantastic skyline views. These places have dedicated observation decks that are memorable and totally photo-worthy.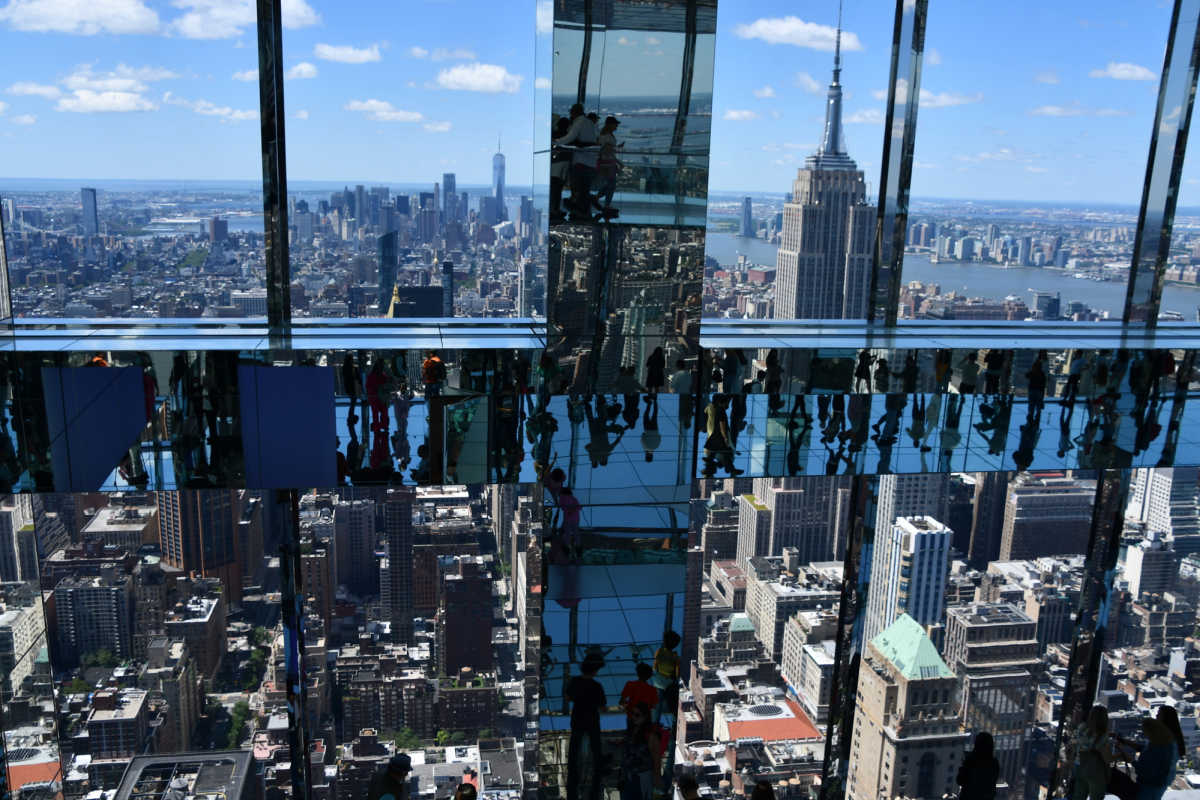 Get Your Tickets for These Observation Decks
4. See a Show
Is there a Broadway fanatic in your travel group? If so you are in for a treat, since New York is THE place to watch a show. But even if live theater isn't your favorite thing, you still should see a performance in the city.
What's the best show to see? Here are a few we recommend:
Moulin Rouge
You don't have to be a fan of the movie to appreciate this visual and musical spectacular. Full of incredible song and dance (and some stunning visuals), Moulin Rouge should top your list of Broadway shows to see.
Six
You'll want to take your best friends to see Six, an award-winning, female-driven musical about the wives of Henry VIII. It's a sensation, and you'll want to be one of the lucky fans who saw it during its original Broadway run.
& Juliet
Gather your besties and celebrate female empowerment with & Juliet on Broadway. This fun musical explores an alternative ending to Shakespeare's iconic tragedy: what if Juliet didn't end it all with Romeo? It's such a hit, and it's worth seeing during your long weekend or quick trip to NYC.
5. Drink at a Speakeasy
We're back in the new Roaring Twenties, so you must include a speakeasy in your NYC itinerary. These cocktail bars offer a new version of the prohibition-era establishments, and some of them are so much fun to find.
Though it lacks some spontaneity and magic, we're partial to NYC speakeasies that take reservations, like The Little Shop, Saint Tuesday, or PDT. Lillie's Victorian Bar is a great spot to grab a drink before a show since it's close to Times Square and the theatres.
… Or at a Rooftop Bar
If the cramped, dim style of speakeasies doesn't appeal to you, consider going to a spacious rooftop bar in NYC. Take in the views at spots like Ready in the East Village, Magic Hour Rooftop Bar at the Moxy Times Square, or Ophelia in Midtown. 
6. See World Famous Art
Anyone who visits NYC should make their way to one of the many art museums in the city. But art enthusiasts could make a whole weekend out of museum-hopping.
The Metropolitan Museum of Art (located in the Upper East Side) is probably the most famous art museum in the city, but you could also consider visiting the Museum of Modern Art, The Whitney, or Guggenheim.
7. Have Lunch in a Food Hall
Food halls are always a great idea for group trips. After all, there's a little something for everyone, and it's a great way to taste the unique flavors of the city. In New York, we recommend going to Gotham West Food Market. This Hell's Kitchen dining spot features fare from world-renowned chefs, and it's a lot of fun to visit. 
Other great food halls in New York include Chelsea Market and Mercado Little Spain. 
8. Walk the High Line
The High Line is a park and walkway elevated 30 feet above 11th Avenue. If you're visiting New York during good weather, it's a must-visit.
Once an abandoned railroad track, the 1.5-mile pathway features great views, beautifully rugged landscaping, and delicious food and drink vendors. Join tourists and local New Yorkers who love to take a walk along the path.
9. Go on a Cruise
The best way to get panoramic views of NYC is by hitting the water. There are many options for NYC boat cruises, and some will serve dinner and cocktails as they carry you through New York Harbor and to the Statue of Liberty.
We're partial toward the vintage yachts offered through Classic Harbor Line. It's perfect for a girls trip thanks to their fabulous cocktails and photo-worthy setting. 
10. Wander Through Central Park
There are few places as iconic as Central Park, and you probably plan to visit during your time in NYC. But what do you do once you're there?
Our favorite parts are the Central Park Zoo, the Belvedere Castle, Bethesda Fountain, and the Conservatory Garden. You can also book a spot in one of Central Parks' official tours to see the park with a tour guide and learn more about its many landmarks and gardens. 
11. Have Breakfast at Ellen's Stardust Diner
Ellen's Stardust Diner is a fun, unique dining experience on Broadway that you have to check out. This 1950s-style diner features singing waitstaff, guest participation, and a lively atmosphere that can't be beat.
Ellen's Stardust Diner doesn't take reservations. Showing up for an early breakfast might be the best way to avoid long lines; plus you can enjoy their pancakes, omelets, and morning cocktails.
… And Then Find More Great Places to Eat
With so much great food in NYC, it can be hard to narrow down the best restaurants for your girls trip. Don't worry, we've got you covered. Instead of debating where to eat, follow along to these favorite places and enjoy some top-notch dining in the city.
Sarabeth's
With four locations across Manhattan, Sarabeths has become a staple for classic New York dining. It's most popular for brunch – after all, it started as a bakery 40 years ago and has since grown and thrived. But it's also open for lunch and dinner, so you can make your way here whenever you get a chance.
Zou Zou's
Zou Zou's is one of our top picks for a nice dinner out in NYC. The ambiance is relaxed yet sleek, with elevated service and gorgeous decor. The prices are at a splurge level but not exorbitant. And it's has a great location in Manhattan.
The menu features Mediterranean-inspired fare, delicious cocktails, and can't-miss desserts.
Tiffany's Blue Box Café
We weren't sure what we'd think of Tiffany's Blue Box Cafe. After all, pop culture inspired restaurants are often all kitsch and have no substance. But we were delighted by Tiffany's Blue Box Cafe. The menu features elevated breakfast spreads and chef-designed offerings, and it's all served in a delightfully decorated space that reflects the immaculate setting of Tiffany's jewelers.
If you love the film Breakfast at Tiffany's, you're sure to have a good time here. But we also encourage any group to come and check out this fun and delicious spot.
Via Carota
Via Carota is so homey and charming, but eating here still feels like a posh city experience. Their Italian menu goes far beyond typical pasta dishes, and the food is both surprising and comforting. And its Greenwich Village location echoes through the eclectic decor.
Beloved by celebs like Taylor Swift, Gwyneth Paltrow, and Emily Ratajkowski, this delicious restaurant is a must-visit during your New York Girls Trip
12. Take a tour
New York City offers some amazing tours that would be fun with a group of girlfriends. These are some of our favorites:
Where to Stay in New York City: A Girl's Trip Guide
Of course you want a great hotel in New York. Even if you plan to be out and about for much of the getaway, you need a spacious and comfortable place to relax between adventures.
We recommend that first time visitors stay in Midtown Manhattan, where some of the most iconic tourist destinations are: Times Square, Grand Central Station, Hell's Kitchen, The Museum of Modern Art, and the southern border of Central Park.
While other great neighborhoods offer cute boutique hotels and rentals, the central convenience of Midtown is perfect for a girls weekend trip. Ahead, we're highlighting some of the best places to consider in the area.